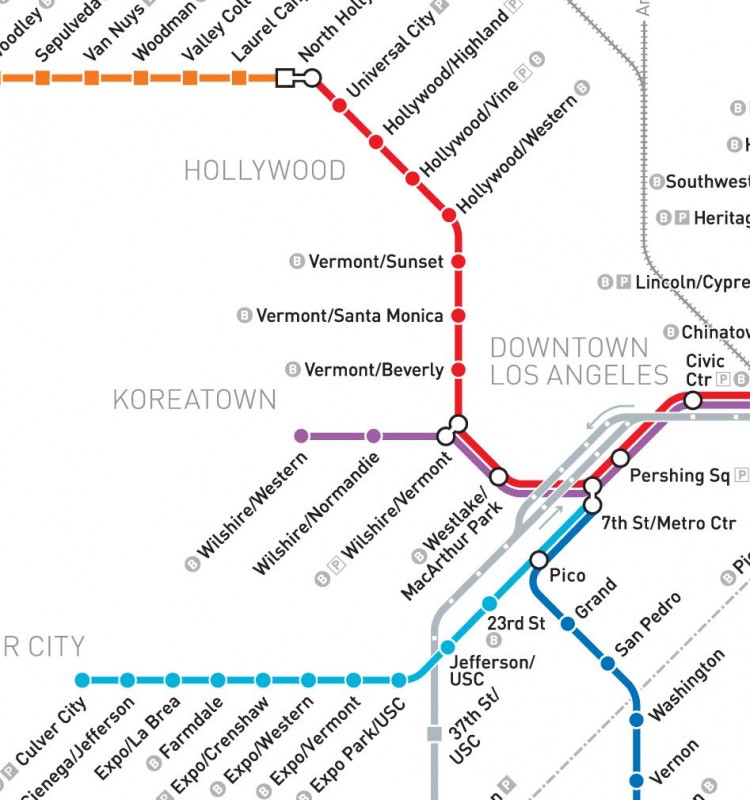 With Los Angeles steadily increasing its mass transit options, especially with fuel prices staying still pretty fucking high (a conversation at work indicated that it's pretty fucked up when we think that a gallon of gas dipping under $4 is great….it's shocking that gas is as expensive as it is yet we're used to it now), I have been experimenting with getting to work using the Los Angeles Metro.  As my dad could tell you, I do love me some subway systems.  I still don't know if there's anything quite like the Washington, DC Metro stations.  Those things are eerily futuristic and beautiful.  Seeing them in a decrepit post-apocalyptic state in the video game was Fallout 3 was both strange and thrilling.  The Paris subway system is unreal in how many lines there are – it's also extremely picturesque and nearly romantic.  Except for when it smells or is dirty.
Los Angeles' Metro is a mix of subway, dedicated bus lines, and light rail.  The first part that opened up was the Red Line, and it went from Downtown LA and Union Station for about two stations west.  That was back in 1996, and since then it's obviously expanded all the way up through the Hollywood Pass into North Hollywood.  Subways aren't always a great fit in an earthquake-prone area like Southern California, and also prohibitively expensive at times.  Play any game of Simcity and you'll find that out for yourself.  Light rail is what LA went with, especially when trying to reach distant parts of the county.  First the Blue Line to Long Beach, then the Green Line that runs along the 105 almost to LAX (such bullshit) from the 605, and then the Gold Line, which reaches now into Pasadena (into Monrovia, yay!, in 2015) and swoops thru Union Station and into Little Tokyo.  
Finally, FINALLY, the West Side of LA is starting to get some love.  The Expo Line light rail system (Phase 1) opened up in April, with the Culver City station having a delayed opening until last week.  It's awesome to have this option, especially on days like Thursday and Friday when traffic on the 405 and 101 in the afternoon basically is terrible.
The commute does take longer now, but when you're not behind the wheel and having to deal with jackholes who can't figure out how to drive, there's an element of stress reduction that can't be overstated.  Additionally, I've been able to figure out that the $8 in gas I spend in a daily commute is more than a $5 Metro Day Pass.  If I decide to do this commute more than once or twice weekly, then it would even make sense to consider a monthly pass.  But we're not there yet, as you can see the Expo Line only goes to Culver City.  So I still have to drive 10 minutes just to get to the endpoint.  But in 2016 (geesh…), the Expo Line will extend to Santa Monica.  That will be an awesome day.
By that point, who knows if Larry & I will be in Santa Monica still.  I have dreams of one day living in Downtown LA as there are some freakin' awesome places down there.  Then I'd be centrally located to not only get to work (the Red Line Universal City station), visit Mom & Harv (Duarte stop on the Gold Line), but in 2016, the Expo Line would also take us to the beach in Santa Monica.  I think if you buy property in downtown now, you could be poised for a decent return if you decide to sell in the 2015/2016 timeframe, as you'll be perfectly located to get many many places, plus Downtown is really getting revitalized.
Why the hell am I writing about this?  Well, I am fascinated by LA's evolution into a city that not only is getting a cool downtown area, I love that it finally has a freakin' Metro.  Go LA!  I keep up to date on the happenings via Curbed LA, a fantastic site that covers all the real estate, urban development, mass transit, and city issues that impact LA. What I love to read is that when the Purple Line extension to the VA Hospital on the West Side is supposed to be done: 2036.  Hahahahahahahahaha!  Ridiculous.  But that one is a subway so yeah, there's lots of digging.  And Beverly Hills is being bitchy NIMBYs.  Screw you guys.
In other news….Colorado Springs IS ON FIRE.  HOLY SHIT!  This is a pic my friend Susan posted on her Facebook.   The fires that started in Colorado a few days back have basically become out of control.  I thought I had read the fires were initially up closer to Denver, but yeah, not the case.  These fires are on the West Side of the city, closer to Manitou Springs, Garden of the Gods, and the Air Force Academy.  All these locations are places I know very well and can't believe that there's a chance a lot of it will go up in smoke.  I am fairly certain my house is okay…for now.  It's on the far east side of the Springs, and basically the entire city would have to flare up.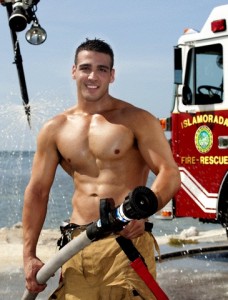 I've heard the winds are bad, but there's also reports it could rain tonight.  It's just crazy.  And I actually sign the paperwork to refinance my house tomorrow.  Here's hoping I actually have a house that goes along with that loan.  Oy.  But let's be serious and look beyond my own selfish needs at the moment…I really hope that the people who live there are safe and evacuate as necessary to stay out of harm's way.  I have friends out there and really hope that they and their homes remain fire-free.
I think they may need this guy to help put out the fires.  Although he may start fires of another type.  I apologize for not posting plenty of pictures of shirtless hot guys recently.  I've been remiss.  But don't worry – if you need a good sampling, this weekend's release of Magic Mike is going to be…INSANE.