The wedding posts will be a bit more frequent as April 30 gets ever closer.  I thought maybe there should be some elements of mystery to the wedding, then I thought again about that.  Nah.  Today we checked off one of the big things that a wedding does require, which is of course STRIPPERS!!! Oh, that's not what gay wedding means?  Hmm….
Well, we also ordered and bought a wedding cake from Porto's, our super convenient Cuban bakery across the street.  It makes wonderful breakfast treats but also has a booming business as a bakery, and happily the Oviatt Penthouse has Porto's as a preferred vendor.  We had set up today's appointment back in December, with Porto's recommending we come in with ideas of what we wanted.  Larry & I created a Pinterest board of cakes we liked and it mostly came down to distinct geometric cakes with simple contrast on the icing.  While the pics below don't show what the final product will look like, you'll get an idea of what to expect if you mesh them together in your head (and rip out those fucking flowers).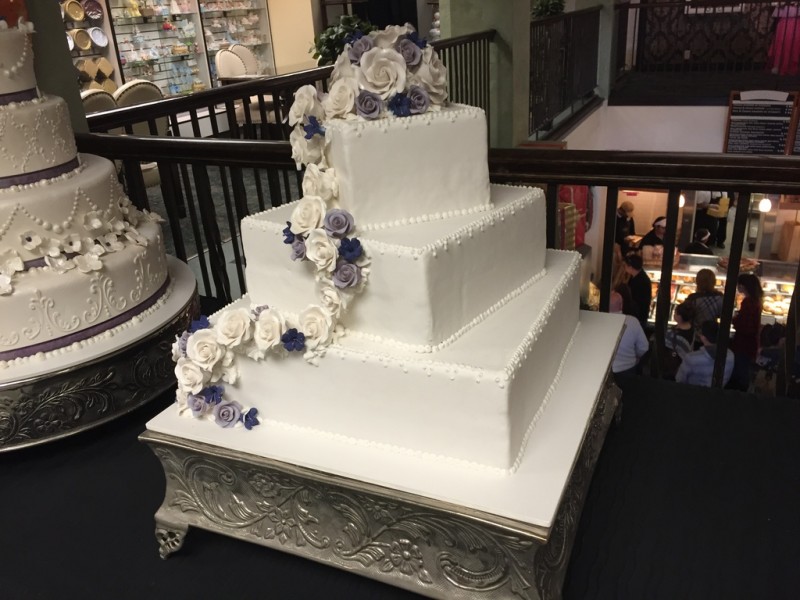 The black lines above will be replaced by our wedding colors:  blue and grey.   Should hopefully look great.  The actual cake will be two levels of vanilla cake while one will be chocolate….we got to taste them and DAMN so good.  So at least if nothing else, we'll have some good cake.