I love that Los Angeles is getting subways and light rails.  I write about it occasionally, especially when I get to use it on a daily basis, like when I lived in Santa Monica and took the Expo Line & Red Line to Universal, or now that I live in Glendale and can take the Metrolink and Red Line into DTLA, or my obsession with the fact that eventually LAX will get connected into the Metro ecosystem.  It's awesome.
One part of the Metro system that I haven't experienced though, and one I've wanted to at least try, was the Gold Line.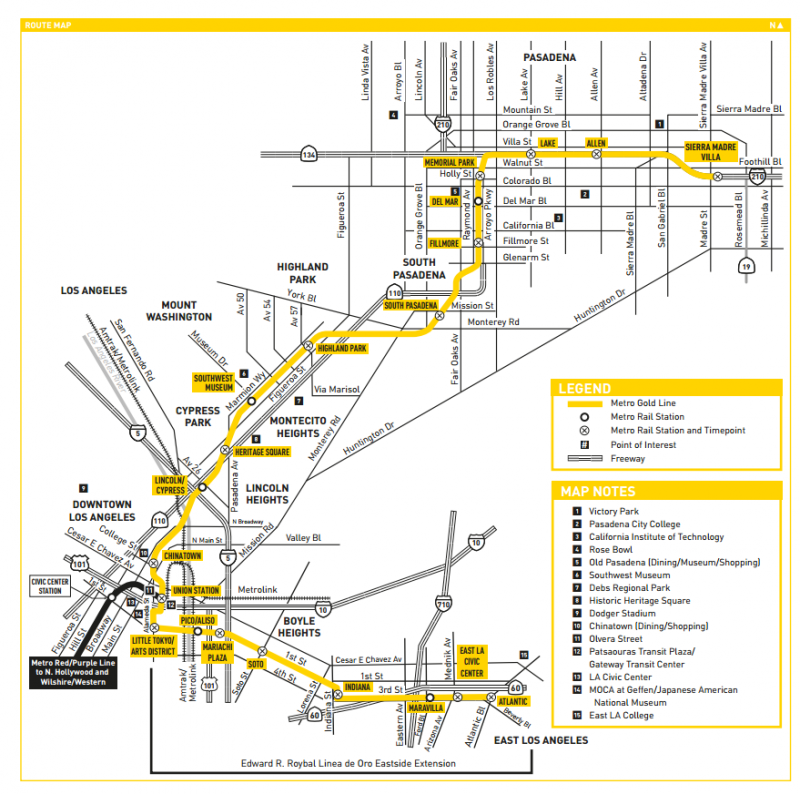 It's a Light Rail system that reaches from DTLA into Pasadena.  It extended a few years back further into East LA.  Next year in 2016, the Gold Line will be getting a further extension in the San Gabriel valley, getting stops in Arcadia, Monrovia, Duarte and finally terminating in Azusa.  There's hope that one day it'll go even farther, but I think at that point, you'd be better off taking a Metrolink if you're really interested in coming into DTLA from way out in Montclair or Ontario Airport.
So I have been seeing the Gold Line whenever we drove the 210 out to visit mom or when you drive the Pasadena Freeway, and I always see it while doing my Metrolink thing at Union Station.  Since I had today off and needed to get out of the house for the housekeeper to do her thing, I decided this was the day.  And it was pretty great – I rode it out to Pasadena of course, enjoying the route it takes through Chinatown and then through the Highland Park area.  It's a very peaceful route and it really trucks along as there seems to be a bit more bridges and track superiority there.  I got out at the end (Sierra Madre Villa station), took some pictures, did a brief walk (FitBit guilt), and then got back on and headed back to Union Station.  I didn't explore the East LA extension this time, because I was more interested in riding the Gold Line as it was before next year's extension.  I'm very curious how that'll be when it opens.
Upon my return into DTLA, I ended up saying to myself that Phillipe's would be a great lunch idea, so I made it so.  YUM.  Even at 11:15am on a Wednesday, it's crowded.  Did get lucky when I got back to Union Station as a train that passed through Glendale was leaving within 5 minutes.  AWESOMESAUCE.
Alright, picture time!
Dec 30, 2015 – Gold Line Groovin'