I have randomness for you tonight, especially as I've just had two Jamison & Gingers (thanks, last Vegas trip, for that drink recommendation) and a house-specialty, the Blood and Sand.  You see, Larry & I went to the Hollywood-famous restaurant The Dresden tonight for dinner.  It's been a mainstay in the Hollywood / Los Angeles scene for quite awhile, showing up in movies like Swingers as itself or in TV shows like Mad Men, as presumably itself too? Here's a screenshot from Season 7, Episode 1, that shows exactly what it looks like: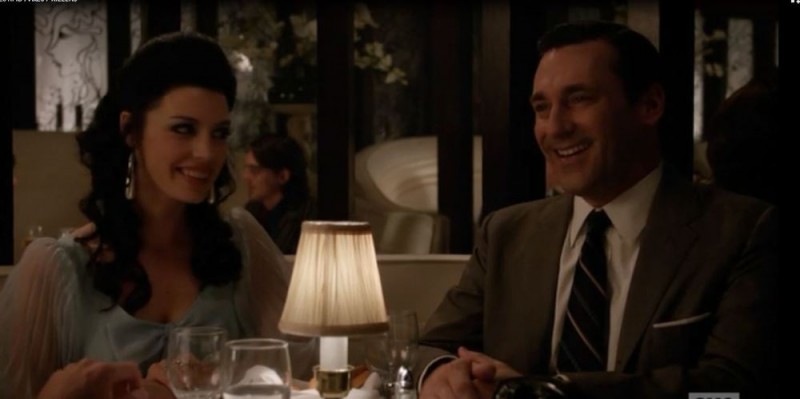 Not a set!  The pictures I took tonight are below.  Gotta say, the place is fantastic for food!  I had a wonderful prime rib that was most delicious and Larry had a Pepper Steak that he also liked.  We were both surprised that it wasn't a la carte like most steak houses, and all things considered, you get a great deal on great food. Surprise bonus for us was as we were eating, in strolled Naya Rivera who stars in Glee as the amazing Santana. She's stunning in person and very easy to recognize. Another night in Hollywood!
Oct 24, 2014 – Our First Time @ The Dresden
Since it's close to Halloween, there are lots of articles about scary movies and the best ones and the scariest ones, etc.  New York / Vulture had an article about David Lynch's Mulholland Drive and it was a fantastic read, going into the mindset of why it's one of best and most effective horror movies around.  I certainly wouldn't have first described it as a horror movie, but damn, there are definitely scenes within where you are getting freaked the fuck out.  Lots of beautiful and mesmerizing moments too – "Silencio" will always come to mind for me.  Here's a link to what I wrote about it a LONG time ago in my old DVD reviews section, and below is a screenshot and link to the Vulture.com article: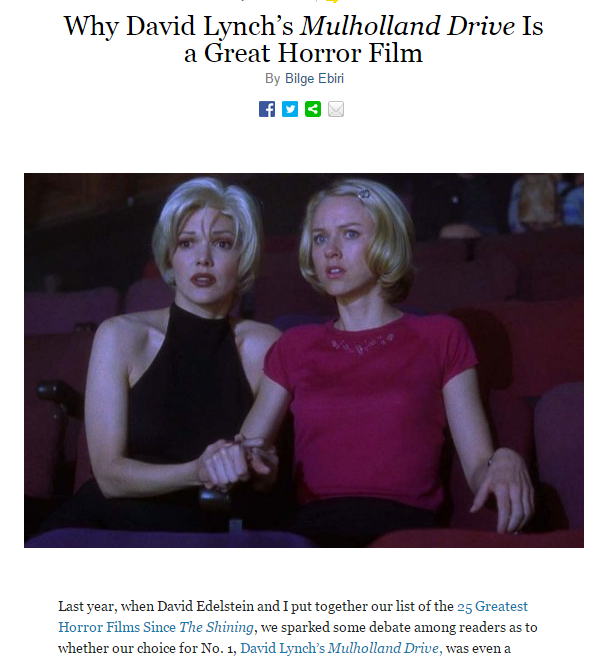 So that's my Friday random posting.  Mom is up in Vegas having fun with her sister Mary for her birthday, and I hope she has some good luck and has some fun!