Leg 1: September 26, 2014
Alright alright alright!  The Amazing Race is back on our TV screens and in perfect timing as Big Brother just wrapped up and there's no way I was going to be able to handle doing both!  With no further ado, let's dive into the teams, as we've got lots to cover!
Teams of The Amazing Race 25
The Start: Times Square, NYC!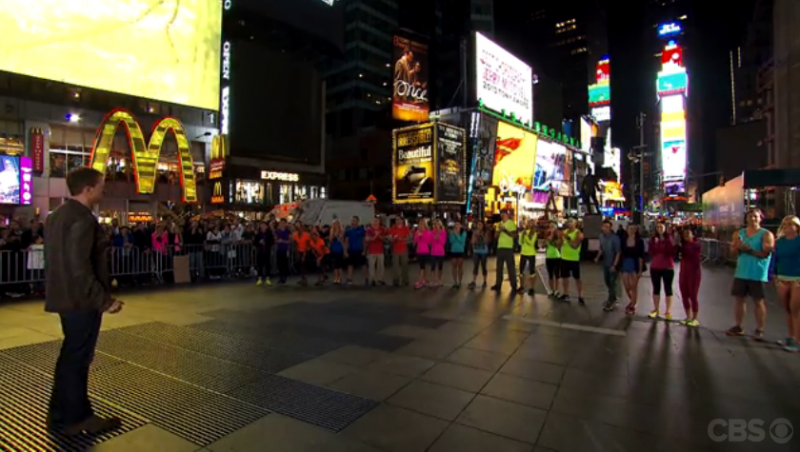 Our host, Phil Keoghan, introduces us to this season's crop of racers while in the middle of the most annoying part of New York City, Times Square.  It sure is pretty to look at though!  Before he lets them out into the world, there's a new twist to discuss:  "The Save"  If you win this first leg of the race, you'll win The Save, which will allow you to avoid elimination once during any leg up to and including the 9th Leg.
This feature replaces the "Express Pass" we've seen in the last few iterations – I guess it is more useful for saving yourself from a disastrous leg, whereas the Express Pass could give you an advantage to make a first place finish and win some nice prize.  Looks like they're trying to temper down some of the super-powered features this season; I could have misunderstood the power though…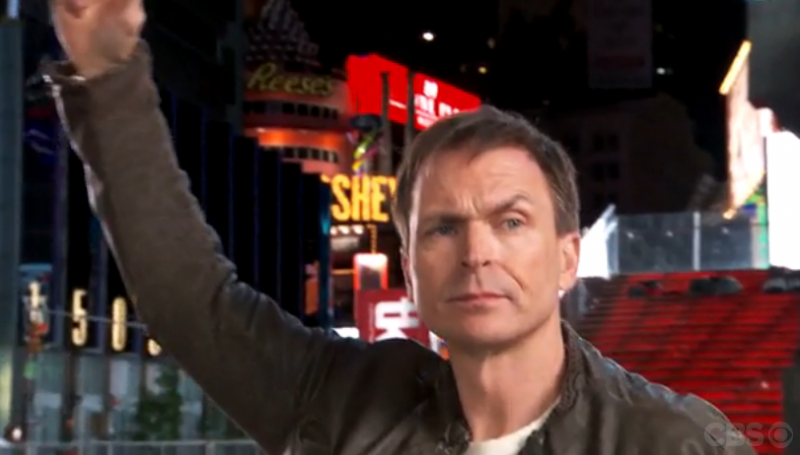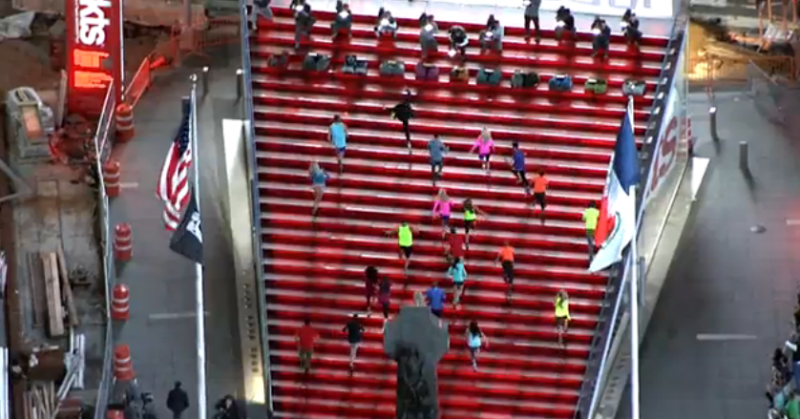 Off to the Magical Land of Queens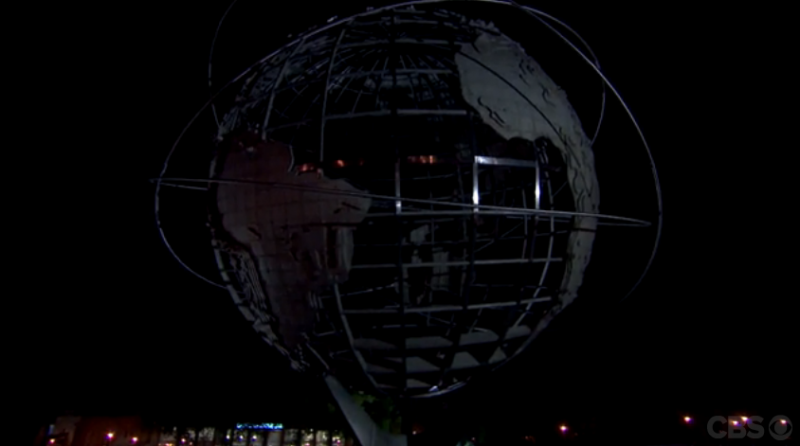 It was a race to get to Flushing Meadows and find the first clue marker, the Globe.  From there, they had to rush to JFK and secure a seat on one of two flights to St Thomas, with the first arriving flight only having room for 5 teams.  That first group signaled who'd be the teams to watch, as four of those teams (Tim & Te Jay, Adam & Bethany, Kim & Alli, Misti & Jim) were in the Top 5 by the end.  Who cares about this though, let's get to St. Thomas!
The Wondrous Island of St. Thomas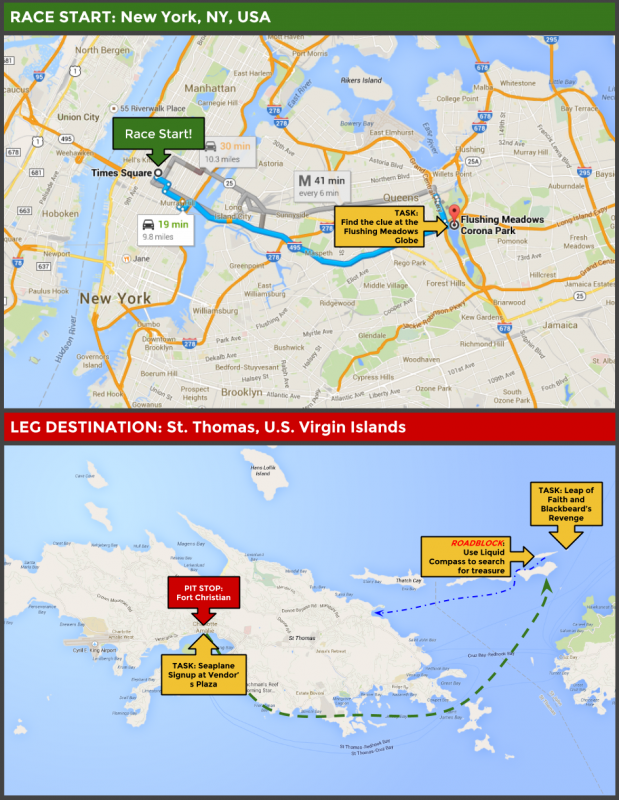 I've been to St. Thomas a few times when I'd go to visit my dad when he lived there, and man, it is such a gorgeous place to spend some time.  I've flown there, ridden a skiff there from Puerto Rico, and even taken a ride on a seaplane around the island from Vendor's Plaza, just like they did.  But man, I'd have loved this experience the racers got!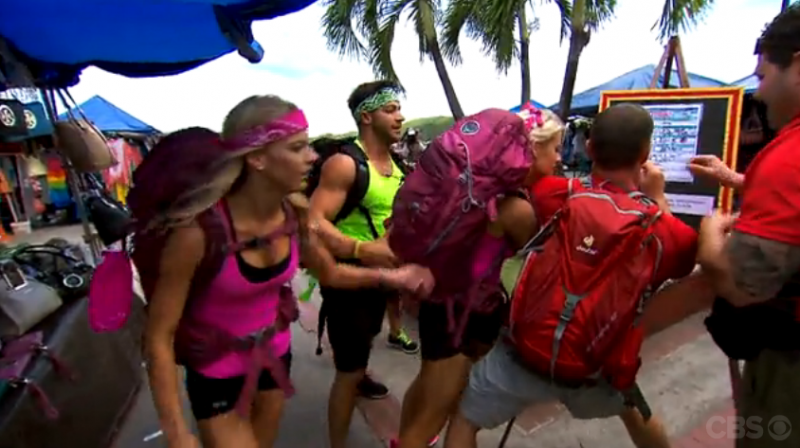 First, they had to find a sign-up sheet for the seaplane flights, with each plane only able to accommodate two teams at a time.  The scramble shown here is when those final 3 teams were trying to avoid being in that last plane, and it was the moment when the Firefighters Michael & Scott became the enemies of the Miami Realtors Lisa & Michelle.  The karmic turnaround of it all wrapped up pretty quickly as by the end, the Realtors' fate was sealed by The Firefighters return of aggression.  But their poor performance at the Roadblock ensured their TAR fate was hanging by a string.
Then, the plane left them over at Lovango Cay, to then go to a Leap of Faith at Carvel Rock, which they first had to climb up.  Once they leaped back into the Caribbean, they grabbed a bottle which had them go to a pirate ship, Blackbeard's Revenge.  Another clue awaited them as they now had to pull themselves in a dinghy to the shore of an island, which is where we FINALLY got our Roadblock.
The Roadblock From Hell, Courtesy of Liquid Compass!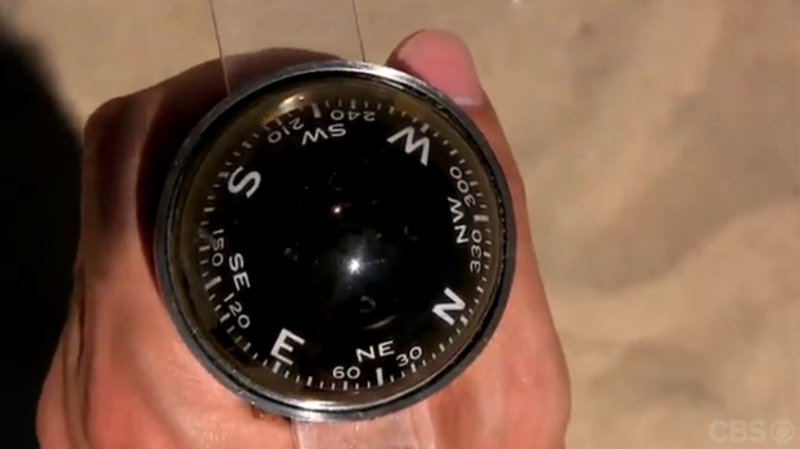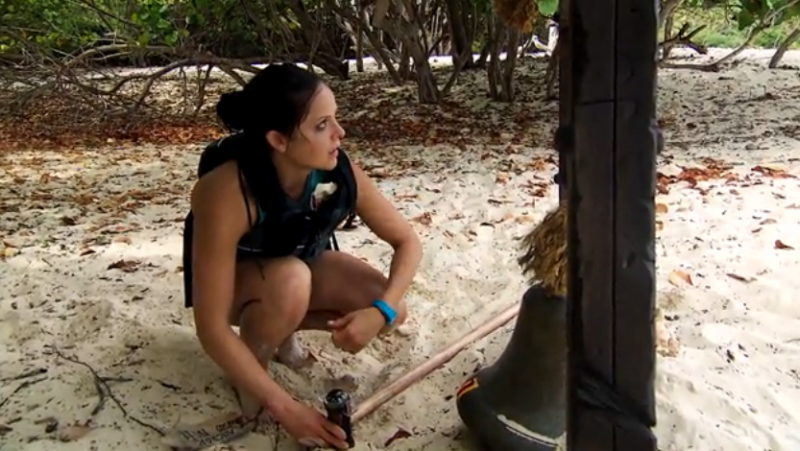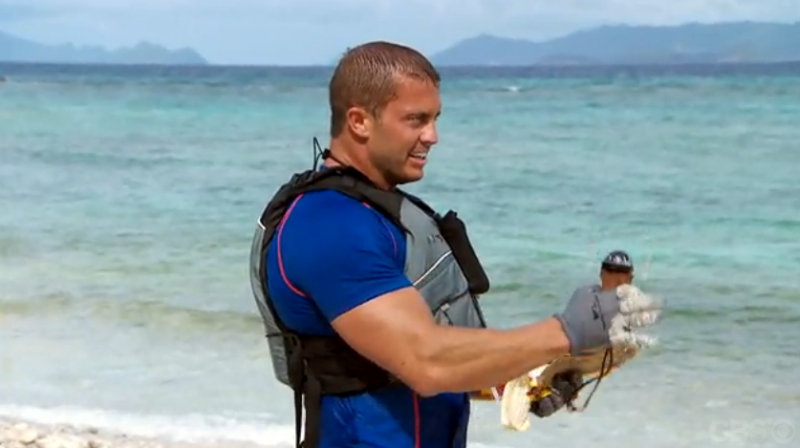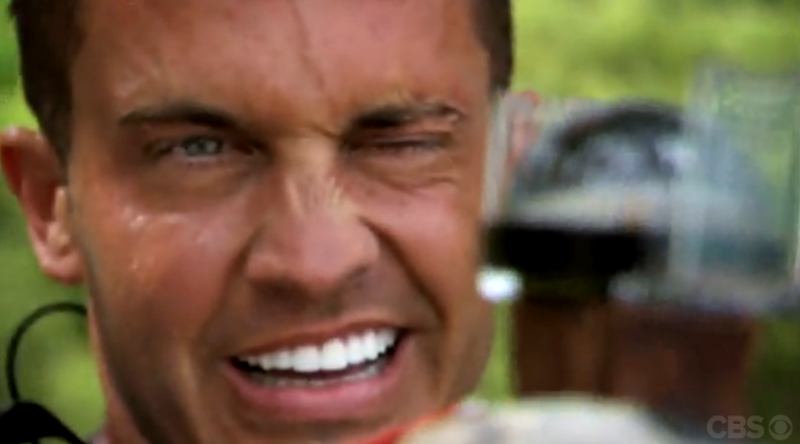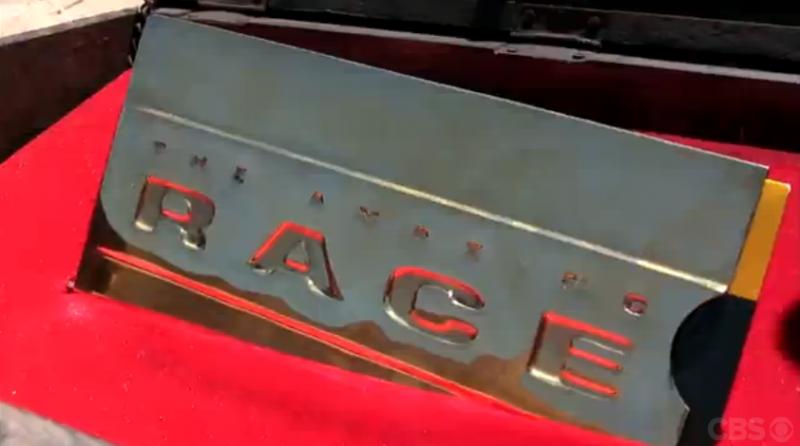 This Roadblock was a freakin' nightmare for pretty much every team.  It was also a great equalizer as it almost didn't matter if you got there early or late – you just had to get clever quickly to find your chest, but that was not something that happened unless you were Jim, who happened to think about using his watch's compass to realize that the liquid compass required you to look at the close-end of the device to read the direction.
Frustratingly, even when Jim did help others like Adam and Tim, they still weren't getting it.  Jim finished and was out of there seemingly LONG before others got their act together.  It's a great start and bodes well for Misti & Jim's long-term prospects for the race, but not everything will work out because of the gear you have on your person.  But props to him for making quick work of it!
Roadblock Desperation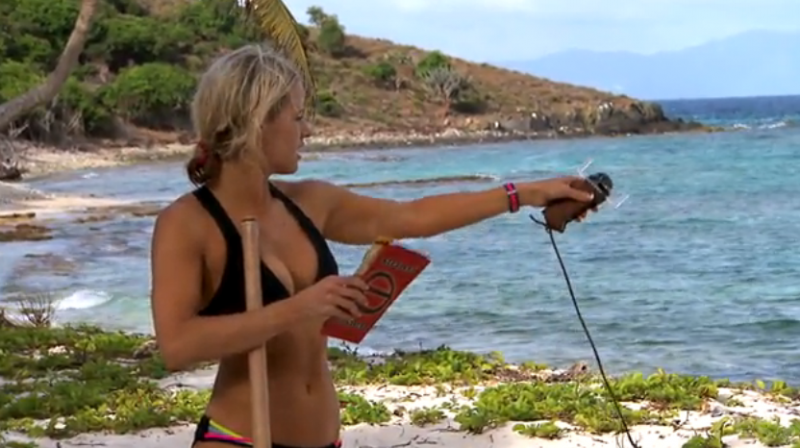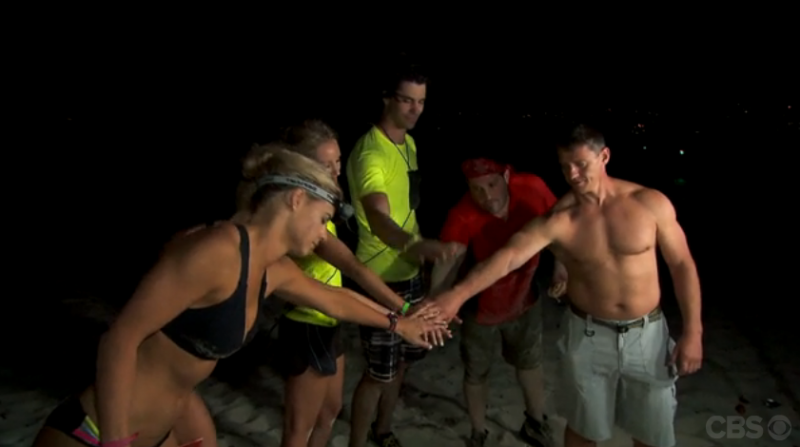 Too bad about the last 3 teams…it was hilarious to watch the CBS-overlay showing where the chests actually were compared to where the teams were digging.  Frequently they were mere feet from their target.  That's gotta be realllllly hard to watch if you're Lisa & Michelle.  So hours upon hours later, three teams are STILL there: Michael & Scott, Keith & Whitney, and Lisa & Michelle.  All have given up and so decide to take the penalty together, meaning that now it'll be a pure race to the Pit Stop, with whoever comes in last losing, while the two teams still in it having to deal with being really behind the other teams in the next leg.  More than likely though, there will be an equalizer, but still, it's a bad place to be.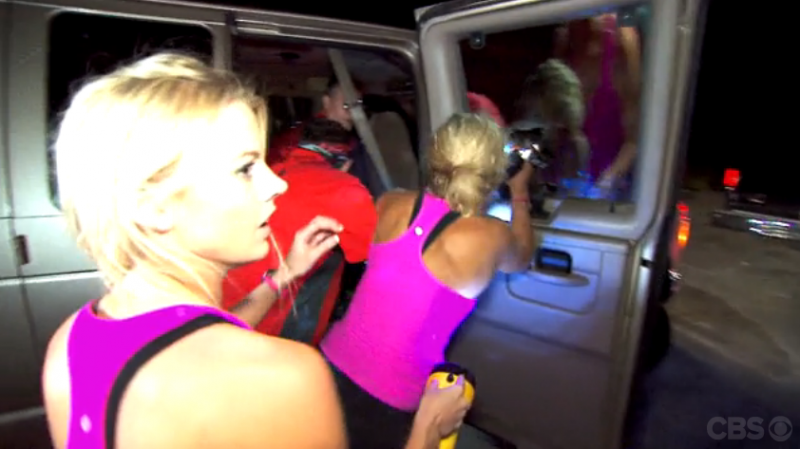 Of course, that karmic shit comes back and sure enough, there's another collision between the Firefighters and the Miami Realtors, as they scramble for the same taxivan.  Michael gets into the van first but the girls are trying to get in after him and here's Scott charging in behind them and pushing them aside.  it's a desperate moment, that's for sure, and if the girls hadn't played dirty at the seaplane signup I'd likely express some moral outrage but this was pure payback.  It just sucked for the girls as this was the WORST time and place for that kind of payback to occur en route to the Pit Stop.
Pit Stop: Fort Christian, St. Thomas, USVI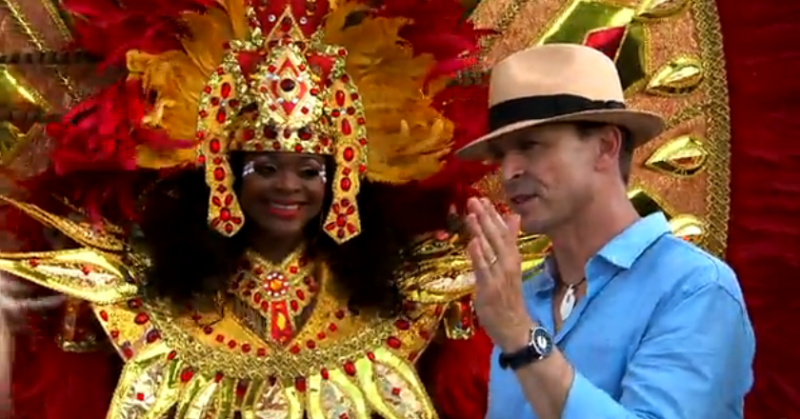 A very colorfully-dressed St Thomas bookkeeper awaited the racers with Phil at Fort Christian, the race's first Pit Stop.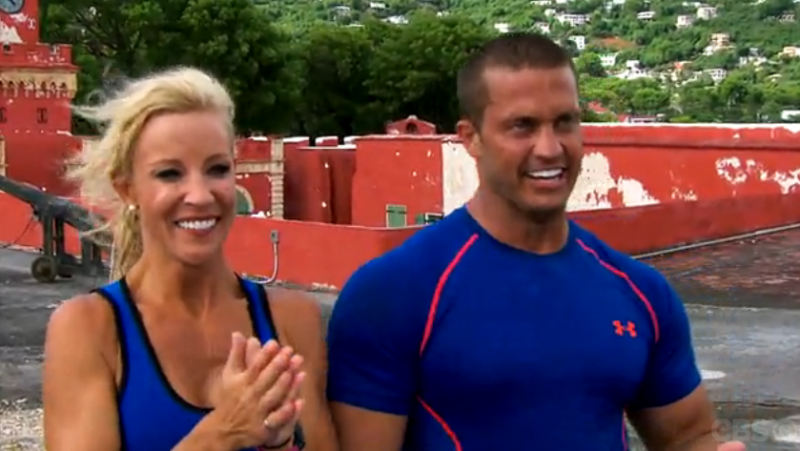 The winners, of course, were Misti & Jim.  They received The Save and are pretty confident that they're unstoppable until the end.  We shall see, Dentists.  We shall see.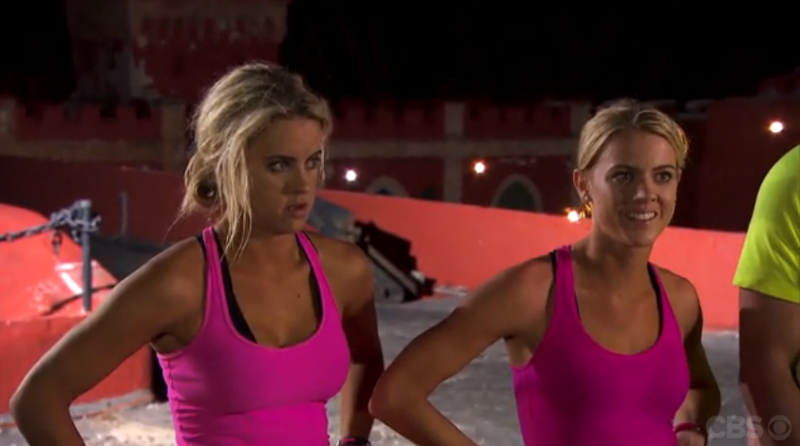 On the other end, we have our disgruntled Realtors Lisa & Michelle (I so want to say "Romy & Michele" when typing those names) who end up losing the footrace to find Phil at the Fort.  Michelle (on the right, above) doesn't seem too bent out of shape about it, but Lisa is NOT having it.  She blames the Firefighters' roughness as their downfall and that it's clear they should have been as ruthless here as they are in their regular lives.  Well, yeah, that would have been a great strategy if you also had some challenge acumen too.  I was going to keep kicking them while they were down, but nah, not worth it.  Positivity!  And there's always my Bonus Clips write-ups!
Leg 1's Finish:
Overall Standings for the Race:
This roster will show the cumulative information of the race, including the Roadblock counts, prizes, and ability to see how teams have done over the race.  Once U-Turns show up, you'll also see that:

Links for this Season: