BB16 Episode 22 – August 13, 2014
I think Victoria and I are sharing the same reaction to the way things turned out this episode. Â Zankie break up! Â Zankie reunite! Â Victoria is near to blowing things up, accidentally! Â Victoria is back to normal, being useless! Â Nicole is safe! Â Nicole is so NOT safe! Â The Detonators are done! Â The Detonators are back! Â It was a hectic episode, that's for sure, and while once again in the end Nicole is poised to go out, this time it feels like it's time. Â She was out played, yet again. Â This just isn't her game.
The Frankie Fallout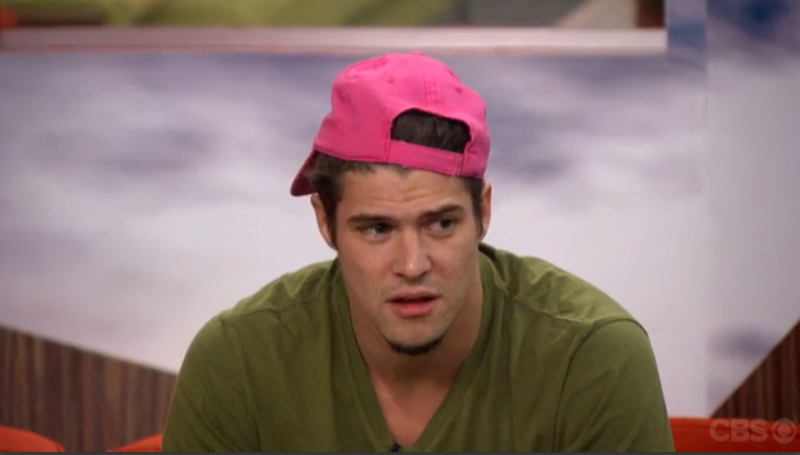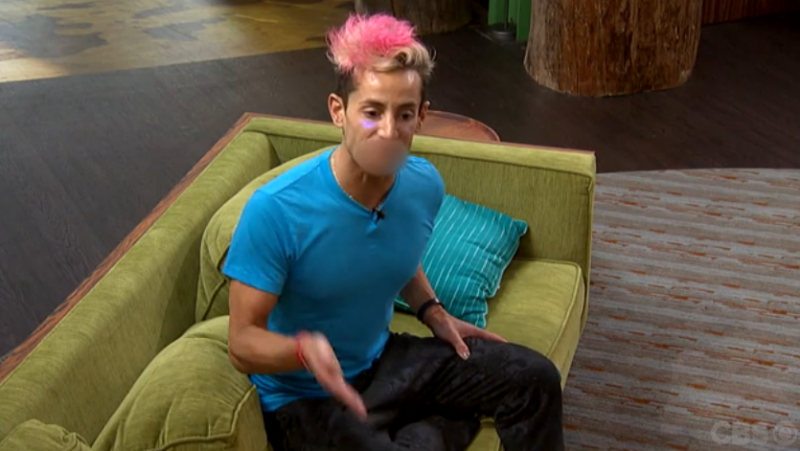 So after Frankie's stunning win in the Battle of the Block, it was of course time for Zach to flip out on him.  Accusations were made and Frankie countered with the fact that this is Big Brother after all, so of course he's lying about stuff.  Zach just wanted that out there for everyone to hear.  Caleb tries to give Frankie an out by indicating that all this started because the "girls in power" accused Frankie of throwing Caleb, Derrick, Cody and Zach under the bus.  It was clear Caleb thought Frankie would lie about it but Frankie owns it.
You know, I'm impressed with Frankie's plays here – at this point, I guess it worked to tell the truth about that play. Â I was thinking that it certainly didn't have an impact this episode, but honestly, that's really only because he's safe from nominations now. Â Likely, he'd have lied his ass off to ensure that he wouldn't get put up.
So yeah, then Big Boss Derrick points out that maybe they shouldn't be airing ALL their dirty laundry so that everyone else can hear it, which they all agree is the truth. Â They move into the bedroom and Frankie then pulls out the whole Ariana Grande thing.
Honestly, who cares? Â  It was a lot of humblebrags and dramatics, and only the girls really gave a shit. Â Especially Victoria, which is where the top image came from. Â Love that one.
Will Frankie's strategy have long term legs?  Doubtful.  Absolutely everyone still considers him a sneak and sees through what he's doing, but they can't do anything about it….this week.  Even he and Zach make up, with Zach pledging to us that he's going to evict Frankie as soon as possible.
The kicker is when Frankie claims to be playing for charity – absolutely EVERYONE is pissed about that little nugget of info. Â Zach is livid, almost completely breaking down in the Diary Room knowing that no one could vote against that. Â This whole set of moves by Frankie is seriously misguided.
Victoria Involved in the Main Plot of the Episode???
I know, right? Â How the hell did that happen? Â You know it wasn't intentional! Â So yeah, we learned that Derrick and Victoria have been friendly, with him smartly investing time to make sure she felt close to him and could trust him. Â Seriously, give Derrick the money! Â He's doing everything right. Â He reminds her to stay focused on Frankie as a target, even knowing about the Ariana Grande connection and him playing for charity.
It's when Victoria talks with Zach after the Veto Competition when things get a little dicey for Derrick. Â Zach, for some reason, wants to tell Victoria everything and so he proceeds to, including the existence of the Detonators. Â That knowledge blows Victoria's mind and makes her realize that Derrick has been lying to her the entire damn game. Â She's devastated. Â Zach realizes that Victoria may now be a loose cannon and start going off at the mouth which would pinpoint him as Loose Lips McGee. Â So he immediately goes to Derrick and lies to him that he had told Nicole about the Detonators and she had gone and told Victoria about that, so be careful! Â Derrick rightly smells bullshit, and immediately calls a meeting….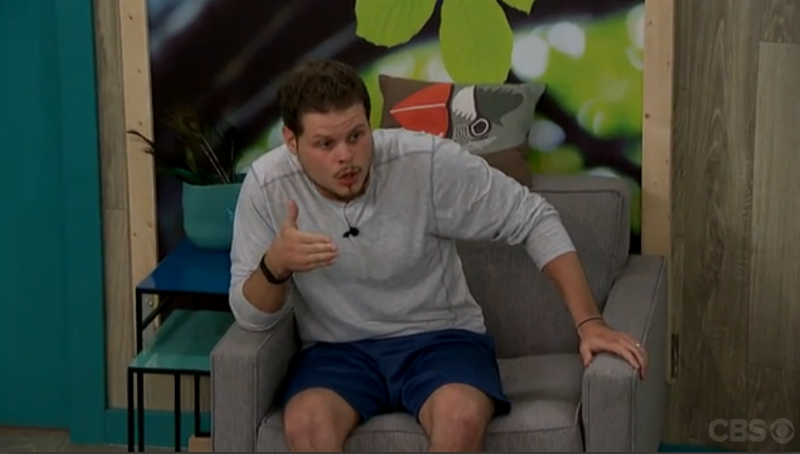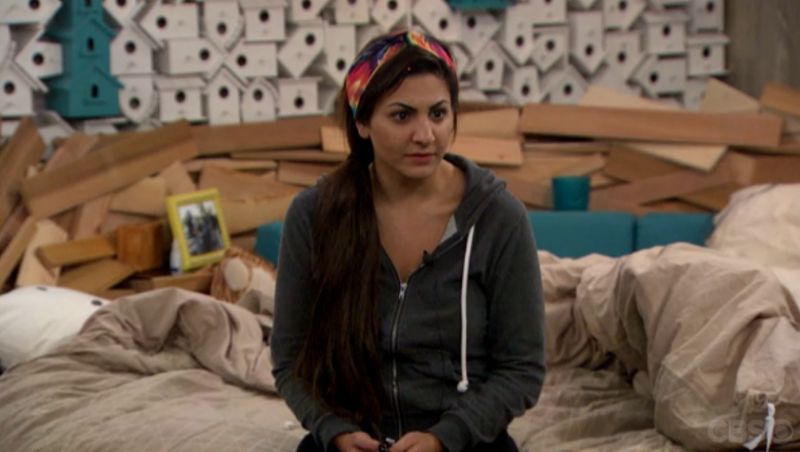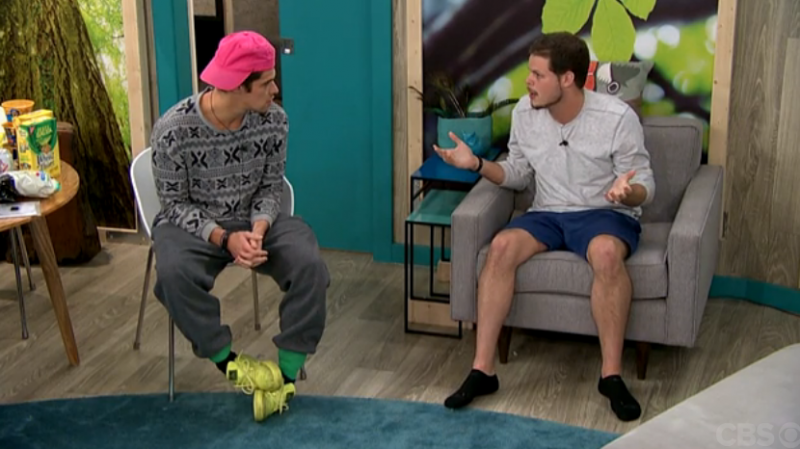 With absolutely no fear, he brings pretty much everyone up in to the HoH room to discuss this, and openly paints Zach as a liar, which he admits to being. Â It's kind of stunning how easy Derrick is running this house. Â Derrick is even impressed with how easily he defused that situation, with Zach being the bad guy now and Victoria guilty that she thought poorly of Derrick. Â And the existence of the Detonators seems to be secure, too!?
Power of Veto – OTEV-style
The OTEV competition returned, with the familiar gameplay of musical chairs reducing the players one at a time as there are seats always for one less than there are players. Â This theme was cocktails based on evicted houseguest names, with each player having to find and uncover placards with that information on them. Â Donny is quickly out, as is Nicole. Â At the end, only Caleb and Zach remain, with Zach asking Caleb to take his time since he's safe already. Â Caleb laughs. Â No more thrown competitions for him! Â Didn't matter though, as Zach pulls out a win.
Seriously, the people who HAD to win in these last 2 comps did it. Â Frankie HAD to win BotB and pulled it out; Zach HAD to win this Veto and he did. Â Unfortunately, we're out of comps for Nicole, and I think she's definitely the one who really needed to win to stay safe!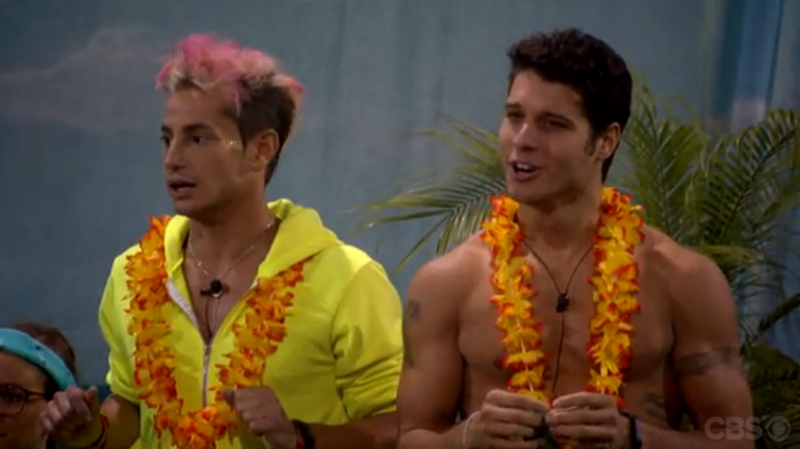 TANGENT:  So while I don't do the Caleb v Cody contest anymore, I think this is certainly a Notable Entry for review – Cody is looking damn good in that getup.  Hello Hawaii!
The Detonators, Restored – Mostly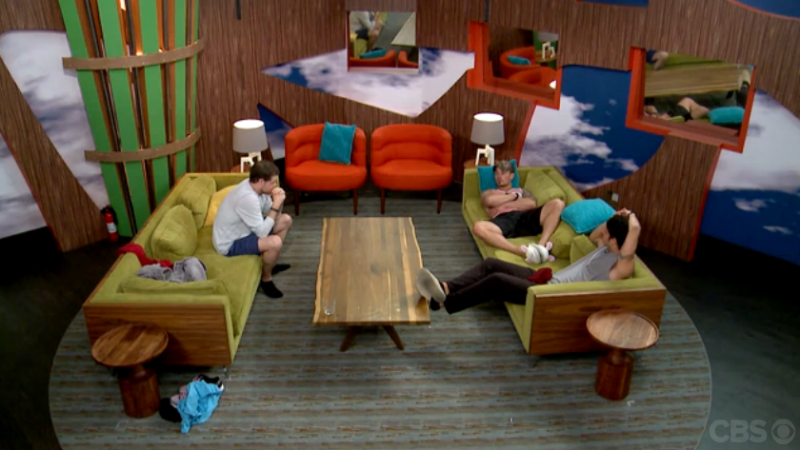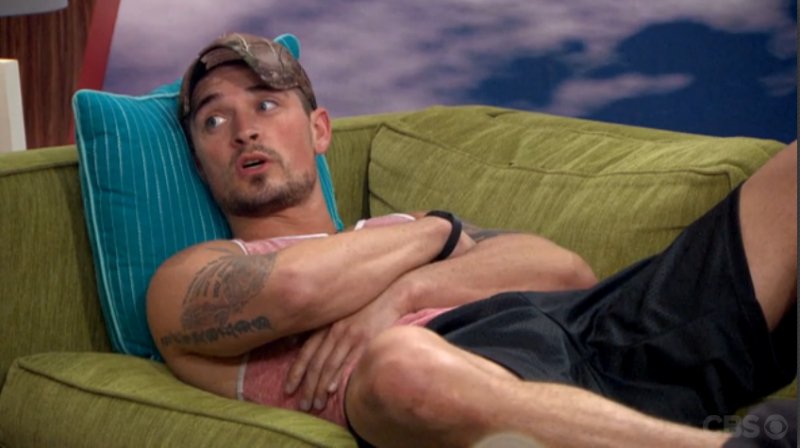 It's a strange mix of alliance-mates working "together" now, but indeed the Detonators seemed to regroup in time to figure out a best move that would work for all of them. Â Caleb, sweet dim Caleb, the self-professed "non-tool", who still thinks "The Bomb Squad" is a thing, happily weaponizes himself yet again in making Nicole the target for the Detonators.
I knew the clip of Christine promising not to backdoor Nicole shown at the beginning of the show wasn't an accident – the editors HAD to show that so that there were some emotional stakes involved. Â The guys smartly play Christine by insisting that Nicole had told them that Christine was her target and was going to backdoor her, even lying that Nicole asked Caleb to throw the competition so she could do that. Â Christine seemingly buys it, telling us that she is making her choice and that is to side with The Detonators.
So The Detonators seem to be together, but clearly, it's just for the time being. Â Christine tells us her main goal is to get rid of Zach. Â Zach wants to get rid of Frankie. Â Derrick and Cody seem solid still, while Frankie is entering wildcard status. Â Regardless, this week is PURE collateral damage now, leading us into….
Veto Ceremony Time
Zach uses the Veto on himself obviously, and with Christine having made her choice to stay aligned with The Detonators, burns Nicole once again and returns the "backstabbing knife" in kind, putting the traitor up on the block next to Donny. Â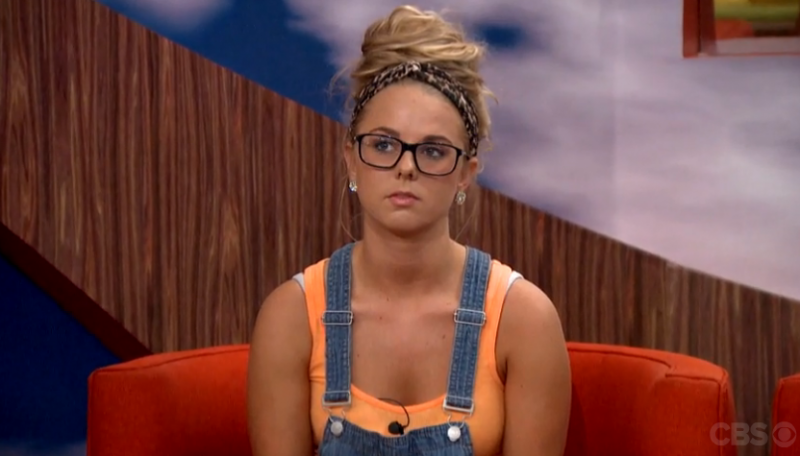 Obviously that "traitor" jab is entirely inaccurate, and Nicole is completely stunned.  But at this point, it doesn't matter – they just needed a reason.  And with Derrick firmly in control, he doesn't allow Victoria to become an option since she's totally in his pocket.  Well played, Detonators.
As for Nicole, I am emotionally bummed that she got screwed over as she's really one of the nicest people left in the game. Â BUT, this particular move seems more like something she had ample ability to fight against, rather than the insanity of Double Eviction night. Â She knew she was in trouble and even got to play in Veto, but couldn't win. Â I'm also not sure how well she was doing keeping in Christine's ear – it's not clear when the other Detonators implemented the Burn Nicole strategy, but I imagine there still was time before the ceremony for Nicole to figure it out from Christine. Â Alas, past is past.
Status and Standings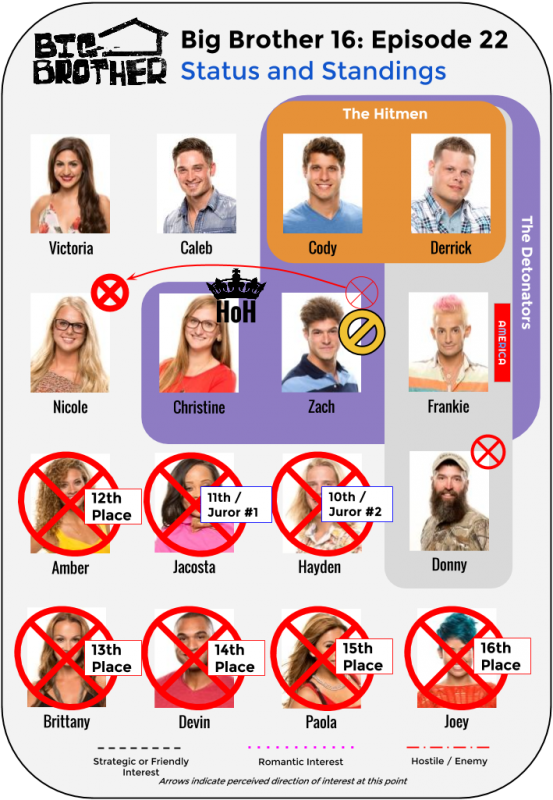 Head of Household: Â Christine
Nominated for Eviction: Â Zach & Donny
Power of Veto Winner: Â Zach
Veto Used? Â Yes, on himself
Replacement Nominee: Â Nicole
Resulting Nominees: Â Nicole & Donny
I really don't think Nicole is going to stay this week. Â I think it would be better for her if she does get out. Â It's probably going to be like this the rest of the time even if she were to survive. Â The Detonators are dysfunctional, but they still manage to get their shit together when it comes time to strategy, thanks to Derrick. Â Donny is proving to be a manageable threat while Nicole is definitely out for revenge if she stays. Â Another upside of Nicole's eviction, besides her sanity (the poor girl's tears at the end were heartbreaking), is she'll get to hang out with Hayden in the Jury House! Â Plus, someone's coming back later on – maybe that break is exactly what she needs!
As for future predictions: Â This is totally Derrick's game to lose. Â I thought his game was going to fall apart due to Victoria this episode, but man, talk about knowing how to clean up a situation! Â I wonder if anyone will realize he needs to be taken out before it's too late!? Â That's the real Act III of this season, if it ever happens. Â Act I was the Bomb Squad stuff, Act II was the Detonators, and eventually Act III will be the implosion. Â We're still firmly in Act II, but not for much longer! Â That should be good stuff when we get there!
Guess we'll see how it plays out in a few hours! Â Hopefully there's no Football pre-season game to fuck up the schedule tonight!!!!