July hasn't been the greatest month for movie releases (Neither Larry or I can bring ourselves to see Transformers 4 in the theater) so of the 3 I'm about to run down in this post, only ONE was seen at the theater.  The other 2 were at home – one was a VOD (really beginning to appreciate and love that luxury) and the other was Netflix.  When you have a 65″ HDTV though, you certainly aren't feeling like you're missing out on a big picture!
Anyway, I really enjoyed these three movies and recommend them!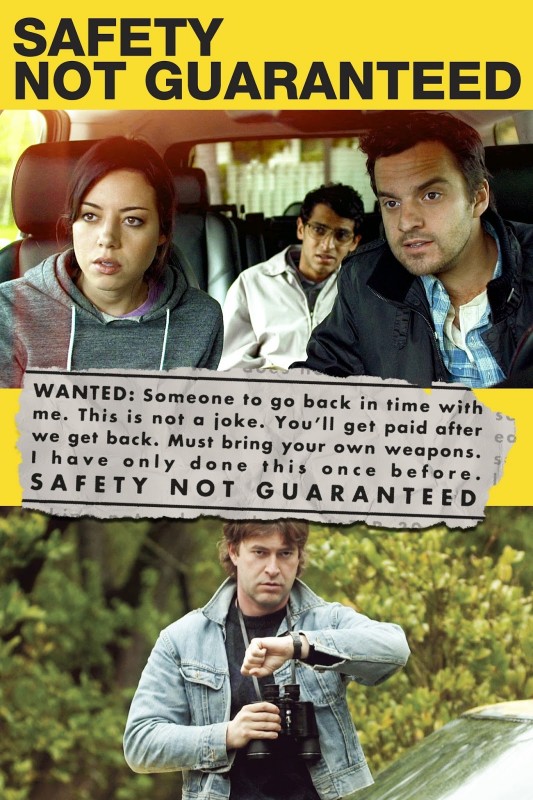 Safety Not Guaranteed (2012); seen at home on VOD on July 11, 2014
Man, this movie was fantastic.  Aubrey Plaza is an intern at a magazine and gets assigned to Jake Johnson for a story about this crazy ad in the newspaper, as seen in the poster.  It's such an intriguing premise for both these characters and us the viewers that the movie just takes off from there and you are excited to see where it takes you.  They quickly find the guy behind the ad, a delusional sad sack that charms everyone he meets with his sincerity about his "mission."  I won't go much further as to do so would ruin the movie, but let's just say that this movie is massively entertaining.  Aubrey Plaza is sarcastic, of course, but she gets won over by this mysterious man and drops that facade.  It's a very funny movie while also being bittersweet, as some truths come to light that are hard for people to face.  I won't throw this in the summer movie rankings for this year, but let's just say it's a definite must-see when holing up in your apartment avoiding the heat of July and August.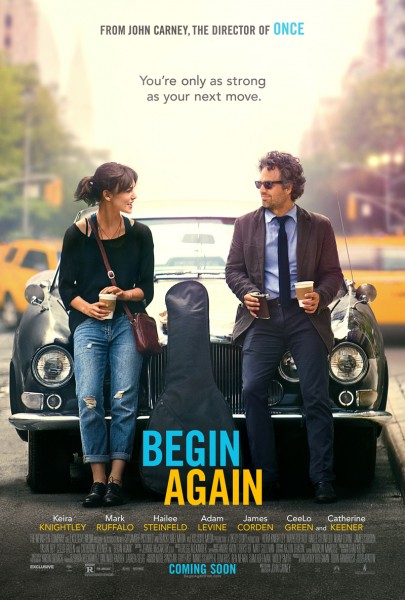 Begin Again (2013). Saw it on July 12, 2014 at Pacific Theaters @ Americana
A cute movie with fun performances and compelling songs, Begin Again is a charming ride through a wonderful version of New York City.  We meet the two characters as they're both having a terrible moment in each of their lives which just happen to intersect.  Luckily that intersection is just the right thing.  Keira Knightley is a down-on-her-luck singer/songwriter, having just been dumped by Adam Levine and ready to go home. Mark Ruffalo is a record producer that is separated from his family and fired from the record studio he founded due to being a big ol' mess.  Yet he stumbles into a bar she's playing one of her songs and while the performance, in reality, is nice but underwhelming, he immediately can grasp what the song could be, even in a drunken stupor.  That's where the movie puts in some magic as his version that he hears manifests itself in an imagined band surrounding her, Fantasia-style.
From there, we're off and it's the path to rebuilding their lives while also recording an album of her songs throughout the NYC outdoors.  It's quite mesmerizing when they're playing these compelling songs (btw, I totally bought the soundtrack) in places I'm quite familiar with, and a great love letter to that wonderful place.  There are some twists and turns in the plot but they feel right, and at the end, you'll leave with a smile on your face.  It's made by the guy who brought us Once but this movie isn't nearly as emotional as that one.  I still remember sobbing at the end of Once and can get teary-eyed still, even just thinking about it.  But Begin Again is entertaining and will make you smile, and sometimes that's exactly what you want.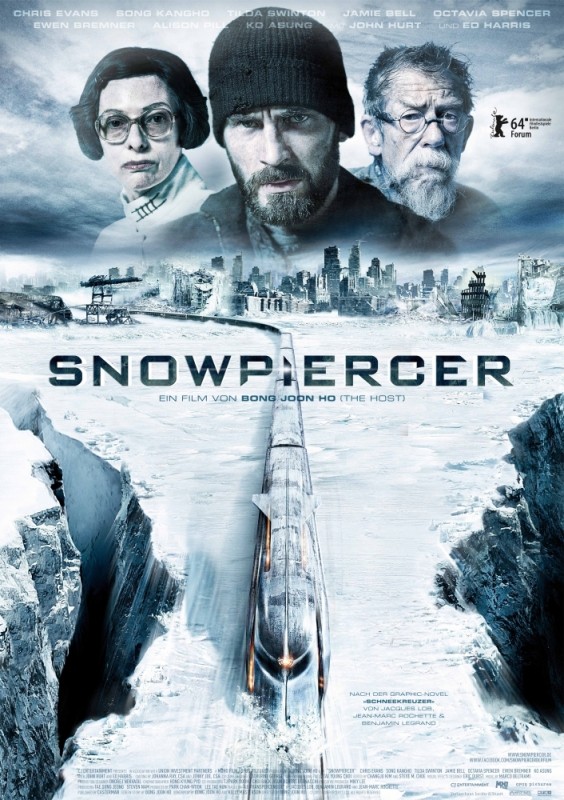 Snowpiercer (2013); Seen at home on VOD on July 20, 2014.
Wow, I just realized that all 3 of these movies were not made in 2014.  Begin Again was made last year but held until 2014 for release, while Snowpiercer was also made last year but also released overseas in Asia last year.  Apparently there were rights issues and a director's cut problem to iron out before we got our release date.  ANYWAY, it was worth the wait, in my estimation!
Snowpiercer is the story about what happens when something terrible happens to cause the entire planet to freeze and all life is made extinct, EXCEPT for those people who made it on to the Snowpiercer train.  This train is long and never stops, going around the world on its circuitous track once a year.  But unfortunately for those on the train, there are some who are the "haves" and some who are the "have-nots" – this movie is about what happens when that hierarchy blows up.  The concept is fun as it's not only an apocalyptic vision but also a story where you're caught in a confined space.  There's only one direction for the heroes to go and go they do, experiencing loss and devastation all along the way.  And oh man, the path on that way is glorious – this train is fascinating to behold as you see what all is keeping everyone alive.  This movie is stylishly art-directed and the effects are quite impressive.  The cast is a lot of fun too, especially Tilda Swinton as an imperious representative of the front of the train who gets a lesson in what people will do when they're desperate to survive.
Snowpiercer is proving to be divisive though, as while it's a compelling story, the final act of the movie can leave you questioning quite a bit of what the hell is happening and why.  I have a slight problem with the actual ending-ending of the movie too, and what we're supposed to take away from it, but despite all that, the ride till then is fascinating.  It's a hell of a lot better than the last train movie I saw, Unstoppable.  Ugh to that movie!
My Summer Movie Rankings, Thus Far! (as of July 22, 2014)
Life, Itself
X-Men: Days of Future Past
How to Train Your Dragon 2
Snowpiercer
Edge of Tomorrow
Godzilla
Begin Again
A Million Ways to Die in the West
—–The Line Between the Enjoyable Movies and the Meh Movies—–
Jersey Boys
I decided to move Edge of Tomorrow up a slot;  I've forgiven the ending a bit and embraced the 95% awesomeness the rest of it was.  Thus Godzilla gets pushed down one.