It's a weird-looking date hence there's all sorts of things that wanted to have this as a momentous date, incidentally for some and totally intentional for others.
Incidentally? It's Veteran's Day (yay soldiers and airmen and seamen and marines!) and it's all-the-way-up-to-volume-11 Spinal Tap day too.  Intentionally?  Elder Scrolls V: Skyrim, The HP7 Pt2 Blu-Ray, and Immortals came out.  I'm excited for the first two…the last one, maybe if we could watch it on mute.  I've read that there are plenty of Greek soldiers who don't know how to wear a shirt in it.  That's always a good thing.
I've been playing GTA4 and Tropico 4 a lot lately, then dabbled just a bit in Skyrim this morning but I can not let myself get absorbed.  Must try to get through these in due time.
Oh yeah, if you know or care about my sciatic nerve problems, my MRI revealed that indeed I do have a tear in one of my spinal vertebrae discs, about 5mm in length.  The resulting glob of goo from the disc is now pushing up against the bunch of nerves coming out from the spine and, you guessed it, one batch is that set of nerves that runs down my right leg.  OH THE FUN.  My options per the doctor are surgery, steroid injections, or let it heal some more/physical therapy.  He advised against the first two as the rationale was that in two years, all options will result in the same relief.  And surgery and steroid injections all have additional risks and such associated….so I did opt to continue with trying to get better with time.  I can admit that the pain has reduced, although my days go from pretty good to pretty bad.  And lately, trying to get out of bed has been horrendous – I'm not sure what is causing it but it's insane.  I have a feeling that because I doubled up on the Gabapentin at night, I move around more than I should and when the Gaba wears off, the pain comes roaring in.
I bought a seat cushion that has a cutout right where your ass-crack is;  apparently that is to allow your spine to not get that upwards pressure from the seat as just your asscheeks are sitting while the spine can sorta sit through it?  I don't know, I am using it now and I am feeling way better when sitting than I did previously, so perhaps I'll need to swing by the medical supply store and pick two more up, one for the car and one for the office….  Anyway, once my pain is such that is nearly minimal, I can start some physical therapy to strengthen my core.  Who knows, maybe I'll get a six-pack….like this guy: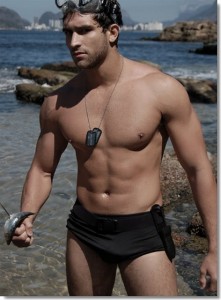 Hey, it's Veteran's Day, and this guy has dogtags on, so I bet he must be a Veteran too…. heh heh…
Alright, enough hotness from random strangers for you.  Here are some well-deserved pics from Larry & my trip around the Eastern Mediterranean – this time from the lovely and fantastic spot of Mykonos, Greece.  It really is amazing how wonderful the weather was the entire trip.  Sure, it was effing hot, but there wasn't any rain nor any gloomy days, except for the day at sea which was coming up the day after Mykonos.  But who cares, right?  That's what the inside of a massive cruise ship is there for.
June 22, 2012 Update: Â I think that the captions of the photos for this particular excursion are sufficient to describe the adventure on this day.  It was a great day and full of beautiful Greek island scenery.  One of the fun highlights was while eating lunch on the Mykonos coast before heading back to the ship.  Lots of people-watching (aka checking out hot guys).  The ship left in the afternoon so when we got back, there was time to go hang out by the pool which was a fantastic way to drink and soak up the rays.  Some times, you just need to put your feet up, listen to the music, and enjoy the sun.
Islands of Delos and Mykonos (Greece), Sept 6, 2011
Off to the Isle of Delos
Climbing Mt Cynthus on Delos
Back to Mykonos
2011 Mediterranean Trip Pics Index
Mediterranean: Day 9 – Mykonos, Greece