BB20 – Ep 14 – July 26, 2018
I don't have the energy or the sobriety to do a full post for this episode.   The only thing to really discuss is that Kaitlyn wasn't able to save herself, whether by avoiding the votes to keep her in the house or to take advantage of the use of Sam's "Bonus Life" power, as she just couldn't get it together to solve the 5-piece puzzle.   SMDH.
With her eviction, it really does kind of close the book on the First Act of this year's Big Brother.   Much of the noisier contestants have been evicted, and we enter into a weird state where it's not clear what the next set of storylines will be.  Will Brett be a catalyst for what's to come?   Is Sam going to evolve into something even more annoying?  Will we ever hear Angela or Kaycee speak?  The Act II of this season better surprise, or it could be that this season is about to get really boring.
Status & Standings: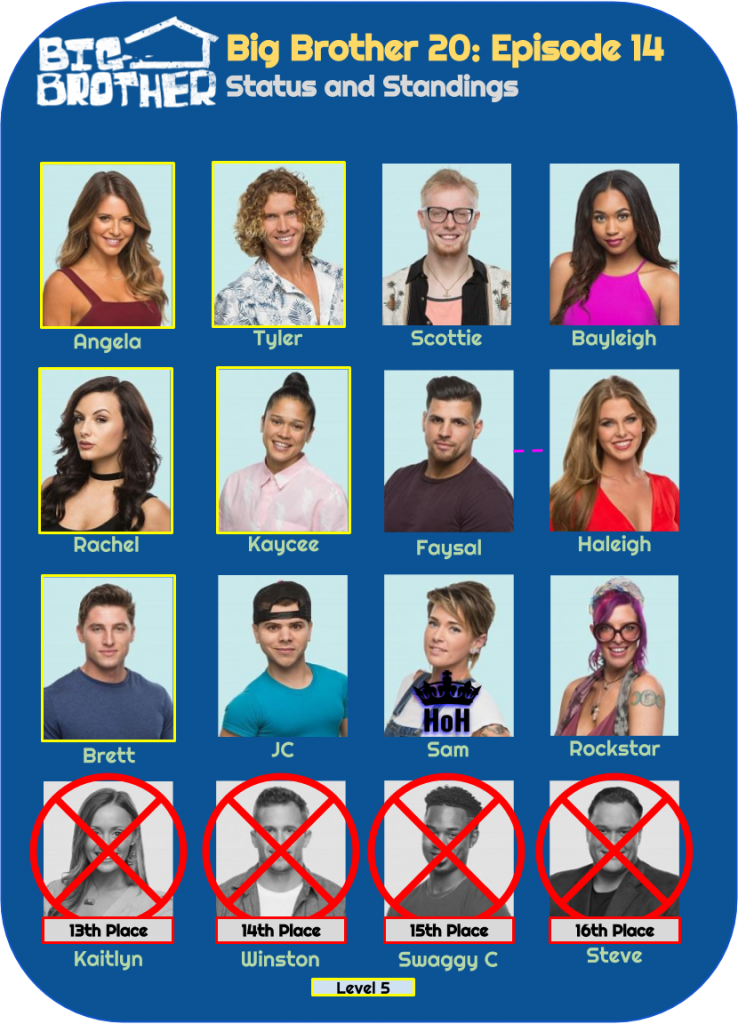 Outgoing Head of Household:  Sam
Nominated for Eviction:  Kaitlyn & Rockstar
Evicted:  Kaitlyn (9-1 vote, with JC voting to keep Kaitlyn)
New Head of Household:  TBD
I am hopeful that something interesting will happen in the upcoming set of episodes…but I'm not confident it will.  There's really no one who seems to be at Tyler's level remaining.   Does he steamroll his way to a victory?  I think so.  But fingers crossed there's something interesting to come in the next month.
Oh, and here's the Off the Block video with Ross & Marissa and Kaitlyn – good stuff within: