I wonder if the show's producers have decided that in order to keep ratings from sinking, they need to show only beautiful places in the world.  This recent leg took the racers to New Zealand, and holy moly, it was gorgeous.  Of course it would be so, as there is a reason why Peter Jackson chose to film the Lord of the Ring trilogy there.  It's almost too beautiful – it really doesn't look real.  I'm not surprised the producers would want to highlight these gorgeous places, but typically, it mixes up beautiful with…. not-so-beautiful.  Think extreme poverty and overpopulation, like what you might find in South Asia.  Not that there isn't beauty there, but it's not easily confused with the beautiful landscapes found in the South Pacific and in New Zealand.  So yeah, I am wondering what's up with that?
The Recap-esque Section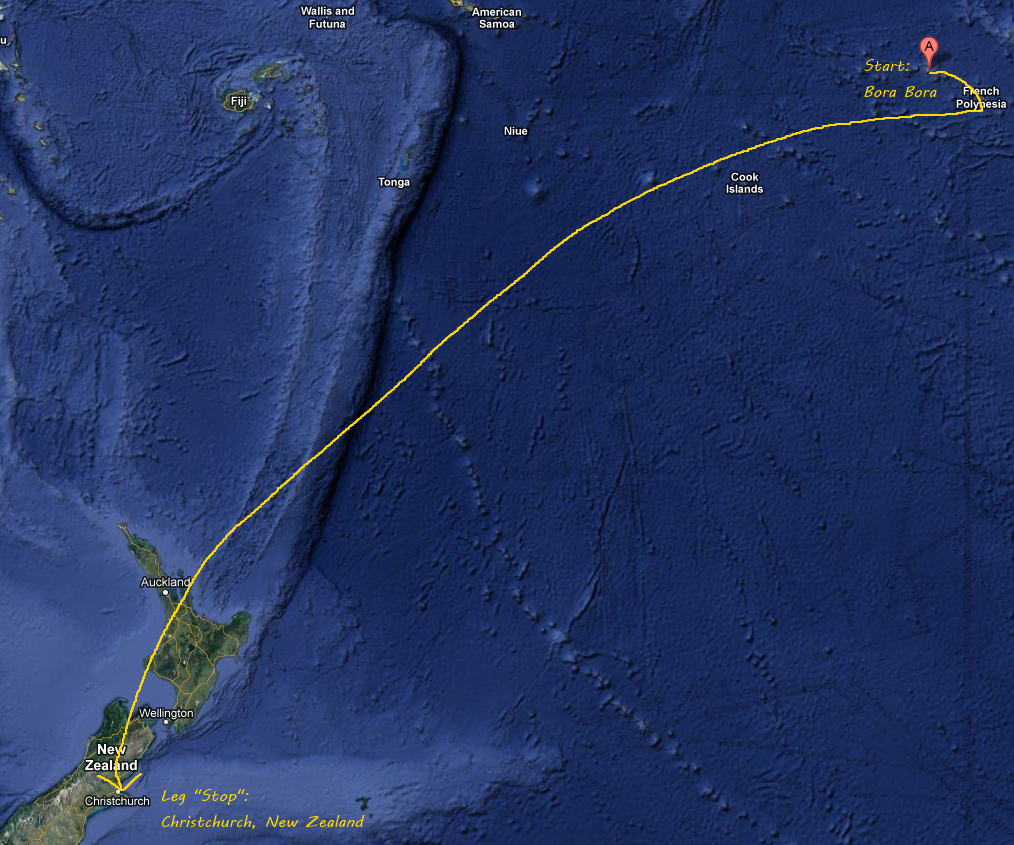 I should have been looking at the clock while watching this episode because if I had, it would have been clear this was a "keep racing" leg as there was not enough time to show the remaining contestants coming in.  So I admit I got completely tricked by the producers when they laid that little bit o' drama in the proceedings.  What will Connor & David do? Will they keep racing or will they concede defeat because it just seems bananas to keep going with David in a cast?
I have a sad feeling that they will end up quitting the race.  A torn Achilles' tendon does not sound fun, and the doctor in Tahiti confirmed the tendon and muscle were jacked up.  Ugh.   I get sympathy pains just thinking about it.
Anyway, there was an episode leading up to the cliffhanger, which involved the teams jetting off to New Zealand from Bora Bora.  Surprisingly, Pam & Winnie scramble from last place into a temporary first place position when they get the only seats on the first flight out from Auckland to Christchurch – yet they squander that away fairly effortlessly once in country.  Le sigh.  They're not really on my favorite team list anymore as they just seem incompetent.  The Walmart team, Chuck & Wynona, end up arriving in Christchurch last after they didn't realize that the game is still played even when booking travel in airports.  Unless you're super savvy at traveling, never get caught alone without knowing where everyone else is.  The Walmart team is NOT super savvy.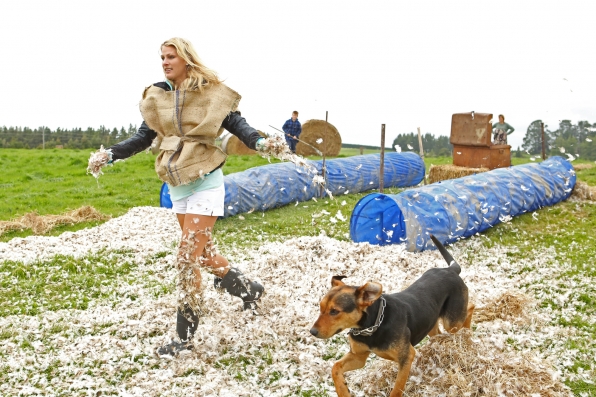 It doesn't really matter though as the teams all end up having to camp on a riverside at Rakaia River Gorge until the next morning.  At that point, they get a river ride to the Detour cluebox, which they have a choice between "Rev it Up" and "Reel It In". Almost everyone chooses the "Rev It Up" option which makes sense, as it is more about skill (finishing a road course in 83 seconds or less) vs luck, which "Reel It In"'s fishing could potentially be.  Connor & David take an early lead and cement it when they decide on using the Express Pass which was just given to them by John & Jessica.  David's foot prevents him from driving with a clutch and when they try fishing, it seems hopeless.  So they Express Pass ahead to the Roadblock, located at Mt Hutt Station.
The Roadblock involves one member partaking in an obstacle course that involves getting slathered in molasses, having a dog follow you, getting feathered, then taking eggs with you on a giant slip & slide into a little lagoon. New Zealand is weird.  Ah well, it looks fun though.  This isn't a tough challenge for Connor to complete, which isn't done until you've transported 12 eggs.  They end up arriving at the Pit Stop first, where they're awarded a prize by Phil but also are informed that the race isn't over.  But will they continue?  We'll see.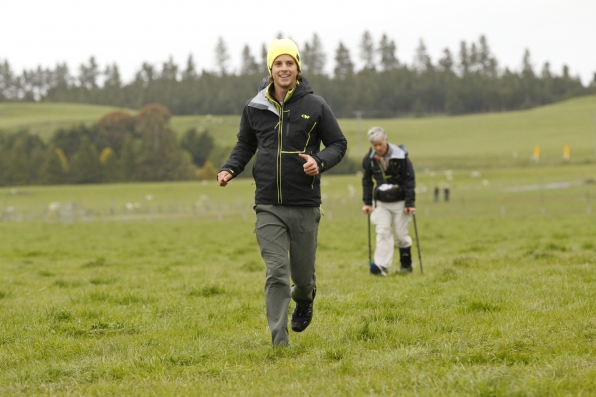 Everyone else shows up to the Roadblock without there being a clear loser, although some teams drop a staggering amount of places when they (Max & Katie, Bates & Anthony) go all the way up the mountain to Mt Hutt summit.  Oops.  I was wagering this to be a non-elimination leg, and I guess it kinda is but I still think it's possible that the next leg will be non-elim just because.
There's no leg rankings graphic this time because there are no places!!!!!