We went and saw A Quiet Place yesterday.   Watch the trailer here:
Scary, right?  YES, SCARY.
At just about 90 minutes long, A Quiet Place is quite a thrilling movie and is the right length to keep you on the edge of your seat before.  Too much more than that and you're gonna kill people.  As you see, this movie is intense.  Set in the near future, we find ourselves with a family surviving in the aftermath of a world in which a kind of creature has overrun the world and decimated the population.  The creatures are attracted by sound and WILL kill you if they hear you.  Because of that, this movie is unrelentingly quiet.  So much so that even when you're eating snacks in the movie theater, it feels like EVERYONE can hear you.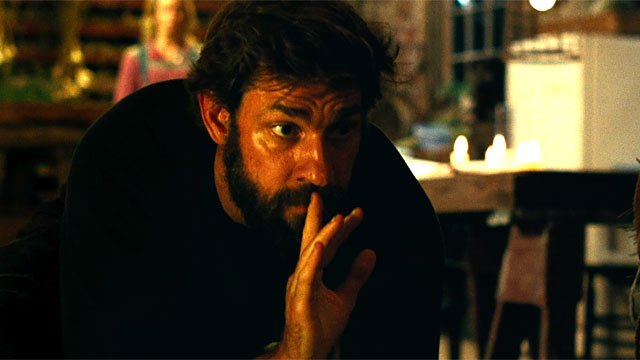 Needless to say, the movie shows us this family (headed by John Krasinski and Emily Blunt) as they do their best to survive without getting slaughtered.  If you're a fan of monster-ish movies (think, Cloverfield, which apparently was a momentary consideration at Paramount, but they decided to let it stay stand-alone) and can handle some high tension, this movie is for you.  It's a thrill ride, but definitely keeps you nervous the entire time.  Whenever the sound drops out and no music is playing, you find yourself gripping your chair bracing for some fresh hell to occur.  And it does.  🙂
Anyway, it's well worth seeing, especially in a theater when you kind of have to keep quiet too.  Go see it!
The Not So Quiet Places from my post headline is that last night we went out.  We hung out with Nicki and Rekha at the Largo Theater again, this time to see a 2-man improv show.   I think we may have hit a threshold of how much improv we want to see.  But it was funny, but $30/ticket funny?  Not so sure about that.  Regardless, I always love seeing friends and getting out of the house.   After the show, we walked from the theater over to West Hollywood, where Carey & Paras were celebrating Paras turning 30.   Ah, 30.  They were set up at Pump, a fun hotspot that is staffed by gorgeous folks, which of course is to be expected.   Had a lot of fun and managed to not get utterly shitfaced.  Yay me!
And now today, we went out and looked at furniture that we'd like to think about getting for the new house.  Went to the Living Spaces in Panorama City, which is a mile or so north of our future home.  It's a pretty impressive store and we ended up finding a few things we'd certainly consider getting.   They have some interesting outdoor furniture for our roof deck, and we also saw some couches and a new bed frame that would be kinda perfect.  So we'll see…quite a bit of time left and when we went and visited the GlenLA lot on our way home, one of the sales reps was indicating that our Phase is scheduled for September still but to be flexible as it could be longer.  Here's hoping it's not that much longer.