Ha, I'm the worst at staying on top of posting these pictures.  That Twin Peaks post documenting the previous day's amazing activities wiped me out!  Anyway, 2 weeks or so later, here we are and haven't even touched the Vancouver stuff yet.   Let's do this!
Morning Wandering
This morning, we had a great breakfast at Biscuit Bitch and then a stroll along the Pike Place area, checking out the Pike Place fish market.  Not much to see this morning, as only some squid was getting thrown around.   Then we took a walk over to the original Starbucks location – didn't buy any coffee as I've had Starbucks coffee plenty of times and there's no need to wait even longer than normal for it.
Monorail Madness 2: Monorail Harder
Now that it was a weekday (this was Wednesday, Sept 6, for reference), there really weren't that many people as before out and about doing touristy Seattle things.  Made for a much less crowded experience everywhere!  And so this time on the monorail, we were able to get a seat right up at the front of the train, next to the driver.   Living the sweet life, we are.
The Seattle Museum of Pop Culture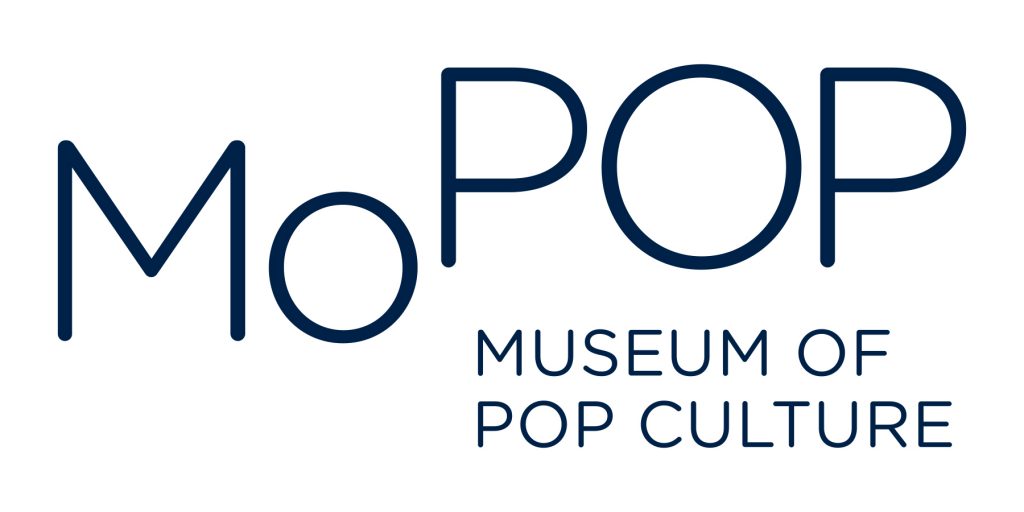 If there is a museum that is more suited for either Larry or me and the things we truly love, it will be hard to tell me what or where that is.  As this museum is just amazing:  it's got a Frank Gehry-designed exterior, the interior is wild and eye-catching, there's a giant cinema screen in the middle highlighting all the exhibits in an awesome way, and of course the exhibits themselves are just a blast.  We went through many of them, but our prime directive for coming to the museum?  The 50th Anniversary of Star Trek.
The exhibit for Star Trek contained more than enough to satisfy most Trekkies' needs.  Models of every Enterprise ship?  Check.  Costumes and props for EVERY series?  Check.  Videos and Trek history everywhere?  Check.   It was incredible.  I loved the Star Trek timeline that tied together every show, even the JJ Abrams alternate universe.  Just amazing.  And the fact is that the exhibit is done with style too – see the pics below.  Larry was in heaven, and it was interesting for anyone, honestly.
There were a few interactive portions in the exhibit, one of which is being able to put your face on top of William Shatner's in the iconic "KHAAAAAANNNNN" scream from Star Trek II: The Wrath of Khan.  See below:
So here are all my pics from the Star Trek exhibit…
Other Exhibits at the MoPOP were also not to be missed, including:
Jim Henson Exhibition
Bowie by Mick Rock
Infinite World of Science Fiction (as seen in the last 2 pics above)
Indie Game Revolution
As you'll see below, these were all a blast.  The Jim Henson Exhibition notably was magical to visit, as not only did you see plenty of stuff about the Muppets (which was ahMAZing), but the stuff that Jim Henson did before the Muppets as well as after.  I loved that you could stand in the Muppet Show's iconic opening structure!
The MoPOP museum is right smack dab in that whole touristy central area, so we were able to go to the Armory to grab a quick bite before deciding what to do next.  After yesterday's adventures, not having a plan was a bit of a nice thing.  We saw the 'Ducks' office right across the street and it was like, hey, why not just sit in an amphibious vehicle and drive around Seattle and then Lake Union?  And so we did.
The Land Portion of the Ducks Tour
We got driven all over the main downtown area of Seattle, and for the most part, it was stuff we'd had a chance to see ourselves.  It was just nice to not be walking or doing anything  except go along for the ride.  Also, the tour guides are funny and charming, and you listen to fun music while you're zooming around town.  Highly recommended way to do this!
And then we went into the water of Lake Union, a small lake right north of Seattle and sandwiched between Lake Washington and the main Puget Sound:
Pictures in Lake Union:
After that, it was time to start wrapping up the day, so we did that by going to a fantastic restaurant, Von's 1000 Spirits, for a delicious dinner and some beers.   And then back to the hotel to pack up as we had a decently early start the next morning to get to the train station and make our way north to Canada!