It looks like Larry & I enjoy traveling during the beginning of Septembers, so to keep that rhythm going, we headed out for a much closer-than-usual destination: the Pacific Northwest.  We only were going for a week, so we split the time in half, with the first half in Seattle and the second half in Vancouver, British Columbia.
Our itinerary involved us not heading up until Monday, Sept 4, which was Labor Day.  Kind of calculated on our part, hoping that maybe people weren't actually traveling all that much.  To hedge our bets, we left on a fairly early flight out, direct from Burbank (yay!) to Seattle on Alaska Air.  Since they're buying Virgin America, can't hurt to get used to what they're like as an airline.  So, Seattle! (thanks Google Maps)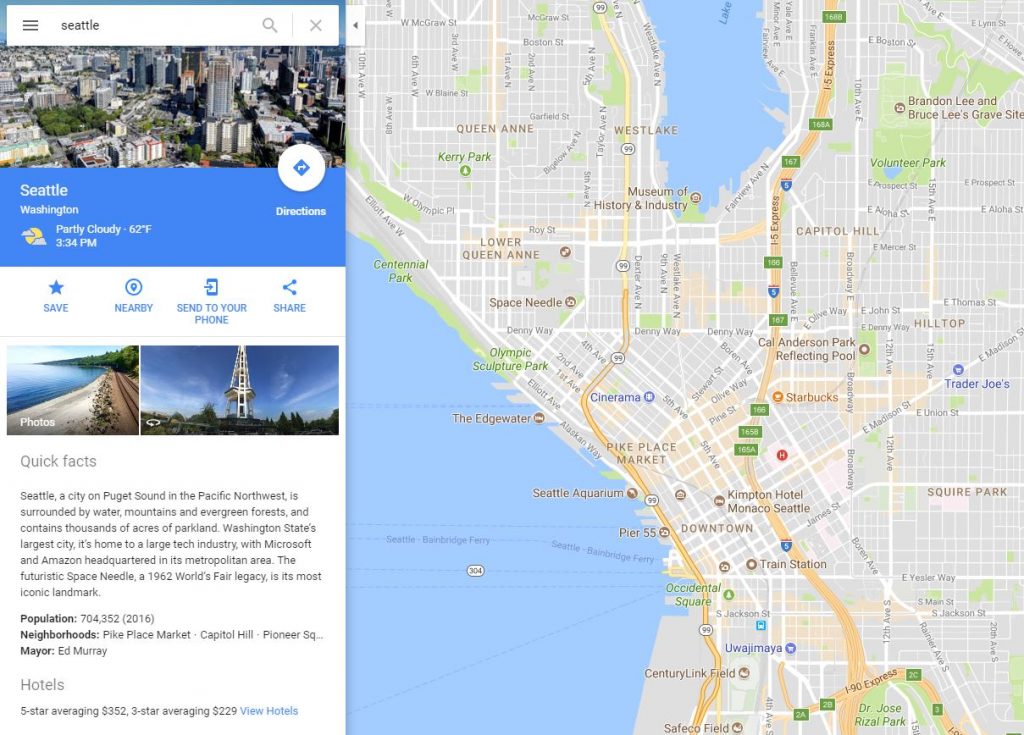 Our hotel, the Kimpton Hotel Monaco, can be seen in the map above, and what's ideal about it besides being part of the Kimpton Hotel chain is that it was very centrally located in Downtown Seattle.  We could walk pretty much anywhere we wanted to go and you know Larry & I love to get our steps in.
Of course, getting in to a city early in the day typically means your hotel room isn't ready, and that was our case.  Who cares though, once they hold on to your luggage?  We got our breakfast (finally) in the attached restaurant, Outlier, before heading out into the city to go see absolutely everything!
If we headed north from the hotel, we were able to jump on the Seattle Monorail's southern end, which takes a huge chunk of the walking out of our travels as the other end is situated in Seattle Center, where the Space Needle and many other things are centrally located.
It's a bit of a retro experience as the trains look like they're the originals, but it's still an effective way to get between these two points quickly.  While on the monorail, both Larry and I had to wonder why monorails aren't more utilized in cities.  My guess is that they're expensive, take up "overhead sky views" and people don't want to be under their tracks, and maybe not as easy to manage as subway/light rail trains.
Seattle Monorail:
So as could be foretold in the pictures from the monorail, of course the first thing we were going to do was go up to the top of Space Needle.  One simply does not not visit the Space Needle when in Seattle.  It just isn't done.


It was a very nice day to be going up to the top, as the sun was out and the haze wasn't super bad as it would be on other days during our trip.    Why do I bring up the haze?  As the whole west coast seems to be on fire – check out this current map: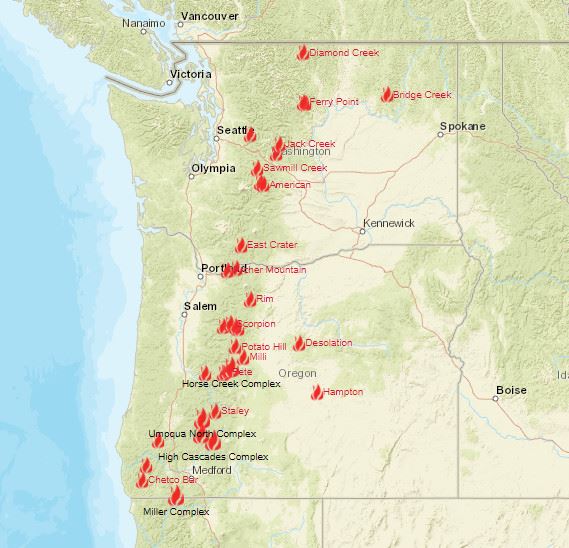 The pictures from this day really don't show too much in the way of haze or smoke, except for the fact you can't see the Cascade Mountain range, but I imagine that will happen enough anyway just from rainy days or regular smog pollution.  But in the pics from the following day when we visit Snoqualmie?  it's not a Twin Peaks filter that I've applied to make all the pics have that yellowish tinge.  So yeah, kind of sucks.
Anyway, the line to get up to the top wasn't bad at all, the views were great, and the weather wasn't too damn hot like it had been in LA the previous week.  More on that in another post!  The funny thing about the Space Needle is that while of course it's tall enough to be noticed throughout the city, it's not all that tall, all things considered.  It's got a great vantage point though, in that it's situated near the coast and a bit outside of the downtown center, so you get nice views of everything from it.  And of course, it's got quite the iconic look to it.  Since we had partaken in glasses of wine atop 1WTC, we figured it was appropriate to do so here.  Bring on more tall towers and their wine!
Seattle Space Needle
After finishing up our review of Seattle from above, our next stop was happily right there in the Seattle Center.  As you can see from this map: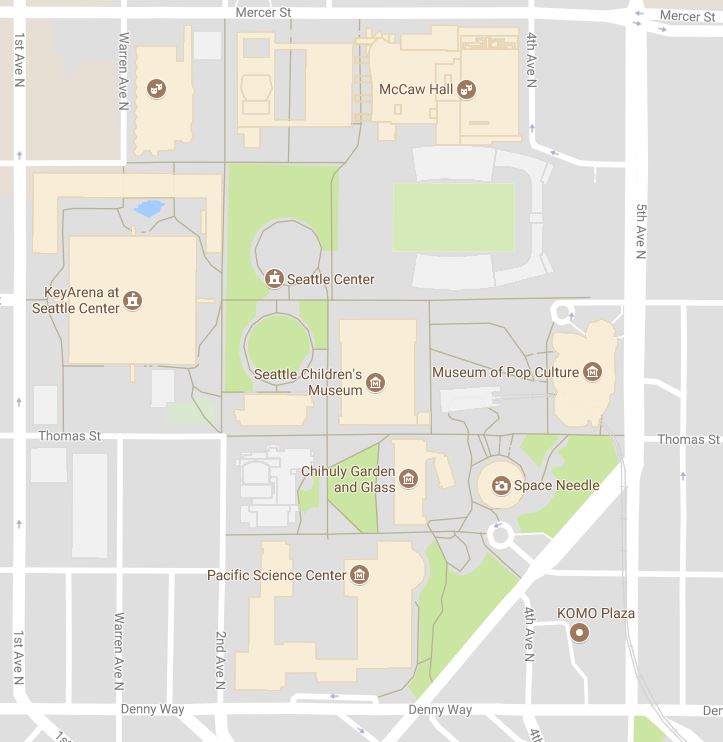 Seattle has conveniently put quite a few of their most popular tourist attractions right all in one handy place.  I'm sure that makes the locals happy too, as it's a place they can purposely avoid, much like New Yorkers avoid Times Square, Las Vegans avoid the Strip, and Los Angelenos avoid Hollywood Blvd, Universal Studios, 3rd Street Promenade, etc.  🙂
The tickets Larry had pre-purchased a month or so before the trip got us into the Space Needle, the Monorail, and the Pacific Science Center.  Also, that pre-purchase got us tickets into the exhibit that was closing that very same day, the Terracotta Warriors.   Since we were able to get into that exhibit, we went to that first, and you'll notice in the pictures that it's not exactly what you'd see if you went to the First Emperor's tomb site in China, as that's where the hundreds upon hundreds of warriors are situated in place.  Rather, these are touring examples of what exists in that site – it's still quite an impressive collection to look at and take in.  The history that's in this world is just quite exciting.
Pacific Science Center
After leaving that exhibit, we then meandered to the other portions of the museum, including the more kids-focused 'science is fun' stuff, and happily it also entertains adults.  The best part though was a chance to sit in the Laser Dome and watch a laser show set to Michael Jackson songs.  I didn't know it before, but a laser show to "Thriller" is fucking amazing.
It was late afternoon by this point, and we had found out our hotel room was available, so we figured it would be nice to head back.  Instead of taking the monorail again, we decided to go for a walk, as while on the elevator down from the top of the Space Needle, the guide mentioned it's worth seeing the area where Amazon.com is building up.  Specifically, the Spheres.  Neither Larry nor I had any idea what that meant, but we had the directions to get there and it was on the way, so off we walked through downtown Seattle.  As the pictures below indicate, there's a lot of new construction going on here.  Not only corporate office towers but lots and lots of residential towers are going up – and they ain't cheap.  I kind of was thinking to myself they might be, but no, Seattle is as expensive as Los Angeles, if not more so, due to the tech industry there.  The towers are beautiful (if you like futuristic, towering residential high rises) and it's periodically easy to imagine living there, but we had some really good rain-free days this trip.  I can imagine when it's nonstop rain, like it usually is, that gets old real quick.
So we walked and walked towards the Amazon.com complex, and found our way to the Amazon Spheres.   Long story short, I think these biospheres are intended for Amazon employees to be able to retreat to while working to reconnect to nature…or something.  But they're still under construction yet their external 'spheres' is done and can be gawked at.

Via Wired.com:  https://www.wired.com/2017/05/amazons-expansive-biodomes-get-first-9000-plants/
Walking Downtown Seattle and Seeing Amazon's Biospheres
Finally back at our hotel, the Kimpton Hotel Monaco, it was a much needed chance to get situated, unpack, and then head immediately back downstairs as by then, it was the Kimpton wine hour!  If you have stayed at a Kimpton Hotel before, you'll know there's a complimentary wine hour every day for hotel guests.  It's the BEST.
Kimpton Hotel Monaco
After enjoying a relaxing hour resting from the day's adventures, it was time to eat!  We got the first of many good recommendations for dinner – this time for Nijo Sushi, a few-block walk away from the restaurant.  Ended up being fantastic sushi.  After that, we then went for an evening stroll along the waterfront and watched as the evening lights all turned on, eventually realizing we were exhausted!
Dinner & a Waterfront Walk
A big day awaited us tomorrow with the trip to visit Twin Peaks filming locations set as the main attraction.  Stand by for that post as it will contain MANY pictures.