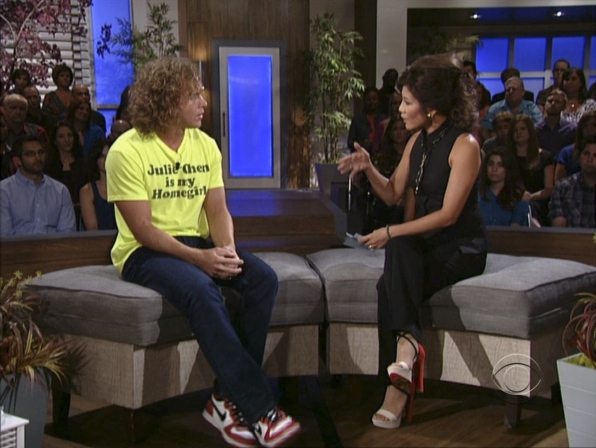 I dithered and I dallied and now here it is Sunday morning and I have to go to Mom's for the day so there is no way I really have that much time to do a true recap – at least in that completely original, vastly entertaining, and utterly unique Hobie way that I know all ….what's the word that describes a number less than 10?…. "you" are used to. Â Even with it being a hop-along night of double excitement because of the Double Elimination, it really wasn't that fascinating. Â Nothing of major import happened – like last week, I think there's going to be a lot of going through the motions of wiping out the floaters. Â I was excited by Ian's Veto win though – I am pulling for him to make it, but I really hope that he sees that Dan has to be taken out now. Â Otherwise, this is Dan's game.
Outgoing Head of Household: Â Ian
Nominated for Eviction: Â Frank & Joe
Evicted: Â Frank (3-1)
New Head of Household: Â Dan
Nominated for Eviction: Â Joe & Ian
Power of Veto Winner: Â Ian
Veto Used? Â Yes, on himself
Replacement Nominee: Â Danielle
Evicted: Â Joe (3-0)
Episode 25 – September 6, 2012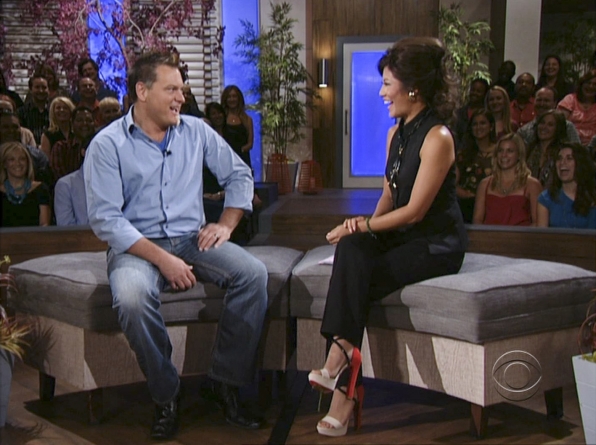 So Frank is finally gone!? Â It's not that surprising, really. Â The surprising part was just how many times he avoided elimination in the first 60 days of this game. Â He was ALWAYS Â the target. Â Always. Â So hats off to Frank. Â I wouldn't be surprised if he win's the America's Choice vote for Favorite Player. Â He deserves it.
The rush of the episode then occurred, with Dan winning HoH after it went to a 3-way tie of Jenn, Danielle, and Dan. Â Jenn HAD this comp too until she biffed a question that everyone else got right. Â Now THAT is an episode I'd have like to have seen, as I'm not sure she wouldn't have put Dan up. Â While I respect that Dan has survived this game, and think he deserves the win, I admit I'd LOVE to see him get taken out. Â I think Jenn would be pissed enough to do it too. Â But anyway, Dan is HoH, nominates Ian and Joe, and in the Power of Veto comp (a cool maze that needs to be navigated in order to release your key), Ian scores the win (which the studio audience definitely were pulling for), takes himself off the block, and Dan then shockingly (?) nominates Danielle to go up. Â I do NOT know what is going on there. Â Was this a "I know you aren't in any danger and you are a perfect pawn" move or something else? Â She seemed a little taken aback about it though. Â Wonder if that will figure into anything this week? Â I did see when the credits rolled that Dan and Danielle were having a talk, right after Jenn and Danielle were chatting. Â C'mon, girls, put it together. Â Oust Dan and the game is yours. Â That really is the final challenge – and if done at your hand, will single-handedly give you the win. Â I just don't see it happening as Dan is THAT good.
Good thing Joe was already packed, right?
| HG | Comments |
| --- | --- |
| | Dan – Was winning HoH in this Double Elimination really the smartest move? Â I guess at the point you were in, with Jenn also tied up, you couldn't throw it to Danielle. Â But you are definitely at a disadvantage in the next HoH comp where Jenn could definitely come after you. |
| | Danielle – I think we're at the point where it's the classic 2 v 2 v 1 endgame formation. Â The 2 x 2 pairs had a Final 4 deal (Dan, Danielle, Shane, Ian) but obviously it's foolish to actually go through with that. Â Now is when you use the Jenn swingvote and knock the other pair out. Â I think Jenn's is yours to use, if desired. I'm just not sure which pair you're in: Â You and Shane; or You and Dan? |
| | Frank – Honestly, this was long overdue. Â Mad props for doing such an amazing job and lasting this long. Â Was surprised to hear that this was an utter shock….the remaining houseguests are getting better at lying, it seems. |
| | Ian – Your Veto win was definitely a bright spot in this episode. Â Both Larry & I cheered at home! Â While I think Dan will get the win and deserves it, I'm now rooting for you to pull of an upset. Â I think you can, and are perfectly positioned to be the next HoH. Â Like Danielle though – are you really wanting to keep Dan? Â He is definitely your Final 2 deal, but who cares? Â Get rid of him. |
| | Jenn – I really can't believe you're here in the Final 5.  Shocking.  I was cursing though when you messed up the HoH comp.  Everyone else knew it was Janelle….even Shane and Joe.  You had the lead till that point.  Ah well….it could have been a great episode as I'm sure Dan would have been targeted and my prediction for a coach out every other spot would have been intact. |
| | Joe – You finally went. Â Thank you. Â For your sake, I'm glad you had a packed bag. |
| | Shane – You're a terrible game player. Â But you made strong social connections to Danielle and Britney and that's why you're still here. Â If I were you, I'd be harping on Danielle to throw Dan out. Â Otherwise, you're a likely nominee this week. |
| | Britney – Evicted 7th, 9th out of the House. Â 2nd Jury member. |
| | Ashley – Evicted 6th, 8th out of the House. Â 1st Jury member. |
| | Mike Boogie – Evicted 5th, 7th out of the House. |
| | Wil – Evicted 4th, 6th out of the House. |
| | Janelle – Evicted 3rd, 5th out of the House. |
| | JoJo – Evicted 2nd, 4th out of the House. |
| | Willie – Eliminated. Effectively 3rd out of the House. |
| | Kara – 1st Houseguest Evicted, 2nd out of the House |
| | Jodi – Not really Evicted – but 1st out of the House |