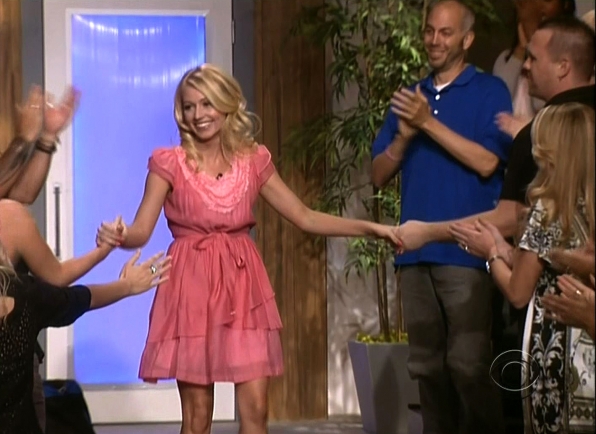 Worst. Episode. Ever.  I have to admit that I had been accidentally spoiled about Britney's eviction when I was writing up the recap for the Wednesday episode as I foolishly went online to look for images after the East Coast had already seen Thursday's episode.  STUPID STUPID STUPID.  I know better than to do that. ÂYou know what is at the top of the Google when you type in "Big Brother images"?  THE RESULTS OF THAT NIGHT'S SHOW.  Ugh.  So yeah, writing Wednesday's recap was bittersweet as I already knew that Britney had no chance.  I did hold out hope that maybe it was a fake article…..I even got optimistic when I saw that Shane controlled Joe's vote – I figured that then based off of my electoral math, Britney had this one and the Google was wrong.  Le sigh.  Not the case.  As this picture shows, Miss Cookies!!! was evicted, 4-1.
Outgoing Head of Household: Frank
Nominated for Eviction:  Danielle & Britney
Evicted: Britney, 4-1
New Head of Household: TBD – Endurance Comp (but we know it isn't Jenn or Joe!)
Episode 22 – August 30, 2012
As we saw from the start of the episode, Britney was well aware she had a massive uphill battle ahead of her.  She knew Danielle was aware of what was happening (although Danielle denied it) and is especially aware that Dan architected it all.  Amusingly, Ian loses his shit on Frank.  Ian's anger though is quite funny to observe, as he's just a bunch of bluster and awkward body shakes and movements – needless to say, Frank wasn't bowed by Ian's accusations and certainly not physically intimidated.  Yet Ian pledges vengeance against Frank – although I wonder if he's clear that Dan has everything to do with this eviction.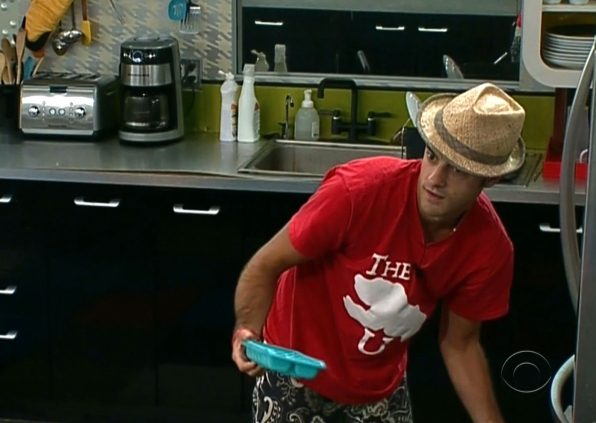 Frank explains later to Britney that he isn't really sorry about what happened and that she was an inevitable target.  Wisely, Frank knows that Dan's target is growing as Britney does her best this episode to make sure everyone is aware of how dangerous he really is.  Another round of Frank and Ian verbally sparring leads to lots of stifled giggles and grins as Dan and Jenn observe it all with a mad gleam in their eyes.   Britney confronts Dan repeatedly to be straight with her and just tell her that this is all his plan.  He refuses to even engage – I think it makes sense not to confess to Britney that it was all his plan as that could definitely backfire if she wisely advertised to the house what Dan's up to.  But that is definitely one less jury vote for Dan….although perhaps that's not the case, as in her post-eviction interview with Jeff, she admits that she'd prefer Dan to win so she could at least say she was ousted by the best.  Can't really argue with that logic.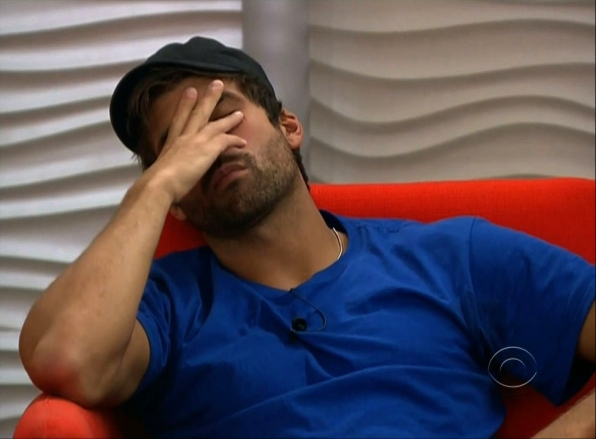 Ah….flashback time right before the vote:  The Brigade!  It was a chance to see how Season 12's mastermind alliance was doing and what Enzo, Lane, Matt & Hayden (the eventual Season 12 winner) thought about Britney's performance thus far.  My personal feelings are that Lane is still beefy hot, Hayden looked a little nuts, and that it was nice to hear that they acknowledge screwing her over in S12.
Now's voting time in the house.  Ian obviously votes for Danielle while Dan & Jenn obviously vote for Britney.  The (non)surprise was hearing Shane vote for Britney – even in the studio audience you could hear shocked gasps.  We knew that Joe's vote belonged to Shane but by that point, it didn't matter.  Britney was out.  And so it was and so it shall be…..the Queen of Snarkyness is gone from the House.  I hope the updates from the Jury House are fun.
I have not been spoiled yet as to who won HoH – it was an endurance comp in which each houseguest had to stay on a rope swing for as long as possible while it spun around a huge sun in the middle.  Awesomely enough, two houseguests fell before the show ended – Joe fell during the commercial break after the competition started and Jenn fell as the credits started to roll.  Typical.  We don't know what the final tally of America's votes were concerning what was in the box for the first eliminated houseguest…I hope it's Punishment.
| HG | Comments |
| --- | --- |
| | Britney – You got played mighty well, but at least your eviction isn't the result of some schlubby Floater doing the deed.  You were destroyed at the hands of a master in perhaps the most amazing Big Brother upset ever, especially without the aid of some cheezy Producer-invented power. |
| | Dan – I can't offer advice or thoughts to someone who can so dramatically change the game.  But I do think that the houseguests are going to having to realize that they need to get rid of you ASAP.  Don't know if that will happen, but it should.  I'd love for you to join Britney in Jury House. |
| | Danielle – It was nice that you could so easily lie to Britney. It shows that you definitely have some game.  I still don't think you can win. |
| | Frank – If Ian's awkward fighting had been the least bit threatening…well, they weren't so I don't know whether you are worried in the slightest about Ian gunning for you or if it was just more amusing.  I wouldn't discount Ian though…plus I think the sooner you get rid of Dan, the better.  It's interesting that you've forgiven Dan once you realized he wasn't responsible for everything you thought he was…but still.  Danger! |
| | Ian – Stop drinking so much coffee, Ian.  I admired that you were fighting for Britney so much – too bad Shane wanted a snuggle buddy more than an ally.  You definitely have to win HoH to stay safe next week, as Frank openly is gunning for you per his interview with Julie Chen. |
| | Jenn – I wouldn't get too comfortable in the house just yet.  Being Frank's new BFF is not a safe position – if the house comes after Frank, then they come after you too.  And Frank wins competitions fairly steadily. |
| | Joe – You didn't save Brit, so now I must destroy you. |
| | Shane – So, you kept Danielle.  Your goodbye message was at least respectful and gave a decent reason (Britney had a shot at this game already…) for your vote, but I think that you and Frank are either going to foolishly go after each other or wisely team up against Dan.  I just think Dan is so much a better player than both of you that the latter option is unlikely. |
| | Ashley – Evicted 6th, 8th out of the House.  1st Jury member. |
| | Mike Boogie – Evicted 5th, 7th out of the House. |
| | Wil – Evicted 4th, 6th out of the House. |
| | Janelle – Evicted 3rd, 5th out of the House. |
| | JoJo – Evicted 2nd, 4th out of the House. |
| | Willie – Eliminated. Effectively 3rd out of the House. |
| | Kara – 1st Houseguest Evicted, 2nd out of the House |
| | Jodi – Not really Evicted – but 1st out of the House |