I'm not getting into The Last Jedi yet, but yes, I've seen it (three times) and I fucking love it.  I'm so pissed that the music from my favorite trailer is NOT in the official soundtrack though.  WTF, Lucasfilm?
This post today is all about some of the recent movies we've seen that are complete Oscar frontrunners, and happily, they've all been very good movies!
Call Me By Your Name (2017)
We saw this two weekends ago as it's getting a bit wider of a release, finally.  Long story short, it's a fantastically beautiful and sensual movie, which happens to focus on a budding gay romance in gorgeous Northern Italian rustic scenery some time in the 1980s.  Armie Hammer is a hunk of a man and Timothee Chalamet is the more earth-bound guy that gets a summer in Armie Hammer's orbit.  
The gorgeous scenery and slow but sure seduction between these two is captivating, but let's be honest, this is a complete gay fantasy.  Nevertheless, it's such a well-done movie that it's hard not to get swept up into the fantasy. It helps all the performances are amazing, and critics are rightfully talking about one scene/monologue that the father figure has at the end, as it's quite a stunner.   Funny, erotic, emotional and mesmerizing – don't be surprised if it wins Oscars this year.
Here's the trailer:
Next up….
The Disaster Artist (2017)
It's possible you've never heard of the movie called The Room, a justifiably terrible movie made by Tommy Wiseau.  It came out in 2003 and almost immediately jumped into that weird world of cult movies, this one getting the branding of sooooooooooooooo bad it's good.  Like, I used to say Showgirls was so bad it's good, but there's still a lot of decent stuff in Showgirls.  The Room is just bad all around, and in very weird, confounding ways.  Full disclosure:  I've not seen The Room, but have seen the scenes most people talk about and I've read plenty and listened to the "How Did This Get Made" podcast for it, which had a special guest of Greg Sestero, who is the guy who helped Tommy Wiseau make the movie and co-stars in it with him as "Mark."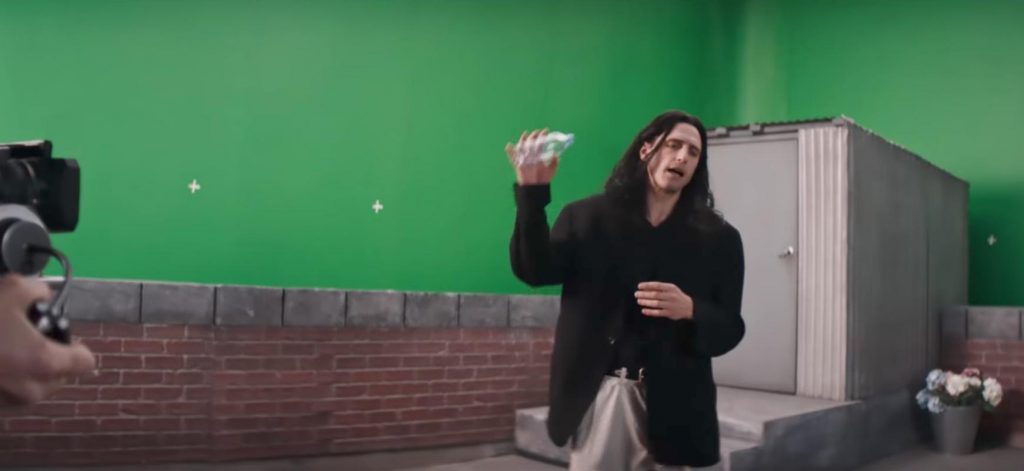 Basically, The Disaster Artist is the tale of how this movie came to be.   James Franco is the director and mastermind of this masterpiece and also stars as Tommy Wiseau, and holy hell, he's amazing.  Not only is it an amazing retelling of the entire story from Greg and Tommy meeting in acting class up to and including the creation of The Room and its premiere, but the movie is fucking hilarious.  You do not need to have seen The Room to enjoy this movie as The Disaster Artist lets you in on the joke:  Tommy Wiseau is not a human.  It's not clear at all who he really is or where he gets the money to make this movie, and he's got absolutely no acting ability.  But Tommy had passion and with Greg's help and encouragement, they get there.  They destroy their careers in the process, but managed to become infamous.  And here we are with this movie, so I guess it's the silver lining.
The cast in this movie is thrilling.  Dave Franco, James' brother, is the co-lead of this movie and does a fantastic job playing the straight man to Tommy.  Dave Franco is also super hot.  A giant assembly of comedians from that crew is also here, like Seth Rogen, Paul Scheer, and Alison Brie.  Amazingly, this movie has every likelihood of getting Oscar nominations and James Franco would certainly deserve one for acting, and who knows, maybe directing?  I highly recommend catching this movie if you can, otherwise you're just teaaaring me apaaaahrt!!!!
And finally, at least in this post….let's get to: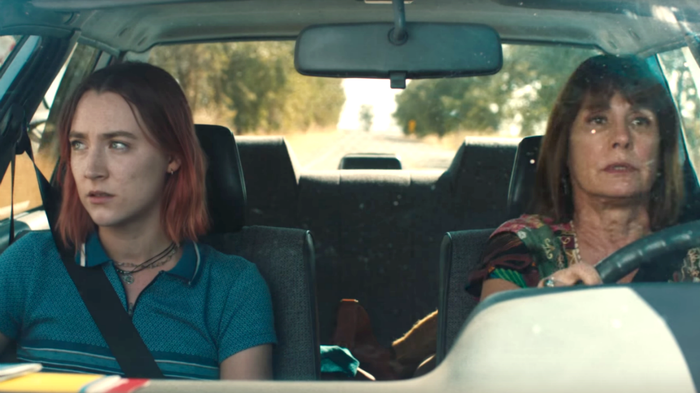 Lady Bird (2017)
A very 'feels real' movie about a senior in a Sacramento high school who calls herself "Lady Bird."  Lady Bird wants nothing more than to leave for a New York college but the trouble is that her family can't afford that kind of college and she's also a little bit unqualified academically to make it.   So she gets invested this last year of high school to make it happen.  Of course over the course of this year, situations at school and home serve to get in the way.  Saoirse Ronan as Lady Bird is amazing, but it was just wonderful to see Laurie Metcalf as her mother.  You'll be seeing both of their names likely as Oscar nominees as they both giving stunning performances.  You'd think this is purely a drama from my notes here, but there is a lot of funny stuff to be found in this movie.  And of the three movies listed here, this one had me in tears many times.  Hopefully that's not a deal breaker, as it's a movie well worth seeing.  Check out the trailer:
And that's that.   Stay tuned for my thoughts on The Last Jedi as well as whatever the hell else I can think of to post about.  I have so many pictures still to get through it makes me nervous.  🙂