Nicki, George & I are back in New York. Of course it's timed to be when a second polar vortex temperature plummet has occurred. It's ridiculously cold right now. We walked from the hotel to a ramen place over on 51st between 8th and 9th Ave and during that walk, I literally felt my nose go numb. It was cold.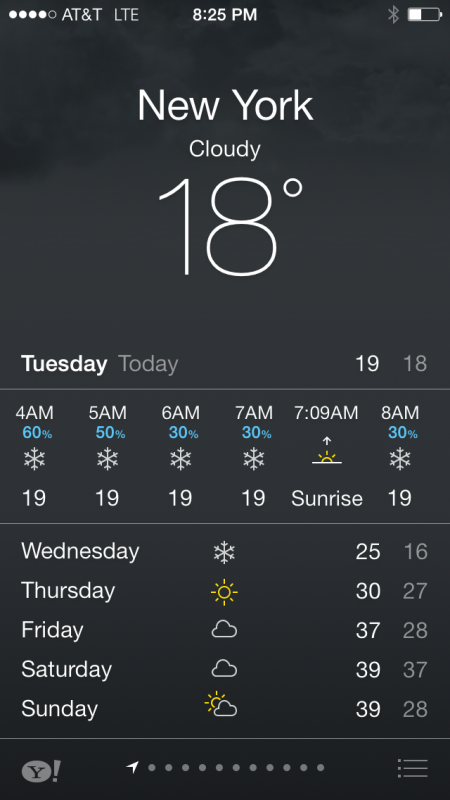 I really would love to visit this city when it's not this cold.  But it is what it is, I guess.  Honestly, I think I prefer going and visiting places when it's cold.  You can at least layer on tons of clothes and hats when it's cold; when it's hot, your options are SEVERELY limited and you just have to marinate in the nastiness of a sultry climate.  I don't miss Biloxi for 3 months in the height of summer and early fall.  Nope, I do not.
Anyway, the flight out this morning was early but luckily there were no delays.  There was a lot of fog, apparently, but not at LAX nor in the west side.  It's awesome as I was able to get some great shots from iPhone of the view below:
Views of Hollywood and Silver Lake while departing LAX
As we made progress east (I was able to do work periodically via the in-flight wifi; I also watched Rashomon for the very first time, but more on that in another post), it was clear how much colder it was getting.  As can be seen here as we were getting ready to set down in New Jersey / Newark:
Arriving at Newark International
The cold was felt immediately from the point you left the plane and entered the jetway.  Ridiculous.  Anyway, after a nice ride in to the city while the night sky came in, George  & I checked in and immediately went up to the top of the Sanctuary Hotel where the Heaven Rooftop bar is.  Smartly, the bar is enclosed in the winter.  It was nice and a good way to relax after a long flight.
Heaven, at the Sanctuary Hotel:
Nicki was on a different flight and got in an hour or so later.  Once she arrived, it was time for dinner!  This time, we made it to Ippudo Ramen on the west side, which is when we had the crazy cold to walk through.  But it was worth the schlep, as the food was delicious.  I'm just glad that we do have good ramen places back in LA too – I LOVE Ramen Jinya on Ventura near the lot.  Here are some of the pics from tonight…
Dinner at Ippudo West Side, NYC