There's been some fun few days during this holiday break, and that was helped a lot by Michancy coming down for Christmas.  She got here on Friday the 23rd, and that night we went out to Flapper's Comedy Club in Burbank in the midst of a heavy heavy rain storm.  These were tickets that Larry had gotten for free and we were this close to abandoning it and staying in, but we somehow found the willpower to just go.   We got an Uber to make it easy on all of us, and did have plenty of wine before and during the show.  The kind of cool thing that did happen at Flappers is that we got there at 7, and the actual "show" (Jokes for Jews, no joke) started at 8, so there was a warm-up act.  At first I couldn't roll my eyes harder as it was a woman singing while playing her banjo….and then I started hearing her voice more clearly and then really looking at her.   It was freakin' Deven Green!  Or maybe you've heard of her as Betty Bowers, America's Best Christian?
Oh man, she is absolutely awesome in this character and has a whole slew of other topics if you choose to go down that rabbit hole.  But this one about abortion is my favorite – especially the line, "bottoms up, hooker!"  Deven Green also did some hilarious voiceovers on a series of videos that Brenda Dickson made back in the 80s, and if you can find them, great, but likely you won't.  So it was a happy accident and surprise that we got to see her in person.  She's very musically talented and was a lot of fun to watch and sing along with.  I did get a brief chance to tell her how much I loved her work, so I feel like that was all worth it.
Alright, here are the pictures from that day of Michancy's arrival –
Friday, Dec 23, 2016 – Michancy Arrives
The next day we included culture as part of the day's activities before we got to real work on making food for Christmas Day, so we drove nearby to the Norton Simon Museum in Pasadena.  It's a fabulous museum, convenient for us, not all that expensive, and has a wonderful collection of art without being overwhelming.  I think it gets lost in the shuffle of LACMA, the Broad, or the Getty(s), but Norton Simon stands shoulder-to-shoulder with these museums in terms of quality.  Highly recommended!
A big part of why I wanted to get over to the Norton Simon was that they had Van Gogh's "The Bedroom" on loan from the Chicago Art Institute, and I am always excited to go and see Van Gogh if I can.  It turns out this is actually the 2nd of 3 "The Bedroom" paintings that Van Gogh did.
There were quite a few other Van Gogh paintings there as well, but one that really caught my attention is one called "The Mulberry Tree."  It's quite arresting and I couldn't help but be transfixed by it.  I ended up buying a copy of it for my mom as a Christmas gift to go along with some of the other Van Gogh prints she has.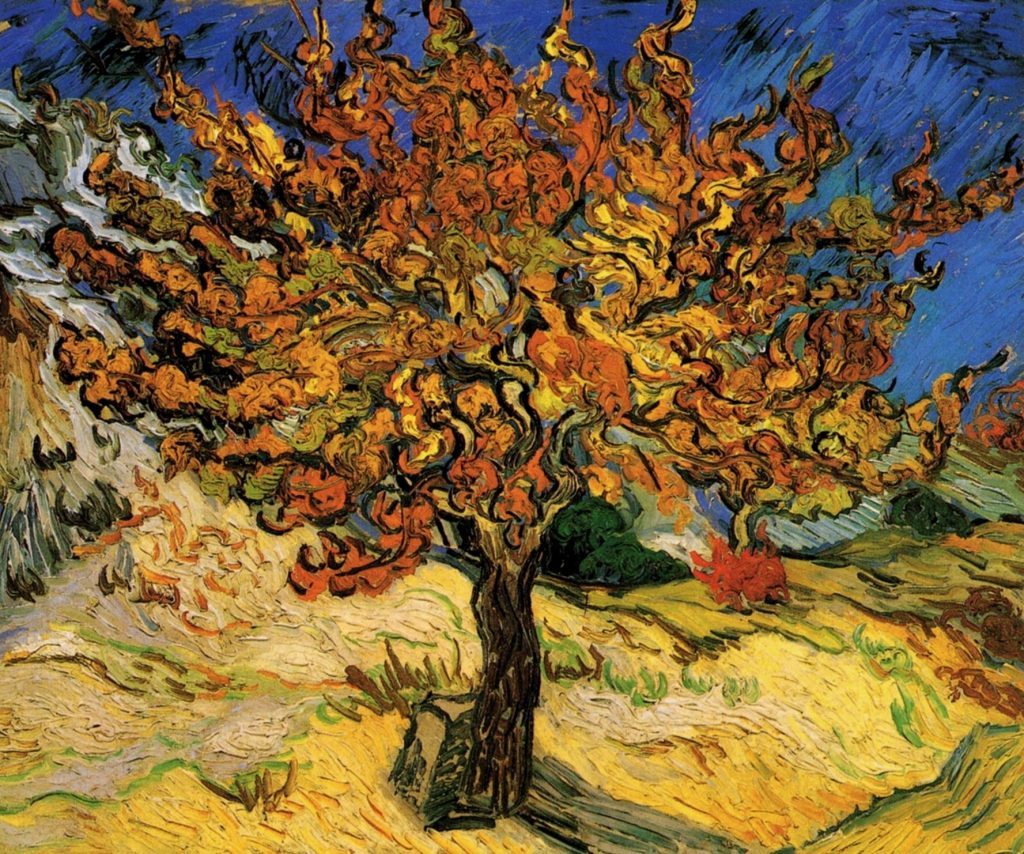 Probably the best thing of the visit though was wandering around near the end of the visit around the Dutch / European wing and coming face to face with what is most certainly Larry's doppelganger in portrait form.  It was quite shocking to see it and I had to have Larry take a picture with it.  I'm not wrong: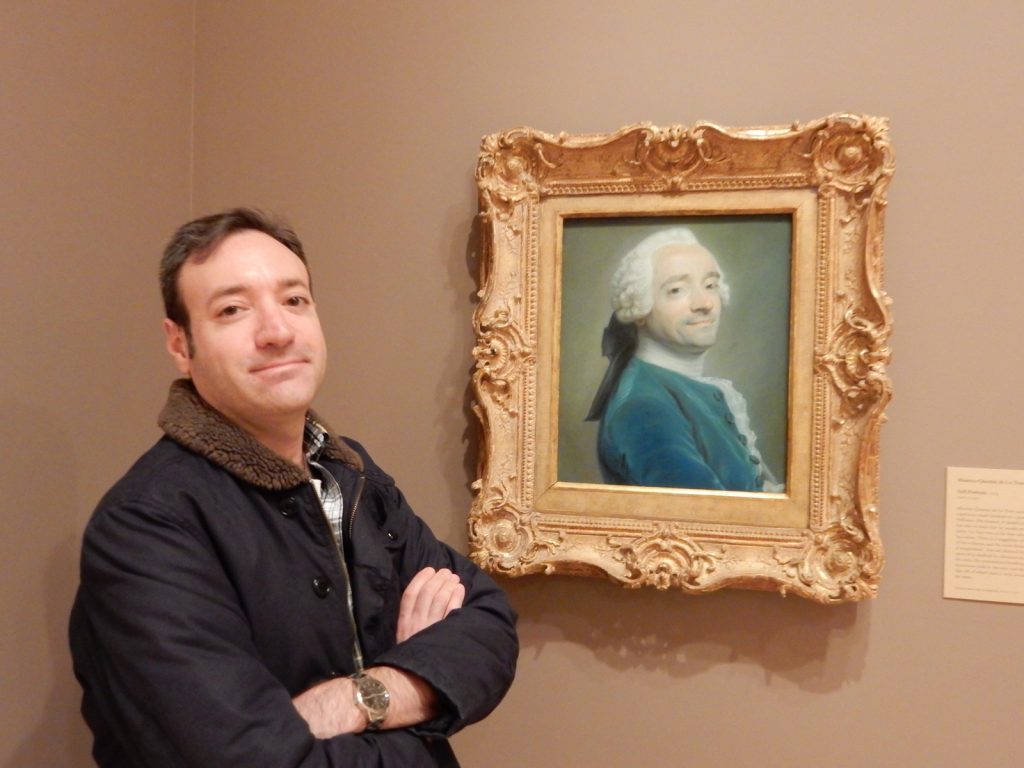 The artist did his own portrait and while you can look around at other portraits of him, they really don't look much like Larry.  I think he was very generous with himself and that speaks highly of Larry.  It also seems like this is a definite costume contender for Halloween 2017.
Anyway, after that nice excursion, we grabbed a late lunch in Eagle Rock and then came back for the evening and watched Elf, Christmas Vacation, and Die Hard, as one does for Christmas.  Larry made amazing latkes, and all was well in the world.
Saturday, Dec 24, 2016 – Norton Simon and Other Adventures
One of the things we did that night was open our gifts – Larry got Bingo Bronson and a brand spanking new Apple Watch, while I got some of the Philips Hue lights I've been coveting for a long long time.  Believe me when I say those things are so freaking cool.  You can change the color of the light to pretty much anything, and it's fantastic.
On Christmas, we went over to Mom's house, as did Stacie & Trent.  It was a lot of fun – we played some games (Tower of Terror Jenga & Apples to Apples), ate a lot of good food, danced a lot, and overall enjoyed Christmas day.  We also watched my episode of Jeopardy, as Stacie hadn't seen it.  Funny enough, I made Michancy watch that again on Friday, I think.  I'm definitely starting to get that out of my system?  Although each time I watch, I still am utterly compelled by the whole thing.  And I still don't know the answers to many of the Earth Science questions.  🙂
Sunday, Dec 25, 2016 – Christmas with the Fam
Michancy ended up leaving the next day in the afternoon.  We were mostly recovering from all the wine that had been consumed over the last few days and didn't do much of anything – I played (and finishing, later that evening) Uncharted 4, Larry & I watched Midnight Special, which was certainly an interesting movie but I'm not sure all the build up we had for it was warranted?
Since then, I've had the chance to clean up the house a bit, go see La La Land again (still fantastic and as enjoyable, if not more so, than the first time I saw it), play a lot of The Witcher 3 (good god, that game is so good and there's so much good stuff to do in it), and today I went and rode the Gold Line again, this time from Sierra Madre Villa and on out to its new terminus in Azusa, then back.  
I've got my list of tasks to work through, some of which include getting these pictures out, maybe finishing up the honeymoon pictures FINALLY, as well as extending our lease another year.  Yep, not moving after 2 years this time.  Too many things up in the air right now to be moving and spending all that money to do so.