The Amazing Race 13 Insider, Episode 3: "Welcome to Hell, B!@ch!"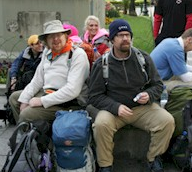 Did Kelly & Christy finally snap and go off on Starr? Did Ken & Tina lose it with each other? Or did the maker of those hard wooden bikes have a greeting for the racers we didn't see on TV? Only the recaps of The Amazing Race Insider videos for Episode 3 will confirm for sure!
What a topsy-turvy Episode 3 of The Amazing Race this turned out to be! Last-place teams made tremendous strides up in placement, while some top teams made critical mistakes. What will these clips have in store for us viewers? Will more cattiness between Starr and Kelly & Christy be revealed? The outlook is good. As Maria von Trapp once wisely said, let's start at the very beginning (of the clips on the CBS site!).
After-the-Race Footage
Christy Unshackled: Alone, Christy reveals that if she were still married, there would be no way that she would be racing with Kelly. That would be because of her ex-husband's jealous tendency to dislike anyone else that Christy loved, including Kelly. Christy's ex believed that Kelly was a bad influence on her because she was going through her divorce at the time. Basically, like Starr, he couldn't stand even the thought of Kelly. In Christy's mind, their divorce was meant to be as it meant Kelly & Christy could play The Amazing Race together.
In a lighter tone, Christy brightens and tells us that despite the hardships and mistakes made along the way, the race has given her the opportunity to see parts of the world she never even would have known to go to before this. Christy is proud of her team's performance, even if she and Kelly are dead last. They've made it through tears and struggles and are still there.
Honestly, if they can get over the petty Nick & Starr rivalry, they could be a very strong team. Let's see if that maturity comes through in the rest of the race.
Mark & Bill Bow Out: Mark is most proud of his and Bill's physical accomplishments during the race, elimination notwithstanding. Before the race, Mark knew he had to get in better shape and did so, but factoring in the Brazilian heat and Bolivian altitude, he's still surprised either of them could function at all. Bill reflects that the best part of the race for him was getting to communicate with people in languages he really didn't know. During the race, he got to meet people, joke around, and try other languages. He loved it!
Talking about the race itself, Bill claims it to be the hardest game he's ever played. It's a rough, tough combination of physical and mental competition that you just can't find anywhere else. The race is exhausting and exhilarating and allows one to find his or her limits. It's an indescribable, yet incredible, thing to have been a part of. On a personal note, I am totally going to miss these guys!
Extra Scenes From the Race:
Ken & Tina's Bumpy Ride: I'm hoping it's not an emotional bumpy ride. Yay, it's not. Ken recounts how rough the wooden bikes were to ride on, and praises how well Tina did. They were flying down those streets. The bike ride did help them to recover their wind and stamina, though. Tina describes the bike again as well as their feathered helmets and how they must have been quite a sight to the locals. "Loco Americanos," is what Ken guesses what was going through their heads.
That's What Friends Are For: While riding in the cab away from the bike Detour, Kelly says she was very concerned when seeing Christy wipe out on the bike. Christy is okay now, but is a bit overcome with emotion as she tells how Kelly thoroughly cleaned her cuts up and got her going again. This sweetness is definitely something these two are not showing to the other teams just yet.
Suddenly Christy gets a bit upset though, because she's mad that she feels so uncoordinated. Kelly reassures her that it's not her coordination, it's the fact that they were on 100% carved-wooden bikes sans pedals. Christy is convinced that when you're on your way to see the devil, he'll greet you with one of those wooden bikes and say "Welcome to Hell, bitch!"
A Rift Repaired: In a Bolivian cab from the airport in the early morning drive to where the newspapers will be delivered, Kelly & Christy reveal they had been in an argument. It started while they were still in Brazil trying to get tickets to Bolivia. Kelly & Christy had differing thoughts on how to get the tickets. Christy finally called Kelly out, saying that Kelly had been making all the decisions up to then, and that was why they'd been doing poorly. Ouch! Kelly laughs while retelling that story though, and Christy denies that ever was said. They both admit they need to collaborate on decisions now. Christy knows that the argument will serve to help their communication from here on out. Most important? They still love each other. Aww.
The Trouble With Tina: Christy and Aja are talking while at the airport about the futility of alliances in the race, as the million dollars doesn't split nicely ten ways. Ty mentions he'd like to see one of the alliance U-Turned. Aja is tired of Tina's fake niceness though, as is Christy. Christy wishes that Tina would shut her mouth "solomente cinco minutes," so Christy could breathe for just five minutes without hearing Tina's constant chatter.
The discussion turns to the time when Tina took credit for getting the bigger plane (in Leg 2), which sets these two teams off again. Ty is shocked that the blondes (Marisa & Brooke) completely bought it, while Aja humorously states, "I was born at night, but not last night." Christy has nice words for Kenny and calls him a class act, and says that he is genuine. Aja isn't convinced, saying everyone is a snake because this is a competition for a million dollars. I agree with that sentiment. While people can be nice, don't for a second believe your competition isn't going to step on you to get to the money first!
Starr Works Hard For The Money: Nick is astonished at Starr as she apparently got someone to buy her food at the airport in under two minutes. Her secret was just saying, "I'm hungry, can you buy me some food?" She laughs and walks away, while Nick continues muttering to himself that not only is this stranger buying food for the pretty girl, but also for her brother. I have to wonder what else Starr may have said. After their meal, Nick requests that the next food begging should be for the filet or the lobster. Ha!
Wrestlemania: As Dallas & Toni drive away from the wrestling match, Dallas is still on a high from his performance. Even better is they've made up some ground, and look to be in second place. Mom is super proud and gives her baby a kiss on the cheek. During the wrestling rehearsal, Dallas kept making the same mistake, yet he and his Cholita communicated without language and they got along great, and somehow understood each other. Toni knows if the Roadblock had been up to her, they'd still be there.
Mark & Bill Get a Heads Up: Bill manages to get out of the taxi driver that he has knowledge of the wrestling venue, and that it has something to do with masked fighters. Mark wonders if the Roadblock actually has to do with wrestling, does the Roadblock go to the heavier guy or the guy who's coughing more? Bill pins it on Mark, and lets him know the Roadblock will be all Mark's. Bill wants to see Mark get body-slammed. Mark confirms his geekiness when he reveals he'll do it Mortal Kombat style: "Left-Left-Up-A-B, Left-Left-Up-A-B – Get Over Here, Fatality!"
A Good Sleep For Mark & Bill: Waiting for the newspaper truck to arrive, Mark surprisingly manages to get some decent sleep on the concrete. Bill says he woke up every time there was a noise, yet still got a little sleep too. He's just happy that there's no humidity here, and that it's starting to warm up. Mark kids around that, ever since he and his buddies were young, they would sleep overnight on medians in big cities. Not! Indeed, this was Mark's first time sleeping on a median. Bill now knows what it's like for a homeless guy, although Mark thinks it's a tad different as the homeless guy doesn't have thousands of dollars worth of high-end camping equipment in his bag. So true. I'm really going to miss these guys.
Aja & Ty Take a Time Out: Before sleeping on the roadway median, Aja & Ty remark on how beautiful the very high-up nighttime view is in La Paz. Ty notices, with a sigh of relief, that it's the first time they could really take in the scenery on the race, and Aja readily agrees.
Aja & Ty Adjust: On the cab from the airport in La Paz, Aja comments that, "it's colder than a polar bear's booty." Ty quickly calls her on that exaggeration, and she admits it's just such a rapid change from what it was like in Brazil. Ty has figured out that there's a hotel near where the newspaper drop is that will exchange their money. Overall, Ty feels good right now since there's not any immediate pressure to get somewhere. Aja is concerned about the altitude difference as she already can feel it, and Ty worries about if there will be running involved in this leg as that's going to hurt.
A Rivalry Brews: Continuing the conversation from the video, "The Trouble With Tina," Aja and Christy can't believe that people are worried about being friendly and nice. Kelly and Ty chime in as well, knowing that no one's going to help them so they're not going to worry about helping others. Ironically, this shared mindset has bonded these two teams.
Christy asks if Aja has noticed how Starr tried to nonchalantly cut in front of the ticket line at the airport. As Christy tells it, apparently Starr gathered the passports of her alliance-friends and tried to get those processed first, which annoyed Christy to no end. Ty recognizes that once more teams are gone, it'll be obvious to everyone that alliances are over and the backstabbing will begin.
Meanwhile, in another part of the airport, Starr tells her side of the story to Nick, and says she's annoyed with Kelly & Christy's response to her passport collection. It seems Christy said all the things she was talking about with Aja to Starr when it was all happening. You just know this is going to get interesting later on.
Andrew vs. Altitude: In a hotel lobby, Andrew is looking tired. He is feeling the effects of the altitude and can't believe he's succumbed to it. Andrew is feeling dizzy while walking, and it looks like the medical folks have been called in. In the next shot, Andrew is breathing with an oxygen mask. Dan discusses his concern for his partner, and worries about their chances now. After some time with the oxygen, we then see Andrew get up and leave the lobby in order to get back in time for the newspaper delivery.
Marisa & Brooke Tough It Out: Upon waking up from their sleepover on the highway median, Marisa & Brooke feel disgusting. They know they'll need to reapply (their makeup, I presume) before it's too late. Marisa thinks they managed to get about four hours of sleep, but Brooke doubts she got any sleep on the cement. Marisa would rather be back in the jungle than be scared sleeping on the cold street.
Marisa & Brooke Are a Few Cents Short: A stressed Marisa & Brooke are at a currency exchange window, exchanging both some of their money and Ken & Tina's money. It seems an Internet café owner won't take U.S. dollars, which is why they're at the window. We all head back to where Ken & Tina are using the computer, and Tina calmly explains to Marisa & Brooke that they need Bolivian money, not more Brazilian money. D'oh! Tina gives them a crash course on the fact exchange counters will exchange money for most other currencies, and asks them politely to do it right this time. Ha. In the girls' defense though, Marisa & Brooke actually did want Brazilian currency, and didn't realize that Ken & Tina were planning ahead. Further, it seems that the clerk wasn't sure what the Bolivian money was either. Oh well.
Sarah Takes Charge: Sarah feels comfortable travelling in Latin America as she fluently speaks the language. It has empowered her to take the lead. She thinks that Terence is somewhat okay with her taking that role in the team. Sarah does think that she and Terence haven't hit their racing groove yet, mostly because of the mistakes they've been making. It also seems Terence has been feeling like he isn't contributing, and Sarah thinks that when he was the one who found Phil at the end of the last leg it helped his confidence tremendously.
Terence & Sarah Hit The Jackpot: Sarah & Terence are very excited talking to an English-speaking stranger and remarking that this will change their whole game. I'm not sure what the "this" is, yet the clip cuts forward in time, and Terence tells us that he had been chatting with that guy. Terence asked the man if he had any money and the man gave him 500 dollars! Both Terence & Sarah now realize that they are set for the race (beware those non-elimination legs though, because if you're last, that comfort money might be gone.)
At the Pit Stop:
Mark & Bill Say Goodbye: Phil asks what Mark & Bill have taken away from the experience of racing. Bill says it was the amazing places they never would have seen otherwise and the competition against a great bunch of people. Mark gives the others credit, but thinks no one else wanted to be there more than them. Mark confirms that the race is much harder than it looks, and that it is frustrating that they lost due to not reading the Detour clue thoroughly. Bill had held out hope it was a non-elimination leg, which wasn't the case, and he's sad that the race has to stop for them here.
Mark knows that he has a good life to return to, but Phil thinks Mark needs to send some positivity Bill's way as Bill looks a bit bummed out. Mark reminds him that they made it this far, and that they were fortunate to even get selected forThe Amazing Race. Furthermore, there has to be no regrets. Phil says that he really enjoyed having them on the race. So did I, as they were very cool.
Words of Advice: Right after Phil tells Mark & Bill they've been eliminated, Christy conveys how sorry she is for them. A group hug ensues, and Mark & Bill pass on to Kelly & Christy that it's essential to read the clues. Obviously, Kelly & Christy know that from the debacle of their previous leg. Mark wants them to make the most of the experience, and Bill instructs them to make one less mistake than the rest in order to get to the end.
Ken In Tights: Phil notices that Ken is still in his wrestling outfit, which resembles something William Shatner might wear on a bad day. Phil jokes that he thought Ken was supposed to be some tough NFL guy – what happened? He's now in lycra! Tina loved Ken's performance in the ring, asaying it was hilarious. Phil is curious if the outfit is doing anything for Tina, but it's really not. Phil the marriage counselor advises Ken to get the outfit off then if he has any hopes of repairing the marriage.
Ken & Tina then discuss how much they enjoyed the wooden bikes portion of the race, which naturally leads Phil to ask how they're doing (marriage-wise). Ken says that this leg of the race was really good for them, as last week it was more of a struggle. I am willing to wager the first tough leg will show a dramatically different side of these two. But, for now, Phil has them hug each other.
Elimination Station:
Mark & Bill Eliminated: Back at Villa Legovia (aka Elimination Station), the first four eliminated people, Anita & Arthur and Anthony & Stephanie, are lounging around, and are very excited to see who will arrive next. They spend some time speculating on what the racers were doing this leg, and Stephanie hopes it was something difficult.
We then see an old-school VW Bug driving through the streets of Acapulco, and finally arriving at the villa. When the players see Bill emerge from it, a chorus of "Oh, it's Bill" in singsong, sad voices erupts. But the greetings turn to cries of happiness as Bill & Mark are welcomed. Of course everyone wants to know what happened to Mark & Bill, and they tell them about their critical mistake in not reading the clue twice and having to suffer through the penalty waiting period.
Mark & Bill then head to their room where they find some wrestler masks on their beds, which are mementos from their last leg in the race. Arthur is ready for a fight, but Mark lets him know he only wrestles women.
The whole group then heads out to an arena for a professional display of Latin wrestling, this time with male wrestlers. Anthony notes it's not quite like the WWF, and eventually we see a bored Anthony & Stephanie leave the arena early while the others continue watching the show. Mark recognizes that Anita & Arthur are like him and Bill in that they enjoy the new adventures and experiences. He also wonders why Anthony & Stephanie would come all this way only to just talk to each other. The clip cuts back to Anthony & Stephanie mocking the wrestling performance and wondering who would actually like that.
After the match, Mark & Bill and Anita & Arthur head to a small café for drinks and to soak up the atmosphere. After seeing this clip, it is still not surprising that Anthony & Stephanie were eliminated, as it is pretty clear that are not that interested in new experiences.
Phil's Video Diary:
Auckland, New Zealand: Phil is strolling along a town street in Auckland, and Phil reveals that he is from here (New Zealand). He's happy to be back, and is ready to take advantage of some downtime before the teams get there by heading to Burger Fuel. Apparently the burgers there are unlike anything anywhere else in the world. Also, Phil is going to have lunch with a familiar guest: his dad! It seems his dad will also be the greeter at the next Pit Stop, which is pretty cool.
Inside Burger Fuel, Phil has ordered Bastard (yet he says it so it sounds a lot like Bassett) Burgers for his dad and his crew. Also it is his dad's birthday, and Phil can't think of a better way to spend a birthday than having burgers. We finally see the Bastard burger bags, inside of which are DoFers which look like paper puzzles of some sort. Phil then reveals the Bastard burger itself, which is a giant burger made of bacon, beef, onions, lettuce, tomatoes, and a purple disc of beet root. Phil gobbles that up separately to his dad's surprise.
We then see what the point of the DoFer is. After it is assembled, it becomes a burger holder! That's kinda cool. Phil introduces us to the Kumara fries, which are fries made from sweet potatoes. Phil's dad explains that the Polynesians brought sweet potatoes back to New Zealand from South America. Phil then explains that his dad is a plant scientist, and is a great guy to have around while eating burgers so you know what you're eating.
The Bastard burger fiesta continues as Phil warns sound-guy Barry not to let the beet root slip out as it can get messy. Barry responds that his burger is now a Bloody Bastard, and is soon to be in his belly. Phil heartily recommends that if you come to New Zealand you have to try a Bastard.
Later that day at the Pit Stop, Dad thinks that Phil should take a rest, and he can take over for him at this job. Phil wonders if he has to give up his salary, to which of course Dad says yes. Dad admits that things would probably go pretty haywire under his direction, which would be very interesting as teams would end up in three different countries all at once. While laughing, Dad starts to choke on some peanuts they're snacking on while waiting for the teams. He is okay, though, and the video ends with a teaser for next week's episode.