The Amazing Race 14 Insider, Episode 6: "You're Really Not THAT Nice…"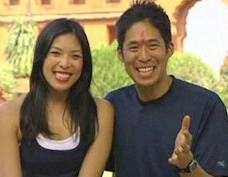 While Victor (right with his sister Tammy) contemplates who's on his U-Turn list, everyone else is blown away by the power of the India experience. Back at Elimination Station, the drama just keeps getting better with Steve & Linda. And finally, Phil shows us how he keeps in shape while on the road. The man's a machine!
After the Race
Power of Positive Thinking: Cara isn't surprised that Mel is so successful because both he and Mike have wonderful positive energy. They're always supportive of each other which can inspire people to do great things. Mel's physical limitations don't necessarily hold him back. Cara also gives Mel & Mike credit for being smart, especially when Mel used the baskets during the camel feed Roadblock.
Jaime mentions that Mel & Mike are also very methodic. They have a game plan, execute it, and get done seemingly faster than everyone else. Cara compares Mel & Mike to past contestants Donny & Oswald in that they always had positive energy and even had time to go shopping. She can't even imagine having the time to go shopping now. But Mel will do exactly that and buy treats for everyone else selflessly. Jaime wishes she could be like that, but admits freely she just can't be. Cara nods humorously in agreement with Jaime's self-assessment.
Not Gone Yet: Mark has realized that, after their initial good start in the race, they've been stuck in the back for the rest of the race. Yet, because they've managed to stay in the race, that says something about them. Mark thinks it shows that they won't give up and that they are more of a threat than what others expected.
Mike finds that perhaps getting underestimated will work for them as teams will be more focused on the direct competition around them. Mark & Mike can then slip by with little notice. He compares their situation to a horse race, and saying they are the straggler in the race that the others should be worried about.
Taken For a Ride: In this clip Jen explains how she was mortified to ride in the Indian taxis. She actually didn't even look outside the cab and asked Kisha to nudge her when they finally got to their destination. While at the Detour, Jen couldn't help but wonder how, with all these pedestrians, there aren't a ton of injuries due to the traffic. Kisha compares American driving habits to the Indian ones, and notices that Indians seem to always know where they need to be whereas, with Americans, there'd be panic and lots of swerving. Kisha wasn't as nervous as Jen, but once or twice on their taxi rides she was certain a head-on collision was imminent.
Judging a Book By Its Cover: In this clip Luke signs that he hasn't had a chance to get to know Mike & Mark very well because they have been at the back of the pack most of the race. He's pretty sure they'll be eliminated soon as they stink. Ouch. Margie offers that they initially thought Mark & Mike would be good competition, yet Luke finds that the guys are "the blind following the blind." All they seem to do is follow people and watch what everybody else is doing.
Taking It Easy: Mike notices that the longer you're on the race, the clearer it is why the other teams are still around. He gives Victor & Tammy credit for having a good game, but Mike can't understand how they're always thinking about the race 24/7. Mike admits it's probably the reason they're still around. Mel had tried in the morning to hang out with them, but it was always research this, speak the native language here, and find out that. Mel just wanted to take a break and have a Coke, but they weren't having that. No time for fun!
Christie & Jodi's Farewell: A mellow Jodi has learned during their time in the race how to give up control and to trust in her teammate. Shared responsibility of all their actions was key for Jodi & Christie, and blaming the other person just isn't useful. The race turned out to be much harder and more demanding than they had expected, but it was hardest to be away from loved ones. They recognize that they're always away anyways as flight attendants, but it was just a different type of separation.
Christie found the experience rewarding because she wanted to do something for herself before she started a family with her husband. She's glad she did this, but she misses her husband as he is such a good balance for her. Christie can't wait to get back home to him.
A Tour of India: Tammy has been to rural parts of China and Africa that are similar to what it's like in India with all the crowds and commotion. Yet what separates India from those places are things like all the animals everywhere and all the vivid colors. Victor hasn't been to such places before, so experiencing something like this was a welcome eye-opener.
Victor excitedly recalls their cab driver, Babu, who happily gave them a tour of India while still driving very quickly as he was aware of their race situation. Babu would mention all the historical aspects of things they passed by and Tammy & Victor loved getting that insight into Jaipur through Babu's eyes.
Stressed in Moscow: In this clip Victor tells us about his and Tammy's ordeal in Moscow. Apparently, they had to travel from an airport in the south to an airport north of the city to continue on to India. Yet every local they talked to laughed at them when Victor would explain they had five hours to make the connection. No one was convinced they'd make it. Tammy & Victor weighed the options and decided to take a chance on a two-hour subway route over a possible four-hour taxi route. They also got Mel & Mike to go with them so that more minds could be put on the task as it was not a simple ride-one-train-across-town affair.
Extra Race Footage
Really Big Foreign Words: In this CBS-produced montage, we get to watch the racers do their best while saying some foreign place names with very little accuracy. A for Effort, though! Except when Mark says Sibbreyah as opposed to Si-beer-ee-ah (for Siberia). That was pretty awesomely bad.
Tammy & Victor's Potential Victims: Tammy & Victor are anticipating an upcoming U-Turn in this clip. Victor would like to use it against Cara & Jaime as he feels they're targeting him. (Paranoid much?) Tammy isn't sure it's worth using the U-Turn because if the team who it's used on survives, the race will become much harder for whoever used the U-Turn.
Victor persists and formulates a plan as to who will be their targets if the U-Turn comes up. First is Cara & Jaime, but the Blondes and Kisha & Jen are also possible targets. Victor then brings up Margie & Luke as possible targets and, at this point, it's clear Victor just wants to use it on someone. They explain that Margie & Luke are their biggest competition, but because Margie & Luke loaned them money and are nice, they're not really on the list.
Victor reflects on his generosity and realizes that's the problem with being nice. Tammy corrects him and says, "You're really not that nice." Awesome! Victor admits he'd target Margie & Luke in a heartbeat after that. Tammy reasons that using the U-Turn can put a target on them in a huge way as it would convince anyone who may think Tammy & Victor aren't so bad that they are a threat.
Victor thinks that teams like Mike & Mark and the Blondes would be just fine with Victor U-Turning Cara & Jaime. Tammy is sure that Victor only wants to U-Turn them because Cara & Jaime weren't that nice to him today. I agree with that assessment. Victor understands you don't want to waste a U-Turn on a harmless team way in the back like the Blondes. Tammy nods agreement. He thinks slowing a team down that is a threat is the smart move. I wonder if all this talk will actually lead to something in the future where they have the chance to use the U-Turn!
A Good Day: Christie shares here how she was stressed to have to ask the poor people of India for money during the Detour. Yet it turned out to be fun as the people were very nice and willing to generously give money. Jodi mentions they're now on their way to the Pit Stop and the sound of honking horns fills the air. Christie is glad that the Detour was a goofy one since that helps relieve the stress. Jodi dryly tells her she will have stress relief only if they're not eliminated.
Both are aware they're probably not going to make it, but they're hopeful. Christie explains they've had some rough patches with obstacles that were difficult to overcome, yet she's still proud of her and Jodi's performance in the race.
Lightening Their Load: Still in Russia, Christie explains that she and Jodi finally had to ditch their rolling suitcases. They "MacGyver-ed" parts of the suitcases in order to make a day bag of sorts that could be wrapped around their waists. It turns out they just needed to lighten their load, and in addition to abandoning the luggage they also got rid of some of their clothes. Christie says that they didn't get rid of all their warm clothes as there's no guarantee they won't come back to someplace cold in the race. They both realized they could pool their toiletries together and share to get their bags even lighter, though.
Positive Attitude: Mike & Mel are in an Indian cab as Mike recounts that the journey from Moscow to India has been very strenuous. So, as a result, they are very bedraggled. Mel & Mike are both happy to be in India, but not so happy that they're currently in last place. Mel admits that he doesn't like being frustrated by that but he just is.
Mike observes the Indian scenery and realizes that you may think you've seen everything, but this experience points out that is completely false. The color and the festivity versus the poverty is something amazing to behold. Mel recounts all the animals they've seen and compares it to a live menagerie. Mike finds it hard to focus on the race when there's so much more to pay attention to in India.
Sisters at Odds: On the final drive to the Pit Stop, Cara & Jaime freely admit they won't be able to beat Jen & Kisha in a foot race. They'll try their best, but they know it won't really matter. Cara & Jaime have laughed about this predicament with Jen & Kisha before. Because of that, Cara & Jaime smartly realize they should worry about who is behind them instead of trying to beat Jen & Kisha.
Cara's Reaction to India: Here, Cara is uncertain how she is reacting to the whole India experience. She knows it's easy to try to compare Indian cities to American ones, but it's completely different. Cara sees the shops and businesses and the masses of people and can't really tell if it's good or it's sad or it's happy. She would just like to know what the people themselves think of their lives in India.
Independent Women: After trying to get good seats on a flight to Jaipur, Jaime comes to the conclusion that it's only a matter of minutes in exiting between having a forward seat or a seat in the rear of the plane. Even if you're in front and get out immediately, the unknown can throw obstacles at you that will slow you back down.
Cara finds it very stressful to be racing when the big group is all together. She says it will be nice when more teams are eliminated as there will be less congestion and a chance to work more independently. Both Cara & Jaime have noticed when they were racing away from the pack, it was less stressful and they seemed to make better decisions. Once you're in the crowd, issues pop up that bother and distract you.
At the Pit Stop
Flight Attendants' Last Chat: Phil asks if Jodi will go back home with a new conviction to raise her daughter. Jodi says she will because after having seen so much of the world it's clear to her that what's most important is family. You can see the world with your family, so why not have the best of both worlds? Phil wonders what Jodi's daughter will thinkiof Jodi & Christie's performance. Jodi is sure she'll be proud, but also sad that her mom is crying. She also realizes that it's difficult for a daughter not to have her mom around for so long.
A Crowded Mat: Margie & Luke, Cara & Jaime, and Jen & Kisha are bunched up on the Pit Stop mat as they all arrived so close together. Phil asks Kisha if she is reading her clues and Kisha immediately wonders what she did wrong. Phil persists and Kisha understands that he's getting at the fact that most of the teams didn't think of using the basket for moving the hay at the Roadblock. Kisha laughs as she tells Phil she not only used the bucket, but also her shirt. As Jaime explains she has some hay down her shirt too, Phil notices that Jaime got the nose-flute greeter-guy's attention with her gesture near her chest.
Phil comments that it's a very close race right now and all agree, but all are mostly happy to still be in the race. Phil brings up that Amazing Race history could be made if an all-girl team finishes first. Everyone laughs and would love for that to happen – except Margie & Luke who mention they're planning on busting that dream. If it comes down to Jen & Kisha versus Cara & Jaime though, Phil wants to know how that will play out. Cara & Jaime freely admit they don't even have a chance if that footrace comes to pass.
On the topic of Mel & Mike, Cara compares them to Slow & Steady who can win the race. They're all in awe of their performance and their upbeat attitude. Jen finds she also likes to keep focused on the here and now and not dwell on the past or the future. Enjoy where you are and take it in.
Keeps Getting Better: Phil talks to Mel & Mike and notices that Mel is getting stronger every leg. Here they are in second place and kicking everyone's butt. Mike felt lucky from the start of the leg, and was pretty sure they weren't going home this leg. They're feeling gold, or as Mike says, they're feeling silver. Asked if they can continue this kind of performance till the end and make it to the final three, Mel tentatively thinks they can do it. He attributes this to Mike pulling him along, but Mike shakes his head in disagreement. Mike reminds Mel that he beat all those young teams. Phil wonders if they'll keep using the "Mel is an old guy" excuse, and Mike explains it's how they're tricking all the teams into underestimating them.
Back On Top: Victor & Tammy chat with Phil in this mat clip. Victor is happy to be in India as it's so warm and it's so beautiful here. Phil kids Tammy about the makeup on her face, and she brags she brought a makeup artist with her while batting her eyes at Phil. Tammy is very happy that they stuck around long enough in the race to make it to the India leg. She loves yoga and Indian food and culture, so coming to India is wonderful.
Victor explains that at the beginning of the leg they were nervous, but decided to just run the race as hard as possible. Here they are now in first place! Tammy attributes a lot of their success to their cab driver, Babu, as he got them to every destination without error.
Phil asks about the headgear/wraps they're wearing and Tammy explains that they had bought them for good luck. Phil asks Victor what good luck he brought to the team and he tells Phil that Tammy is his good luck. It's now been six legs and Phil asks them if they're able to see the finish line yet. Victor doesn't think they can see that far now as all the teams are targeting them. Tammy explains that Mel & Mike have informed them that the word on the street is Tammy & Victor are the team to beat. Needless to say, they're feeling the pressure. But they like all the teams and they're ready to compete.
Elimination Station
Jodi & Christie Eliminated: What drama awaits us this week at Elimination Station? As we rejoin our eliminated teams, everyone is camped out around the pool. Brad is shoulder-pressing Preston's body. (You have to see this one to understand. Seriously.) We hear Steve commenting that Preston & Jennifer and Kris & Amanda bonded immediately because of their age. Is this going to lead to more whining? Yep! Steve explains that now he and Linda are starting to sit by themselves. Apparently no one is going out of their way to ensure Steve & Linda feel special. Ugh.
Of course, it's that time again for speculating on who's coming next! Most are convinced it's going to be one of the girl teams, but Linda & Steve think it could be Mark & Mike. If it turns out to be Kisha & Jen, Amanda's main interest is whether they U-Turned them. The van pulls up and everyone waits anxiously at the pool. The van door opens and everyone screams when Jodi & Christie emerge, looking remarkably good and well-rested.
No sooner do Jodi & Christie join the group at the pool does the U-Turn question get asked. After learning it wasn't Kisha & Jen, everyone guesses and Jodi tells them it's the last team they'd expect. Finally someone guesses Margie & Luke and everyone's shocked that's the correct answer. Amanda wants to know why and Jodi breaks it down that Amanda & Kris were too much of a threat in Margie & Luke's estimation. In a private conversation, Amanda is obviously hurt by this and feels that may be a deal-breaker in terms of a future friendship with Margie & Luke.
Now the catch-up involves finding out where the teams have been during the past two legs. After finding out about Russia and India, everyone has tons of questions. Linda, who with Steve is sitting the farthest away, asks quietly where in India they went. Probably because they didn't hear her, Jodi & Christie don't answer her and continue talking to the people closest to them. Of course, this behavior is a slight to Steve & Linda, while Steve guarantees that things will only go downhill in the future. Geez, this guy feels entitled!
After Christie & Jodi get settled, there's a lunch buffet set up. Everyone eats, but of course Linda & Steve have taken off for a walk alone. Now they can really talk about how left out they feel and how unfair it is that no one will listen to them.
Later, after Linda & Steve come back, Kris & Amanda are sitting with Steve. Kris asks if Steve has any best friends, but apparently every time they do make friends with someone, they always get screwed. Kris tries to turn it around and points out that The Amazing Race experience is a way to make some new friends. Steve says that is what he has tried to do, but no one wanted anything to do with them. Kris says he's noticed how Steve & Linda are secluding themselves from everyone so he is making the effort to bring them back in.
Steve says no one made the effort to get to know them. Meanwhile, Preston is listening with the same face I have on while listening – complete disbelief. Preston finally calls Steve on making everything personal and bringing up their treatment all the time. Kris & Amanda agree, as does Jennifer, who all wish that Steve would quit being a martyr (my words, not theirs) and realize this was a competition. Steve responds that he'll just wait until everyone's drunk and then they can have a true conversation.
No one is thrilled by Steve's reaction. Steve says he tried to give his true opinion and everyone jumped down his throat. Kris & Amanda find that nothing was resolved by the little intervention they tried, and that the negative energy only persists. Preston feels bad for Jodi & Christie who've stumbled into this hornet's nest.
Phil's Video Diary:
Russian Hotel Workout: In this clip, Phil is sweaty and running up and down the stairs in a hotel staircase. He explains that there aren't many options for keeping in shape on the road and, with many hotels not having gyms, the staircase becomes a workout room. Phil introduces Bob Parr, who is in charge of monitoring the racers' health. Apparently he also makes sure Phil stays healthy, as he's right next to Phil during their stair workout. In this Russian hotel, there are 23 flights of stairs. The workout plan is to go first floor to second floor and then back down, then first to third, first to fourth, and on and on in that pattern until they get from the first to the twenty-third. WOW. That's hardcore. Phil is the man!
As Phil continues talking to the camera, he stumbles forward and nearly takes a header up the stairs. He catches himself and laughs, but the editors have a laugh at his expense and do an "Amazing Re-Play" of the stumble. Phil must have massive leg muscles. At the bottom of one of his circuits, he peeks out at the hotel lobby and enviously notices guests having a drink. But that brief look ends and Phil's back on the stairs.
Phil asks Bob if they're going to make it to the final leg. Bob believes the power of imagination can keep them motivated, but Phil is distracted by the maid who they passed earlier on the steps. She calls out to him in Russian, but Phil obviously has no idea what she says. Bob bets she is wondering what you idiots are doing and Phil thinks she wondered why they just didn't use the elevator. That concludes another great Phil video!