The Amazing Race 14 Insider, Episode 10: Candy & Feet & Fights, Oh My!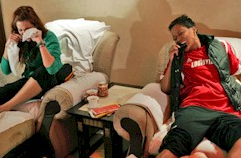 We're only halfway through this leg and everyone's focused on the final three. Will Cara & Jaime turn against their friends Margie & Luke? Are Margie & Luke going to ever get over the fight from the previous leg? Back in Thailand, the eliminated teams depart for "End City," while in Beijing, Phil makes a mad shopping dash for one of his passions!
After the Race (but where?)
Finishing Strong: Jen recalls how she just couldn't do the synchronized diving Detour and really couldn't see how anyone would be able to do it. Kisha suggested to finally go swimming as Jen could even use a flotation device to make it. She makes the point that if you thrash enough and hold on to the float, you'll make it out and back. For Kisha it was just time to stick with one of the options and finish. To come so far and not persevere would be like giving up. It was time to finish strong, even if Jen was having a mental breakdown. Kisha wasn't going to let Jen look back on this and regret it if she had quit.
Jaime, The Motivator: Cara (who looks exhausted) & Jaime seem to be in China still. Jaime explains that her yelling is a tactic to remind Cara that this is a race for a million dollars. Jaime understands this motivation but, not surprisingly, Cara doesn't. Jaime could be saying the nicest compliment in the world but Jaime's delivery of that compliment could make it sound like the worst insult. Jaime freely admits this trait and laughs. Cara is glad she didn't hear Jaime yelling at her while in the Olympic pool as she would probably have been offended because she wasn't slacking. She's not surprised if Jaime was yelling as that's Jaime being Jaime.
Making It Clear: Concerning the fight from the previous leg, Margie explains she was trying to convey to Jen & Kisha how small of a minority the deaf community is and that Jen & Kisha, as black women, could relate to that. She thought they'd be more sensitive to being viewed differently, but Margie is quick to point out she doesn't view black people as "different."
Margie is surprised Jen & Kisha would treat Luke with such little respect and would make both Luke & Margie feel bad. She is pretty sure they weren't intentionally being mean, or at least hopes they weren't. Luke has had a very hard life as very few people in the world can communicate with him without writing. So for Jen & Kisha to not recognize his hardships, much like theirs as black women, was surprising. Accordingly, even if it was unintentional, Margie & Luke felt disrespected.
Out of Sync: Victor & Tammy met their nemesis this leg on the Swimming/Diving Detour. Tammy took swimming lessons before the race and was the only adult at the adult swimming lessons who had to learn just to blow bubbles when putting her face in the water. Victor could swim a little but would be exhausted after just one 25-meter length. When he realized he had to swim four laps, he immediately discounted himself.
They now realize they underestimated their swimming prowess and were foolish to attempt the diving challenge. No one was ever going to succeed at it, especially the two of them together. Tammy admits to having no coordination and while her mind may say one thing, her body isn't cooperating. After seeing Kisha & Jen struggling at the challenge, Tammy realized they could cut their losses and overtake them by switching. Victor was blown away at how well Tammy ended up doing in the pool.
Extra Race Footage
Long Lost Friends: At the Chinese airport, Luke signs how happy he is to see Cara & Jaime again. They haven't seen much of them as Margie & Luke have been ahead of them most of the time. Luke immediately makes it clear they're not going to help Cara & Jaime though. Margie points out they already helped a little just now by pointing out where to get plane tickets. Luke signs, "Yeah, well."
Not Getting It: It wasn't fun for Jen to see Kisha suffering during the foot massage. Jen can't understand how people could do that regularly, even if it is a traditional custom. She would like to see one of the Chinese people actually get one of those painful massages.
The Big Push: In the cab to the massage parlor, Jen lets us know it's the beginning of the leg and not the end, so it's alright if people get ahead or fall back right now. Kisha points out that in India, Tammy & Victor got out first and had a huge advantage because of it, so she's still always pushing to get out of the airport fast. You need to account for cabs getting lost but will admit that Jen's point is valid and being behind at the beginning isn't such a bad thing. Jen is excited to be in Beijing because the Olympics were here. She supposes everything has been torn down by now (?) and is excited to see some flags left over.
Tough Roadblock: Jaime doesn't think she could have made it through the foot massages. Cara tells her it was horrible. She normally doesn't even get pedicures or massages or anything where her feet are touched. Because of doing ballet all her life, Cara has had muscle injuries in her feet. Now when her feet are touched, it's very uncomfortable. Coupled with the pain, it was just horrible. So she quickly found out that her hopes of a nice, comfortable foot massage were dashed. Jaime is just relieved Cara didn't say uncle. Cara brushes that off as wondering why anyone would want to start that kind of pain over again.
No Holding Them Back: Cara & Jaime are very close to Margie & Luke and would want them to win it if Cara & Jaime don't. Cara would find it very difficult to intentionally use means like a U-Turn to keep them from the final three. There's no guarantee Cara & Jaime will win in the final three so she would hope Margie & Luke would win if their own team doesn't. Cara believes Margie & Luke would have similar reluctance but I honestly don't agree. She recognizes that whatever happens, happens, but it will be difficult to be in that situation. Jaime calmly smiles, knowing full well she'll do what it takes. At least that's how I see it.
Out of the Drama: At the airport discussing the Pit Stop fight, Margie admits she felt sorry for Tammy & Victor. Jaime admits she was happy they were in fourth place so they weren't there for the drama. Tammy kept waiting for Cara & Jaime to show up so there'd be someone else there. Margie tells them she was so upset by Jen & Kisha's actions and Jaime realizes if she had been there she wouldn't have been able to hold back. Cara is glad they decided to tango.
Elimination Station
Farewell to Elimination Station: A beautiful day today in Thailand, and it also appears to be their last day at the ol' Elimination Station. Victoria is excited as it's finally time to go and see something new and different. Plus they get to be part of the game again, even if it's as observers. She can't wait to see how the end of the game plays out.
Jennifer is pulling for Jen & Kisha now but she also can't wait to see who crosses the finish line first. Mel is sure Victor & Tammy will pull it off. Victoria can't predict the outcome but is rooting for Margie & Luke. Linda has the most honest take and recognizes that whoever ends up crossing the finish line first deserves to win.
Mel asks everyone if any of them feel like a loser. Preston humorously says yes, but explains that he & Jennifer played their best and you can't be upset with that. Jodi thinks coming to Elimination Station was a good thing because on the race you don't get a chance to get to know the others. Here everyone can relax and be themselves unlike out on the road. Steve found it to be an experience with a lot of different types of people and is ready for a break. They all toast to Thailand.
It's packing time and Jodi explains that they're all of to End City to see who is going to win it all. Victoria was glad to have this time to decompress and recover. Winning the million dollars may have made it okay to come right home after such an experience, but otherwise going straight home would be like a smack in the face. Steve thought the experience wasn't what he expected, what with the others excluding him & Linda while at the same they secluded themselves from the others… What? Please, just go home.
Amanda & Kris are also ready to go home but Amanda still feels betrayed by Margie & Luke U-Turning them. Kris isn't certain he wants to make a scene about it with Margie & Luke at End City, but a sarcastic "thanks a lot" is probably in order. Jennifer was glad to have had the Elimination Station experience because she & Preston managed not to kill each other and emerge unscathed. Mel is said to be leaving this great experience, while Mike is packed and ready to go.
With that, the teams all pile into the van and say farewell to Elimination Station. Off to End City, wherever that may be!
Phil's Race Diary
Beijing, China: Phil is in a car, with a Chinese girl in the back seat who has pulled up to be right behind him, and explains he has from 3:30 in the afternoon until the next morning (when everyone departs Beijing) to go buy a small Chinese bicycle. It turns out the girl is Candy, his interpreter. She's been with him the past few days and looks to be in love with Phil, just like many of the fans of The Amazing Race are.
Phil is crazy about bikes (as we know from his current Ride Across America) and in China he can get one that folds away. Candy is showing him to the bike shop where he can pick one up. They start to film this very nice high-tech looking bicycle shop when Candy warns him that there are no pictures allowed. The next shot is outside as Phil is looking for another bike shop. He's also bummed because most of these fold-up bikes are just too small for him to ride.
He jokes that when he was sitting on some of the models, the staff were cracking up. Now people in the street are cracking up as he's filming himself talking to himself. Back in the car, Phil informs us that there are ten million (!) bicycles in Beijing. He figures it's got the highest bike-per-capita than anywhere else in the world. Candy agrees. He notices that most of the bikes he sees now are working bikes or bikes with motors. Phil can't imagine how much more congested Beijing would be without all the pedal power there.