BB18 Episode 22 – August 7, 2016
<–Previously, the Narrator of the Season leaves
Um…hmm….yeah, not really feeling the way this season is going.  The guys are not at all appealing at this point as they descend in to the Depths of Douchiness, and there's not a lot to motivate me to write about the show.  If they bring back the comic book thing, I'll likely blog again as that's fun to collect, but yeah, I think I'm done with spending/wasting my time doing this recap for a season I am preparing to endure, not enjoy.   I can instead keep prepping for the big J! and enjoy videogames and/or drinking some good wine.  The sweeter things in life!
Status & Standings: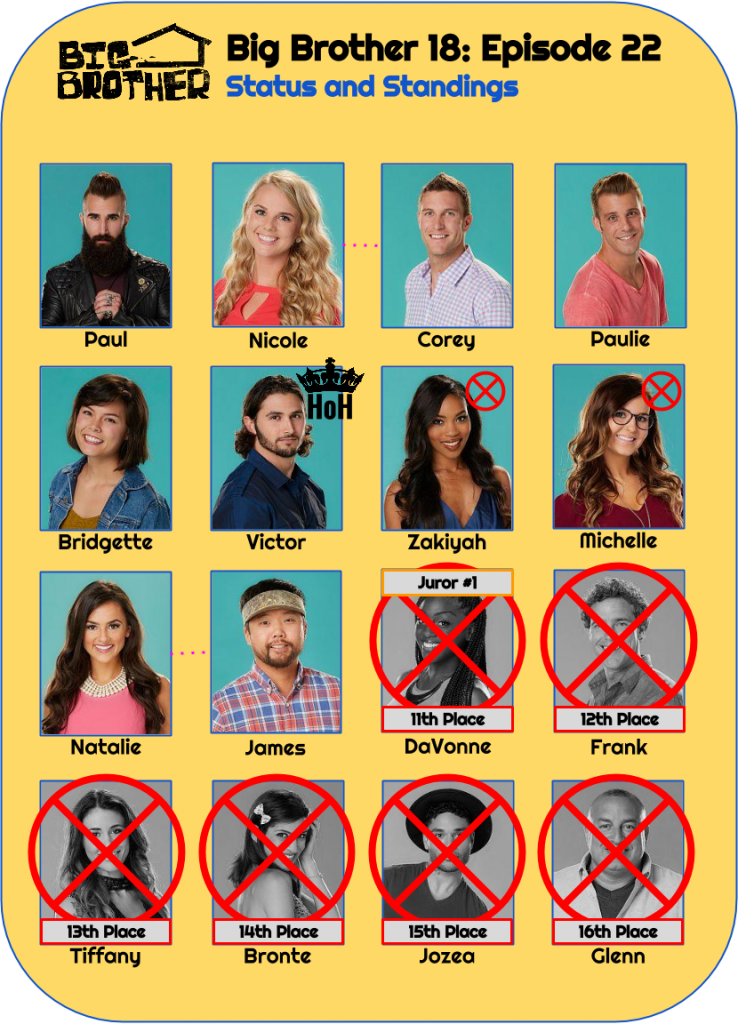 Head of Household: Victor
Nominated for Eviction:  Zakiyah & Michelle
Yeah, there's stuff that happened and a new alliance ("The Executives") and I just don't care.  Victor's ridiculously tone-deaf and fairly rude nominations speech was stupid.  I hate them all. Can I say I almost miss Frank and Tiffany?  I'd rather have a battle of wills versus an asshole-fest.  ANYWAY, there we go. I'm sure I'll be checking in with some updates, but yeah, oof.