Larry & I were catching up on American Horror Story: Hotel (kinda obvious that was who the Ten Commandments Killer was, just sayin') and The Goldbergs (so funny, as always) when at around 8:30, I suddenly realized, oh shit, The Wiz Live! is on tonight! So we flipped over and caught the tail end of Dorothy in Munchkinland, so I missed the opening part in Kansas and Amber Riley's amazing number "He's The Wiz."  It felt a little slow stepping in right then but the momentum started building as she met the Scarecrow, then the Tin-Man (Ne-Yo, who was looking all sorts of cute/attractive all silver'd up), and finally the Cowardly Lion (David Alan Grier, awesome btw).  It was cool to hear "Ease on Down the Road" but I really didn't remember the movie or songs beyond that.  So I wasn't sure how much I liked it…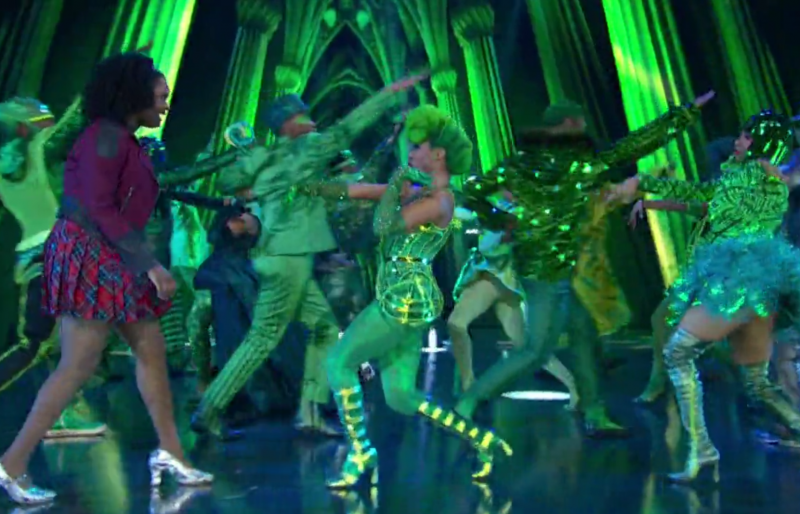 …but then they stumble upon the "Poppies."  Talk about a change, and it kinda felt like the dancers from Scrooged's production of  Christmas Carol.  In other words, awesome.  Then, they get to Emerald City, which ends up being basically the hottest, most fierce club in the world.  All green fashion, tons of attitude, and sultry vogueing and owning the floor – the synchronized dancing and performances were amazing.  I've watched that scene a LOT today as it's just so cool.  I was hoping to see that scene or music as part of the soundtrack, but alas, it's not.  io9.com has a video clip of the scene although the sound quality is questionable – if you can suffer through the many ads, nbc.com is where you can watch the whole thing too with much better quality.
Regardless, The Wiz Live! was a blast to watch.  The songs and performances were great, and the girl who played Dorothy had an amazing voice.  Well done, NBC! I think we can all agree that Peter Pan Live! should be quickly forgotten.