BB16 Episode 39 – September 19, 2014
Actually, no, no they don't.  Besides for the last few minutes which showed the beginning of Part 1 of the Final HoH Competition, and for a few scenes I'll mention below, it was just a way for CBS to fill an hour of programming on a Friday night.
Viva the Final 3!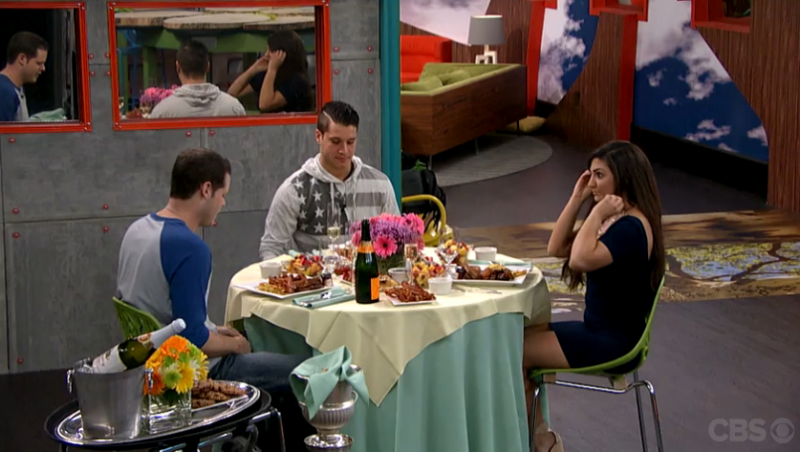 So over totally natural and completely non-scripted conversations, the final three (Derrick, Cody, and freakin' Victoria) reminisce about the craazzyy summer they've just experienced! Â So many funny people and wacky things happened, you guys! Â Like, remember when Devin went crazy!? Â Or when Frankie won the BoB by himself?? Â Crazy.
UGH.
The only 2 things that actually entertained me in terms of unaired footage were the following:
Izzy the Rescue Pup!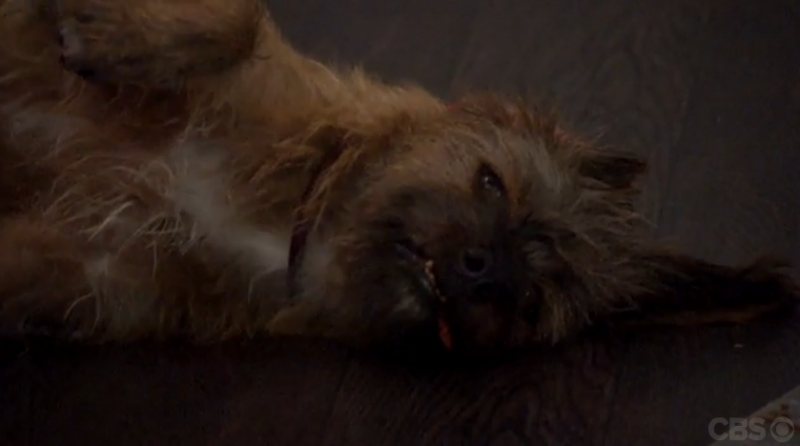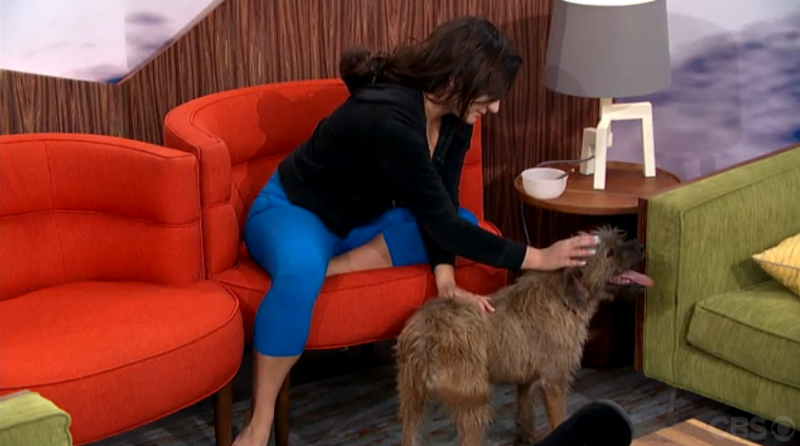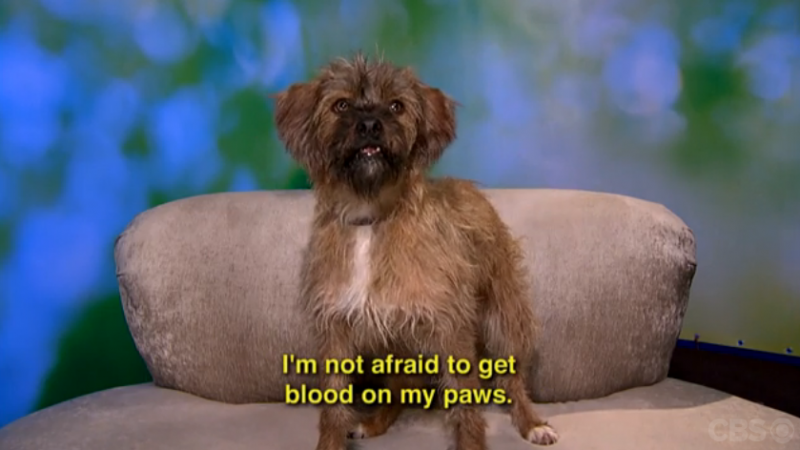 What a great reward for the houseguests! Â You could tell Izzy loved the attention. Â I was even good with the cheesy but funny eviction messages for Izzy.
Nicole Gives Zach an Epic Wedgie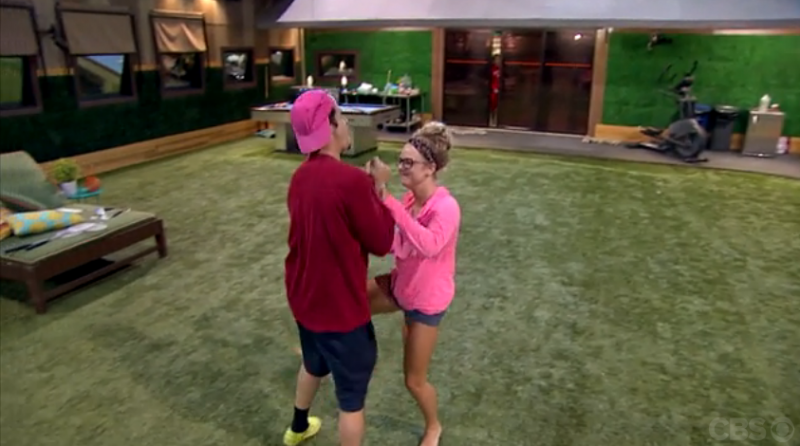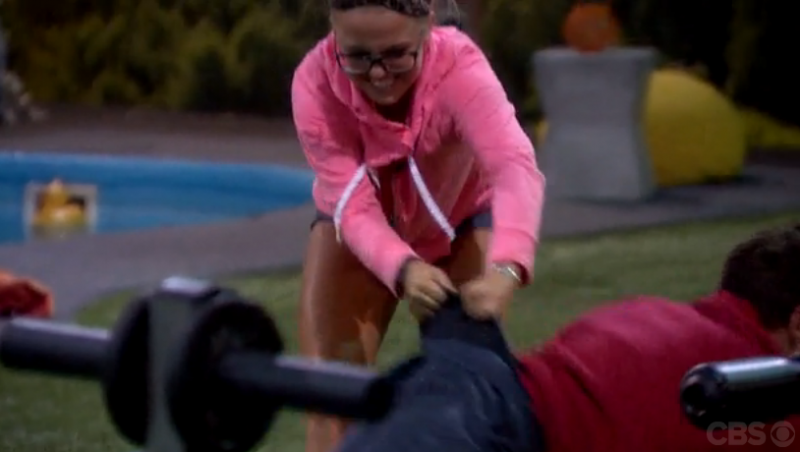 It was great to watch Nicole totally take on Zach and somehow get the upper hand, grabbing his underwear and yanking hard. Â Back in the good ol' days before everything got kinda awkward, that's for sure.
Everything else? Â Seen it.
The First Part of the Last HoH Competition Begins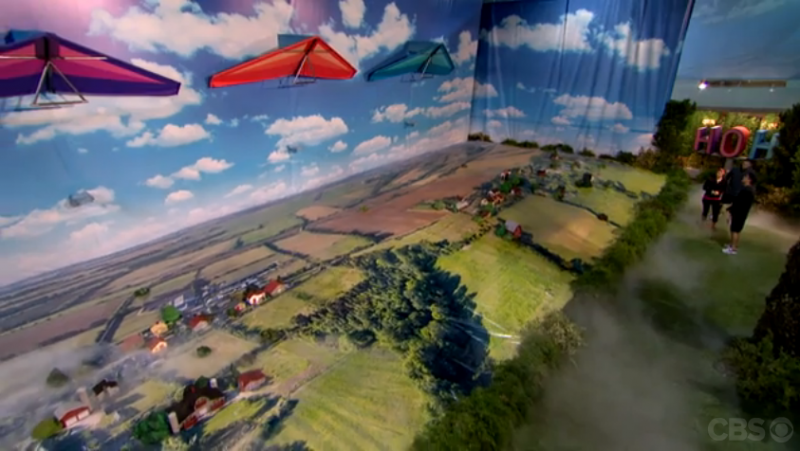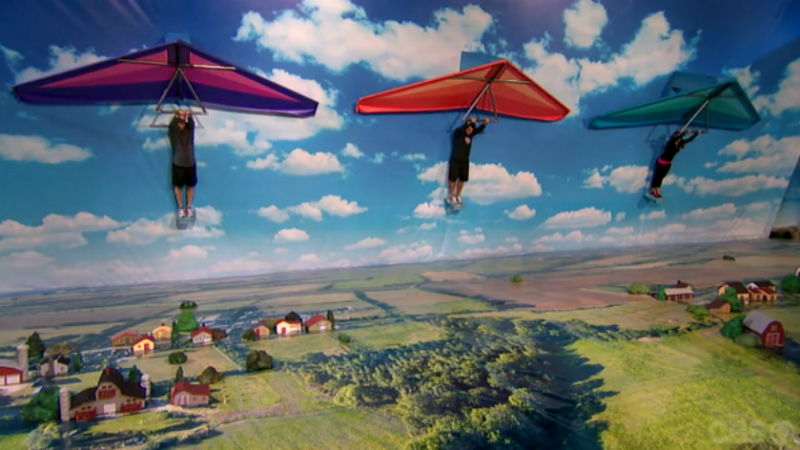 This bad boy is all about endurance and about whoever is able to hold on the longest to their hang-glider whether it's sunny skies or torrential downpours. Â  I'm guessing Victoria will be out quickly. Â We'll all find out on Wednesday night AFTER the premiere of Survivor, which I'm probably going to sit out of writing about, at least in a consistent manner. Â I'll focus on Amazing Race though, as I lovelovelove that show!
Status and Standings: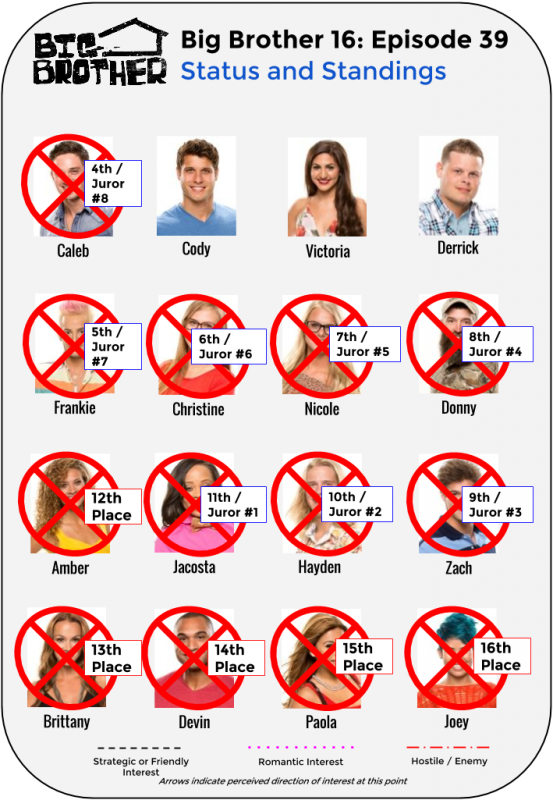 I've removed The Hitmen grouping as at this point, it's kind of irrelevant. Â I've also placed everyone in my predicted order of success – with Cody going out next and Victoria and Derrick being the final 2, with Derrick winning. Â Derrick played a masterful game to get to this point and he will totally get his reward. Â But for shits and giggles, I'll speculate about all three:

Derrick: Â No need to speculate, he's going to win. Â He's been behind basically every eviction and got everyone to trust him. Â Everyone respects his game, even if they got played by him. Â The important thing is that the jurors recognize that they GOT played, and that is essential as otherwise the jurors could think someone else was behind it.

Cody: Â So to speculate about Cody, I have to do one assumption, which is that Derrick is eliminated next. Â That would leave Cody against Victoria. Â I give the win to Cody, fairly definitively. Â Victoria has nothing to argue in why she should win, and the jury doesn't respect her at all. Â Cody can at least say he had a few HoH wins and had a 2-person alliance that went all the way to the end. Â It would be hard for him to argue his case if Derrick is there, as Derrick can easily knock down any argument Cody puts up as Derrick did do it all. Â So basically, Cody's ONLY chance of winning $500K is to be sitting next to Victoria.

Victoria: Â Your chance of victory went out the door almost immediately upon this season's beginning. Â You had no challenge prowess and your strategic game was non-existent. Â Everyone immediately began to use you as a goat. Â  I'm not positive you'd lose against Jacosta, but again, that kind of comparison does you no favors. Â You only win if somehow both Cody and Derrick aren't allowed to compete and you win by default.
Anyway, stay tuned tomorrow after Survivor to see who takes home the win during a special 90 minute episode! Â I'll be interested to see if this is a bitter jury (I doubt it) and if Caleb will come to understand how much he was played by everyone in that house. Â I think he'll have to come around to realizing that Frankie was exactly and brutally right about his game.