BB16 Episode 29 – August 28, 2014
This episode's eviction wasn't a surprise.  Sure, CBS tried to make it look like there was a possibility that the guys would oust Nicole instead, but once you've seen that editing trick before, you recognize it as exactly that: a trick.  Nope, it was pretty clear Donny's number was up.
The Nicole Option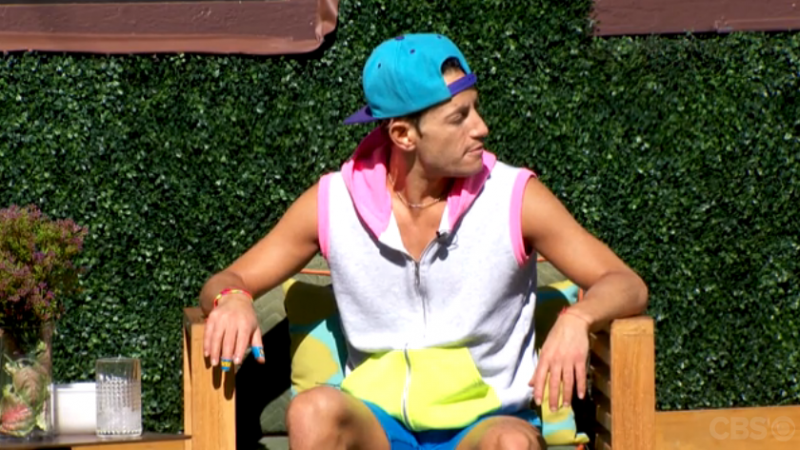 Nicole wisely played the social game hard this week in order to figure out a way to get back into people's good graces.  Much to both her and Christine's surprise, they were able to reestablish a bond.  Nicole tells us privately it's more of the "Keep your friends close, keep your enemies closer" strategy, but perception rules out over all, and Frankie didn't like what he saw.   He regroups with Derrick to see about maybe keeping Donny this week and getting rid of Nicole, as if Nicole isn't going after Christine, she's likely coming after him.  Derrick isn't against the idea.  Frankie then works on Caleb to get him on the Save Donny train.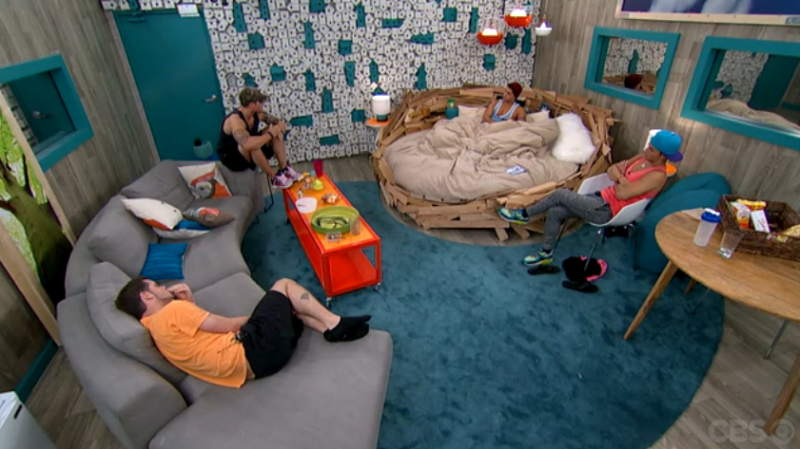 Surprisingly, the idea gains traction.  Enough so that the guys discuss it in the HoH room.  Cody isn't buying it though as he reasons Nicole isn't nearly the threat that Donny is.  Caleb is on a kick that Nicole is definitely the bigger physical threat, but of course, that's just what was whispered last into Caleb's ear by someone.  Poor, sweet Caleb.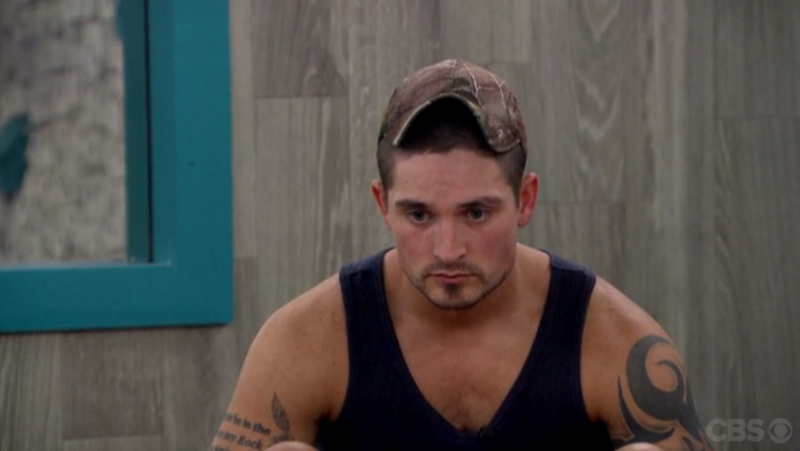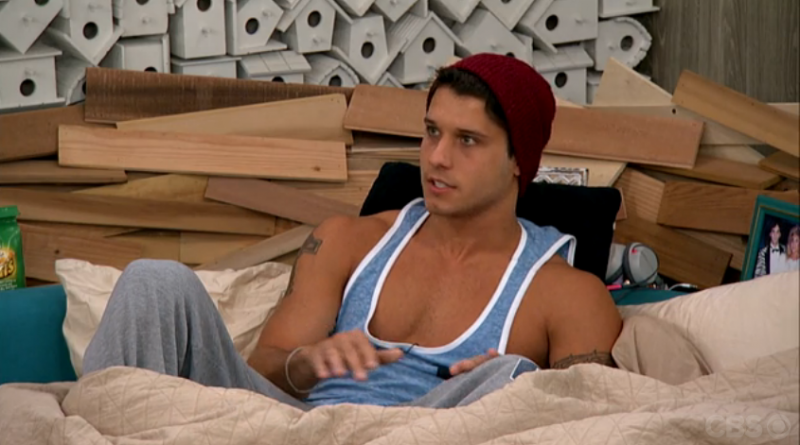 Anyway, Cody isn't persuaded by Caleb's or Frankie's arguments and insists that Donny remain the target.  Caleb does a roll call and Frankie reasserts that Nicole is his target.  Then it comes to Derrick for his opinion, and talk about someone who insists on having no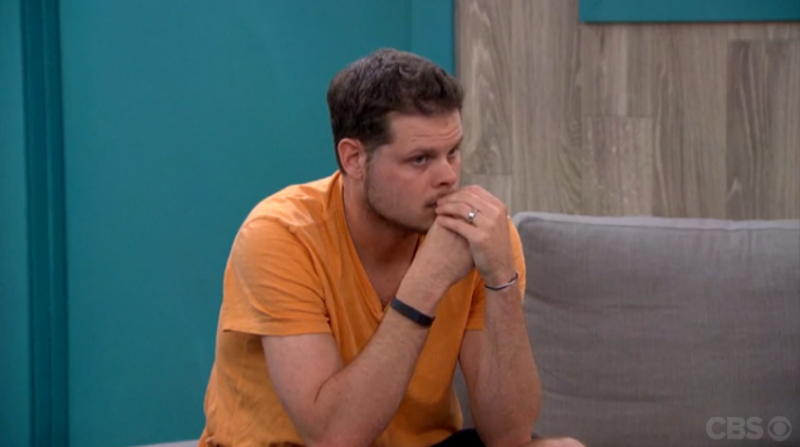 overt opinion!  So he throws out a "it's just so hard to know" kind of answer, and yet again, our eventual BB16 champion masterfully deflects.
Cody & Christine's Family
Don't care.
Voting Time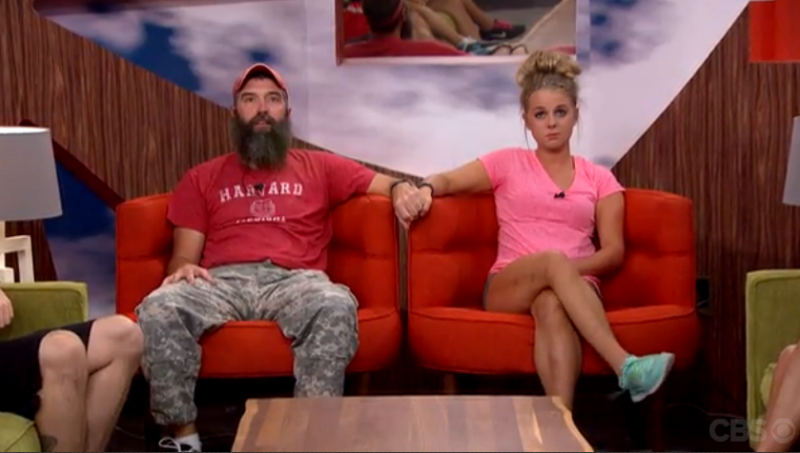 Nicole certainly didn't get the message that she was safe, as the poor girl looks absolutely wrecked with dread.  Of course, the vote goes 5-0 against Donny.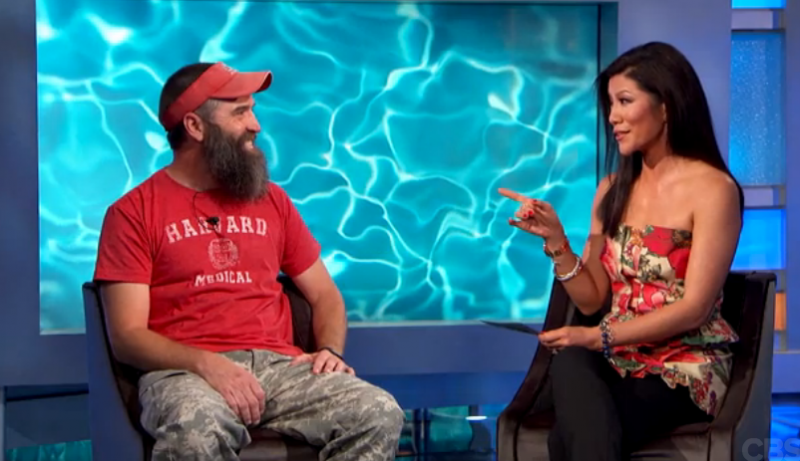 Outside with Julie, Donny has a lot of emotions.  He admits that he never bonded with the other houseguests and realized he never would be able to do the late-night socializing required as he had nothing to contribute.  He figured he'd just befriend everyone, which he actually did do, but his loner status still made it easy to target everyone.  He also is disappointed in Team America, but understands that it's a game and they're doing what's best for them.  After his goodbye messages, Julie then reveals he's getting a guest spot on The Bold & The Beautiful which confuses him and pretty much all of us.  But hey, good for him!
The Next HoH Competition Begins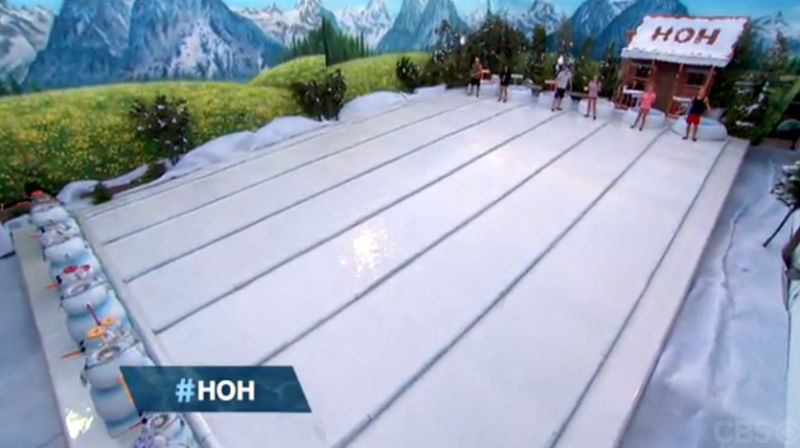 It's a long competition again in which the houseguests have to transport liquid from the source container via spoon to the snowman head awaiting them on the other side of the slippery slope.  Rinse and repeat, until the snowman's head has been filled with enough water so that you can grab the piece of coal within.  Naturally, the competition doesn't end during the episode….

For Nicole's sake, she needs to win HoH this week to ensure safety for a week, but Caleb was hustling pretty good from what we saw of the beginning of this competition.  Honestly, maybe she's better off not winning with the fact that this Thursday will be another Double Eviction episode!
Status and Standings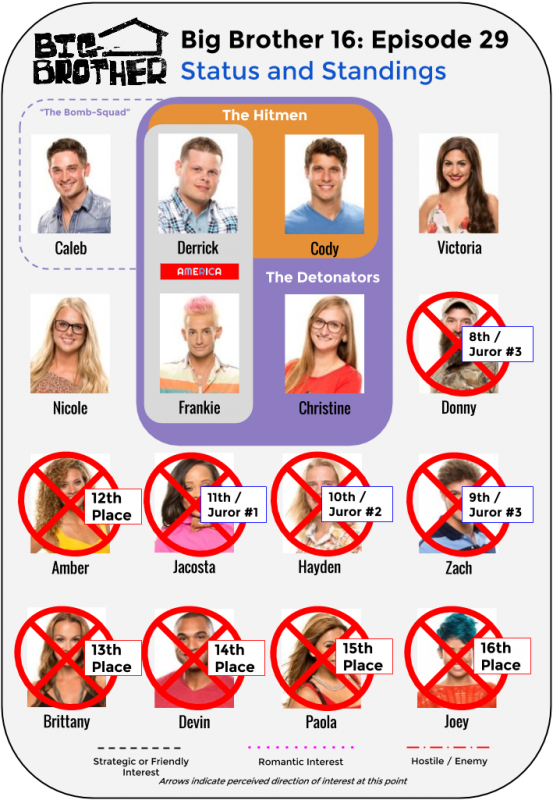 Outgoing Head of Household: Cody
Nominated for Eviction: Donny & Nicole
Evicted: Donny (5-0)