Wow, where did February go?  Well, when last I checked in here, Fran and Joel were out here and that visit was indeed a lot of fun!  I do have pictures from it too, but I think I'm going to parcel those out over the upcoming week as I do intend to get back into the posting zone.  But in the meantime, I wanted to post pics regarding the construction of our house!  It looks like we're probably going to be getting the house sometime in September, so we've got another 7 months or so here in Glendale to enjoy the amenities and convenience to Americana and the Galleria.  I can't help but get excited about getting into this new place though, especially with some of the choices we've made for the place.
Speaking of….here are the choices we ultimately made while at our last Interior Design appointment:
What you see in this gallery are our choices for:
We're going to do the hard wood flooring on all the floors of our house.  We won't be having anywhere carpeted except for the stairs/staircases, and that carpeting will be the Taupe color so it'll be dark and hopefully able to help conceal any regular use.
The large tile you see next to the wood is the tile we'll be using for all of the bathrooms and the laundry room.  Wanted to ensure we didn't have wood in those rooms that have the most risk of water overflows.  The kitchen is an exception to that rule, but we're fine with that risk.  We know that likely this house will look a lot like the Santa Monica apartment in many respects.
For the kitchen backsplash, we're using the long shiny grey tiles in a grid pattern.  We had been leaning towards the small, staggered tiles for a while, but we saw this tile and saw some other installs and we loved how it looked.
We're going with the speckled counter top for the kitchen area, which was a change as we were going to go with plain white.  But the speckle looks good and will go well with the backsplash tiles.
The white, flat cabinet doors was a decision we already made, and we're excited at how this will look.
The bathroom counters and tiles are basically all white.
We're pretty excited about these choices and think that it will look very modern and clean.  The colors we use for other things are what will help color in the house overall with whatever mood we end up being in for designing things.
So that decisionapalooza was done two Fridays ago (and happily, at the Glen itself and not all the way in Irvine).  Today, we went back to The Glen and took a ton of measurements of the model home so we could start playing around with layouts and figuring out what will work furniture-wise.  Before that though, we were able to get back to our actual house so we could see the progress.  As you'll see, there's been quite a lot of progress!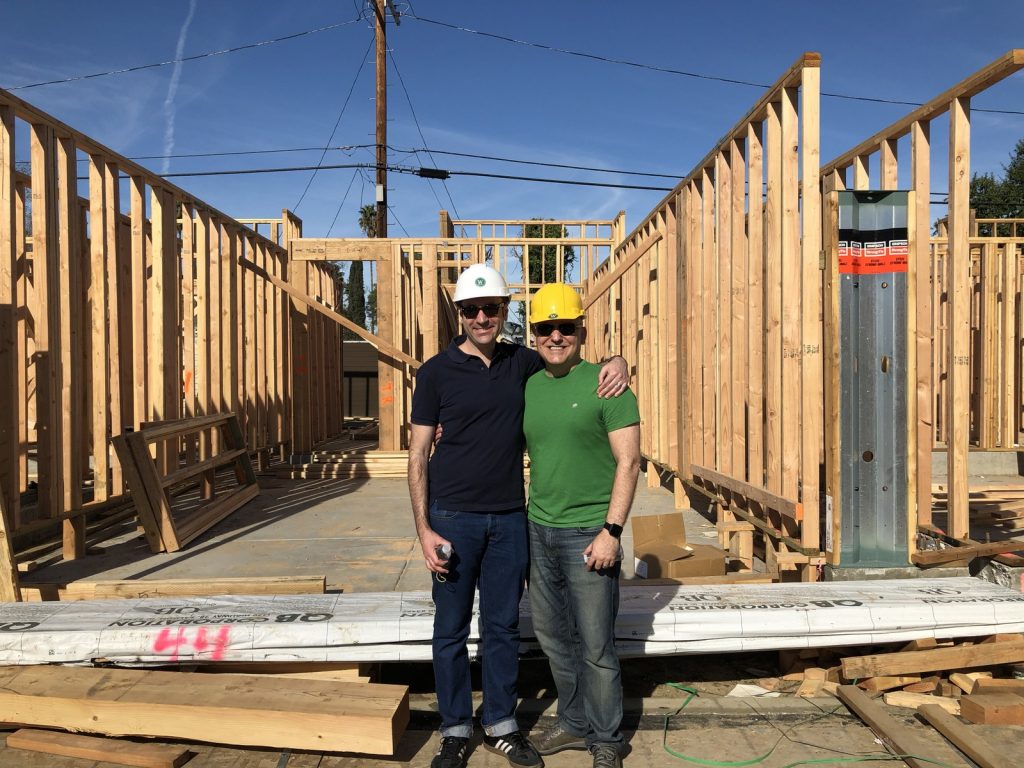 Note the lack of any ceilings or such on this first level back in mid January.  Yeah – we've got a whole 'nother floor now and the 3rd floor looks to be on its way!
Even though it seems at this pace, they'll be done in like 2 months or so, that's certainly not the case.  September is still our target date, and here's hoping that indeed is the case.  We've locked in our interest rate for 270 days (so until sometime in November) because with the Fed likely increasing interest rates, it seemed prudent to lock it in now.  Hell, even from December to February, we lost out on a few tenths of a point already as the rates started climbing.  ANYWAY, it's exciting is what I'm trying to say, and it's fun to think about what appliances to get, what furniture to keep, etc.
With the dimensions we've recorded today, we're going to create some electronic floorplans that we can use to play around with layouts of furniture.  One of the things we have to work on is our front "yard" – it doesn't come finished and will be up to us.  Likely we're going to make it as minimal-maintenance as possible, so lots of zero-scaping and such.  Lots to think about, but all worth it.