Maybe delayed, but I'm still posting, dammit!  This latest leg on Amazing Race was fairly brutal, as the introduction of a new challenge type, Head to Head, guaranteed a dramatic finish.  And boy oh boy, did we get some drama.  I've not really had a reason to complain about the previous 29 seasons and how if you got to the Pit Stop last, after having had conquered a Roadblock, Detour, and other challenges, you'd have to confront the fact that your poor performance is leading to your likely elimination.  The Head to Head challenge acted as a gate before the Pit Stop – which is a glorious save for a team that is trailing the group.   Is it entirely fair?  I'm not so sure I think it is, but that chance to stay in the game is somewhat sporting.  Anyway, I don't hate the new challenge, and I look forward to if it continues to show up and how often.  Is this like a U-Turn where it is an occasional thing, or will it be on every leg?  So many questions!
Amazing Race 30 – Leg 2:  Reykjavik, Iceland to Antwerp, Belgium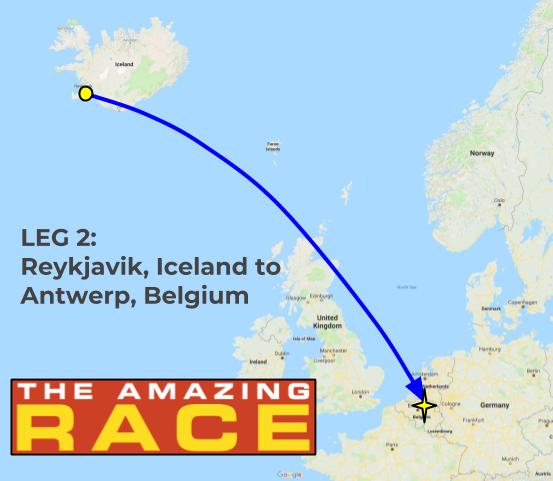 We left Iceland and again there was no competition about getting a better flight.   Making it so easy for these teams nowadays!  In my day, you had to spread misinformation and plead with ticketing agents to not issue tickets to others, dammit!  Anyway, everyone gets to Antwerp via Amsterdam, and taking an early lead are Cedric & Shaun, massively casting off their Leg 1 standings, and getting to the Roadblock first:
Roadblock:  Climb a Long-ass Ladder up to a Clue Hanging from a Crane
Oof.  I don't know how well I would have done on that challenge.  The nervousness from climbing those heights on a rickety rope ladder as well as the physical fatigue is pretty harsh.  It does seem everyone managed it fairly well though, so maybe the support rope acted as a belay and helped pull you up too.
Once a team finished the Roadblock, they got their Detour clue with the choice being Diamonds or Fonts:
Detour:  Diamonds
I was kind of surprised that this was a challenge.  Not only are the teams handling actual diamonds worth tens of thousands of dollars, they also have to do MATH.  A calculator was blessedly provided as otherwise, I've no doubt some of the teams would still be there.  And based on the performance of some who chose this, even the calculator wasn't that much help, as they had to pay attention to clarity and with all the fingerprints they left on the stones, it was throwing them off.
Detour: Fonts
This Detour option also required paying attention to detail, but the detail was to make sure you understood one major detail in that the type was reversed and upside down.  And if you were clever like some and used the shadows from the window, you could rip right through this.  Alas, some of the teams got massively hung up on this.  The Twin Firefighters were the key examples of this – they started on Fonts and could NOT figure it out, eventually switching to the Diamonds challenge.  That switch led them to be the last team in the standings…but fret not, Head to Head is here!
The First Head to Head
In this first instance of Head to Head, the first two teams to arrive would compete against each other in an obstacle course that required you to dress up as Belgian Fries and schlep a dolly of frozen fries around it.  Whoever wins that match wins the Leg!  The loser has to then race the next team to arrive, and so on.  The last race will be between whoever has just lost a match and that last team to arrive.  And if that last team can manage to win the match, voila, they stay in!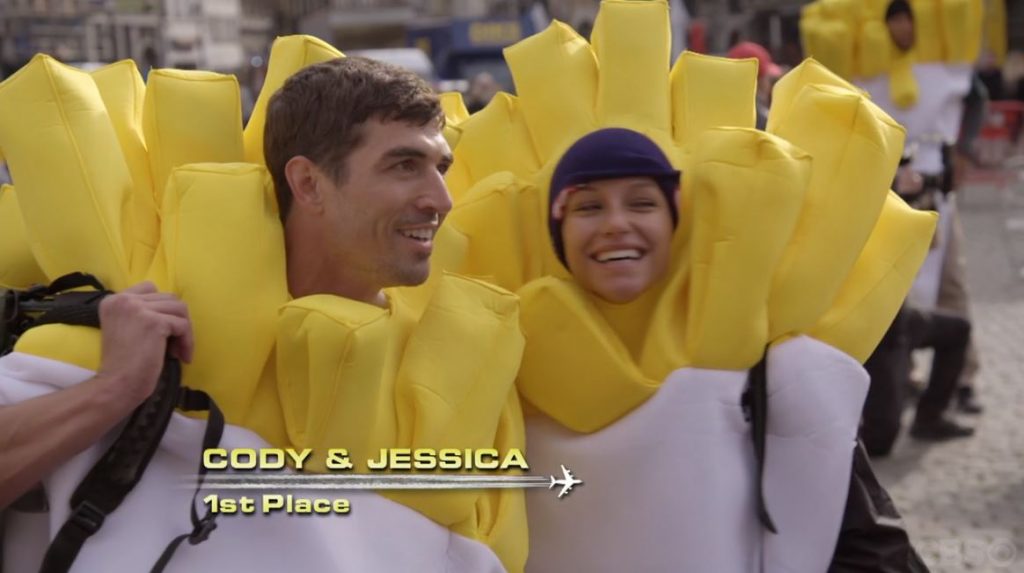 Cody & Jessica managed to arrive second after Cedric & Shaun, but Cody destroyed and got Team Big Brother their first (of many?) wins.  So as the teams kept rolling in, the major story of Head to Head was the awful feeling everyone had while watching Henry & Evan roll in around fourth…but then get utterly destroyed in the competition for like 7 straight competitions.  It was brutal to watch.  They were exhausted.  They got lucky, if you can call it that, by finally getting to race against a not so great team, the Goat Yoga ladies.  Exhausted and with plenty of experience under their belt by now, Henry felt got a win.  But it was very very close.  In the end, the Goat Yoga ladies didn't have enough legs to figure it out as the Firefighters showed up last and due to pure strength, were able to power their way past Goat Yoga.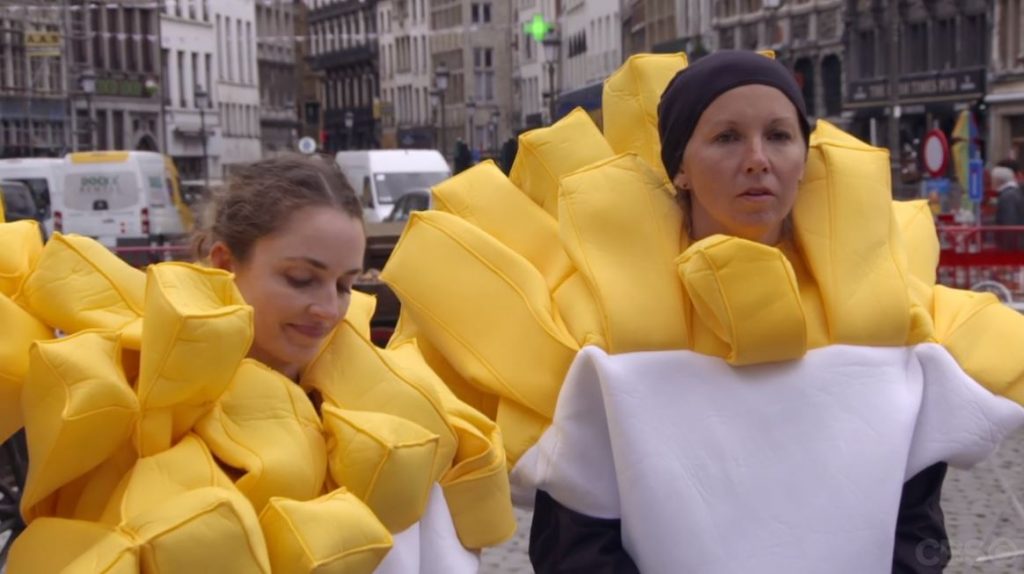 I'm of the mind that I understand this is a competition show, and if a new tweak is added, then you have to play and win.  The Firefighters won their way to stay, but their abysmal performance this leg definitely earned them an elimination.  Their elimination is likely coming soon as it doesn't seem they're a strong team yet.  And Goat Yoga was falling apart from Leg 1, so their elimination here isn't a travesty by any means.  I guess I'm saying, a last place team always has a chance now…and I'm not sure I like that.
The Current Standings: