Another week goes by and I'm still employed (yay) and the week goes by quick enough for me not to be too dragged down by it all.  Yay, again.  I've been trying to figure out what it is I want to do with my life, and yes, I recognize I am 40 and should have figured that out a while ago.  So while I recognize that the career side of things is basically just me finding a niche where I can get stuff done and get paid while doing it, as being a true "professional" in some career has long ago stopped being an option for me, I do think I can figure out hobbies and such that will bring me personal satisfaction.
Writing is certainly up there, and if I can get the discipline to write on a regular basis and also figure out things to write about passionately, that would be a good first step.  Musical instruments are also an interesting thought, but man, you need to take lessons and get the time commitment figured out, and that's freakin' tough right now.  But I have this new guitar and I want to get back to it, so we'll have to make that work out.   Stupid video games are also a bane to my productivity, to be honest.  So many good ones out there.  Anyway, just some random notes from me to you.
How about some pictures?
Barb and I had a nice after-work catch-up at Traxx earlier this week and it was wonderful.  Sometimes, you gotta get a drink at the Art Deco Union Station in your city, amirite?
Larry and I got dinner at a great new restaurant called The Tsujita in the Americana, where the specialty is a weird twist on ramen:  the noodles and pork are served cold and separate from the broth, which is really hot and delicious.  You then dip the noodles/pork into it….and it's fucking wonderful.  A great addition to the restaurant selection here.
Yesterday was the main event for us though, as Larry had been able to secure tickets to an event called "How Did This Get Made?"  What it is is 3 hilarious people (Paul Scheer, June Diane Raphael (who we feel in love with from her role in Grace & Frankie), and Jason Mantzoukas) + a hilarious guest talking about various terrible movies and all the wondrous ways it is terrible.  It's a podcast you can listen to via iTunes or Earwolf podcast website and you definitely should.  The first one I ever listened to was recommended by Larry and it was all about A View to a Kill, yes, the awesome 80s James Bond movie.  Both Larry & I grew up on it so we're blinded to its failings, but man, this really long podcast just does a number on it and it is epically hilarious.  Well worth the nearly 2 hours to listen to it if you have time, as they point out so many of the ludicrous plot points and characters.  So funny.  Anyway, Larry's been addicted to the show ever since, and finally scored tickets to it for this past weekend!  He's been super excited although I think we all were kind of worried once we learned about the movie that was going to be the topic of our show yesterday:  Chopping Mall…..yes, it's a craptastic 80's "horror" movie about "teens" trapped in a high-tech mall with 3 malfunctioning murderous robots.  Holy shit this thing is bad….but don't take my word for it, here's the awful trailer for this awful movie:
I can't be sure this is the real trailer as the description kind of indicates it's not?  But it captures the sheer cheese of it all.  Anyway, Larry & I ventured over to where Nicki lives in LA to watch the movie on Amazon Video with her as she and Austin were going to go with us for this fun.  The three of us watched it in wonder as the movie truly is just terrible terrible terrible.  And the performances are ridiculous and there's lots of boobs for no reason and it begs the question, HOW DID THIS GET MADE???  Full circle, people, that's what just happened.  It's a truly perfect movie for this show (and podcast).
Anyway, having done our research for the night's entertainment, we then went over to the Largo Theater, which is on La Cienega Blvd just a block north of the Beverly Center, which hilariously is the exterior for the Chopping Mall.  So of course, after we got our tickets for the show (not too bad of seats – it's a random draw and we ended up getting 5th row), the three of us went down to the Beverly Center.  Apparently it's not the interior that was used for the movie as another mall had that distinction, but it was still fun to think about it anyway.  There is a main foyer in the Beverly Center that looks a LOT like the movie though.  It's still weird to be back in that neighborhood and see the Beverly Connection across the street and consider I spent 5 years working there at the Bookstar which is now gone….like truly gone.  It's been remodeled into an Old Navy.  🙁
We then met up with Austin at the Largo's bar once that opened up and we had a few drinks to get into the spirit of things.  Anyway…the show was amazing.  Larry had been bracing for the possibility of June not being there, but as it was the 8pm show, the likelihood is higher that she was going to be present and happily she was.  They of course loved tearing this movie apart as it certainly deserves to be.  I'm looking forward to hearing the podcast once they release it, which we think is going to be in a week or so.  Highly recommended once it is!
Anyway – pictures!
Saturday, Mar 11, 2017: How Did This Get Made @ The Largo
It was just a great night and a fun way to spend most of a Saturday.   Of course, Daylight Savings Time coming around this morning to steal some of our precious sleep time is the worst.  Anyway, we eventually got our act together, watched last night's SNL (the Ivanka Trump "Complicit" ad was amazing), and then headed out to Target to restock the house supplies and then watch Logan.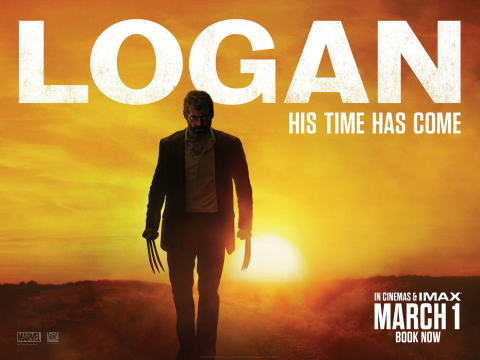 Logan (2017) (saw this on Mar 12 @ the Pacific Theaters in Glendale)
Well, the reviews are in and it's been getting across-the-board raves, and rightfully so.  It's getting praised for very good things, such as a stripped down story, wonderful performances, and a more serious take on what usually isn't.  And oh yeah, it's R-rated and it takes full advantage of that, as Logan is fucking violent as hell.  I mean, it's REALLY violent.  But I have to say that while I did enjoy the ride, the movie feels too long and I think it needed to have an explanation for some things to help place you in the world.  I get it, you do get enough hints as to what's happened in the time between the last X-Men movies and 2029, which is when this is set.  But I kind of still wanted to know more – what actually happened that Professor X and Logan keep referring to?  Obviously it resulted in the deaths of pretty much all the mutants, but what was it?  Maybe it doesn't matter, but the ambiguity for ambiguity's sake kind of turned me off.  And this movie is bleak, full stop.  There's very good reasons for that but just know this is not the movie that ends with everyone hugging it out at the end.  Nope.
Hugh Jackman and Patrick Stewart are of course fantastic, as is the young actress who played Laura / X23.  It's interesting to think where the "modern" X-Men movies plan to go from here…do they tell the story I'm bitching about missing?  Or are they only going to do the "First Class" X-Men?  OR just reboot the whole damn thing?    Logan is certainly a better movie than the recent Apocalypse though, and for sophistication, it stands pretty much above most of the other recent X-Men movies too.  I guess I'm struggling with liking it but not loving it?  And wanting to have SOME exposition to fill in some of the blanks.
Movies Seen in 2017:
Fantastic / Rave-worthy:
Very Good:
Okay / Wait to See at Home:
Only if You're Going to "How Did This Get Made?"