The Amazing Race 14 Insider, Episode 2: Dirty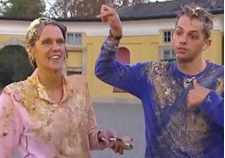 Survivor is often a game that rewards the strong, and this week a number of Survivors want to get rid of their tribes' weak links. Too bad they have different ideas of who the weak players are. Can Erinn (right) shake off the target Coach has placed on her back, or is she the weak player Timbira wants to see gone?
It looks like Phil wants to know if the teams are ready to play and do what it takes to win. Some reveal that they will gladly do so, while others profess they'd prefer to play a solid, honest game. We'll see how that turns out for them. Hilariously, Victor & Tammy seem to think that no one's noticed they scheme quite a bit. They are mistaken as much of the extra race footage shows. Also, Elimination Station keeps getting better as the non-BFFs Linda & Steve and Preston & Jennifer meet up. And have you ever wanted to see Phil goofy from being so tired? Wait no more!
After the Race:
All Choked Up: In the Austrian castle's courtyard, Victoria explains to us that she & Brad had previously rationalized that The Amazing Race alone would be the reward. But now that the million dollars is really within grasp, she can't not do everything she can to get there. Brad agrees and explains that he's had a LOT of bad situations while he was younger so winning now would validate that he survived it all. Brad tries to continue but breaks down into tears and rests his head in his hands.
After composing himself, he continues and says that while the race is about winning the million, they've got money. Life's about enjoying what you're doing while you're doing it. He then goes on and recalls the choice of train rides given to the teams in the first leg. Just recalling the train trip through the Alps makes Brad cry again (what has made this guy so emotional?!). Finally, Victoria lightens the moment by noticing Brad has pie all over him and they both chuckle.
Brad explains some more that they are willing to do whatever it takes to win, but not at the expense of enjoying their surroundings and the moments during the race. There's no do-overs or go-backs so if you didn't enjoy it that first time, you missed out. Even if they're thrown out today, they've made sure to enjoy the experience. Is it almost masochistic or harmful to their game? Perhaps, but it works for them.
Everything and More: Steve tells us that the race has meant so much to him. All the experiences and the locations have been indescribable. Linda agrees and really enjoyed getting a chance to go fast on the Autobahn. Steve was a huge fan and had always wanted to be a part of The Amazing Race and they realized that dream. It's a dream many have and he's thankful to have had the opportunity.
A Messy Affair: Margie laughingly reveals that Luke was getting his aggression out on her during the pie-throwing Detour. Luke signs that all the locals were laughing about it all though and they're both happy that everyone was cheering for them when they finally found the cherry pie.
For Luke it was a frustrating day, as while it was only the second leg, the endless pies they went through slowed them down. Margie reminds him that maybe Luke should be happy that it's over and they survived. That reminds Luke about afterwards when they found an English-speaking couple who led them to the castle. This assistance ensured Margie & Luke would beat out Brad & Victoria, who finished the Detour right after them. Neither are sure where they'd be now if they had had to drive themselves.
Breaking Out: Tammy isn't completely trying to "untrain" Victor in making the final decision due to the Chinese cultural way of the eldest son having his say. She is concerned that he needs to respect her decisions and trust her. She wants him to recognize she has something to say. For Victor, he already credits Tammy with value but he processes her inputs so quickly that it can come across as dismissive. He wants her to know that it's not that at all. Further, he wants them both to get comfortable with doing things they're not good at. The last two legs have shown him that it's a problem for both of them to work on.
Extra Race Footage:
Not So Focused: Victor doesn't want to focus on bumping off Margie & Luke. That behavior may end up only hurting themselves instead. Right now there are just too many teams to worry about before focusing on just one. The primary goal is to keep Victor & Tammy in the race. Tammy agrees and has noticed that Jodi & Christie are making the mistake of focusing too much on others' game play. She brings up Jodi & Christie's risk to take a different train from the group and Tammy comments that it wasn't the right risk to take. Victor mentions that the word "conniving" is emerging about certain teams, including Jodi & Christie and Brad & Victoria. Apparently Brad & Victoria were hoarding a small piece of intel that really didn't factor that much. Tammy believes that behavior exhibited so early isn't the right strategic move. For her, it's best to play nice and surprise everyone much later on with a shifty move.
Headed the Wrong Way: Kris is driving the car to the Pit Stop while Amanda is instructing him where to go. Kris isn't convinced she knows where she's going but Amanda only wants them to get back on the right path after he turned when he shouldn't. She tells him not to be mean as she's only trying to help but he's still not sold. She relents and says he should ask someone else, but he just wants her to stop sending him down alleyways. Kris won't stop and Amanda is going crazy wondering why he won't stop for help.
Speed Racer: Brad comments how beautiful the Austrian countryside is while Victoria drives them through it on the Autobahn. They liken it to the Ohio countryside. Finally Victoria realizes that the Autobahn has no speed limit and tries to confirm with Brad if he knows. He's not sure and thinks their speed is fine, although Victoria keeps noticing traffic flying by them. She's driving 140 km/h and Brad says he'd probably be driving that fast if not a little faster. Suddenly Victoria grins and she picks up the pace a bit. She admits to driving the speed limit at home as she just likes going by the rules.
Playing Too Hard: Mike has found Victor to be the guy who relishes being duplicitous (so much for the tactics mentioned in Not So Focused above), which makes him the d-bag of this season. Thinking of other behavior like that, Mel remembers when Kisha & Jen forced their way up to the front at Customs. Mel also recalls that Victor misled Luke to the wrong line and escalator at Customs. Mike isn't sure that was intentional but Mel is. Mel says that you have to be envious of those who have no morals. He's just kidding about the morals part. All those actions are leading Mel to conclude that perhaps they'll have to get just as dirty and sneaky if they want to make it far. Mike disagrees and believes it's about running their own best race and letting the others self-destruct. Mel likes that attitude.
Enjoying the Ride: As one of the gondolas heads up the mountain with about four teams, everyone comments on the altitude, the scenery, the new country they're in, and speculation on what's awaiting them up at the top. Some are excited but are nervous of the height and choose not to look. Having been on one of those gondolas, I can agree with that nervous sentiment. Those things are a frightening, yet exhilarating, rush.
Steve's Pep Talk: On the drive away from Linda's journey down the other side of the mountain, Linda wishes she had had the chance to glide down. Steve is just happy she had a chance to conquer some of her fear of heights and had a good time up there. Even coming down the mountain was an adventure for her he's sure. There's no need for her to worry as everyone had to walk it down except Mel.
Getting in the Groove: On the beginning of this leg, Steve can start to see where the alliances are forming. They've begun working with Kisha & Jen but it's not quite an alliance. Some of the teams they were with on the very first flight out are also folks they get along with well. He has noticed that Mel & Mike are advancing out of their pack, but Linda just finds them to be a very nice team. This morning, Jodi & Christie were on the hunt for batteries and Steve happily volunteered some to them. The condition was if later on down the road Jodi & Christie would help them out. After some discussion, Jodi & Christie refused so Steve didn't gave the batteries. Steve was okay with Jodi & Christie's response as it was at least honest. Linda also understands that rationale as it is a competition. You can help and expect help in return, but in something like The Amazing Race, don't expect a lot of help.
Don't Look Down: On the gondola up, Kisha refuses to look out the window as her fear of heights is apparently severe. Jodi & Christie try to reassure her by describing how low they really are and how wonderful Austrian engineering is. The camera shot pans up to a dizzying view of the top which makes me nauseous watching it on my computer. Jen starts messing with Kisha as she says she sees one of the gondolas has a "Help Me" sign. Jodi wonders why the helicopter was okay for Kisha and she puts it very well: "This is like a toy truck on a string."
The Puppet Masters: Mike has noticed that Victor & Tammy are playing puppet master. They appear very nice outside but he thinks inside they're conniving. Mike is convinced Tammy & Victor are trying to form an alliance with the previous top four teams against Mark & Mike. He's noticed that those top teams are now cruising along far ahead without them. Mark & Mike's strategy hasn't changed in terms of alliances and will smile and grin as needed with those teams if their paths should cross again.
Locked Out: Cara & Jaime have parked in the Austrian castle's parking lot but they now have no idea where to go next. They notice an initial sign and run into the grounds hoping that they're headed the right direction. Through the fairly substantial grounds, Cara & Jaime both hope others have been having difficulties finding their way too. Cara is convinced there should be race markers showing them the way but Jaime reminds them the last leg only had yodelers as an indicator. Finally they see the exterior of the castle but immediately notice the gates are closed. As they power-walk to the castle, they begin to doubt where they are. They approach the gate Mel & Mike were at and see Phil & company waiting there. Instead of trying to climb the gate, they choose to find an open gate and run around.
At the Pit Stop:
Leaving As One: Phil asks Linda what she thinks of Steve choosing to race with her over his more athletic brothers. It makes her feel good and she knows he loves her a lot. Steve's sacrifice means a lot to her. Steve's dream of The Amazing Race was always meant to be shared with Linda and they're going to end this as partners, just as they started it. The few experiences they've had thus far were exhilarating and for Steve getting to do the James Bond bungee jump is a huge memory. His exuberance leads Linda to start crying a little. Phil wonders if it's because she wants to keep doing more but no, she just doesn't want to let Steve down. He reassures her that she did a great job on the race. Overall, there are no regrets at all.
Déjà Vu: Jodi has tears in her eyes and Phil wonders if they want to be here. Jodi explains she's not upset yet it's hard to explain. Christie mentions it's been a hard day. But to answer Phil's question, they want to stay. They just want more of a cushion than constantly being second-to-last. Phil asks what they could do better. Christie confesses their starting time handicapped them from getting on the first flight out that everyone but one team was on, so it was a hard start. But their driving performance and running down the mountain have been okay.
Phil reminds them that no all-female team has won The Amazing Race yet and here they are second-to-last. It's not a good sign of things to come, but Jodi & Christie are still motivated. They remind us that it's not nearly as easy to run the race as it looks on TV as things are just not as obviously located as they seem to be. Jodi knows there's a fine balance between complete trust of one set of directions versus constant checking. But both are convinced they won't be eliminated on the next leg.
Come From Behind: Phil asks if after dropping to eighth place, can Mark & Mike actually win The Amazing Race? Both believe so but it's just a matter of going back and reviewing what was done wrong. Mike realizes it was about better navigating as every second counts. Mike isn't worried about their current standing and knows they can make a "classic closer" come-from-behind finish. Will they do whatever it takes to win? It's game on and they're looking for the checkered flag … and that million dollars. Would Mike buy a nice horse? Nope, he rides other people's million-dollar horses.
Matter of Trust: Phil asks if there's lots of respect between Jen & Kisha on the race right now. Jen nods and says it's going but hopes it'll get better. Jen thinks that trust will help facilitate that. Kisha elaborates that driving and navigating were the biggest issues today and Phil concludes that trusting each other's decisions needed to happen. He wonders if they can win The Amazing Race especially looking as tired as they do. Jen thinks so but Phil reminds them that everyone still in the race has the same exhaustion. He continues that it's a race of attrition and it comes down to those who can hack it. Can they hack it? Kisha & Jen both nod in agreement. Will they play dirty? Both are completely ready to do what it takes without a doubt.
Jaime's Dream: Phil asks Cara & Jaime why The Amazing Race Pit Stop makes people so emotional. Jaime thinks it's the lack of food and water that messes with people. Cara recognizes that the game is physical and difficult but it's the mental aspect that is hard. When you have to do the tasks by yourself and don't have your partner, you find it hard to trust yourself. Phil believes at that point you don't want to let the other team member down by making the wrong decision.
Cara agrees especially because The Amazing Race is Jaime's dream and she's here for the ride. Cara had never seen the show before (or Phil!) but she knew that Jaime had watched every single episode, which brings a lot of pressure to not screw up. Jaime is appreciative as Cara gave up law school to do this with her. Cara did that because friendship is a rare treasure especially with a friend who is true. She won't let down a true friend, especially Jaime. Wow.
One Tough Cookie: Phil asks if Brad & Victoria will do what it takes to stay in the race. Victoria agrees that they will, although before the race, they weren't sure how it was going to be. Yet she finds during every hour they remain in the race that a solid, strong, and dignified race can be run. Brad realizes that all their misfortunes can be blamed on their own actions, so they need to worry about themselves.
Phil senses a competitive spirit in Victoria and wonders what it's from. Brad starts to explain about Victoria's birth defects and starts to cry but catches himself and they both laugh. Because she's overcome all those shortcomings all her life, that's just how she is.
Phil brings up Luke's handicap and asks Victoria how she feels about his similar desire to prove himself. She hadn't associated herself with Luke like that before and realizes it's a good question – especially since she & Brad admittedly haven't made an effort to get to know him due to the severe communication barrier. Victoria knows she can talk to Margie but tonight she's going to be working directly with Luke.
Not So Sweet: Phil asks Luke if The Amazing Race is harder than he expected. It is but it's mostly the directions and navigating that are hard. They're both relieved that they made it as they were sure they were last. Phil notices they're both competitive and are doing well. Margie comments that they're not feeling all that great covered in cake and promises never to eat another sweet thing again. Luke gestures that it was her idea for that Detour, which she admits. It just sounded like an easier Detour to accomplish.
Phil points out to Margie that she has a lot of pie in her ear but she explains to him it's nothing compared to what they've already scraped off. He also notices that they were the messiest to come through so far and Margie reports they threw around 150 (!!!) pies over a half an hour. Phil asks about the Roadblock and she talks about running down the mountain and finishing that near the front of the pack.
Playing Fair: Phil asks if Kris & Amanda will play dirty to win. Kris thinks they'll do whatever it takes but not if it's about backstabbing or hurting others. Amanda agrees and would rather not have those actions bite them back later on down the line. They did manage to grab some food during the pie-throwing Detour and Amanda did manage to eat but the sugar just made her thirstier so she stopped.
Both are having a good time, although a good meal and a shower are highly desired. Amanda tells Kris he's looking pretty sweet and all around everyone groans. Phil then asks if they recognize the guy in the wig next to him? Kris speculates humorously if it's George Washington, which Phil finds pretty funny. He does reveal that it's actually Mozart and that he found him walking the streets of his hometown.
Mel's Miracle: Mike can't believe they're in second place and Phil quotes from Mike's t-shirt, "Yes We Can!" He is curious what was going through Mike's mind while waiting at the mountain. Mike reveals he was thinking what it was going to be like spending all that time with Preston & Jennifer at Elimination Station. It honestly didn't sound that bad considering how hungry he was but then he got focused. Then the miraculous wind change occurred and it was smooth sailing.
Phil asks Mel how it was flying down the mountain. Mel could see the others walking down but didn't want to have a superiority complex of him as the King looking down at his queendom screaming, "Boy, I'm glad I'm not down there with you guys!" It only ended up taking 15 minutes to fly down and his groin didn't get aggravated further. Mike is fully aware that if the wind hadn't changed they'd be out of there as Mel could not have finished the run down the mountain.
Lawyers On Top: Tammy & Victor are having a blast on the race but confess to having an advantage over the others. While everyone else is sidelined by the exhausting hours and minimal sleep, both her & Victor are used to this since they're lawyers. Phil asks Victor if being a lawyer helps with the meticulous side of the race. Victor agrees with this and expands that they are also good at reasoning the clues. That reasoning helps make educated risks when having to travel and it paid off this leg when many teams were bunched up and they got out in front.
They had Kris & Amanda on their heels heading to the gondola but through Tammy looking confused and Victor hamming it up, Kris & Amanda stopped following them. That was enough of a break for Tammy & Victor to get to the first gondola without Kris & Amanda. Yet Victor realizes even it wasn't that break. It was Tammy's non-stop heroic run down the mountain that made it happen even though she had to pee the whole time. Victor then rats her out and tells Phil she peed at the car. End clip. Ouch!
Elimination Station:
Steve & Linda Get Eliminated: A new montage of Thai scenery and culture sets us up for our latest episode of Elimination Station. Back at the house, Preston & Jennifer are lounging around the pool wondering who is going to show up next. Both think it's likely that Linda & Steve are showing up next. Preston recalls how angry Linda & Steve were that Preston & Jennifer wouldn't share any info with them while not sharing any info themselves.
Outside the house, Preston & Jennifer await the newcomers as the van from the airport arrives to deposit the latest eliminated racers, Linda & Steve. As the door opens, greetings and welcomes are exchanged as well as hugs. Linda & Steve get the tour but Preston & Jennifer want to hear all about the last leg. After their conversation, Linda & Steve pick out their room.
Up in their room, Linda suggests that Steve go talk to Preston. He tells her that his problem with Preston is that he was a friend but still trying to team up against them. Linda believes there should be no hard feelings and the air should be cleared. Amen! So cut to early that evening as Preston meets Steve down by the pool for a chat.
Steve brings up his issues and complaints and wants to truly know why Preston wouldn't want to share information with them. Was it that Preston thought they were mentally slow, incapable of racing…? Steve brings up his performance on the cheese hill and Preston gives him credit for that. Cutting to just Linda & Steve, Steve believes no one on the race gave them enough credit. Back at the pool, the conversation seems to end with no real resolution and both leave.
The next morning, it's pouring rain. The four of them decide to get out of the house and take the van to the snake farm. There are some snake aquariums but the main attraction is a guy who basically cavorts with snakes on a platform, sometimes holding them up at the audience. This freaks out Jennifer. After their show, they head to a beautiful Oceanside outdoor restaurant.
While there, they discuss who they think is getting eliminated next. All are in agreement it'll be either the Blondes or the Reds. Afterwards, Linda confesses she's happy to have Elimination Station to rest at and recover. She's also happy that Preston & Jennifer were very welcoming. But Steve thinks there's still a problem as he knows they thought Linda & Steve would be next and that they are happy to see them there out of spite and not friendship. Preston realizes, accurately, that Steve just has a chip on his shoulder.
Phil's Video Diary:
Rauchsberg, Austria: Phil has lost track of the time between when he came up the mountain on the gondola and now as he travels it back down. The bus that got them to Austria earlier was supposed to take six hours but instead took nine. They then left early this morning to shoot the Roadblock video. The gondola shakes and Phil glances around then pauses. He suddenly can't remember where they are and asks one of the crew. She reminds him it's Rauchsberg … in Austria. Phil laughs as he knew at least that last part! Phil is obviously a little sleep-deprived and he knows it, yet still happily comments to the camera that they don't need the sleep, really. Awesome.