BB17 Episode 32 – September 3, 2015
<–Previously, James Prolongs His BB Life For One More Episode
Did I not brag about my anti-powers in previous posts? Â It certainly seems I have the magic touch of causing people who do nothing to do things by calling them out, or when I cheer for a person, they immediately get evicted. Â In this case, both Meg & James got tossed out of the house fairly efficiently and quickly. Â Damn. Â Did they really deserve to be there much longer? Â Probably not, but I did like them nonetheless. Â The only thing that I think I'm looking forward to in these remaining weeks of gameplay is that there are no more easy targets. Â Well, John is certainly "easy" for the Austwins, but if Vanessa has any say, he should be somewhat safe.
Should I dare root for a winner now? Â  As basically I'm down to thinking Vanessa has earned this win especially with having survived all the insanity of her own causing. Â John would be an awesome winner just because he's crazy and hilarious. Â Of the Austwins, ONLY Liz has my support for a win. Â I like Julia well enough, but she's their Meg. Â Austin keeps getting all this credit by the other houseguests for being this masterful player, but come on – are we not seeing something they are? Â And Steve? Â He's a big wuss and doesn't deserve the win for repeatedly being too afraid to do something and for "getting out" Jackie. Â Ooh, big victory, Steve-o.
I've probably just cursed Vanessa and John. Â Sorry, guys!
Fare Thee Well, Meg!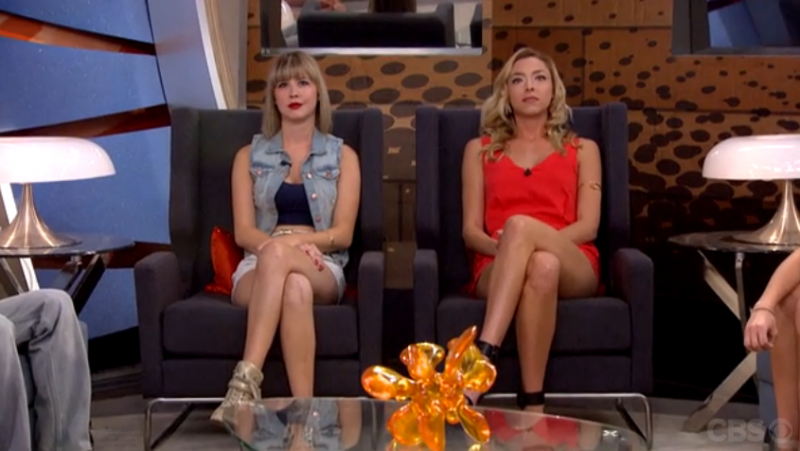 Here we had a perfect opportunity to break up the Austwins 3 – and there were the #s to do so. Â But does Steve do it? Â NO. Â I don't get it. Â You had John's support for a house flip, and sure, while it would have been uncomfortable dealing with an angry Liz, who cares? Â One way or another, you're their target. Â Yay for 5th place, buddy. Â (Watch Steve win now – that's the terrible effect of my anti-powers!).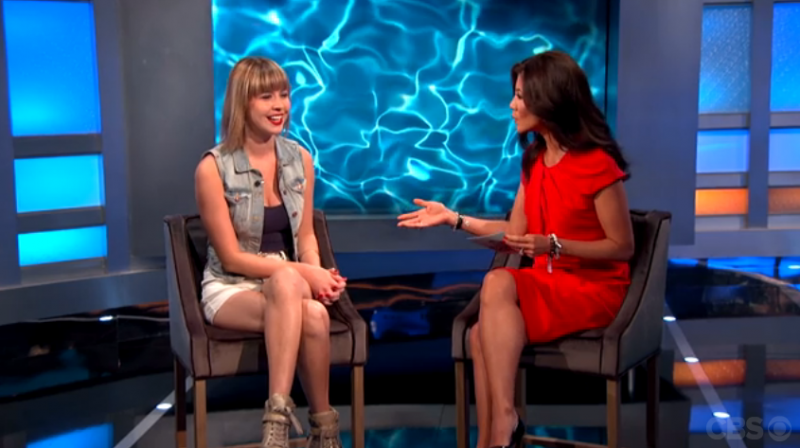 So off she went to Julie-Land. Â She has no regrets about keeping Vanessa during the week of Becky's reign and ruined efforts to oust Vanessa, as she thinks Shelli would have put her & James in the same situation. Â I think she could be right, but I don't think Shelli was close to Austwins anymore and wouldn't have had their support like Vanessa did/does. Â And just to make sure it's clear, she thinks of James as a best friend and that's it. Â FriendZone for you, James!
Let the Double Elimination-ing Begin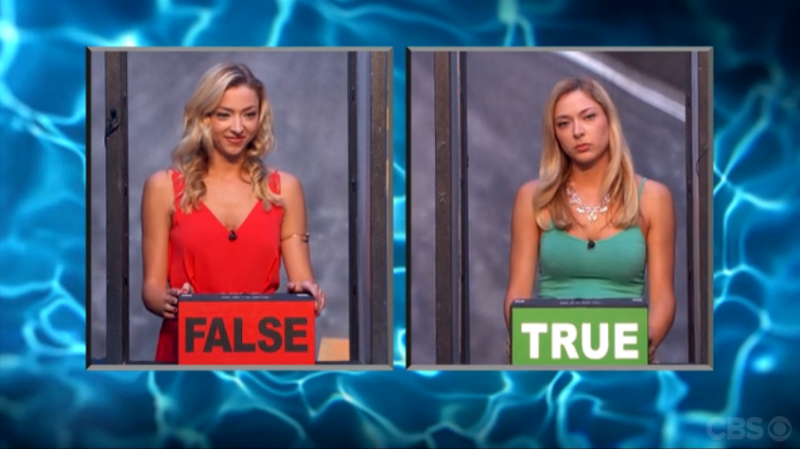 Vanessa didn't get to play, but in the end, it didn't matter. Â James was out first along with Steve during these Q&As about mocked-up pictures of the first 6 evicted houseguests having a crazy road trip. Â right after them was John & Austin, leaving Julia & Liz to battle it out for HoH. Â They actually kept getting answers the same until this one above, when Liz seemed to just guess True and sure enough, got it right. Â She certainly didn't look thrilled about winning, but it's probably due to the stress of it all.
Guess who she nominates!? Â  I called it immediately and wasn't proven wrong when it was time for nominations: Â James & John.
The Apparently Hard Power of Veto Competition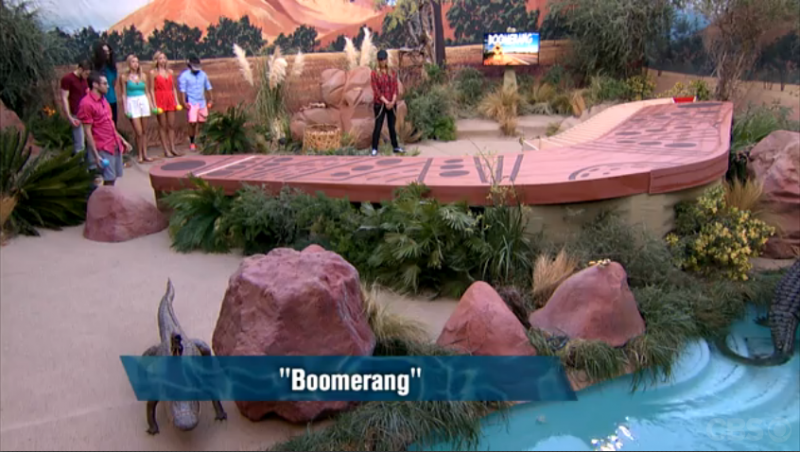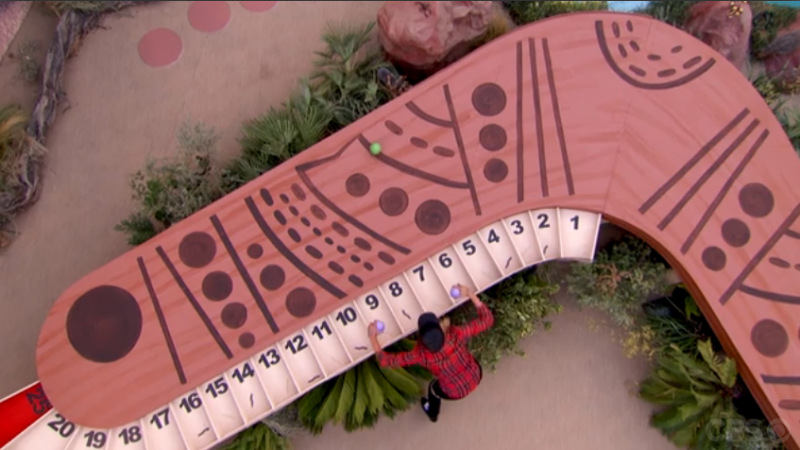 So when the first two competitors' attempts resulted in them both zeroing out, perhaps the setup wasn't that great? Â You had to roll the ball from the starting point around the boomerang and try to get the highest score which was the sum of both balls thrown. Â Both Steve & John threw theirs right off the damn boomerang as there was no guardrail or curve. Â What the? Â Liz & Austin both at least kept their balls on the course, tying for a little while until Julia came up and beat them both. Â Poor James, who got to go last, also racked up a Zero score, effectively ending his chances of staying in the house.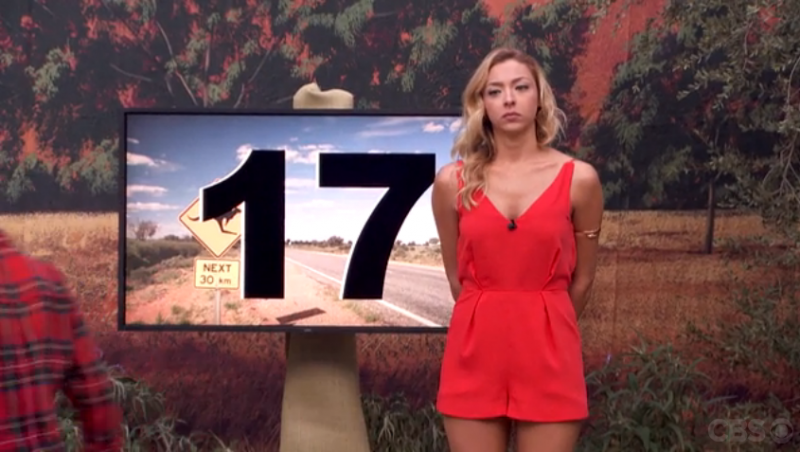 So Julia pulls out a Veto win, not that she needed to, although it was probably important that one of them won and neither John or James did. Â But in their cases, neither scored. Â Feh.
Bye, James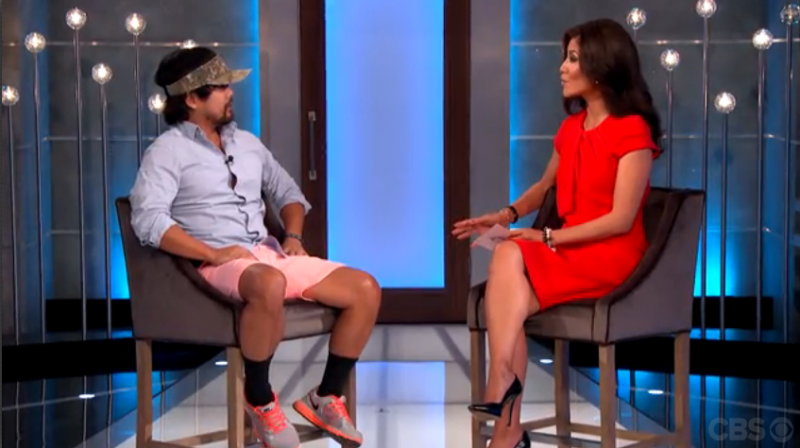 So there ends the Meg & James portion of the story. Â He really didn't seem all that surprised he ended up here but did look a tad disappointed. Â Julie pointed out that while he was HoH, he would actively play the game and quite aggressively. Â But when he wasn't, he stayed low and out of sight. Â James admits that was intentional – but she indicates he did that while all his friends and allies were getting picked off one by one. Â Probably not a great strategy then, if it's serving just to weaken you. Â My thoughts are you can't play balls to the wall and then expect to just fade away and hope the house goes with it. Â Sure, he lasted fairly long, but he's not close to winning by any means.
Status & Standings: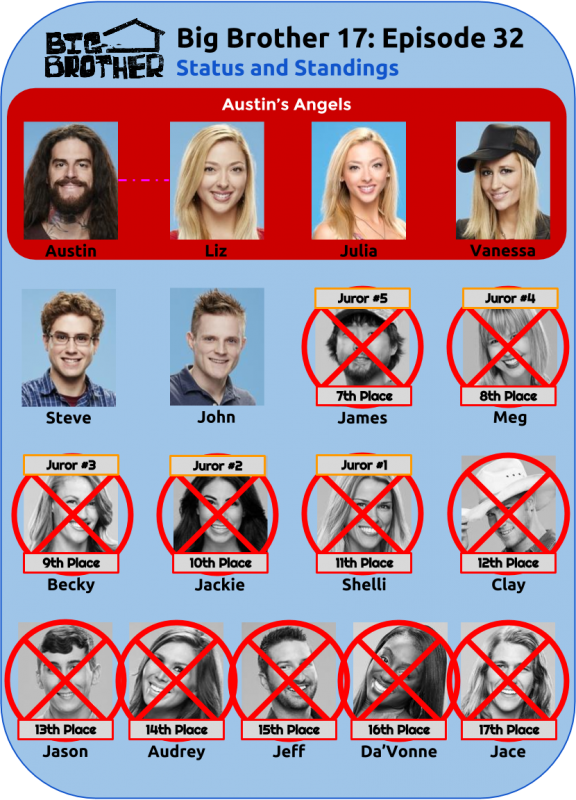 Outgoing Head of Household: Â Vanessa
Nominated for Eviction: Â Meg & Julia
Evicted: Â Meg (4-1)
New Head of Household: Â Liz
Nominated for Eviction: Â James & John
Power of Veto Winner: Â Julia
Veto Used? Â No
Evicted: Â James (4-0)
This next HoH will probably determine which of the groups that Vanessa is aligned with will win out. Â If Steve or John manage to win HoH, they've saved themselves and could probably make it to the end, as Vanessa will side with them. Â  At least, I think she will. Â But if an Austwins member wins HoH, then I don't see any way that it's not an Austwins finale – Vanessa may make it interesting still, but her road to a win with Austwins intact is pretty hard to see happening.