BB17 Episode 11 – July 16, 2015
<– Previously, the Gronk Party Does No Favors for Jeff
I didn't have too much in terms of attachment with either Jeff or James, so the departure of one didn't cause me any great emotion.  I did enjoy that we got a '90s Dance Interlude though for the HoH Competition, and since that was more fun than the strategy stuff and the love triangle stuff from earlier in the episode (I honestly toyed with maybe titling this recap "The Emptiness of His Heart" from Austin's ridiculous confessions to us about his feelings for Liz), the dancers got the title honor.
Jeff Does What He Can
I always appreciate when people do what they can to save themselves.  Jeff knew he was definitely in trouble and had to work to stay in the house – this wasn't a pawn situation in the slightest.  I think James felt a tad more secure in his place, as we really didn't see him scrambling that much.  But who knows.  Anyway, we did see him work on Shelli & Clay and apologize and cry and whatnot – good on him for being able to cry on demand, but I'm not sure there was anything in the other houseguests' reactions to his pleadings that was genuine.
We did get this bit of "drama" from Austin, who seems to have some strong feelings for Liz.  We obviously knew that from before, and it's benefitted her game in the recent past.  He was upset that Liz was fine cuddling with Jeff under the covers (clutch your pearls!).  Oh boy, I'm sure this will end well down the line.  Liz knew she could control Jeff by flirting and she's also now aware that Austin thinks he can manipulate her.  I see this alliance lasting only as long as it's needed as I don't see Liz (or Julia) having any true romantic feelings for Austin.  I could see this being an Amber/Caleb situation but with Liz not outright rejecting Austin but using that to her advantage.  That was where Amber misplayed last season, much as she shouldn't have had to.  But it would have kept her in the game if she's strung Caleb along.
Clay Gives a Haircut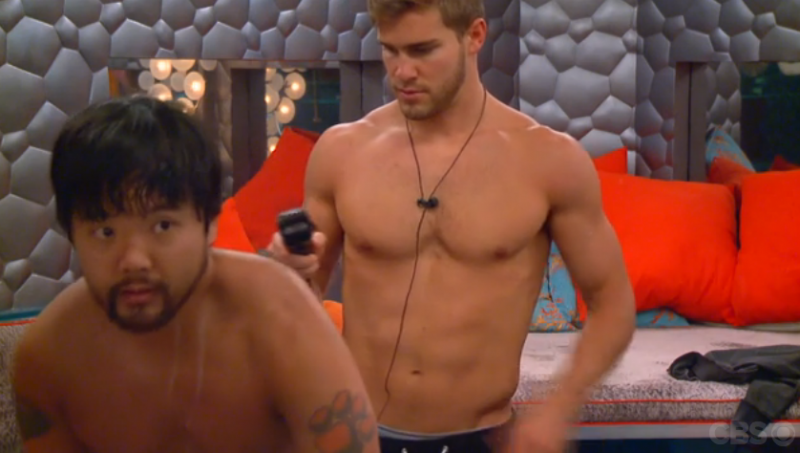 I post this picture from the featured Live Feeds because this kind of thing should always be featured.  Where do I sign up for this kind of haircut?
You Have Been Eliminated…I mean, Evicted, Jeff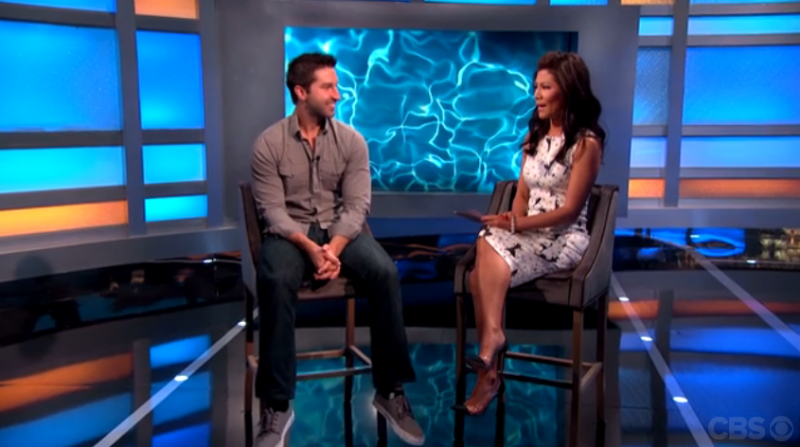 Maybe reality TV competitions aren't your strong suit, Jeff.  While the voting wasn't a landslide, and I'm kind of surprised at how the votes broke down, you weren't a real force in this house and you constantly misplayed your hands.  You tried to sell Liz out to Austin about her twin status, unaware he was her strongest ally; You tried to target Clay & Shelli and got completely called out on that;  Your one real ally, Jackie, was the one you completely sidelined as part of your "strategy."  I honestly did get what you were doing when you suggested it way back in Episode 2, but to have never strategized with her again really was a foolhardy effort. I wouldn't be surprised to see Jackie out really soon as why not?  Even Julie is pretty certain that move was pretty dumb and that Jackie has little to no shot of winning.  Maybe events will surprise us?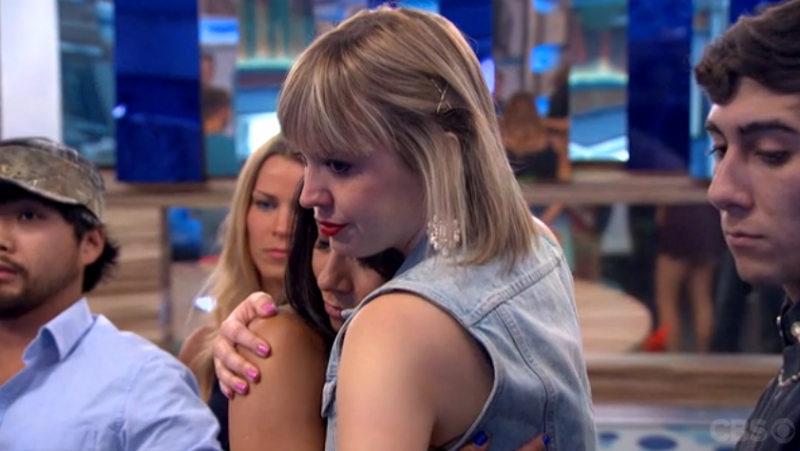 Jackie kind of knows she is in trouble, right?  Maybe she can perfect the floating strategy now that she doesn't really have to pretend to be alone.  She really is alone now.  I wouldn't be surprised to see her up on the nominations block tonight along with favorite nominees John and Steve.  Meg is probably a return nominee too.
The 1990s are Back and Here to Crown Some HoHs! Heyyy, Hoooo!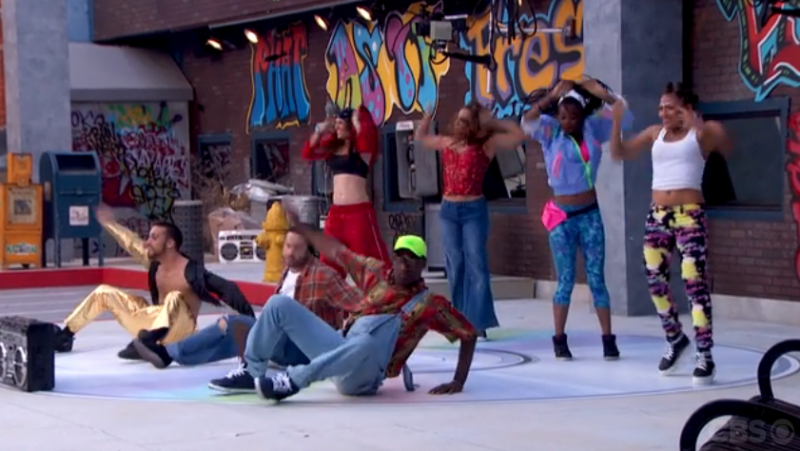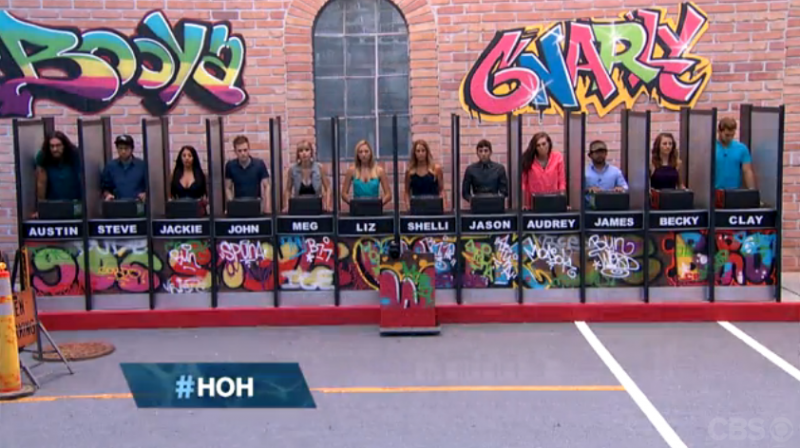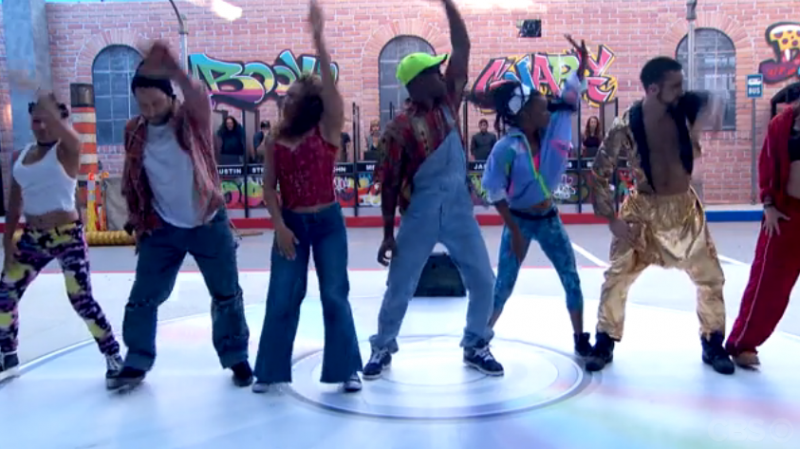 Finally having our first trivia/question challenge!  This one was quite different than competitions in the past though, as I haven't seen one before where the questions were about things that are happening right in front of them right at that moment.  We usually have the "recall what you were doing last night while we were torturing you" or "can you count things?" or "remember the timeline of events" – but something this random is certainly new to me.  I actually loved it and transported me back to the happy halcyon days of the 1990s.  High School, College….ah, memories!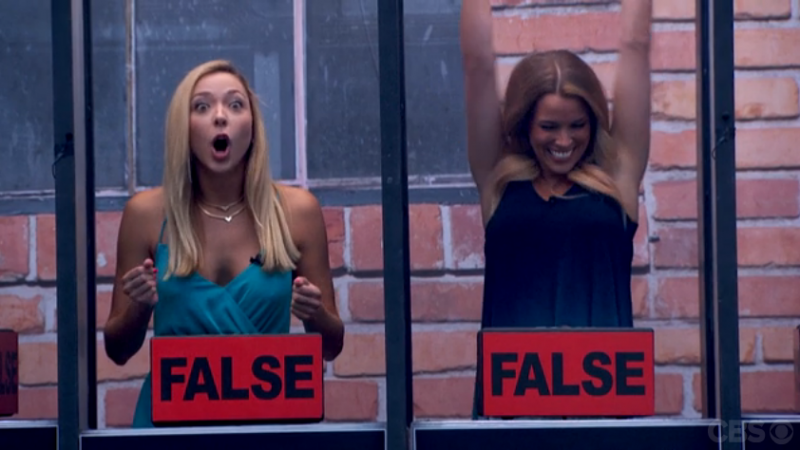 And the winners were our favorite Sorority sisters and alliance-mates.  I'm interested if they nominate those people I speculate above (Jackie, Meg, John & Steve) or go on the offensive on a whole new front.  Maybe an Audrey plan actually will be the plan this week?  Who knows?  I admit that I'm reaching the point where I hope this first phase of the game starts to wind down soon.  This season seems poised to get boring very soon….and I can't have that. My hope?  Liz/Julia target Austin.  I know it's not gonna happen this week, but I can see it happening.  I guess I'm just surprised how many floaters there are this year.  No one seems to realize an alliance has formed and they're not in it.  C'mon, people!  $500k is at stake!
Status & Standings: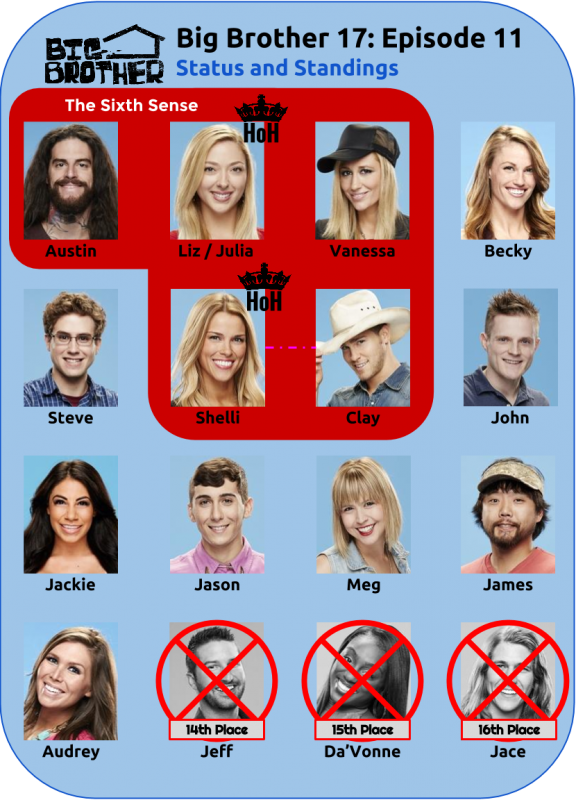 Outgoing Head of Household: Vanessa
Nominated for Eviction:  James & Jeff
Evicted:  Jeff (7-4)
Who Voted to Keep Jeff?  Jackie, John, Steve, Liz
New Heads of Household:  Shelli & Liz
So, this week has the likely potential to be boring.  Audrey and James will likely be the easy targets, either direct or via backdoor.  I think Jackie is possibly in trouble, but I thought that of Victoria last season and I was epically wrong about that.  Maybe Jason will get targeted as a remnant of Da'Vonne?  Will Meg get Pawned again?  Here's hoping some of these floaters get a clue and surprise me with a new alliance to counter the Sixth Sense.  I remain doubtful that will happen….
Next, Mystery Votes, Audrey Overplaying Again, and I'm Bored!! –>