BB16 Episode 17 – July 31, 2014
Alright, so these two people are proving themselves to be fairly incompetent players of the game, for different reasons. Â Their actions nonetheless are causing numerous problems for others in the house though, and will likely mean the end of their own respective game soon enough. Â Let's do the hot guy first…I mean, let's write about the hot guy first….
Amber got screwed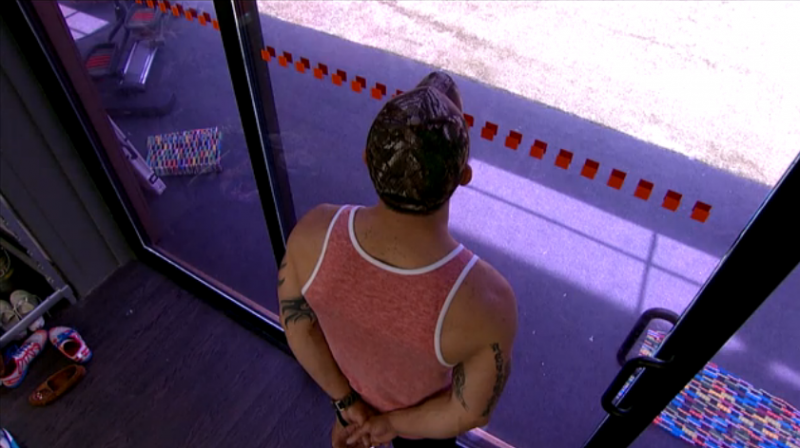 Amber Amber Amber….you were screwed by multiple people (the before-mentioned "Architects"), but let's talk about Caleb first. Â He was infatuated with you from Day 1 and you politely rebuffed him. Â That only made him continue the pursuit in earnest. Â Now, in real life, there's absolutely no need for you to indulge Caleb's obsession. Â Hell, you could call the cops on him if you so wanted. Â Alas, the Big Brother isn't real life. Â Should you have figured out some way to placate him in a positive manner without giving it up? Â Oh yes.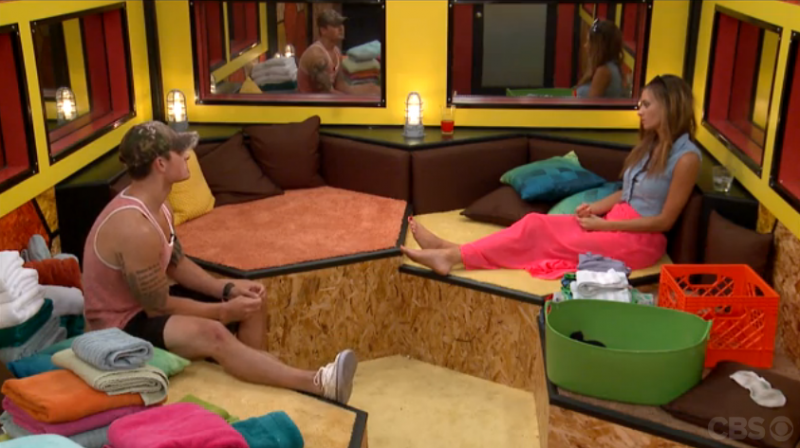 Once you found out Caleb "was responsible" for you being put up on the block as a replacement nominee, you did try to confront him. Â The first time he was going to recite some bible verses at you and you were NOT having that. Â So you left….and he followed, staring out the window at you as shown above. Â EEEK. Â Derrick hilariously ran into him at the door, providing essential comedy relief. Â Caleb finally did get some time with you, enough to feel bad about using his "powers" against her. Â Man, Caleb is a mess, isn't he? Â A hot (in all meanings of the word) mess.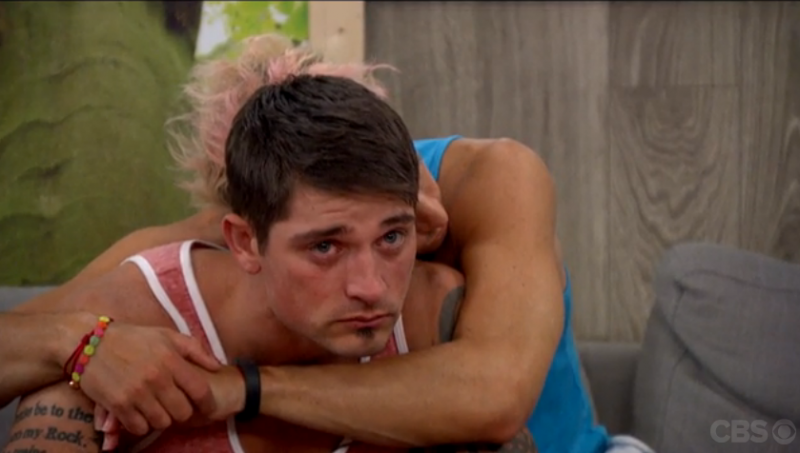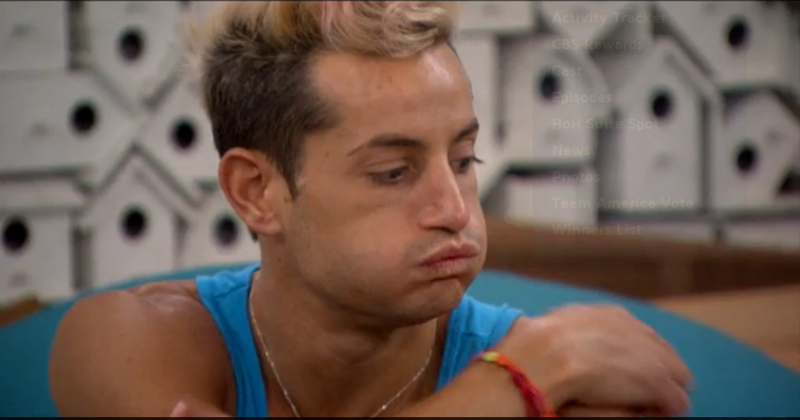 Amusingly, Caleb confesses to Frankie that he wishes he hadn't made that move and Frankie comforts him and assures him that he wishes he hadn't made that mistake either, but it was all for Caleb's feelings as he hates when Caleb is getting abused. Â I LOVED Frankie's performance here. Â It was goddamned brilliant. Â Well done….and Frankie's comment about how he wasn't sure who was going to be more surprised between Amber and Caleb was particularly apt. Â Frankie is a superpower in this game and a strong contender for Final 2, is he not????
Christine, the player who can't get out of her own way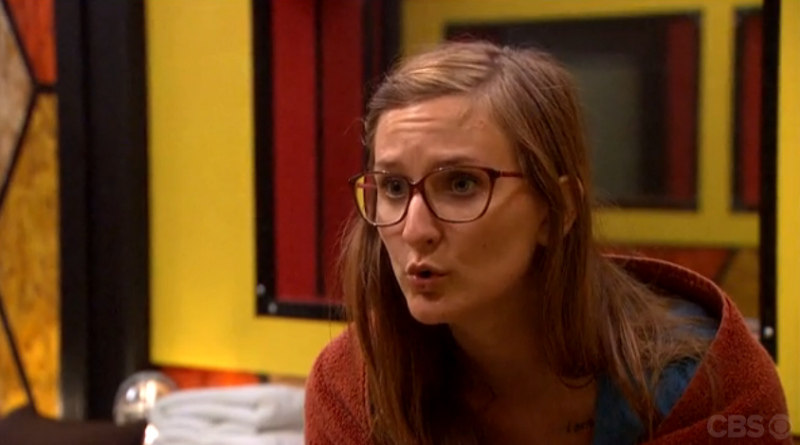 While Caleb is just a delusional and over-emotional player, Christine is a player with too many irons in the fire and with no clue on how to manage them. Â Christine was the exact cause of Amber's plight, if we look back honestly. Â She, as part of the Detonators alliance, immediately tattled on Amber after Amber vented that she wanted to work with the girls and target Zach. Â That made Amber persona non grata in Zach's mind, which the Detonators had no problem going along with. Â Of course we then had the insanity of Zach turning on Christine because Zach is Zach, but through all that nonsense, the Detonators held strong. Â So with Christine kind of raw from all that, let's look at what she did in yesterday's episode.
Amber vents, yet again, to Christine about Caleb's impact on her game. Â Clearly Amber doesn't realize Christine is the source of intel about her – but this time, Christine foolishly thinks she has the ability to influence things to make them go her way. Â In this case, Christine's way is to keep Amber as she has no reasons to get her out over Jacosta and wants to assert some control of the Detonators. Â Well, Christine, maybe you should have thought about Amber's impact on your game BEFORE you sold her out last week. Â And maybe think about that BEFORE you go up and tell your alliance about Amber's threat to target Caleb. Â Because you are clearly not aware of the Detonators' priorities, which is that Amber is Priority #1 to get out. Â That intel you provided only made it easier to ensure Caleb was on board to vote out Amber.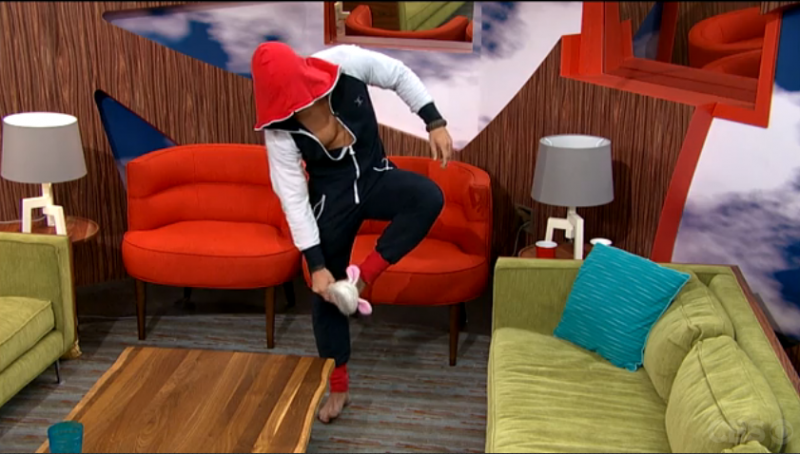 I had been hoping that Christine would make the moves to really make this game interesting, but it's clear she's not good at that part of the game. Â As she's said many times before, the alliances she's in have happened mainly due to being in the right place at the right time. Â Weirdos Unite is what she SHOULD be working hardest on to be honest, but it seems like that is lowest in her own priorities. Â I don't get it. Â So while she may tell Amber in her goodbye video that Caleb is the next target, I wouldn't be so sure. Â Christine, you in danger girl.
Amber's Fate, sealed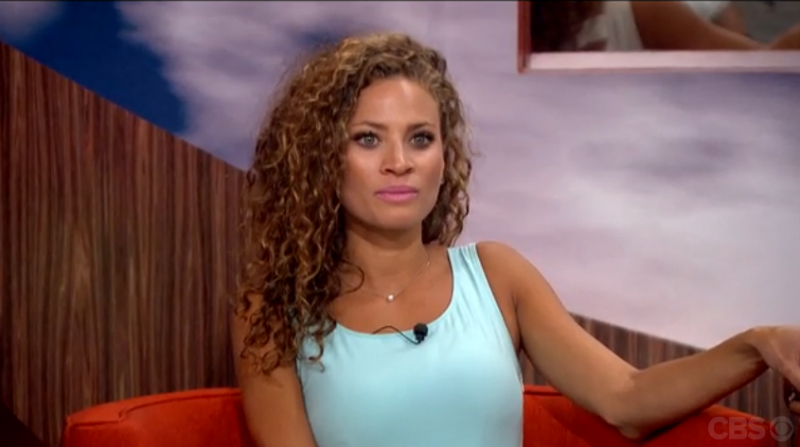 With Caleb firmly out of Team Amber, there was basically no hope for her. Â Christine botched Amber's attempts to sway the house, and even Team America wasn't willing to mess up their game and toss some votes against Jacosta, refusing the mission, which ended up being the one where Donny and Derrick would have to vote against the majority of the house and then blame 2 others for those votes. Â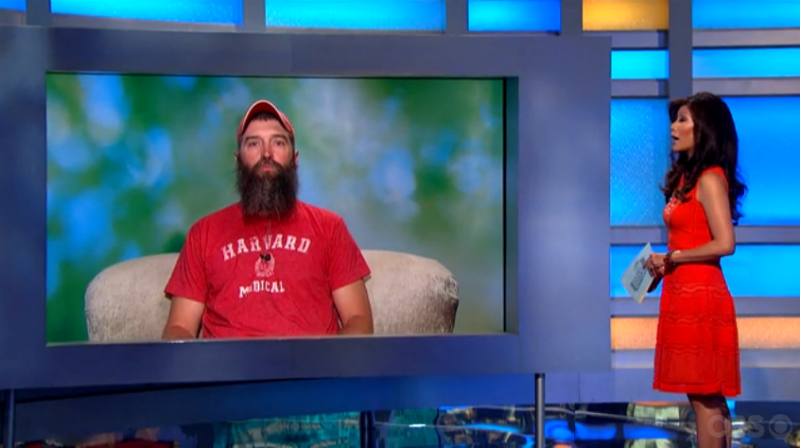 Donny was like, NO EFFING WAY. Â Can't blame him, and both Derrick and Frankie were of similar minds too, so no one resented the other.
The (Unresolved) HoH Competition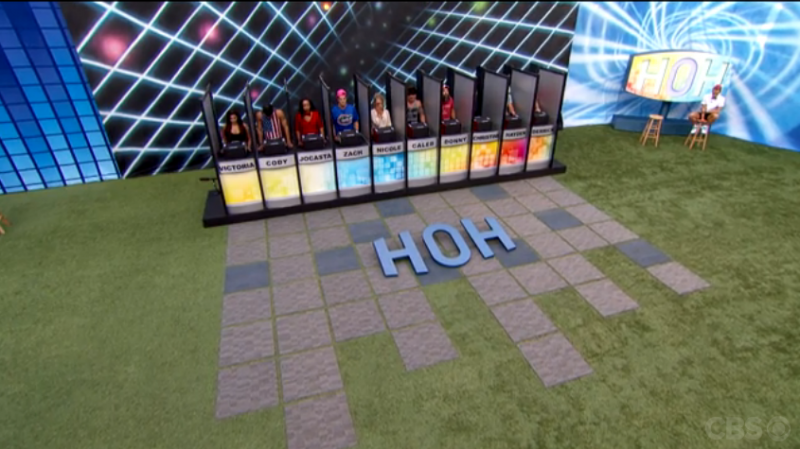 We actually ran out of "live broadcast" time because at least 5 houseguests really studied the looped video clips. Â Cody, Zach, Nicole, Caleb and Hayden were all in it still by the time Julie cut the contest short….meaning we're going to have to wait until Sunday for resolution. Â FEH!
Status and Standings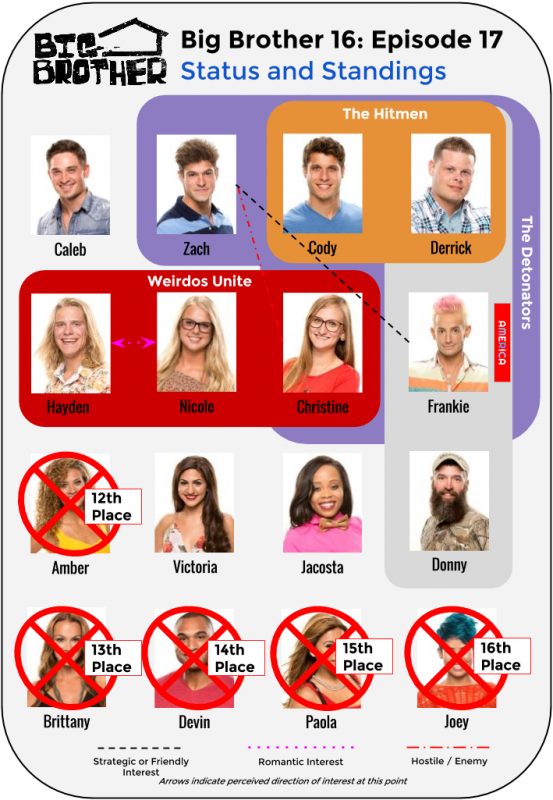 Outgoing Head of Household: Â Frankie
Nominated for Eviction: Â Amber and Jacosta
Evicted: Â Amber (9-0)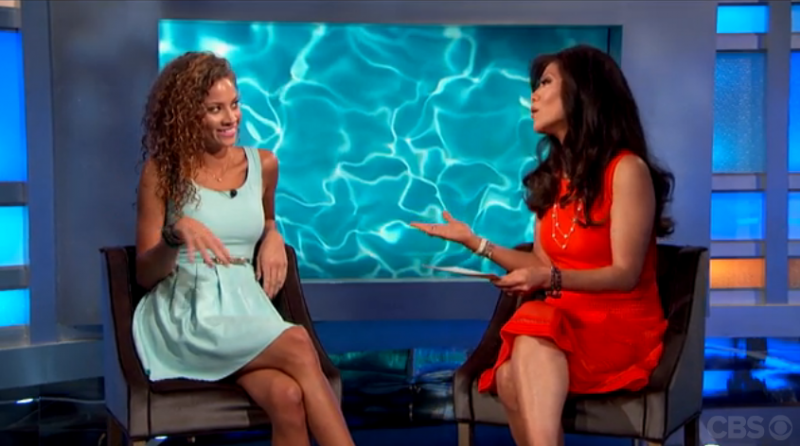 Amber acquitted herself well in the post-eviction interview with Julie. Â She of course attributed a lot of her fate to Caleb's behavior, but later on, she realized that Cody, who she had a brother-like relationship with, was also a prime betrayal in her mind. Â Upon learning about the Detonators though, she loved it and was happy that game was being played. Â Good for her!
Caleb v Cody, Continued
With no disrespect to Amber, I still have a contest to run. Â And unfortunately for her, Caleb still is winning as damn, the man may be a stalker, but he's damn hot.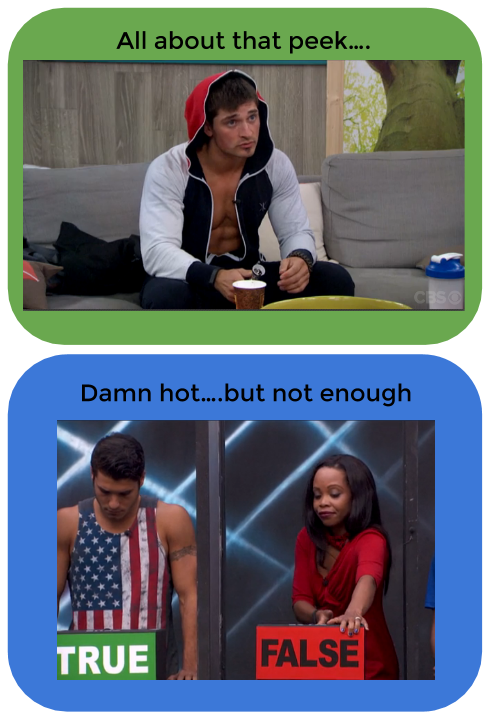 Standings as of Episode 17: Caleb, 8; Cody, 4