Leg 6: March 30, 2014
We got a sense of heightened competition this leg, with the main sufferers of all this intensity the Country Girls who had no idea how to cope.  Accordingly, they plummeted to the bottom of the pack and were saved by Phil's cocked eyebrow and the fact that it was a non-elimination leg.
This Leg?  We're Staying in Sri Lanka!
The Twinnies really have to be kicking themselves for not sticking around long enough for this.  Two whole legs in Sri Lanka!  This leg yet again had the teams take advantage of the Sri Lankan train system after everyone got equalized at the first stop, the Dutch Museum.  Of course it didn't "open" until 8:30am – feh.  The train ride today was over to Alawwa, at which point our first challenge awaited, the Roadblock!
Roadblock:  Pump It Up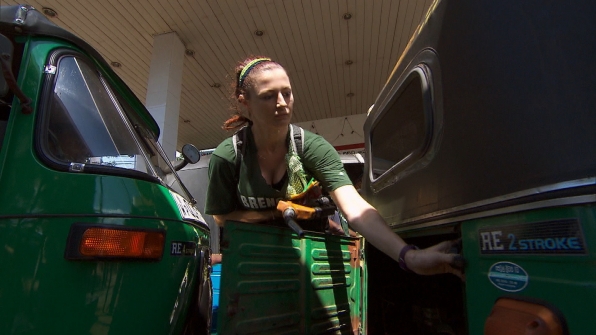 Oh, darling Rachel.  READ THE FUCKING CLUE.  How many times does Phil have to yell at people for folks to just take a moment and read the clue and ALL the associated details.  It's not hard.  In this case, it was particularly vital to read that you chose a color, and then find tuk-tuks that had a matching color placard in the front window.  Alas, Rachel picks green because that's Brenchel's color and then goes out and flags down every green tuk-tuk she can find and fuels them up, wasting endless amounts of time.  She probably was the sole reason the fueling station was as chaotic and crowded as it was!
Due to her mistake and not really figuring out what she was doing wrong until John, of all fucking people, clued her in to the fact that it's a color placard, not the color of the car, that she needs to pay attention to, Rachel ended up being the last one out of the Roadblock.  They wereÂthisclose to missing the train to the next destination, but through good luck and perseverance, they made it.
Over to Rambukkana for the Detour!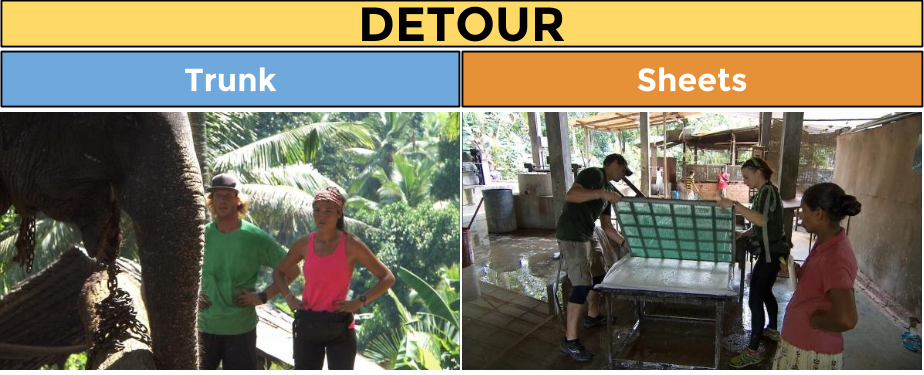 So another scenic train ride takes all the teams together over to Rambukkana where they had to find the Millennium Elephant Foundation, or as Google Maps tragically puts it, the Elephant Orphanage.  Becomes a lot more sad when the reality is thrown in your face.  Poor elephants!  So this set of challenges was pretty cool – although to do the "Trunk" option, you had to be a team that got there early as only 4 slots were available to do this.  "Trunk" was wildly popular and filled up immediately, with Leo & Jamal, Jet & Cord, John & Jessica and Dave & Connor claiming the slots.  In "Trunk", they got to bind up a log with a chain apparatus made that allows an elephant to schlep the log along.  They had to do that 3 times while also bringing a second log manually each time.
Those that didn't get there in time had to settle for "Sheets" which I personally thought looked easier to do, but it clearly wasn't as all the remaining teams had plenty of problems figuring out what to do.  Yet when they did get it and realized they had to really press the paper screen to get out the bubbles, it seemed they all made quick work of it.  It's a very interesting thing to learn though, that they can make very nice paper out of elephant shit and paper pulp.  "Interesting" because I really never want to have to do that myself.
Mad Dashes to the End
There was a long taxi drive ahead of the racers after the Detour, in which the teams were back and forth in who was in the lead.  There was an initial stop at the Ambepussa Rest House to find a musician and get another clue – not really sure what the point of it was except to perhaps keep it from being a really long road race back to the Pit Stop.  As you can see in the up-top map, it's quite a ways from the elephant orphanage all the way back to the Colombo area.  The Afghanimals and Cowboys were neck and neck this entire home stretch and it was clear from the get go that the Afghanimals REALLY wanted this win, especially to prove something to the Cowboys and Dave & Connor, the reigning champions thus far.  So when it became a foot race back on the coast at the Mount Lavinia Hotel Beach, it was literally thatclose of a finish, but the Afghanimals pulled it out.  It was clear that the Cowboys were a bit pissed and dissapointed.  I'm excited about this week's bonus videos as I'm sure it'll be addressed, though from Jet's comments at the end of the episode, he is having to push this leg's finish out of his head before he starts the next race.
Personally, I think it's interesting to see good teams challenged, as it sometimes seems the Cowboys can race circles around these other teams.  But the Afghanimals really are busting their ass while still being pretty funny and enjoying the race; Dave & Connor are also pretty hardcore.  The other teams?  At this point, Brenchel look to be getting their act together, and being an underdog has served them well in other shows.  John & Jessica have actually been improving steadily every leg, although I'm not sure how that will carry on.  The Globetrotters and the Country Girls really seem to be the weakest links here and without some luck on their part, I call them as the next two eliminated teams. 
Non-Elimination #2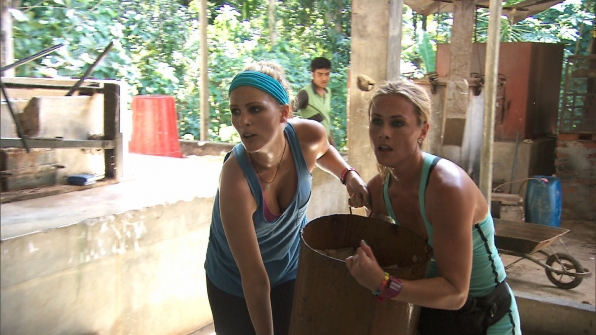 So the Country Girls ended up in last place, but not eliminated.  I like the girls a lot, but they really are outmatched in this competition.  I'm sure they will hang on for a leg or two, but I give them at most another two episodes, with possibly the Globetrotters going next if the Country Girls can pull this out next episode.
This Leg's Finish: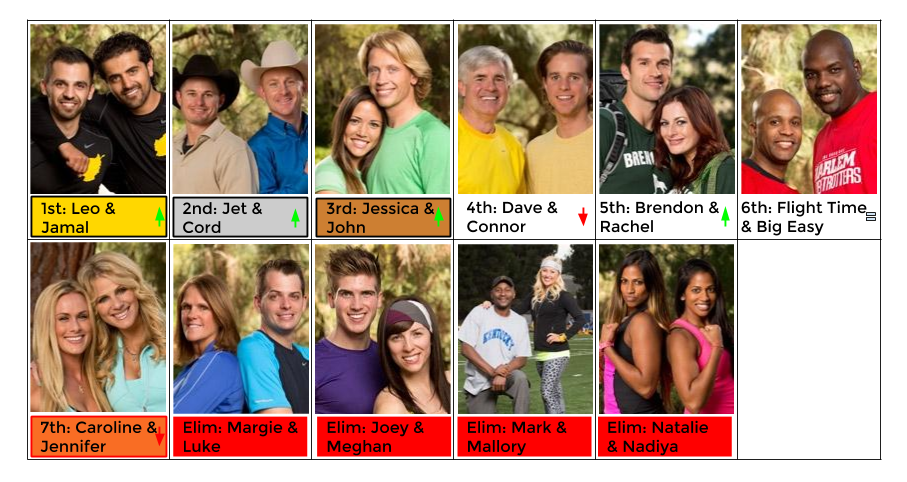 Overall Standings for the Race: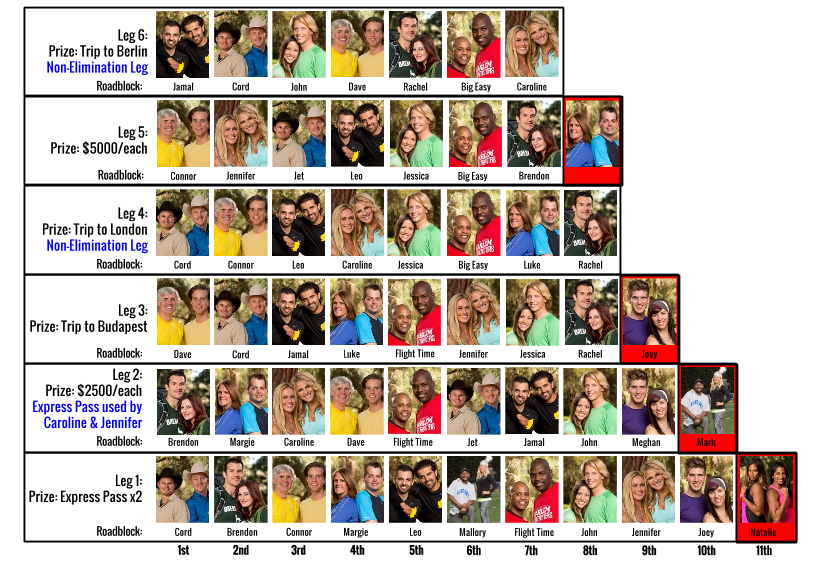 Links:
Leg 1 Recap | Leg 1 Bonus Clips
Leg 2 Recap | Leg 2 Bonus Clips
Leg 3 Recap | Leg 3 Bonus Clips
Leg 4 Recap
Leg 5 Recap
Leg 6 Recap | Leg 6 Bonus Clips
Leg 7 Recap
Leg 8 Recap | Leg 8 Bonus Clips
Leg 9 Recap
Leg 10 Recap
Leg 11 Recap | Leg 11 Bonus Clips
Leg 12 Recap