Leg 3: March 9, 2014
It was a good leg this week as we left China for some more tropical environs in Malaysian Borneo, Brenchel had to cope with falling out of their hoped-for constant Top 3 status, and the challenges were actually pretty cool and at times, brutal and truly challenging.  And again, there was no non-elimination leg to save the eliminated team.  I'm starting to wonder if Phil even said that there were going to be non-elimination legs this season…perhaps not?
Starting Point:  Guangzhou in the midst of evening rush hour
Brenchel are comfortably at the top where Rachel confidently brags that their goal, which is clearly not going to be hard, is to always to be in the Top 3.  Cue Brenchel getting stuck in terrible traffic and getting overtaken by the following 6 teams. Unbelievable!  What's even more terrible for Brenchel is that travel out of China was a case of pre-determined flights and only 6 teams could get on the first flight out.  Brenchel just missed it as the Afghanimals managed to make it ahead of them.  Nuts!  But that's what makes Brenchel so fun, as once Rachel actually starts to feel real stress, she starts to flip out.   And that's what we all came to see, isn't it?
Off to Borneo and the leg's Roadblock:  Rappelling in the Jungle and Waterfall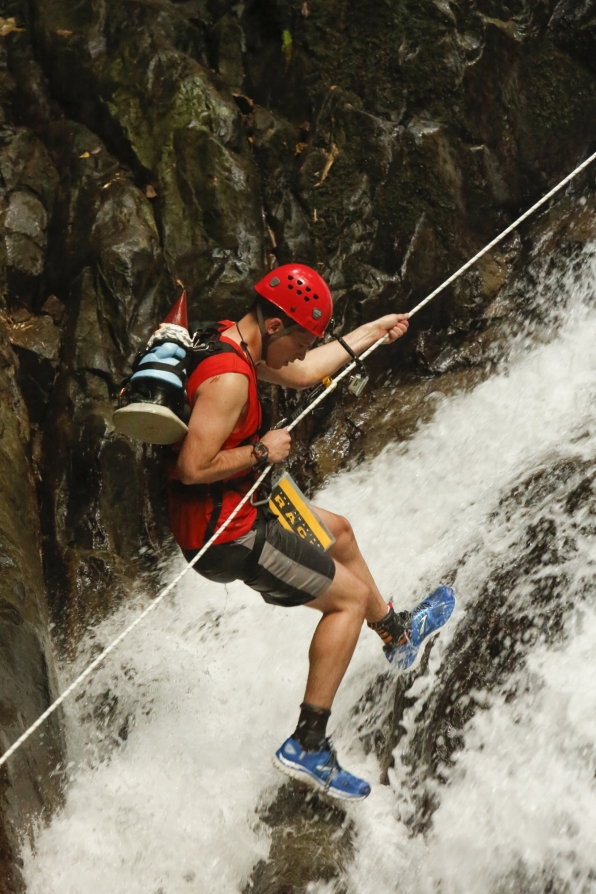 The first challenge at Kionsom Waterfall was the Roadblock and frankly, it was not really that challenging.  More of an adventure that was heavily guided – you needed some physical capability but as long as you weren't in crutches, you were going to be fine.  Except if you're Cord and you happen to keep looking to the right and miss where the clues were hidden underneath rocks, to the left.  D'oh.  It's interesting to note that Cord & Jet really are rockstars when it comes to challenges, but navigation has proven to definitely be a weak point, and then we get this mistake which required to Cord re-do the rappelling course.  Who knows if that influenced this leg's final standings, but perhaps Dave & Connor would have had more of a challenge with Jet & Cord breathing down their necks?
A Detour where teams actually did different choices!
River Delivery OR Jungle Run
The first part of the Detour at Kampung Tompinahaton required teams to build a raft from conveniently-notched bamboo poles and twine that would transport the team successfully down a river. ÂThe river also happened to have rapids on it!  So make sure your raft was durable, or else find out the hard way while in the river.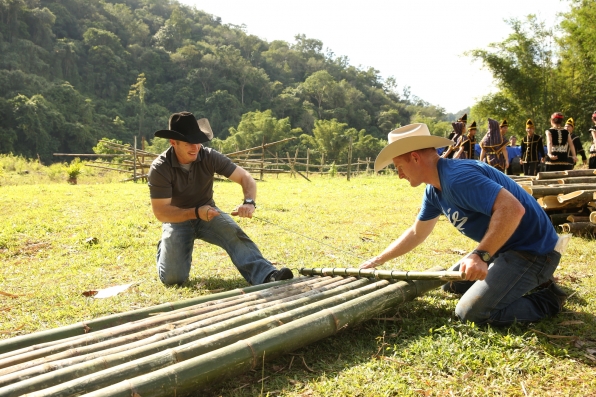 The majority of the first flight group all chose to do River Delivery which also required you to transport a collection of goods that would need to be delivered further downstream.  Unfortunately for Dave & Connor, they misread the clue and as they passed a sign marker indicating where they were supposed to deliver their goods, they decided it didn't mean that as they read the clue to indicate the destination was after 6 bridges.  They were wrong.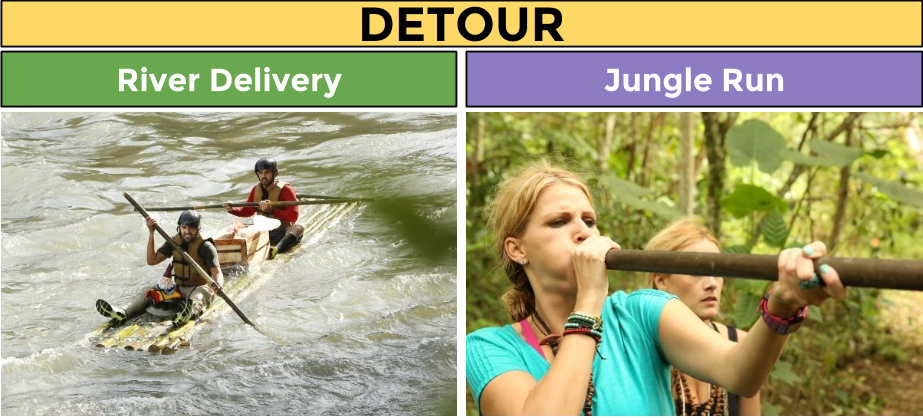 River Delivery did seem to be the more straightforward of Detour options, and except for Dave & Connor, most had a good go at it.  The Cowboys almost were deceived by the Afghanimals who decided not to play the super-deceitful game they played last time.  The potential of a Double U-Turn was too much for them to have hanging above their heads.  As for Jungle Run, that looked like it may have been the more fun option, as you got to blow-dart fake animals.  It seemed almost all the teams had one ringer and one who didn't exactly take to the skill.
The most drama from the episode though was wrung through the disastrous results of some teams' rapidly disintegrating bamboo rafts.  What had seemed like a nice river jaunt turned for most into an intense ride as not only did many of the teams have to duck low-hanging trees in the water, the rapids either resulted in rafts getting jammed into vegetation or getting stuck on river rocks.  Brenchel may have had the worst results, which was kind of hilarious after they were trash-talking Jessica & John's admittedly-shabby-but-resilient raft.  Brenchel's raft literally exploded.  I think at the end they just had pieces of bamboo.  Rachel was SOOOO CLOSE to a meltdown too…so close.  But I think she and Brendon have managed to figure out a way to keep her calm and it worked.  But now they're way down at the back of the pack, so expect to see their hyper-competitive and hyper-emotional sides come out next leg!
Getting to the Pit Stop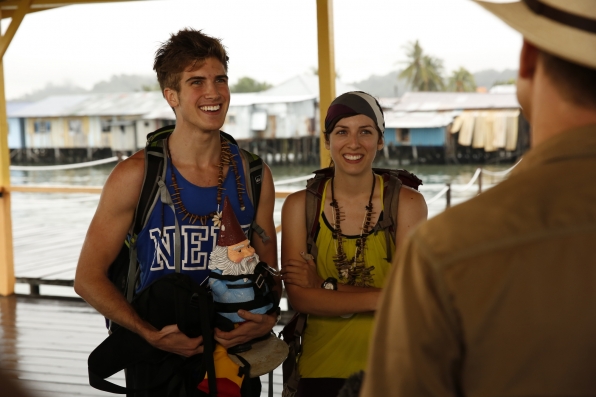 Once teams managed to survive their river trek, it was time to head to the Pit Stop at Tanjung Aru Water Village on the coast.   Dave & Connor, who had been in the lead the entire leg, had to walk their deliverables back upstream which seemed to doom them.  Amazingly and completely surprisingly, they were that far ahead that no one had managed to pass them while they were trekking back and forth.  I'm still blown away by that.  I still wonder if Jet & Cord could have had a chance at it if they hadn't wiffed the Roadblock.
Unfortunately for Joey & Meghan, who trailed everyone the entire leg, their luck got even worse as their taxi left them at the Roadblock.  No other taxis were around so they spent quite a bit of time walking the streets and eventually finding a stranger with a cell phone to call them a taxi.  They did pretty decently in their challenges but they were never able to make up that time, finally reaching Phil in 9th/Last place and getting promptly eliminated from the race.   I can't say they were the strongest of racers and it continues this season's streak of eliminating weak teams.  The Twinnies couldn't get their shit together, Mark & Mallory NEVER gelled, and the YouTubers were nice and all but never a true racing threat, especially compared to the other returning teams.
This Leg's Finish: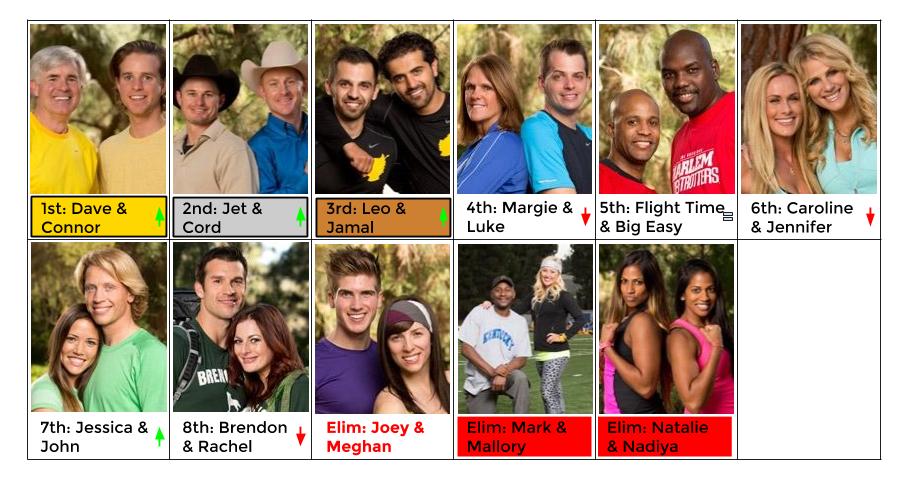 Overall Standings:

Links:
Leg 1 Recap | Leg 1 Bonus Clips
Leg 2 Recap | Leg 2 Bonus Clips
Leg 3 Recap | Leg 3 Bonus Clips
Leg 4 Recap
Leg 5 Recap
Leg 6 Recap | Leg 6 Bonus Clips
Leg 7 Recap
Leg 8 Recap | Leg 8 Bonus Clips
Leg 9 Recap
Leg 10 Recap
Leg 11 Recap | Leg 11 Bonus Clips
Leg 12 Recap