Leg 1: February 23, 2014
Yay!!!!!!!!  One of the best shows around is back, and even better, it's an All Stars version!  It's definitely an "All Stars" pulled from the latter half of the 23 seasons that have preceded this 24th one, but that's fine as it's getting harder and harder to remember all of these people.   Luckily for us, this season's contestants are very easy to remember.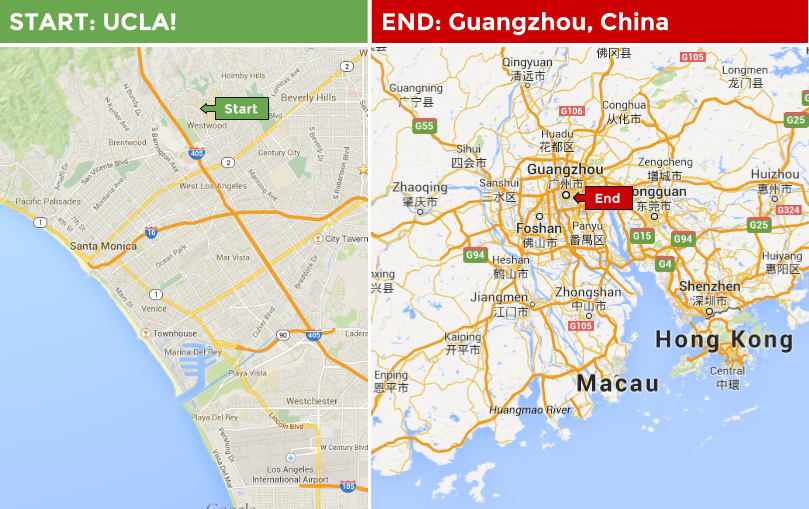 This season starts off at UCLA right there on the track I've personally ran many laps on during my ROTC days (and even threw up nearby after one particularly painful PFT – do NOT miss those days, thank you very much).  We immediately get an introduction to the returning teams:
It's clear that they reeaalllly wanted to give a lot of people from Season 22 another shot, isn't it?  As soon as we complete our introductions, the drama began as Phil announced one team member was in the hospital the night before.  Turns out Bopper from the Mark & Bopper pair ("Kentucky") was suffering from an inflamed pancreas, and the doctors refused to sign off on his health.  Phil was there to break the bad news to Bopper but had good news for Mark:  he could still race and they'd find him a new partner.  Through many tears and Bopper's blessing, Mark agreed to continue on the journey.  So now back at UCLA, we get the reveal:  Mallory!  I love her to pieces and I think I clapped a little too ecstatically when I saw her.  It's great to have her back, but I think it will prove to be a challenge to run a race with someone you really don't know at all.
1st Challenge:  Find the UCLA band member with a hat that has the same Chinese insignia as the Band Leader
If you can find a match and be one of the first three teams to bring the person to Phil, you get on the first flight to China.  Everyone else gets on the second flight, which arrives an hour later.
Arrival in China and 2nd Challenge: Find one of three bridal shops and get the next clue
The first flight group was the Afghanimals, the Twinnies, and the Cowboys.  The Cowboys immediately got down to business and found one of the bridal shops while the other two teamed up and promptly got lost, nearly finding the shops multiple times.  Ugh.  They lost whatever lead they had when the teams on the second flight manage to catch right up to them.
3rd Challenge: Go to the top of Canton Tower and find the next clue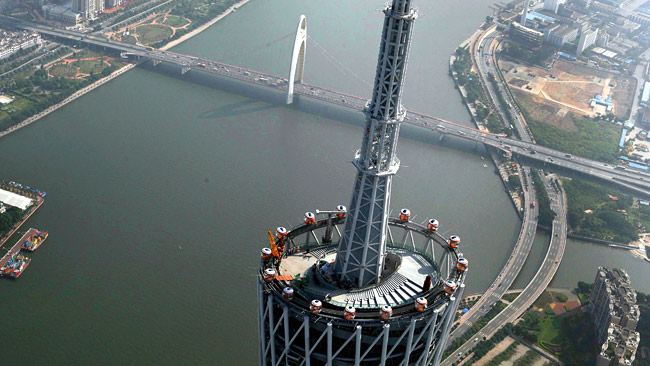 The next clue was to be found in the "ferris wheel" found at the top of Canton Tower, the tallest structure in China.  Ugh.  That's too high up.  For a million dollars though, I'm in.  The method to finding your clue was to hope you picked the correct car, as you can only see the clue when the door closes to your pod.  If you get it wrong, you have to ride an entire revolution and then try again.  As most teams who got it wrong discovered, it seemed the even-numbered pods were the ones to go in.
Twinnies, Doomed
This challenge didn't really shake up the standings much, but it did prove to doom the Twinnies to their fate.  After having a chance by being on the first flight, they got ditched by the Afghanimals once the boys realized the Twinnies were racing terribly.  The Twinnies then latched on to the Country Girls, both of whom managed to get even more lost while the remaining teams quickly found the bridal shop.  At this point, the Twinnies really began to self-implode.  I wanted to root for them as they were very entertaining, at least to me.  They can definitely grate especially when they're racing lousily, which this leg was completely filled with.  The final nail for them was at Canton Tower, as they and the Country Girls got there last. Unluckily for the Twinnies, the Country Girls picked a pod with a clue while the Twinnies didn't.  It was all over there, even with Team YouTube also getting unlucky with picking a pod.
Roadblock:  Do 5 backflips while suspended over 300 ft in the air at Haixinsha Stadium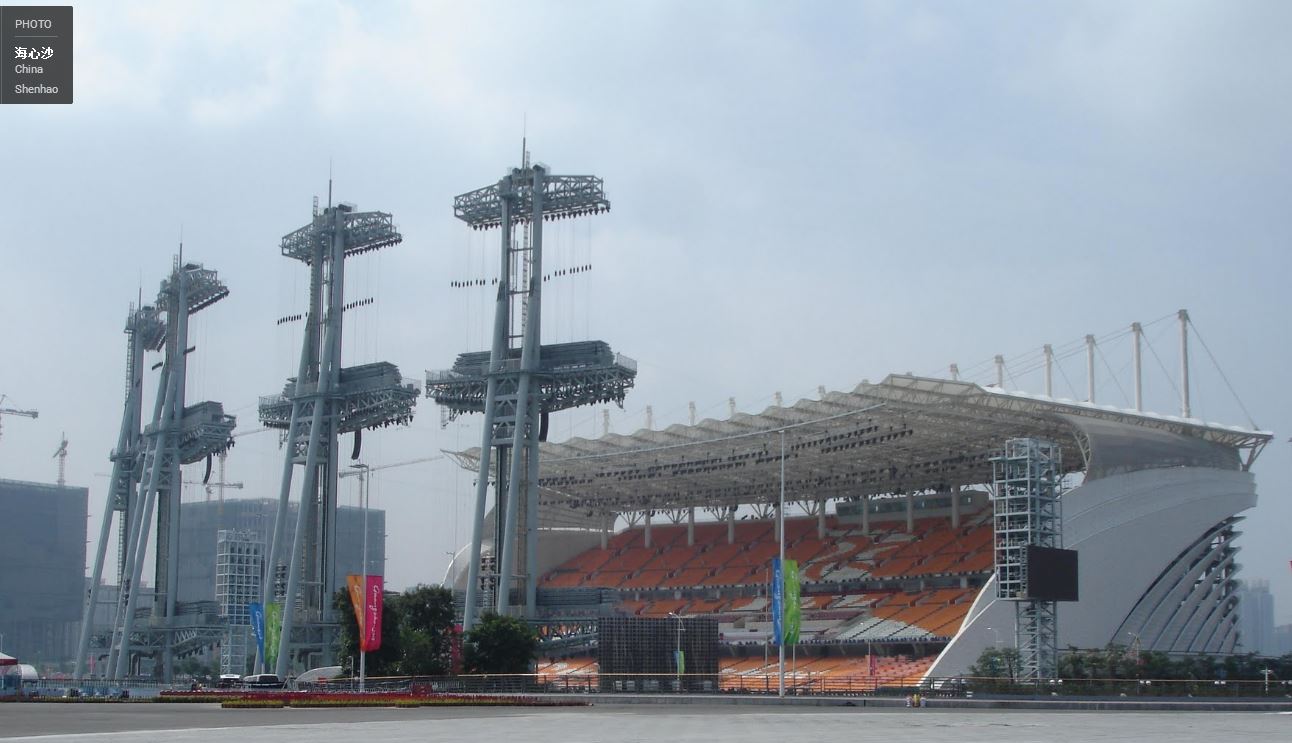 So once the teams found their clue in Canton Tower, they hopefully figured out it was directing them to the Haixinsha Stadium, which was far, far below them but still clearly visible.  Once there, at their first Roadblock of the race, one member of the team had to don a very colorful acrobat's outfit and then ride up in an elevator to the middle section of one of those towers.  They were then hoisted up by some lines in order to perform their 5 suspended backflips.  YEEK!  Lots of height stuff in this episode!  For a million dollars I'd deal with it, that's for sure, but I think my heartrate wouldn't have dropped to normal ranges all day.
Roadblockers this leg:  Cord, Brendon, Connor, Margie, Leo, Mallory, Flight Time, John, Jennifer, Joey & Natalie
After completing the Roadblock, it was time to head to this leg's Pit Stop.  The winners of this leg had been told by Phil at the start that they'd receive an Express Pass for themselves and another Express Pass to give to another team by the end of the 5th leg.  With previous seasons having used this gimmick, it's been interesting to see that smart teams will learn to strategize around that 2nd pass, whether it's the holder of the Express Pass offering it as a bribe or another team extorting the Pass-holder in order to provide help or information.
Pit Stop:  Guangzhou Opera House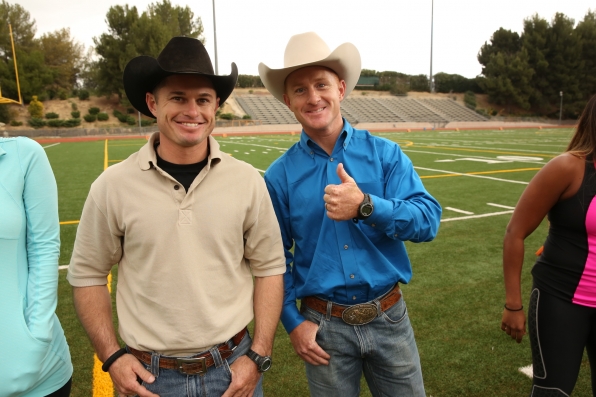 Jet & Cord ran a fairly flawless first leg and unsurprisingly came in first place.  There wasn't much of a chance to overtake other teams as there was no Detour in play this leg and if you sabotaged yourself or ran a crappy leg, there wasn't much there that was going to help you. The editors didn't even bother trying to edit the footage to make it look like a race between Team YouTube and the Twinnies at the end.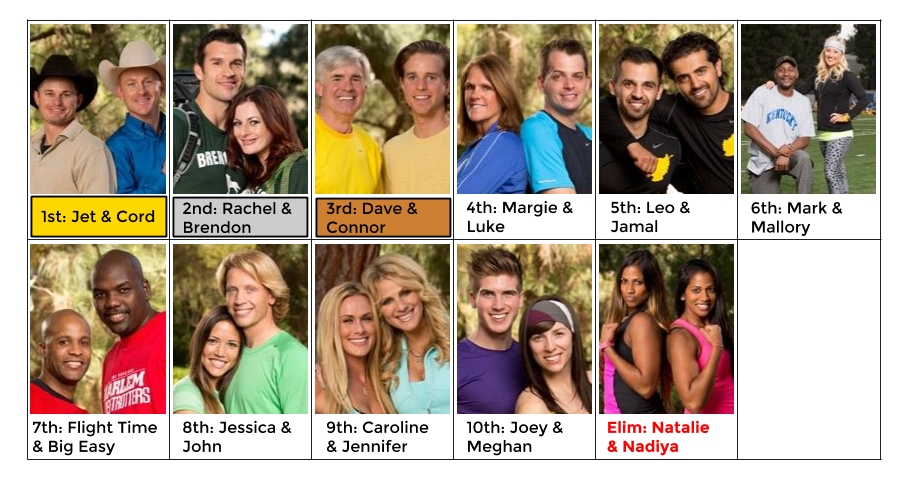 Bonus Clips!
Episode 1 Bonus Clips can be found here!
In Conclusion
The Twinnies raced terribly in China and even though they knew that their weakness from the last time was their constant bickering, they couldn't overcome it to be a stronger team.  It certainly didn't help that they kept making terrible racing decisions this leg and their inability to find a bridal shop ensured their elimination.
I am super excited that The Amazing Race has returned.  I think getting back to a daily posting cycle on my site will ensure that I'll continue to post in a reliable way about this show.  It's fun to do so and I love making the maps and graphics above too.
Links:
Leg 1 Recap | Leg 1 Bonus Clips
Leg 2 Recap | Leg 2 Bonus Clips
Leg 3 Recap | Leg 3 Bonus Clips
Leg 4 Recap
Leg 5 Recap
Leg 6 Recap | Leg 6 Bonus Clips
Leg 7 Recap
Leg 8 Recap | Leg 8 Bonus Clips
Leg 9 Recap
Leg 10 Recap
Leg 11 Recap | Leg 11 Bonus Clips
Leg 12 Recap