BB16 Episode 36 – September 14, 2014
The BBRewind idea is great in theory, but damn, I am BORED out of my damn mind with it. Â It felt like an especially long week with the stretch of time between Wednesday and Sunday. Â All that time to only have us just get a new HoH and Nominations? Â Nearly over it. Â Very very ready for this season to wrap up. Â At least this 2-week-long week is ending tonight with a Veto and Eviction!
HoH Seed-Saw, Redux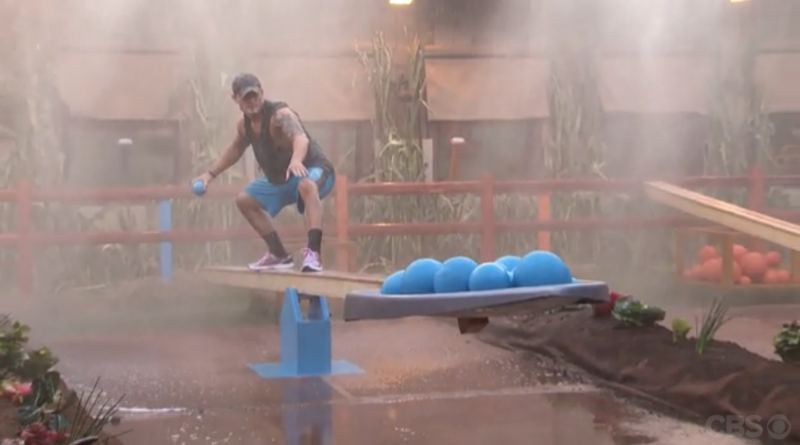 Frankie wasn't able to repeat history in this HoH Comp. Â Caleb also managed to avoid repeating history and instead of stumbling at the finish line, confidently won HoH.
Frankie, the Target, Redux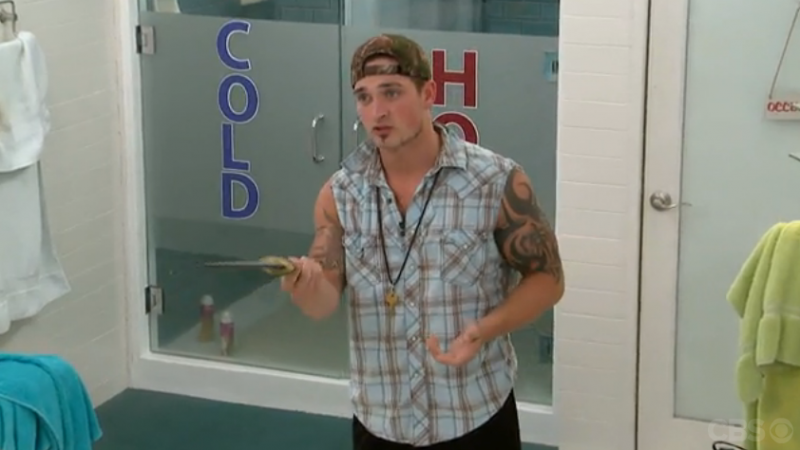 A lot of things were getting repeated this week. Â It was also time to target Frankie, as the boys now NOW think it's time for a big move. Â I have to restrain myself from punching the TV whenever I see Cody call out Caleb in the DR for being a pussy (my words, not his) if Caleb doesn't target Frankie. Â Are you KIDDING me, Cody? Â You're the king of All Talk when it comes to "Big Game Moves."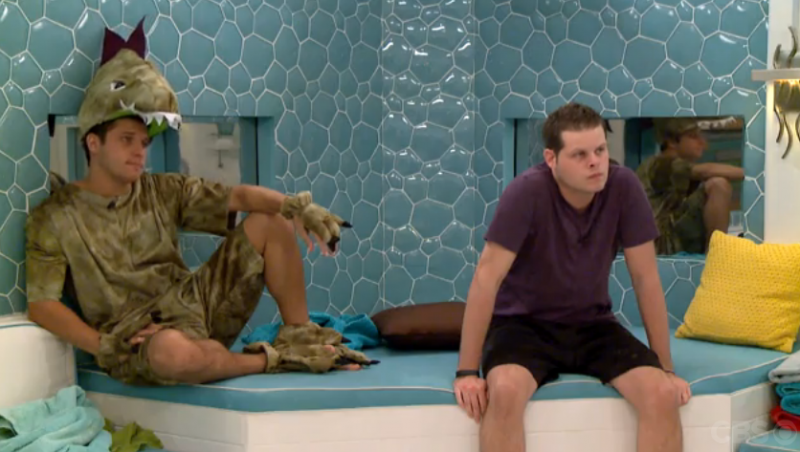 So anyway, Derrick and Cody give Caleb the full court press on making sure it's Frankie who gets nominated. Â They remind him that Cody's been the pawn for sooooooo long recently that it wouldn't be fair to put him up agaaaaain…. Â Caleb is super concerned that Frankie (the self-proclaimed "Real Beast of the House") would immediately freak out if nominated and play real hard to win the Veto. Â Maybe they could backdoor Frankie instead as he wouldn't play that hard. Â Derrick isn't letting that idea stay in Caleb's dumb little head. Â When Derrick's name is brought up by Caleb as someone who hasn't been nominated, that immediately puts Derrick into panic mode. Â The hard sell of making sure that Caleb doesn't inadvertently cause a Derrick-Cody block is put into play, and as we know, it worked in the long run.
Jury Fury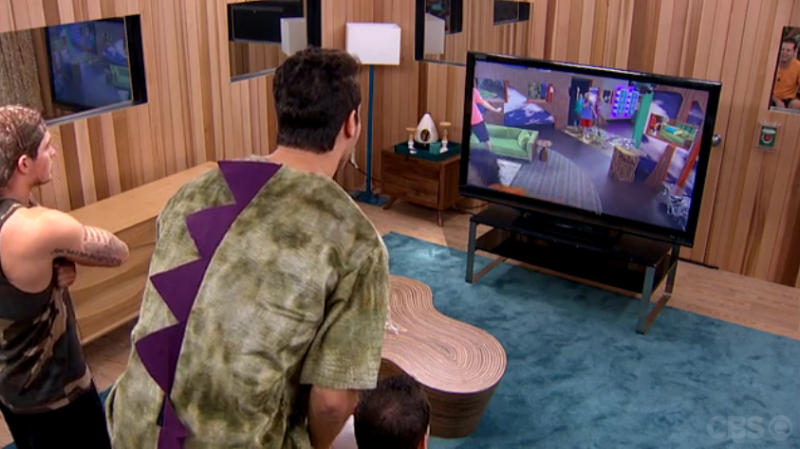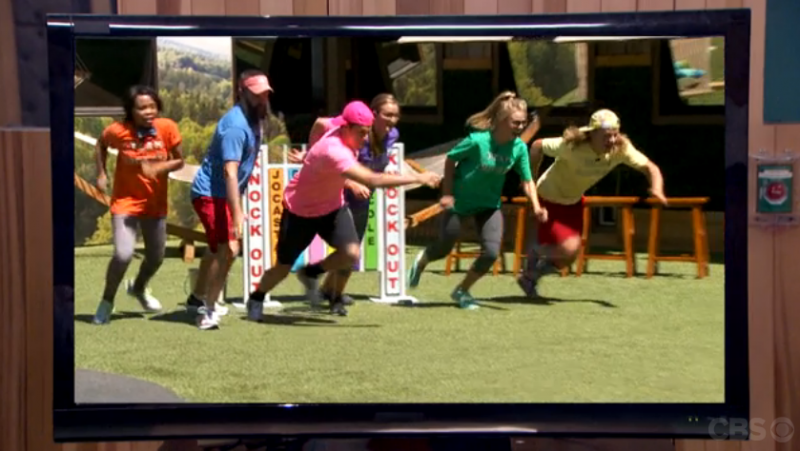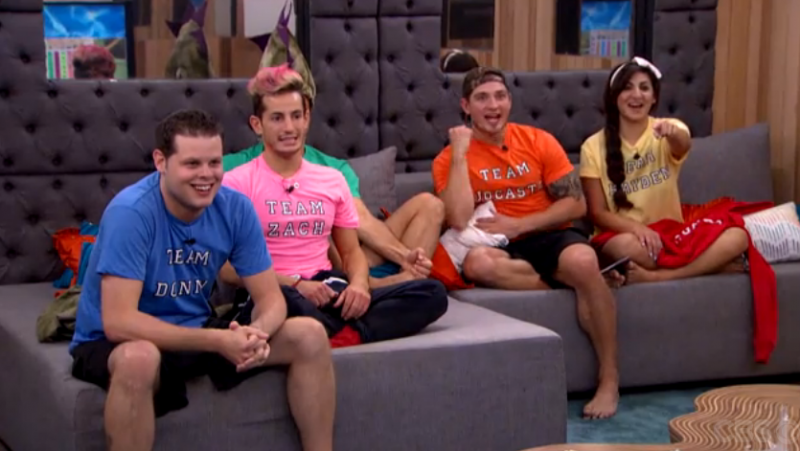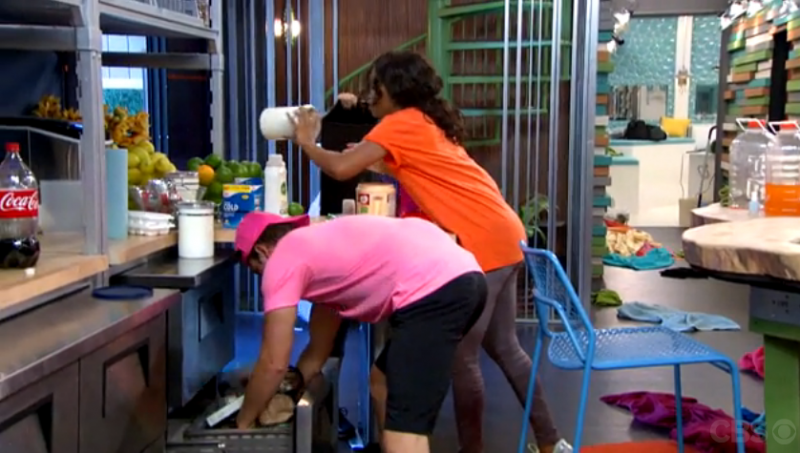 We got to see the Houseguests have to watch in horror as the Jurors returned to the house – but this wasn't the Q&A period, it was a free-for-all. Â It was a trivial trashing though, until the Luxury Competition was started. Â The jurors had to find pucks hidden throughout the house that they could use to knock out the other jurors from the competition. Â The jurors looked EVERYWHERE for those pucks, and damn, the house got jacked. Â Nicole found a lot of pucks, but in the end, Hayden was able to get the crucial one that gave him the win. Â He got $5k and so did Victoria, who chose him as her player.
"Heard Dat"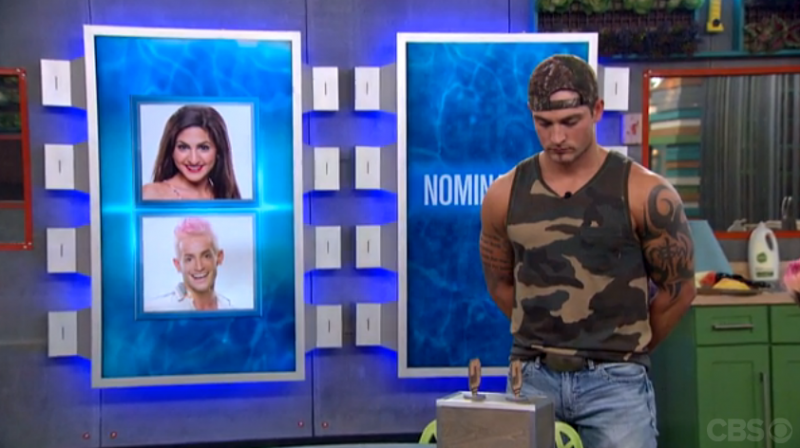 Caleb makes his nominations and it is per Derrick and Cody's wishes. Â Caleb could be right that being on the block will certainly motivate Frankie, but Derrick's point that Frankie was going to play hard regardless is truth. Â Frankie has to know he's playing for his life at this point and is going to compete accordingly.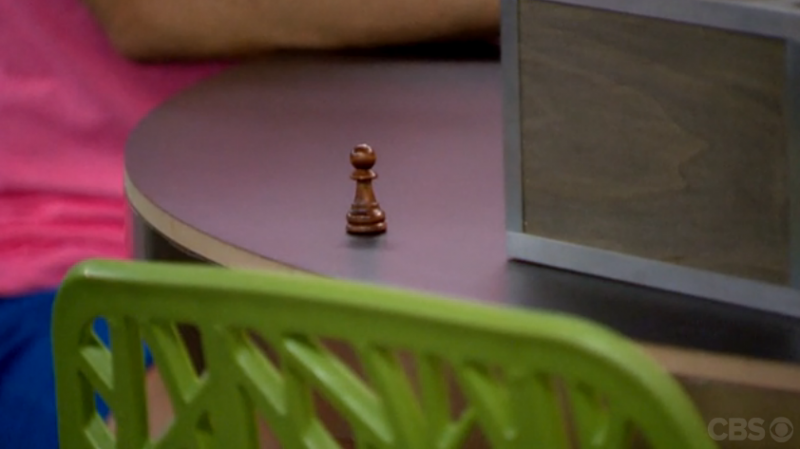 I am intrigued as to what the end goal is for the week.  Will Victoria be the real target?  Everyone says that's the plan, but each person privately would like nothing else than to be sitting next to her. It's just a matter of figuring out that path.  For Derrick and Cody, it's a very clear path:  get rid of Frankie first, then backstab Caleb next.  Or hell, tell him it's just his turn as Derrick and Cody have a real Final 2.  Then bam, Victoria's in the Final 3 and Derrick and Cody compete to the death.    As for Frankie, I don't know what he really wants in terms of who he's sitting next to at the end.  He's said Victoria isn't his goal, but who knows?  And Caleb?  He's just there for the ride, and to listen to whatever is said last to him.
And oh yeah, "Heard Dat." Â Caleb, you've NEVER said that this summer. Â What in the hell is he talking about? Â I really think he's hit that insanity threshold you likely encounter once you've been in the house for close to 90 days.
Status and Standings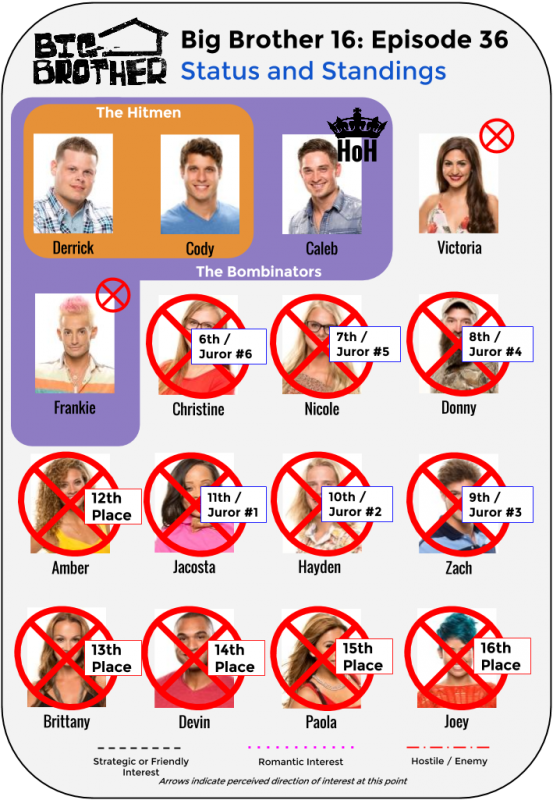 New Head of Household: Caleb
Luxury Competition Winners: Â Hayden + Victoria
Nominated for Eviction: Â Victoria & Frankie
I finally dropped Team America. Â I think that alliance and concept is done. Â Very curious how tonight plays out but I'm just ready for some conclusion to this season. Â It's been fun, but the gameplay level of players has been massively disappointing. Â Look at who is in the Final 5: Â 2 of them are playing HARD – yay! (Frankie & Derrick); 2 are delusional (Caleb & Victoria); the last (Cody) is just along for the ride and afraid to act on his own. Â But they really weren't competing against much better. Â I'd love for a better mix next year.