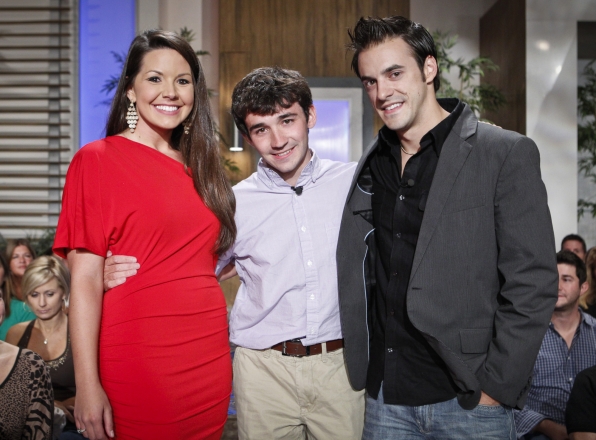 I have to close out my perfect Big Brother 14 Recap record and not drop the ball on the last episode of what turned out to be a fantastic season of Big Brother.  The way the finale went down definitely surprised me and managed to keep it very interesting.   I have to give mad props to the eventual winner, Ian, in completely disregarding my advice – I was sure he'd flub the jury portion if he made it there, especially against Dan.  But DAMN.  He pwned Dan that night, putting up a very solid defense of what he did during the season while basically letting Dan do the work of sabotaging his own game. But I'll get into that a bit later….here's the final rundown:
Part 1 HoH Comp winner: Dan
Part 2 HoH Comp winner: Ian
Part 3 HoH Comp winner: Ian
Final Head of Household:  Ian
Last Evictee of the Season: Danielle
Winner of Big Brother 14:  Ian (6-1 vote)
Voted for Ian:  Shane, Jenn, Joe, Frank, Britney, Ashley
Voted for Dan:  Danielle (seriously)
America's Choice:  Frank
Episode 30 – September 19, 2012
The lead up to the jury portion was filled with plenty of melodrama.  First, we found out that Dan made a deal with Ian, shortly before the Shane blindside, in which Dan asked Ian if he'd throw Part 1 of the HoH competition.  Ian readily agreed, and the rest is history, with Shane kicked out of the house.  This led to Part 1 of the final HoH competition, in which Ian "fell" after about 10 minutes of hanging in.  Dan had told Danielle to expect this in what he claimed should prove his loyalty to Danielle.  I don't know, I just write this, I don't always understand it.  This seemed to be enough for the easily malleable Danielle, who then jumped off so that Dan won.  Allegedly, Danielle does this only to trick Dan into thinking she's on his side still, but she's really going to throw him under the bus when the time comes.
That time never comes though as in Part 2, which is a fairly cool Skyscraper challenge in which the competitor has to wall-climb the structure, clean each window to reveal a houseguest (or a decoy), then move that panel to the right slot which is determined by the order of elimination.  Ian beats Danielle by a minute, forcing Danielle out of the competition.  There's then the fake fight that Dan and Danielle engineered to try to trick Ian into being afraid of an angry Danielle in the jury house…but seriously, I don't get this plan either.  Danielle was never going to have a real chance to "poison" the jury, so who cares, as she shows up live in the final show.  Anyway, Ian really isn't falling for it and when Dan clumsily suggests that Ian throw Part 3, Ian immediately rejects it.  Part 3, the final part of the HoH comp, is going to be live, so we are then treated to Jury House!  Yay!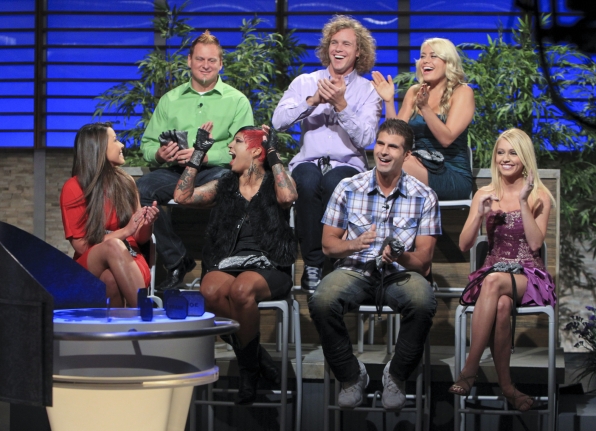 At this point, it's time for the Jury members to really consider who they think, of the remaining three, deserve the win.  There's lots of respect for Ian's game, although Frank and Jenn still think he's a rat.  Frank and Britney are still bitchy to each other.  No one respects Danielle's gameplay (duh), but Britney rightly reminds them that it was Danielle's move that got Janelle out of the game. I forgot about that myself, since that was SOOOO long ago.  I am not sure I think that was great strategy – it was more Danielle hating Janelle.  But it's a valid point, as well as the fact Danielle managed to win comps when she needed to.  As for Dan, there's respect for his ruthless gameplay but a lot are still butthurt about the way he casually trampled on their feelings.  These are all things I and any other BB/Survivor fan could have predicted.  What I was not predicting was what happened after Part 3….
So live on the show, Julie conducts the Part 3 comp, which involves Dan and Ian guessing how a jury member would end a sentence.  There are two choices to pick from, and frequently, these can be very hard for us show viewers to predict, as the houseguests definitely have a lot more info rattling around in their head versus what we see.  It was curious to me how Ian rapidly gained a lead on Dan in this competition.  Was Dan throwing this?   His reactions indicated he wasn't, especially once Ian won.   Here's where I would have predicted Ian would really want to ensure his win and get rid of Dan so he could compete against Danielle.  Here's where I was completely wrong.  Ian instead honored his deal with Dan and evicted Danielle.  He mentions later, after his win, that he thought Danielle had more friends in the jury house and would have won, which goes to show that going stir crazy in the house warps what you think is going on.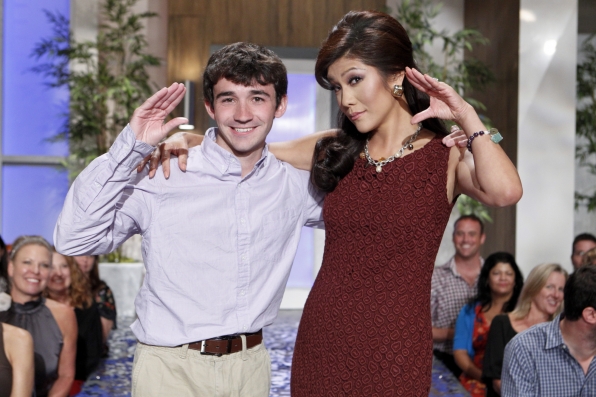 So finally, it's time for the jury to ask Ian and Dan pointed questions.  The questions are good and Ian is able to do a great defense of his game while Dan comes off as a jerk quite a bit.  He tries to add his own response to what was a question for Ian, but Julie cuts him off.  Dan frequently rolls his eyes and shakes his head while Ian answers questions, and I think this overacting helps seal his fate.  Admittedly, Ian starts to do the same to Dan after it's clear Dan isn't going to play this with dignity.  Yet the best part of the jury segment is when it's Danielle's turn.  She point blank asks if Ian knew that Dan had a final 2 deal with her.  Ian is utterly shocked at this revelation as Dan had given him his grandfather's gold necklace as collateral to show his trustworthiness.  Danielle is positively shocked at that revelation too.  She's visibly fuming.  In his closing argument, Ian opens by expressing his disgust with Dan and then following up with an amazing speech summing up, with clear facts, his whole game.  It was AMAZING.  Ian blew me away with his speech and I admit I never gave him any credit that he could so well.  You go boy.  Dan tries the tack of sucking up to the jury, but at this point, it's way too late for that.
With the vote, we see Danielle vote first and claim that she's honoring her word.  WHAT THE FUCK. Seriously?  I knew right then she had voted for Dan but Larry wasn't convinced.  I was.  She's proven to be too Stockholm Syndrome-y and it was too close to the game for her still to break from it.  Poor girl.  Everyone else's vote seems less clear, and it seems the vote could be kinda close.  Yet when Julie starts to reveal the votes at the end, it's shocking to see that even Jenn voted for Ian.  At this point, it's clear Ian won as they haven't even shown Britney and Ashley's vote.  So congrats, you big, adorable nerd!   Ian totally rocked this season and really deserved the win.  It was a clear vote for a winner as opposed to voting against the other guy.
I loved this season.  The coaches twist was a good one and freshened up the Big Brother formula quite a bit. There was plenty of drama (Willie, anyone?), eye candy, backstabbing, alliance forming and shredding, amazing Hail Marys, long overdue Karma balancing (I like Boogie well enough, but his smug face getting kicked out before the halfway point was just…priceless)….and a very deserving winner.   I can only hope they do a great job yet again next summer too.  With any luck, I'll still be here ready to keep writing about it, as this was a blast.  I'm stoked I managed to keep up with it the entire summer too…although that also points to the fact there was no summer vacation here.  Feh!  🙂  Till next time, or if you read this blog regularly, you'll likely see me talking about Survivor and Amazing Race too.
| HG | Comments |
| --- | --- |
| | Ian – You won HoH as I knew you had to if you wanted a chance at winning.  After that, I was all wrong about you.  You took the more challenging path in taking Dan and then rocked the jury phase.  Impressive.  Congrats, you were a very deserving winner. |
| | Dan – I admit I'm surprised at your very uneven jury performance.  Not surprised that the jury remained bitter at your antics.  While Janelle felt you deserved the win, well, she's an awesome yet emotionless robot.  Hats off to you being in the Final 2 though, once again. |
| | Danielle – Well, the $50K ended up not being yours.  I'm still shocked at that.  I do hope you get some counseling.  There's a lot you'll need to work through after this season.  Evicted 12th, 14th out of the House. 7th and Final Jury member. |
| | Shane – Evicted 11th, 13th out of the House. 6th Jury member. |
| | Jenn – Evicted 10th, 12th out of the House.  5th Jury member. |
| | Joe – Evicted 9th, 11th out of the House.  4th Jury member. |
| | Frank – Evicted 8th, 10th out of the House.  3rd Jury member. |
| | Britney – Evicted 7th, 9th out of the House.  2nd Jury member. |
| | Ashley – Evicted 6th, 8th out of the House.  1st Jury member. |
| | Mike Boogie – Evicted 5th, 7th out of the House. |
| | Wil – Evicted 4th, 6th out of the House. |
| | Janelle – Evicted 3rd, 5th out of the House. |
| | JoJo – Evicted 2nd, 4th out of the House. |
| | Willie – Eliminated. Effectively 3rd out of the House. |
| | Kara – 1st Houseguest Evicted, 2nd out of the House |
| | Jodi – Not really Evicted – but 1st out of the House |