25+ years dealing with the ending of Twin Peaks and thinking that was it, having to speculate wildly on what might happen next, and now?  Now, we actually will get to find out.  Will there be actual answers?  With 18 hours of Twin Peaks ahead of us, likely.  But almost without a doubt, this will be a journey of complete weirdness filled with disorienting visuals and themes.  I'm sure I'll even be like, WTF.  But I eagerly await it regardless.
The World Premiere of this next season on Showtime is happening at the Ace Hotel in DTLA as we speak.
DAVID LYNCH & KYLE MACLACHLAN. #TwinPeaksPremiere pic.twitter.com/hVgjWo3CY9

— Twin Peaks (@TwinPeaksArchve) May 20, 2017
I didn't make it to this world premiere like I did when the Missing Pieces ultimate blu-ray set had a premiere at the Vista:
Talk about an amazing opportunity that was!  But yeah, I didn't make it downtown this time as this time, the entire world is all about Twin Peaks excitement and the crowd that had assembled for what I saw in 2014 were a small group of diehards.  Can't even imagine the excitement though at the venue – the pictures from inside look really cool.
I just can't believe it's happening. Â It IS happening again!!!!
More to come in the next few days – I know I won't be able to keep myself from writing about the first 4 hours.  Sunday will be insane:  the first 2 hours are getting released on Showtime on Sunday night, but then hours 3 & 4 will be available immediately via Showtime's streaming apps….so yeah, I'll be watching those too.  Can't NOT.  Monday may be painful.
The premiere is being held at this same venue I visited as documented above – you can see my main picture above is from the marquee…only now it's 2017!!!!!
Oh, and of course I ordered these Twin Peaks FunkoPOP bobbleheads: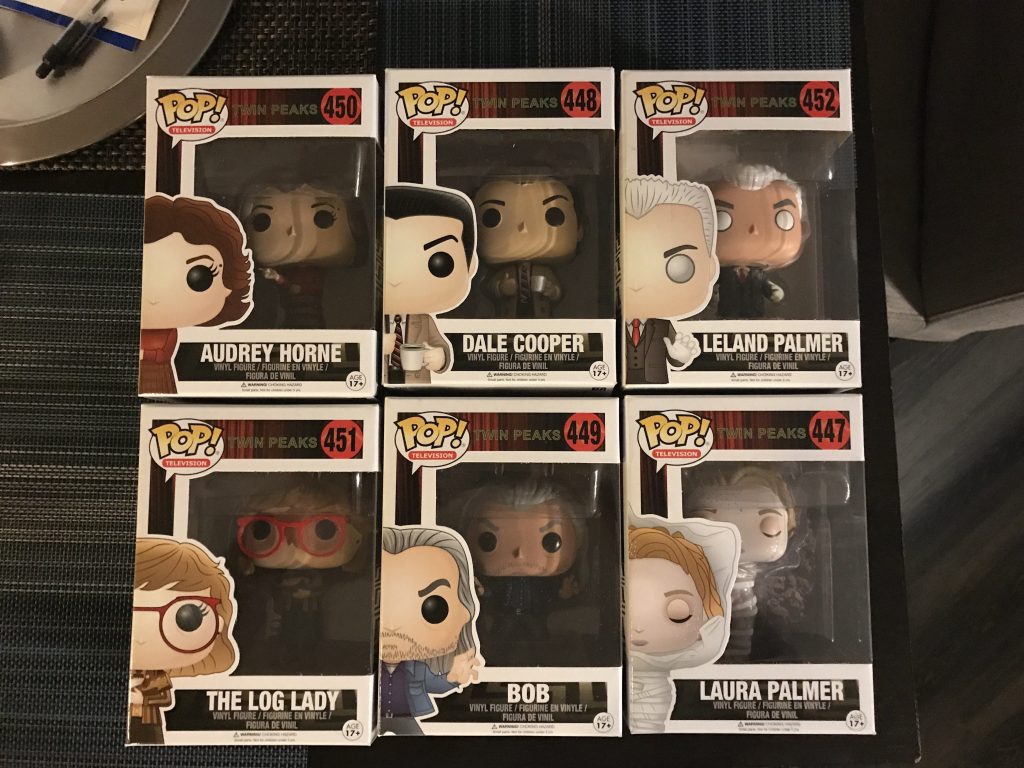 Miscellaneous Picture time – because why not?
Larry & I enjoyed last Saturday afternoon's beautiful temps and weather by finally visiting the outdoor wine bar at the Americana.  Wonderful way to have lunch.  Expensive way, also.
The next day we then went over to Mom's for Mother's Day!  Stister Stacie also was there and we had a great time playing Rack-O, drinking some wine, and having some good food.  Barbecued some burgers and hot dogs, Larry made his latest rendition of Blue Smoke-esque mac and cheese (I actually think he did it – no lie.  The secret:  champagne vinegar), I made cookies…it was a good day.
And I think that's that for now.  Happy Friday and Cobol Wishes!