Leg 4: October 24, 2014
The natural drama that results from stress and sleep-deprivation is starting to show up now, isn't it? Shelley & Nici and Keith & Whitney had a bit of a dust up and it cost one of these teams their shot at a million….although honestly, the actions taken really didn't matter as the loser of this leg needed absolutely no help to get that result.
Headed to Africa!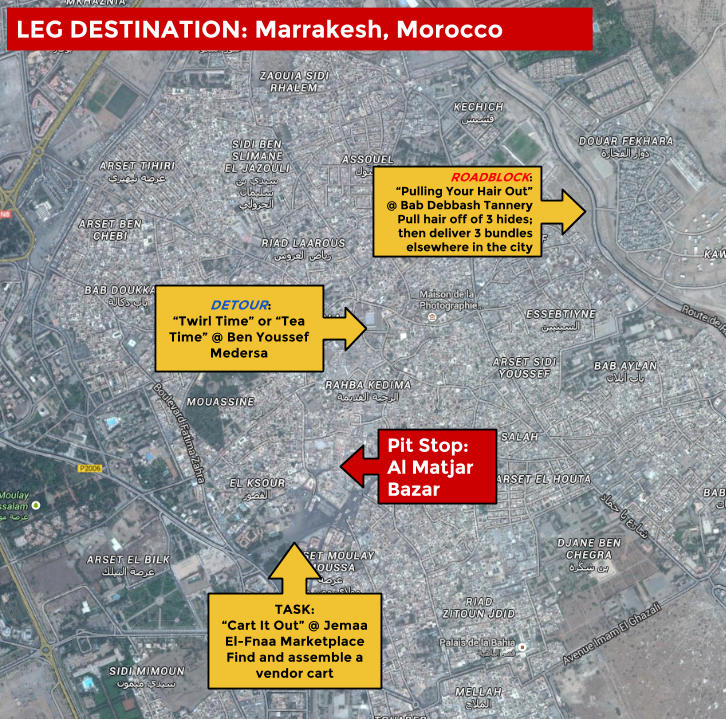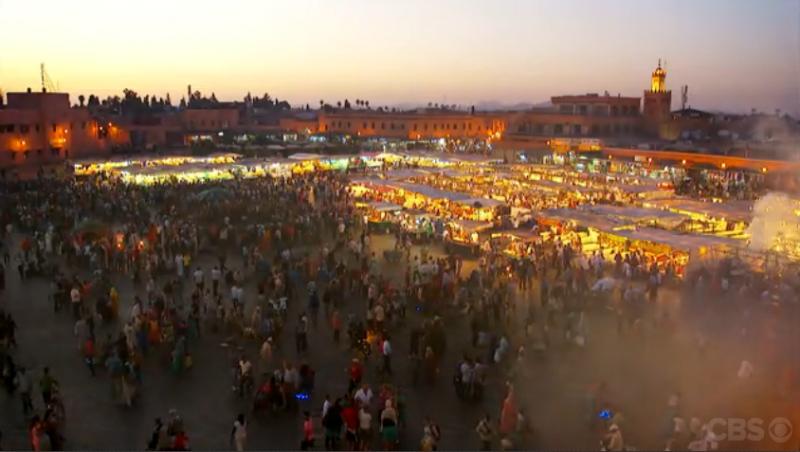 The racers had to leave the relative safety of the European continent and head down south to Marrakesh, Morocco (in an equalizer of a flight).  It's not exactly a backwater but now is when the racers will get a bit more challenged by different cultural norms.  The race first had everyone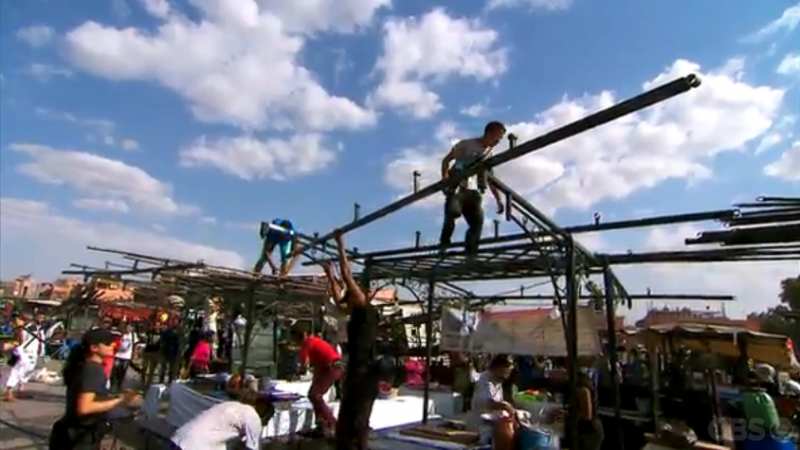 go to the big market square at Jemaa El-Fnaa, where their first task was to find a big brown door and pick up an unassembled vendor cart, help wheel it out and then assemble it to the vendor's satisfaction.  Except for finding the brown door, this was a fairly straightforward if strenuous activity – and Misti & Jim had to deal with their Speed Bump of hanging for-sale carpets on a wall, putting them at the tail end of the group and ensuring they'd have to fight to catch up.
Another Roadblock? I Guess We're Back to Normal Again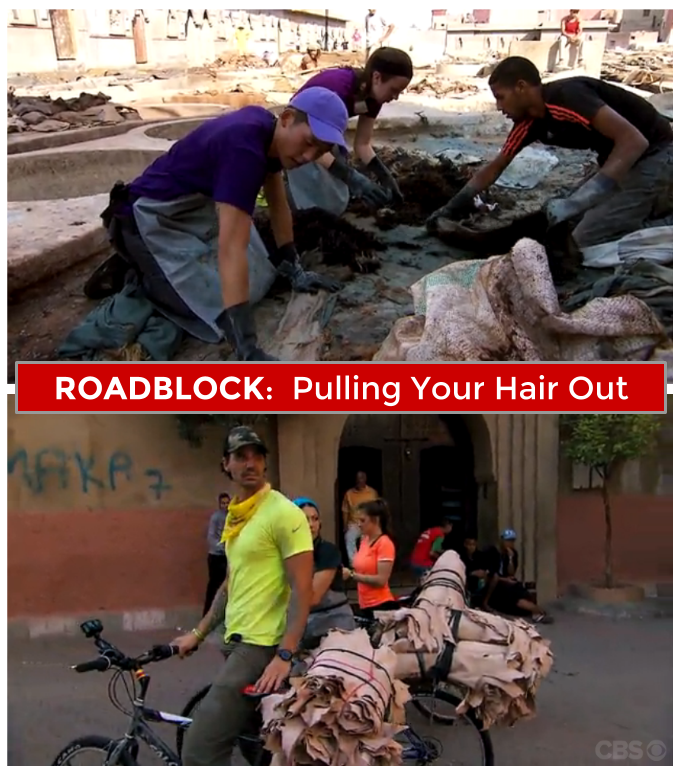 It seems this was a fairly tough Roadblock to take on.  First you had the horrendous and gag-inducing smells from the tannery at the Bab Debbash Tannery, as seen by Brooke dry-heaving everywhere.  You had to scrape 3 skins free of hair, and that process seriously was a lot like getting waxed much like Adam joked about with regards to his back.  Maybe the smells aren't the same, but the idea is the same!  Not that I'd know….  A second part of the Roadblock then required you to deliver 3 bundles of prepared skins somewhere via bicycle and of course, everyone got lost yet still clumped together anyway.  Marrakesh doesn't exactly look easy to navigate though, so I'm not throwing any shade their way.  One event of note occurred when Misti and Nici took off from the tannery around the same time and had a bit of a bicycle collision.  It ended up not influencing the U-Turn decision later on, but there's plenty of other reasons that Misti & Jim should have been targeted at the U-Turn!
Once the Roadblock was finished, a second scuffle emerged with Shelley & Nici in the midst of it, as while Keith got to the Detour marker first, Whitney wasn't with him.  So Shelley & Nici rightly (in my mind) figured it wasn't fair for him to get his clue ahead of a team that was together.  Drama!  This encounter did seem to win out at the U-Turn decision being made later on, although I am curious if the Bonus Clips this episode will shed more light on it.
Detours of Tea and Twirling!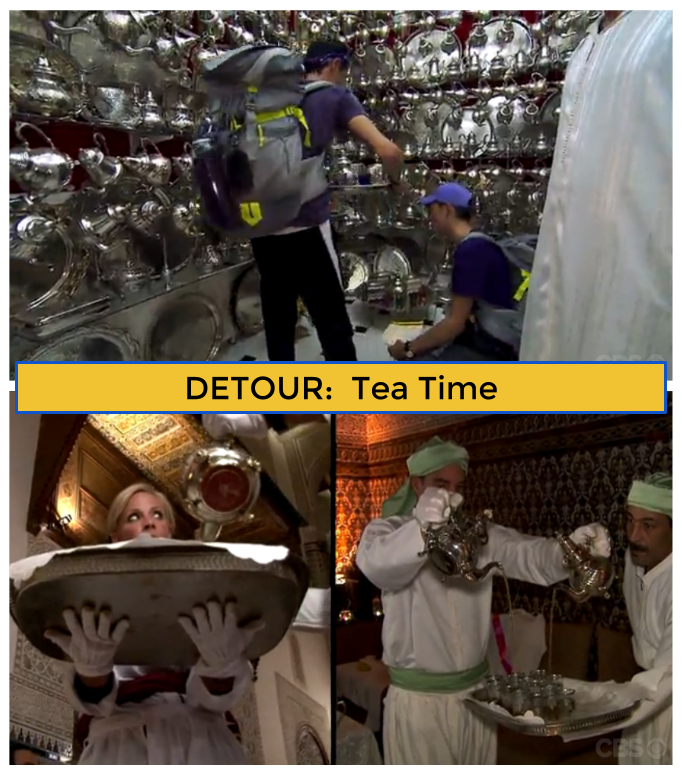 This set of Detours seemed fairly evenly matched in hindsight with annoyances and aggravations.  With the Tea Time option, you could easily overlook some of the finer details of a successful service, whether it was holding the tray with one hand (yet another Roadblock detail Misti overlooked, similar to her mistake in the last leg) or the proper height you needed to pour tea from.  It was kind of surprising it took as long as it did for some teams, like Brooke & Robbie and Misti & Jim, to figure out that doing the same thing without considering those variables was a mistake.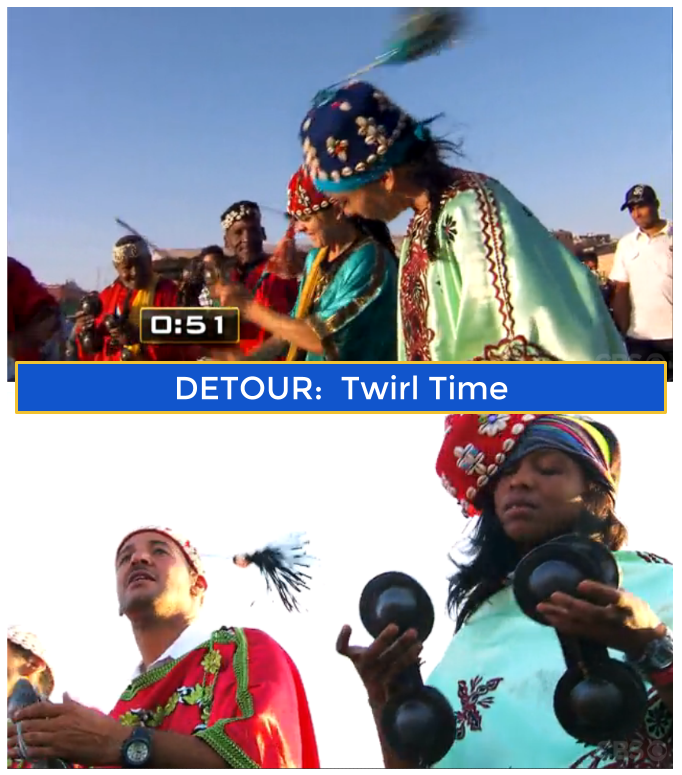 On the other side, Twirl Time, looked frustrating as if you didn't keep just the right rhythm and motion on your head, you were never going to keep your beanie's tassle spinning continuously for a minute.  It was probably a lot like a hula hoop, in that if you don't have the right motion, you're not going to succeed.  Poor Maya was having a unique problem all her own in that she couldn't keep the beanie on her head!  Not sure if that is a small-head problem or a large-head problem.
Off to Do Some U-Turning!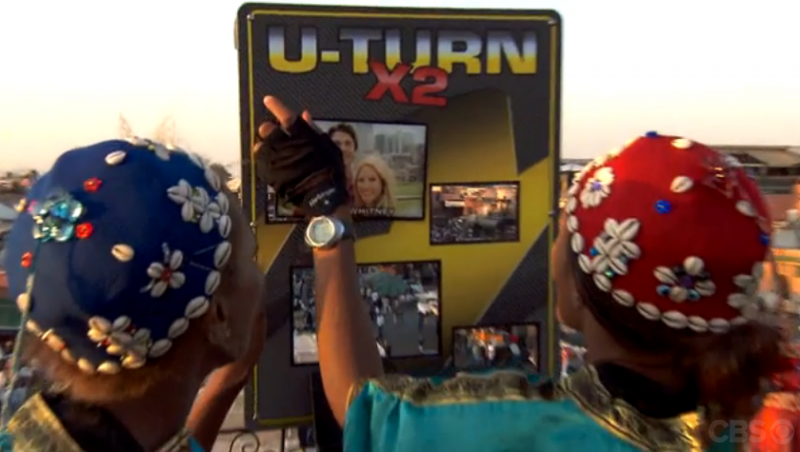 The full power of the Double U-Turn wasn't used this leg, and I'm disappointed.  It's probably because this is pretty early for a U-Turn to show up and there aren't a huge amount of rivalries and emotions built up just yet.  There are certainly some, but not as much as when you put the first U-Turn in the last half of the race.  I think the main reason why it was put here so early was a means to flush out "The Save."  Even though Misti & Jim told us that they can't imagine someone using it against them when they have a get-out-of-jail-free card, I think that's exactly why it should have been used on them.  Flush that fucking "The Save" out.  It may not have mattered in the end, but maybe it would have?  We saw that Keith & Whitney were doing terribly at Twirl Time and put themselves in last place accordingly, but imagine if Misti & Jim would have had similar problems?  Sure, Misti & Jim might become even more antagonistic towards you, but who cares?  They're racing super-aggressively already!  Better to make sure they don't have "The Save."
Anyway, Shelley & Nici choose to use it on Keith & Whitney.  A big waste, as explained above.  No one else uses the U-Turn and that's that. This experiment in "The Save" and an early "U-Turn" should tell the producers of the show that these were both bad ideas.  Bad ideas!
The Pit Stop at the Al Matjar Bazar Carpet Shop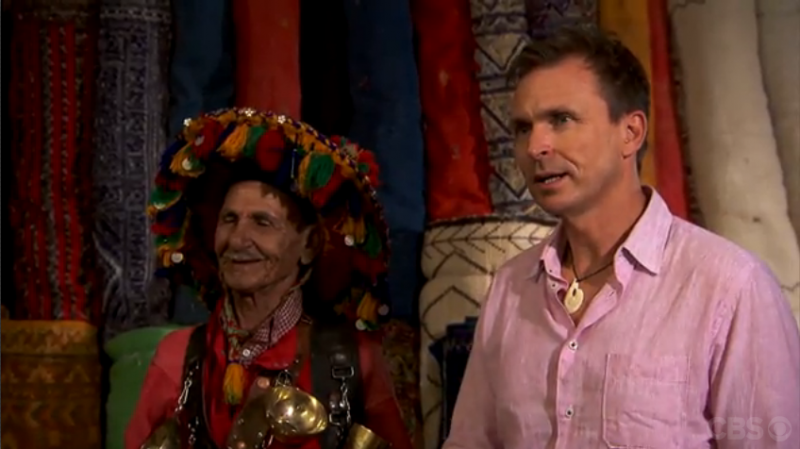 So at the end, Phil (who has been inserting himself in the legs at random points this season, which is kind of cool!) greeted our first back-to-back leg winners this season, Kym & Alli.  I think they're still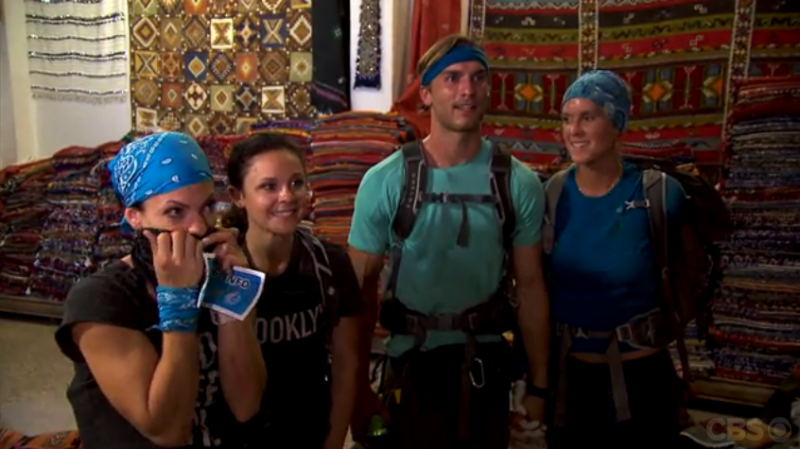 a fantastic team and nothing they've done yet has caused me to change my mind…but we'll see what my tune is in a few weeks, right?  Everything changes.  Their win was REALLY fucking close though, and they eeked out a win over Adam & Bethany by seconds.  Bethany IS a beast as other teams remarked this episode, and it's inspiring.  Having one less hand/arm has got to be one of the bigger obstacles to deal with yet in this show…although Luke's deafness has got to be up there too.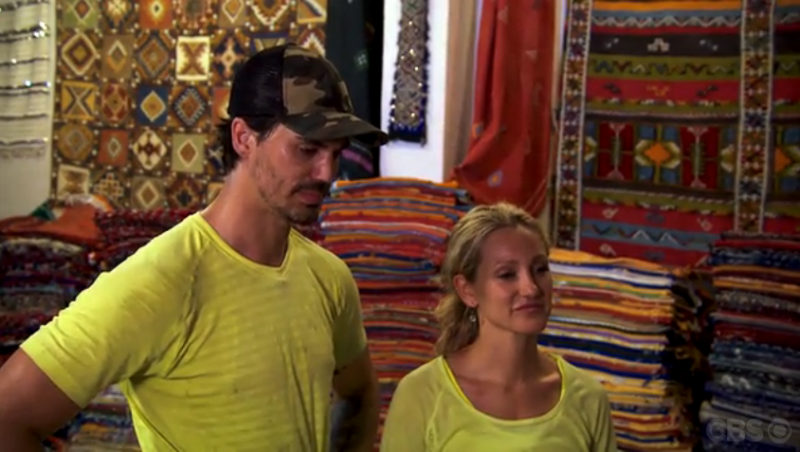 On the losing end this leg, and with a full elimination, Keith & Whitney's abysmal performance at the Detour earned them their just reward.  You could see Keith wasn't handling their stresses very well throughout the leg while Whitney was doing her best to overcome that.  Keith was close to tears there and again, I can't give him too much shit as I imagine I'd be like that too.  I will give him shit for being kind of a crappy competitor and I hope that for Whitney's sake, he learns from this whole experience.
Leg 5 Finish:
Overall Standings for the Race:
Links: