Not many photos taken lately, but probably that's just a failure on my part. Bad Hobie, Bad Hobie!
Here though is a pic taken of me and Larry from when we went with Shelly to our friend Claudia's apartment rooftop for a beautiful and fun dinner with a spectacular view of Manhattan as the backdrop. It was unreal.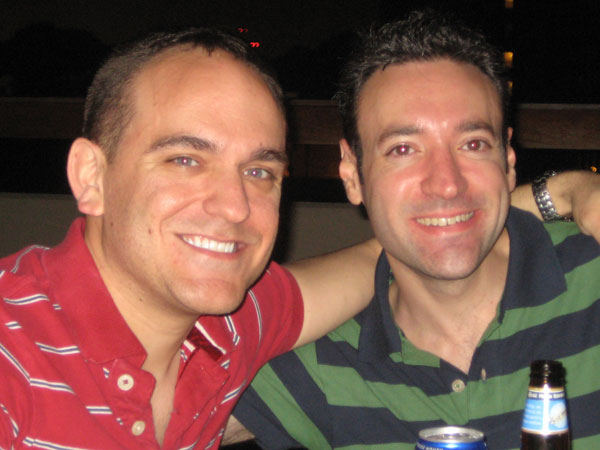 I love this picture.
Some quick recaps of cool things going-on, if you haven't been reading the livejournal:
- Going to Vegas in October for my Mom's big Birthday!!!! Larry's coming with. It's going to be fun (and a bit scary, but in a good way).
- I got a raise! Woot woot! Raise the roof!
- I may get to write for a RealityTV website. How sweet would that be? (and it's not even MY website - I just wanted to clarify that before you think I am starting to talk about my site in the third-person....)
- Maybe going to Cancun this December to visit with Mila, Sveta and of course the rest of that awesome clan
- Planning on heading back home to LA for Christmas
- and overall, astounded that I've been in NYC for nearly a year. Wow!!!!! It's certainly been one helluva year, that's for sure.