T h e J o u r n a l - J A N U A R Y 2 0 0 7

28 January 2007 Black Diamond, Baby! (T-215)
Yep - I conquered one of my ski endeavors this weekend - the Keystone run called DiamondBack was totally my bitch!
I've returned from SnoFest! at Keystone without a broken bone or two! Incredible! Anyways, as promised, I have downloaded my pictures from the trip and posted them here. I must provide advance warning: some of the pics are very nice and pretty and blah blah blah - and some of the pictures are straight-up pics taken by and of drunk people. So if you can't deal with that, bitch don't care. I'll expound on that last little phrase next month.
To recap the trip though: Awesomeness squared. There was no drama as potentially expected, everyone had a great time, no one got hurt, and the skiing was outstanding. We took off early Friday morning after combining people into two cars at Kyle's house. On the way up, just right on Powers, Tom's Explorer caught the ice wrong and spun out - fortunately that was the beginning and the end of the bad luck for the trip. Luckily he and his passengers weren't hurt and the car was fine. The trek up to Keystone was uneventful as the weather was frickin' beautiful. We then got ourselves parked and ready to go skiing, as we couldn't check into the condo until the evening. And so we skied. And skied some more. Keystone really is a great resort - I didn't really get to see much of it that first trip I took there last March, and during this trip, I got to see quite a few more runs on the front side of the mountain and take on some of the back side of the mountain, which is pretty advanced. What is cool about Keystone is that the length of the runs is very very long. You literally ski down the whole mountain, and some of the runs are 3 miles long or so. So you get a lot of turns, various steepness, potential for lots of speed, and an entertaining run in before you have to get back on the lifts. I've noticed that at Breckenridge, the runs aren't quite as long as Keystone - but you do have many more to choose from than at Keystone. Regardless, it's a very fun resort. On the second day of skiing was when I finally built up the courage to try a black diamond run. I had told myself to go for it this trip, but I was very willing to talk myself out of it though. Fortunately, I ended up running into Dave who talked up the DiamondBack trail. So I caught his enthusiasm and Kyle, Dave and I went down the trail. Of course, I had to take photos at the beginning and end of the trail - it's not everyday you get to break your Black Diamond cherry. I will say that my heart was definitely beating superfast. I imagine that this isn't the hardest of black diamonds to ski, but it certainly is long and steep. It starts off innocuously enough at the end of a little green bunny slope area (I kid you not) at the top of the mountain, but then you round a bend and see where the run pretty much slopes into the wham-o 'black-diamond' part. As you approach it, you can actually see the bottom and you realize that the bottom is VERY far down there and you have to ski to it to reach it. Well, I was there, so no turning around now. I felt pretty good while skiing down the run, especially when I saw other newbies trying to ski down it and who definitely looked a lot more scared than me. Before I knew it, I was down the mountain though, and it was awesome.
Jeremy also came up on Saturday, and we ended up all skiing around that afternoon, eventually meeting up to watch the Cardboard Derby set up for SnoFest. Basically people build various vehicles out of cardboard to race down the bunny slope. You hope to make it all the way to the finish line with an intact vehicle and not having to push it. Most do not meet these goals. But there were some that knocked that goal out of the park, including the NORAD bobsled team (freakin' Fast!), the Short Yellow Bus, a giant Cricket cell phone, and a Viking warship. Some of these people got very creative. After watching that for a little bit, it was time to Night Ski! That is a definite fun experience, as the trails are much less crowded and the snow is great to ski on, as the iciness is mostly gone. Cheeks (I mean, Jeremy), KD, Eric and I went nightskiing for a while (Jeff went as well, but wanted to knock out more skiing without waiting) together, and of course fun was had by all.
I don't want to leave out all the ridiculous fun had at night. The first night was pretty mellow, as we were all pretty damn tired, but not too tired to play some Karaoke Revolution! And of course drink. Which I did a lot of. No hangover the next day - woo hoo! Then on Saturday night, after night skiing, Jeremy, KD, Eric and I went out and got some pizza in the Keystone Village area. And of course drank. Then we went next door to Parrot Eyes bar, where we met up with Dave and Dallas, and of course we drank. Not to mention take lots of stupid pictures. As you'll see below. Some hideous pics are also below. Then we went back to the lodge, and of course continued to drink (our driver, Eric, did NOT drink of course though - we are responsible people here!). That was when Jeremy and I probably should have stopped drinking, but c'est la vie. So even though we were hungover today, it was still lots of fun. The four of us stayed to do some more skiing this last day, but for me, the conditions were too icy; also, I think all the tiredness was catching up to me, I was still a bit hungover, and on one of the blue runs on the back of the mountain, I wiped out once and had to ski the gauntlet (what I call it, as basically you have to ski down this super-steep part of the mountain that everybody at the base is looking up at - so there's like 200 people watching you ski or fall...) right afterwards. I was done. Everybody else had left in the morning, so I rode with Jeremy back to the Springs. All in all, a great weekend vacation!
And now, the pics:
SnoFest 2007 @ Keystone, Day 1: Friday, 26 Jan 07

Melissa in the car on the way up

KD too

Jeff, the fearless driver

Hobie, the idiotic cameraman

Sleeping Melissa

KD dares

There's Keystone!

Jeff at the summit

Melissa and KD at the top

There's me, not paying attention

Breckenridge, in the distance

Jeff and Breck

KD and Breck

Me and Breck

Lunchtime at the bottom of Mountain Run

Kyle and KD chilling at the Gauntlet viewing area

Chillin' Melissa

Smilin' Melissa

There's the Gauntlet section

Wider view - that hill sucks

Jeff and Kyle

KD, thug-like

Day is done and they're spent

Jeff unpacks

Kyle, exhuasted

Melissa and KD, exhausted

The stairs to the second floor

Me at the fireplace

KD, exhausted

Kyle, exhausted still

Jeff, reading

Fireplace, alone

Tom and Lauren, tired

Melissa, awake?

Jeff, staring

Ashley and KD, happy and ???

Lauren gets the short chair at the dinner table

Kyle loves doing dishes

Lauren and Tom
SnoFest 2007 @ Keystone, Day 2: Saturday, 27 Jan 07

Eric, pro skier and gold medal winner at the races

Jeff and Melissa prepare for a long day of lodge living

Me before my first-ever Black Diamond run!!!!

If I had to die today on the black diamond, that's one helluva view

Dave and Kyle there to usher me in to the club

I survived!

Looking towards Breckenridge and the weather over there

Me too

KD, Eric, Melissa, Jeff and Jeremy at the Cardboard Derby

This Bitch Don't Care

Me in the pic this time

Not sure what happened here

The Cardboard derby

The contestants lined up

KD and Eric at the Pizza place

Jeremy isn't sure about all of this

Neither am I - but KD seems to be

Is my head really this big??? Ridiculous.

KD is in her happy place

Apparently corkboard walls are freakin' funny

Something was very interesting on the wall, apparently

Wall o' mirrors. KD didn't take a one!

Jeremy is taller by just a little...

Dave and Dallas at Parrot Eyes

KD and Eric there

And KD does Dallas...Just kidding!

KD is laughing at YOU!

Or not.

WTF?

Jeremy's head shot

and here's Dave

Dallas wonders if...

Poor Eric.

A nosy Jeremy

and a 'special' Jeremy

A pic inside the orange-slice filled beerglass

"I have something to say!"

Jeremy looks out the window to find cooler friends

Then comes to the realization that they don't exist

KD already knew that though

Eric never was certain about it though

Yep, that's me.

Back at the lodge, KD gets comfy

Melissa, Kyle and Eric enjoy an actual funny SNL

Not sure if Jeff is still awake...

Ashley and KD cuddle

Melissa can't believe she's with all this bourgeious

Jeremy hides his head in the red sleeping bag of drunkness
24 January 2007 Headed to SnoFest (T-219)
6 weekends -> 6 snowstorms. That's gotta be a record.
Literally, every weekend we get snow - it's nowhere near as heavy as it was the first two weekends, but without fail, we'll get a few inches of snow each weekend. Meanwhile, the entire rest of the week is usually sunny and clear, although frickin' cold. I must say though that it's nice to see the rest of the midwest and Texas getting all sorts of snow and cold weather too. I'm glad Colorado was able to spread on the wealth to the rest of you guys.
Anyways, yes, it's been a few weeks or so since I've updated and I just wanted to chime in with what has been going on before heading to SnoFest this weekend up at Keystone. SnoFest is this huge weekend party at Keystone resort wherein all the Colorado Springs' military base personnel get together and take over the mountain (basically). It's an excuse to give us another day off (yep, we get this Friday off meaning I haven't worked an actual 'full' work week in literally two months) and to go skiing for an entire weekend. It should be good times, and about 9 of us have rented a very nice condo to live and party in - so that should be fun, and here's hoping for no drama. I'll post pics (of course) when I return.
So like I said, it's been pretty much blah at work - so not much to talk about there. Oh wait, I guess there is some interesting news that developed last week that both thrilled and bummed me out. Part I of the information is that in March, the deputy squadron commander is going to be taking sick leave in order to have surgery. In the meantime, I will be stepping in as deputy Squadron CC!! For an entire month. Whoa! Finding out this information was pretty cool news - because it gives me a chance to help get the squadron back on track as the current commander is seriously in need of help. I obviously can't go into as much as I'd like on this website, as that damn UCMJ is always there with the key to Leavenworth, but let's just say she's not doing that great of a job here. So I was stoked about that news. I'll get my shot at being almost a squadron commander before getting out - sweet. But then the other shoe dropped the next day, as I heard that initial news through unofficial channels. When I was told it officially, I also was told that I would NOT be coming back as flight commander in April when the deputy commander returns. At all. Instead, my current deputy, Melissa, who puts Captain rank on in May, will take over for good once I leave in late February. I'm not thrilled about this news for two main reasons: first, I really like being flight CC - that's been the only thing that has made this assignment worth having. So not returning to this is kinda shocking, as I wasn't mentally prepared to have to say goodbye to that post this early. I had figured I'd be flight cc until the summer or so...WRONG! Second, that means I pretty much have no real job from April to the end of August. Allegedly I become 'Special Project' officer, basically meaning that whatever the commanders don't want to deal with, I get to. In my mind, this new job means I come in at 0900 and leave at 1500 (3pm). I'm just sayin'.
So that's the work fun. I hope the month of March doesn't suck too much.
In other news, I've been spending money like it's going out of style. Last week I went to Men's Wearhouse and bought my first-ever suit. I knew I'd need one to interview with and potentially work in depending on the next job I'd get, and I have never owned a true suit before. It's a pretty sharp suit, and one day when I actually put the whole thing on, I'll take some pics to show off the new threads. I also bought some sweet shirts and ties as well as a new pair of loafers, and all in all dropped a load of cash on it, but it's definitely an investment. I then bought an iPod finally after having resisted for soooooo long. I just got tired of how iPod-centric all the electronics are nowadays - everything's a stereo plus an iPod-dock - but you can never plug in directly any other type of MP3 player. Plus, you really can't beat how the iPod interface is - it's such a clean and efficient way to navigate through your music. My Rio Carbon was such a bitch to use because it took forever to get to your music, especially if you had a lot of it. But my new 80GB black iPod is so awesome and I don't regret finally upgrading. Now I can get all those cool iPod toys too. I also went and bought some new winter clothes up in Denver and down here in the Springs, including a very sweet long black overcoat. Men's Wearhouse wanted to sell me a cashmere one for $500 (on sale from $800), and while I'd love to have bought it, that was just a bit much for me at the time. So I went to Burlington Coat Factory and bought a wool/cashmere blend for $180 that is still quite comfortable and looks pretty damn good on me. It's great for being a bit more dressy and especially while wearing a suit. In fact, I ended up wearing it when going with my friends to see Mamma Mia this past Sunday at the Pikes Peak Performing Arts Center. I never get tired of that musical apparently. It really is good, and I was impressed at how good the cast was in this touring company version of it. Everybody else I went with liked it too, which is not a surprise. Afterwards, some folks went home, but Jeremy and Melissa and I stayed out and went drinking at Jack Quinn's Irish Pub just a few steps away. It was a 'school night', but I just didn't care and realized I'd pay the price the next day - so 5 beers later, I was feeling pretty damn good. And amazingly, this Monday I didn't feel as horrendous as expected. Tired, yes, but not nearly as hungover as I should have been. Yay!
And in one last bit of reporting, I have been working with Bradley-Morris, Inc. What's Bradley-Morris, Inc. you ask? Well, it's a company that specializes in placing separating or retiring military officers into corporate America. That's me! They had a 2-hour seminar last week about just how they work, what you can expect, and to answer any questions people had concerning them. My 'agent', Justin, and I have talked a few times since then, and basically I'm stoked about how things are progressing. In June and July, I'll be headed to some hiring conferences, one in Chicago and one in San Diego. At these conferences, the interviews are already scheduled and planned out, so it's not as you might be thinking, like a giant convention or something. They have hiring conferences all around the country, but with what I'm interested in doing, Justin seemed to think Chicago and San Diego will be the best bets for successful matches at that time. These are regional conferences, so basically going to Chicago and San Diego means I'm hoping for jobs in those general regions. San Diego would of course be awesome, as it covers all of California and the southwest. Chicago is definitely a region I wasn't certain about, but thinking about it, I would definitely be up for giving Chicago a try. The unfortunate news I learned though is that Colorado Springs/Denver and San Antonio/Austin are both primarily military/defense-driven economies, and frankly, I don't want to work in those industries anymore. I'm not shutting myself out of those completely just yet, as if the right opportunity comes up, I will consider it, especially if I can stay here. But that will remain to be seen. So who knows, I may find myself either back in California or perhaps learning a new lifestyle, Chicago-style. That's a whole lotta speculation in this paragraph, admittedly. In the meantime, I am confronted with the foundation-level tasks of creating a resume, compiling references, creating a 'Hobie Barnes is wonderful' book with all my OPRs, decorations, etc in it, and just getting myself competitive to be hired. Which leads to a question to all you out there: if you have some jobs opening up where you work, no matter the industry, hook a Hobie up and let me know!
Oh yeah, on a 24 Note - how freaking good has this season been so far? Jack kills Curtis! A suitcase nuke takes out Valencia (what happened to Six Flags Magic Mountain?)! The ultimate bad-guy overseer from last season was Jack's Brother! Jack is REALLY pissed at his brother! Wayne Palmer sucks as a president!
9 January 2007 Breck Overnighter (T-234)
I'm back again - just in time for another snowstorm! Yep, that'll make it 4 storms for 4 weeks. Lucky us in Colorado!
Okay, again, not planning on writing all that much but I did want to catch you up with what I've been up to. Like I mentioned, we had another snow storm (not a blizzard, though...) at the end of last week. I'm actually getting quite used to these, although driving in them has yet to become fun. I can survive and not crash my car (knock on wood!), but navigating your car on a road of ice has yet to increase its appeal for me. But I digress. On Friday night, I got all bummed out and mopey after dinner. Enough about that! But on Saturday, I hung out with Jeff and Susan and Jeremy (Jeff's roommate) and we went to dinner and hung out at Jeff's place, playing Guitar Hero II. Good times. Before going to hang out with them though, I had come to the conclusion that I wanted to do a two-day trip up to a ski resort. Having the Colorado Ski Pass has quite a few perks, in addition to the obvious unlimited use of Breckenridge, Keystone, and A-Basin skilifts. Namely, you get some serious discounts on lodging. I finally decided to take advantage of this perk - so off to Breckenridge I went, as while I toyed with the idea of going to Keystone instead, I ruled that out because later this month is SnoFest, the huge military snow weekend up at Keystone. I found out I could get a room at the Great Divide Lodge on Sunday night, so I took it. I also used a pass on Monday, so I was set to not have to go to work then.
So on Sunday morning, I drove up the back way to Breckenridge, via Highway 24 and Highway 9. It had just snowed on Thursday and Friday, but I figured that the roads would be somewhat clear. Well, I was mostly right, all the way up to Fairplay, Colorado (which is what most people here think South Park is based on, btw). At that point (which is about 20 miles away from Breck), the conditions turned quite ridiculous. First off, the roads were covered in packed snow and ice, which makes a drive very interesting. But to make it more interesting, the wind picked up quite a bit, and kicked up all the snow, causing what the local news here calls "Ground Blizzards". They ain't kidding, folks. There were times when the kicked-up snow completely enveloped the car, reducing the visibility to nothing. I was not even sure I was staying straight on the road. Freaky. Then the road heads to Hoosier Pass, and it's all uphill - fortunately that stressful drive went without a hitch, but it was a bit scary. Then you reach the pass and head down the other side, and it's all switchbacks and slow-going. Anyways, I made it to Breckenridge, with quite a bit of adrenaline used but fortunately completely safe.
As for my skiing adventures, it was pretty fun - it was nice to be able to take it easy and not feel I need to rush it all into one day. The first day I had a few misadventures though - namely my skis got caught in weird angles at the top of the skilifts, with the first time being because a snowboarder's board lodged on top of my skis - I got stuck with my skis making an obscene V with my legs - meanwhile I stopped moving forward, and sure enough, the lift chair I had just pushed off of came from behind and slammed me right in the back, knocking me flat onto my face. Ow. I'm still surprised I don't have a giant bruise there. I got up, a little ego-bruised, but whatever, I didn't get seriously hurt or killed, so yay for me! The next time that happened, I didn't end up falling over or getting knocked over, but I ended up with my arm hooked around the lift chair bar and having it drag me a bit until I could get myself on proper footing. The rest of that first day though, I enjoyed skiing the Blue runs, and being pretty confident on them. I even skied a Blue-Black run, my closest run-in yet with a true Black Diamond run. I will ski one of those this season, perhaps this month. That night at the hotel was uneventful, except getting upgraded to a pretty large room because they had oversold and also locking myself out of my room, with no ID and no shoes on, after putting the room service tray outside. Lame. On Monday, I had another good day of skiing, although near the beginning of my day, I almost got killed by a snowboarder who was going super fast in the slow base zone - and she claimed I cut her off. Bitch. I didn't get knocked down though - that would have been her. Heh heh. After that though, I seemed to forget how to ski, which was very annoying. I think I just got a little freaked out by the nearmiss, and after a few runs, I was good again. So with that long winded story over, finally, I wrap up my entry tonight with some pictures and some hopes for a decent snow storm that I will get home before. And if I don't update before Sunday night, remember 24 is back on - and word is, the end of the first 4 hours has allegedly one of the most mind-blowing moments in 24 ever. I have resisted reading spoilers, but my mind is definitely racing trying to determine just what is so shocking. Can't wait!
Pics from Breckenridge Overnighter, 7-8 Jan 07

A panoramic pic of Park County from the Nat'l Forest Visitor's Center - talk about a Winter Wonderland!

The view from my hotel room at the Great Divide Lodge

A closer view of the Mountain

looking at Village Road

The room

Looking off to the Rockies from one of Breck's many runs

Closer view of the mountains

Looking back up one of the Breck runs

And there's bundled up me - it was COLD!
3 January 2007 Less than 8 months! (T-240)
Yep, less than 8 months away from my transition to being a Civilian. Yikes!
So today was the first day back to work, and my motivation level was at an all time low. Okay, I take that all-time-low business back. But it certainly was hard to try to care about the job. But you know I did, anyways!
So what's there to talk about? Not much - my previous 5-day New Years weekend pretty much blew. BORING. So in a weird, masochistic way, I actually was looking forward to going back to work, for at least the social interaction aspect of it.
But I did have to check in, see how you all were, and share with you an observation I made while having cereal this weekend. I went and splurged and bought Cocoa Krispies - I don't allow myself the Krispies too much, as it really isn't that great for you as a breakfast, but sometimes, Hobie gets what Hobie wants. So into the shopping cart it went. Anyways (none of those first two sentences really help set up the observation...sorry) I was blissfully having my 4th bowl of Cocoa Krispies (perhaps THAT's why it's not really all that healthy for me...?) and I begin to actually look at Monsieurs Snap, Crackle and Pop on the front of the box. And I actually look at their faces and what Snap and Crackle (in particular) look like they're doing. I nearly spit out the cereal because I started laughing so hard. Here's the front of the box - you take a look: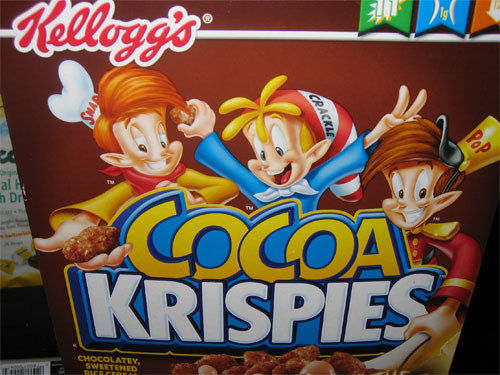 Take a moment.
Okay, here's what I see: Snap looks like he's holding a piece of shit in his hand. Look at his face. He seriously looks like he can't believe he's holding a piece of crap in his hand. And good ol' Crackle there is the exact opposite - he literally looks like he's reveling in the whole Shit experience - he's cheering Snap on & holding his own piece of crap right near Snap's head. What a dick. And so twisted. Anyways, I didn't let this observation ruin my Cocoa Krispies. They're so damn tasty and addictive. But I did have to turn the box around because it was just so damned disturbing.
Anyways, that's my observation for the day. Just had to share. Now I can throw that damn box out!
Oh yeah, I got an email from Amazon.com today - I had signed up to be alerted by email when Twin Peaks: Season 2 was finally available for purchase or pre-order. And finally, day of days, Season 2 has a sales date - April 10, 2007! It's only taken say...6 years for Season 2 to come out after Season 1 came out on DVD. REEEEEDiculous.