MOVING SALE
EVERYTHING MUST GO!
Below are pictures of the items that I am interested in selling. I've put a small description of the item as well as a proposed price.
1. Both the 27" RCA TV and the small TV stand beneath it are for sale.
TV ($50) - SOLD
TV Stand ($10)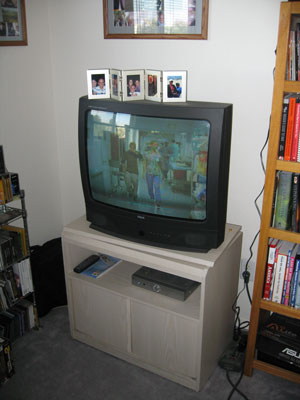 2. Small Wicker Table with a removable top so you can store stuff inside it.
Table ($5)

3. This is a picture of one of the end tables. There are actually two of these tables plus a matching low, square (3' x 3') coffee table available.
3 piece set ($50)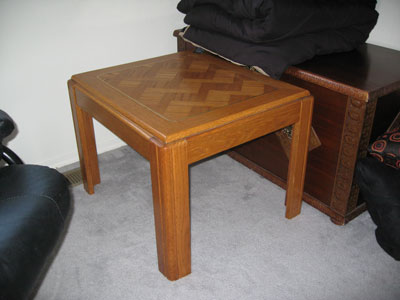 4. A Leather Chair (adjustable and reclinable) with a matching Leather Ottoman
2 piece set ($50) - SOLD

5. A wooden endtable with an attached lamp and a magazine rack below the table
Table ($25)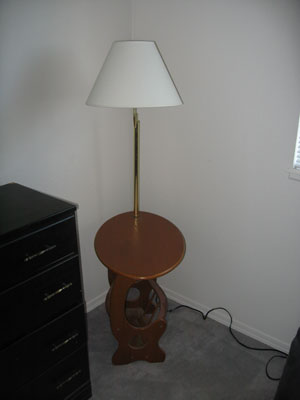 6. An espresso-colored dresser of drawers - older and a little worn but still in good condition
Drawers ($25) - SOLD
7. A metal and glass dining room table with two glass, retractable leaves at each end. Also included are 4 leather backed metal chairs.
Table and 4 chairs ($250)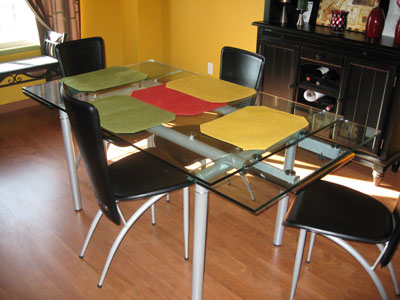 8. A marble-topped metal entry table.
Table ($40) - SOLD

9. A really cool decorative wall mirror.
Mirror ($40) - SOLD!!!!!

10. A marble-topped bench that matches #8 above.
Bench ($55) - SOLD

11. A two-piece black stressed-wood hutch with a lighted top-section, and lots of storage space.
Hutch ($250) - SOLD!!!!!

12. A rollable Bar unit with opening doors on both sides and drawers up top, as well as storage pockets on each side.. Topped with a beautiful marble surface as well.
Bar AND bar chairs ($200) - SOLD

13. Small black wooden telephone stand with small drawer and cabinet.
Telephone Stand ($25)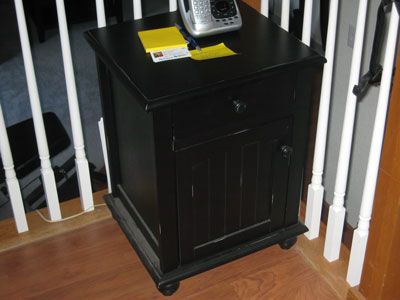 14. Awesome sleeper sofa couch (queen size bed inside) with plenty of seating room and lots of pillows. Very comfortable.
Couch ($200)
15. Black wooden coffee table with lower table-size shelf, two large storage drawers, and a leather-topped surface, great for sitting on as well. Also comes with two matching wooden trays suitable for setting drinks in.
Leather Coffee Table ($200)
16. Tall, long dark mahogany entry table with 3 drawers and perfect for an entry table
Wooden Entry Table ($75)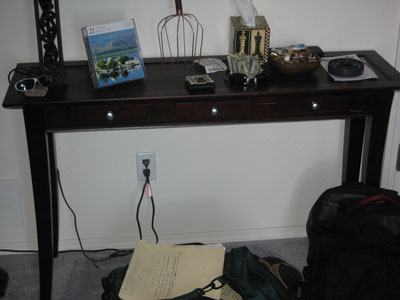 17. Black wooden table suitable for being behind a couch or sofa, but can be used as pictured below as well. Lower shelf for light storage and two drawers.
Black Wooden Sofa Table ($150)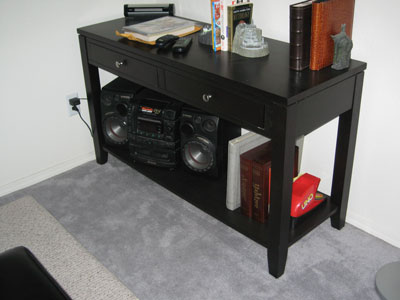 18. Outdoor Furniture set - Round clay table with metal base, 2 black metal rocker chairs, 2 black metal with thatch seat rocker and rotation
Outdoor furniture set ($200) - SOLD

19. 57" Toshiba rear-projection widescreen HDTV (model 57H83). In perfect condition and lovingly taken care of by yours truly for the past 3.5 years.
57" Toshiba HDTV ($500) - SOLD!!!
20. Entertainment Center with shelves for storing various electronic components. I removed the glass door so it is as it is.
Entertainment Center ($5)

21. Last but not least, a microfiber sectional sofa. The left section is a chaise lounge which reclines. The right section is a two-seat sectional with the end seat being a recliner as well. Again, this is a very well-cared for sofa!
2-piece Sectional Sofa ($250) - SOLD

You can call me or email me at hobie@hobiebarnes.com to let me know if you are interested in any of these items. Tell me soon though, as I will be selling them via garage/moving sales by the end of the month.