In September of 2007, I not only separated (honorably) from the USAF, I also moved from Colorado Springs out to New York.  Technically, I moved to West New York, NJ, but close enough.  Definitely a major transition though, upending my life entirely and heading out to a job and city where I pretty much knew no one.  Well, I did meet my roommate, Shelly, when I househunted earlier in the month, but I had no idea if we'd connect.  Luckily, we did, and those 16 months I lived there were quite amazing.  I wrote about this trip in the course of my previous website incarnation here, but here's all the pictures in a convenient gallery methodology.
Waypoints!
September 18, 2007 – Colorado Springs, CO to Omaha, NE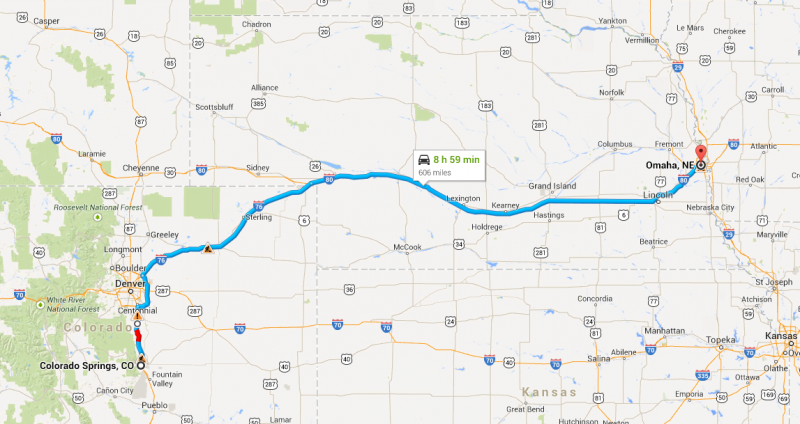 As you'll see in the pictures, there was absolutely nothing to see during this drive. Â Once you left the Denver area, it was FLAT.  There's a long stretch where the highway, I-80, thru Nebraska doesn't turn at all.  I remember though the excitement did come as I got to the eastern half of Nebraska, as that's when a huge system of storm clouds descended and horrendous rain ensued.  Made the last part of the drive ridiculously tense.  Luckily I got to my hotel in Omaha and enjoyed a sigh of relief at some diner nearby.  Nebraska sucks.
September 19, 2007 – Omaha, NE to Joliet, IL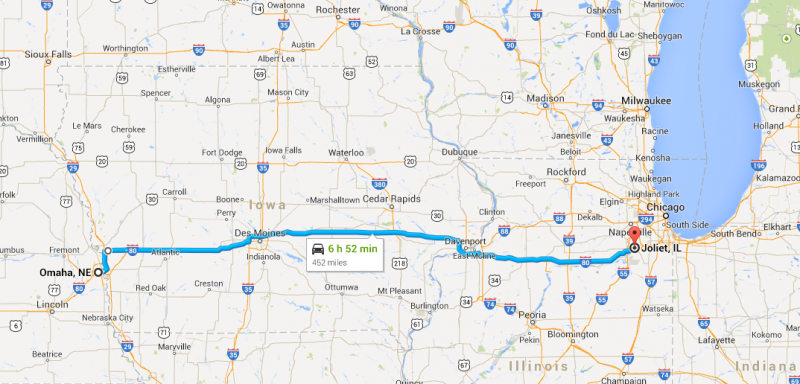 The endless march across the country continued this next day along I-80 through America's Heartland.  It's a bleak place and I am thankful all the time that I live in cities.  I am certainly not a rural kind of guy.  This wasn't as long a drive as the previous leg and at the end of it, I was going to get to have dinner with my pal Jeremy.  He had left the Springs a few months earlier to head out here so it was a really fantastic chance to catch up with my best friend at the time.
September 20, 2007 – Joliet, IL to Cleveland, OH

A very uneventful drive, with pretty much nothing to look at.  Even when skirting Michigan and being so close to Cedar Point, still nothing to really see. Where I stayed in Cleveland was far away from anything of note, so yeah, it was a big blah.  At least the next night I knew I was going to be meeting up with Sgt Jenny!
September 21, 2007 – Cleveland, OH to Philadelphia, PA

I was reunited with Sgt Jenny!  I got to Philly later in the afternoon and after checking into my nice hotel in the city center, we met up for dinner.  We first walked around South Street, which is a thing kind of like Melrose (it seemed at the time), then she drove me to an authentic philly cheese steak place where she left me to fend for myself and look like a jackass.   I emerged safely, without turning into this:
That commercial cracks me the fuck up.  We then arranged to meet up again the next day for some more sightseeing before I left for Atlantic City…..
September 22, 2007 – Sightseeing in Philly with Jenny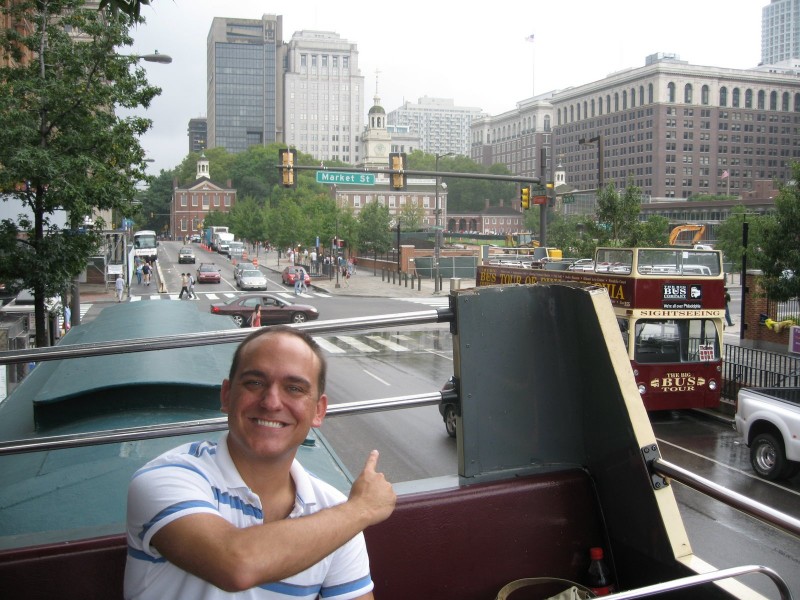 The fun continued the next morning!  We walked around the main central area where everything is conveniently piled together, from the Liberty Bell, the place where the Constitution was signed, and more.  Also did a bus tour where we were nearly killed repeatedly by low-hanging trees. GOOD TIMES!!
After that, we said goodbye and it was time for me to move on to Atlantic City, which fortunately is not all that far from Philadelphia.
Sept 22, 2007 (continued) – Philadelphia, PA to Atlantic City, NJ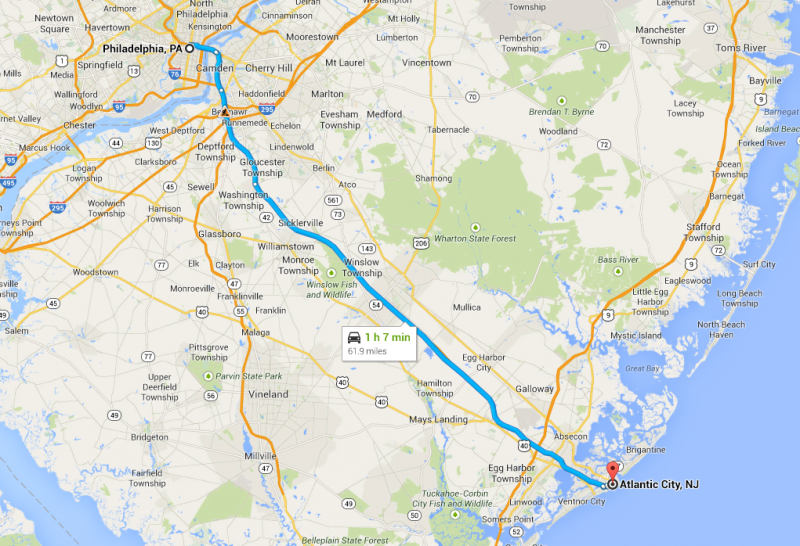 This was such a nice and easy drive!  And even better it was towards a casino!  I had figured that I didn't know when I'd next get to Vegas and I'd always wanted to visit Atlantic City.  Well, let's say the itch has been scratched!  It's fine enough as a place, but it's no Vegas.  I was only there for one night and didn't leave, but it was strange to notice that everything is spread out.  I was staying at the (then) Trump Marina which is near absolutely nothing else.  So I never saw the Boardwalk or Park Place, but I did get to gamble and that, my friends, is the important thing.  It was very nerve-wracking though to realize that I was thisclose to starting the next chapter of my life, as the next day, I was going to be arriving at West New York, NJ and my new home!
September 23, 2007 – Atlantic City, NJ to West New York, NJ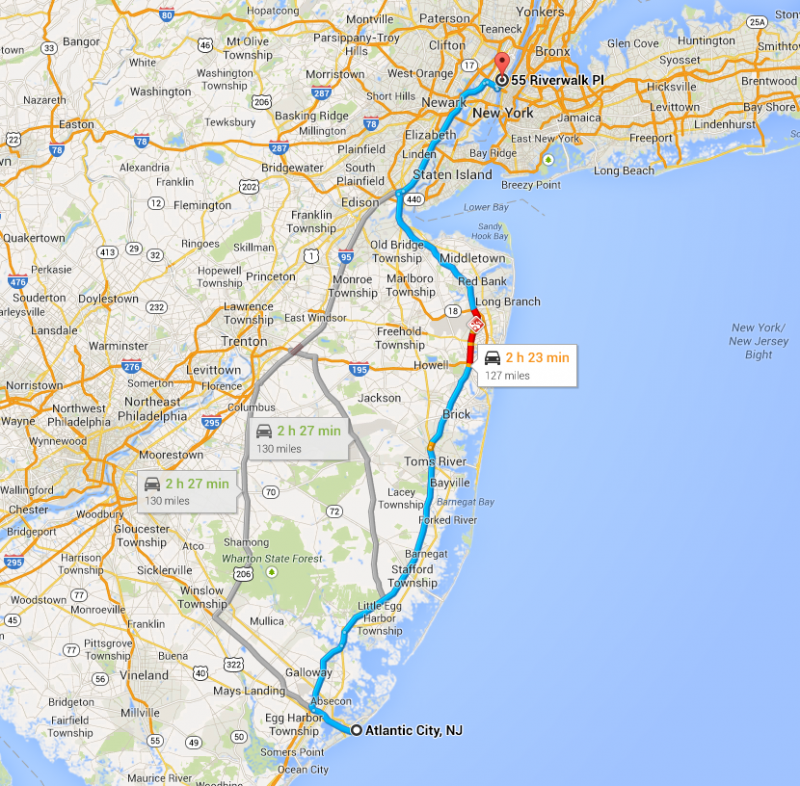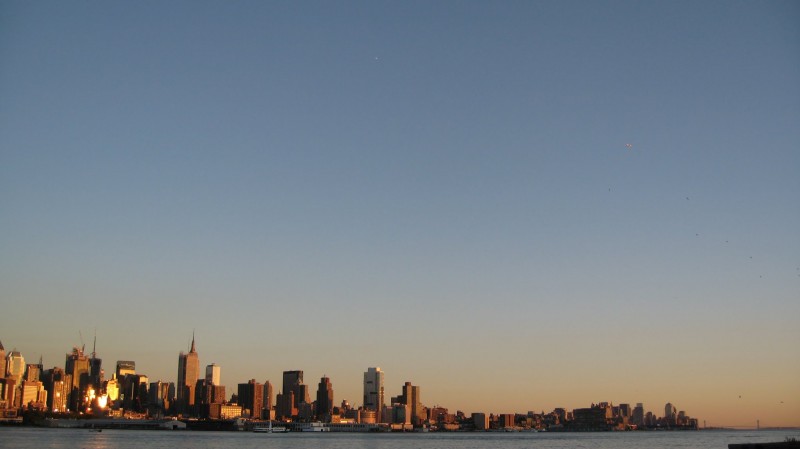 This drive was a little more interesting as I got my first taste of the shit show that is New Jersey highways and the Turnpike (aka I-95).  UGH.  As soon as you join the Turnpike, suddenly everything becomes intense.  Lots of cryptic exits, highway exits that seemingly make no sense, and just TONS of roads all seemingly going the same direction.  I ended up calling my new roommate Shelly as I was getting close as it just got nuts.  Of course, to get to West New York, you have to take the I-95 to 495 up to the very last point before you'd enter the Lincoln Tunnel, which is also a very exciting experience.  One wrong or missed turn, and you're going to Manhattan!  But I did make it okay (thanks, Garmin!) and was insanely stoked when driving that first time on River Road north towards my new home and you looked east over the Hudson and see the glorious view of Manhattan staring at you.  That's where my life was going to be!!!!  I can still remember exactly how excited and how scared I was, not knowing if this was going to be one epic shit show or what.  Fortunately, it turned out pretty great, including having a wonderful roommate to live with for the first 16 months there.  Shelly really made my NY life truly special and was key to being a support system and encouraging me for getting out there.  It was a special period of time and I'll never forget it.