BB18 Episodes 9-11 – July 10-14, 2016
<– Previously, a newbie gets HoH
A crazy week of working late and then having not one but TWO Hollywood Bowl concerts in a row led to me not really being able to indulge my Big Brother weakness this week.  It does seem that the theme for the first half of the season will be who emerges victorious in the battle between Frank and DaVonne though, right?  Frank's behavior to others certainly made things uncomfortable for some in the house early in the week, and DaVonne was not having it.  She's been pretty astute as to observing who's playing whom, but I'm not sure she has the weaponry needed to be able to beat Frank.  As it is, Frank has the only team with all 4 members still and those members are fairly dominant.  He's effectively safe from eviction until the teams are dissolved, and by then, it could be too late.  So while I am firmly on team DaVonne, it's gonna take a LOT to make it past Frank.  After all, he was known as Frank the Tank in his season, and that was for a very good reason:  he's unstoppable.
Up for Eviction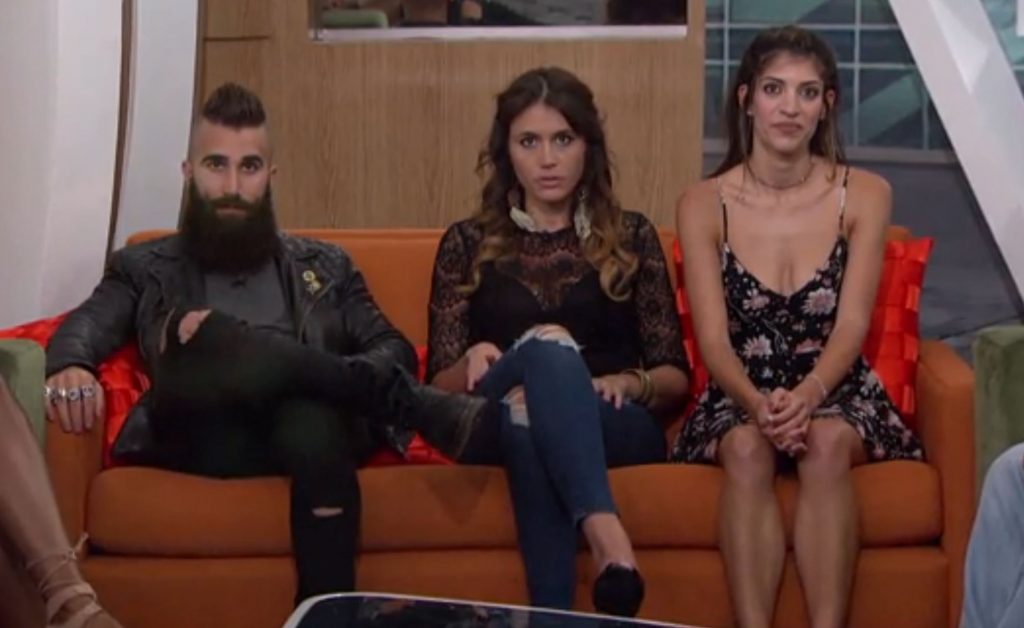 It seems this week, with Bridgette being the HoH, she was basically Frank's puppet.  And his target was ultimately Tiffany.  Then we had the whole thing with him being quite abrasive towards many of the women in the house, who were NOT having it.  But DaVonne did seem to learn from her previous season, and that lesson is to keep that emotion locked down.  She did seem to try, but it also seems clear that Frank picked up on DaVonne's shifting emotions and was getting the pieces aligned to take her out next week.  In the meantime though, Tiffany was openly Frank's target.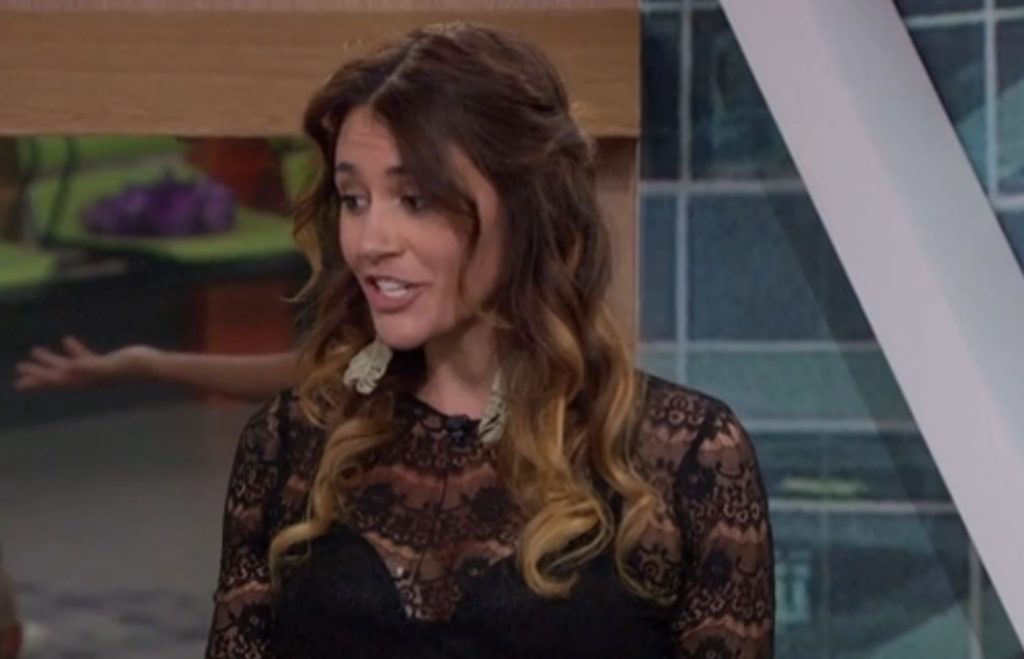 DaVonne and crew seemed to be on board until they weren't, and decided that Frank's plans didn't need to go forward after all.  So they rebelled, keeping Tiffany.  All know full well that Tiffany's only target at this point will be Frank, so yay, let's just let her do that.  Suffering the consequences during this eviction night were a few people:
Frank and Bridgette:  Tiffany gave them an earful in her speech-to-stay, calling Frank a 'dictator' and Bridgette 'his Cabbage Patch Kid'!  Harsh, girl.  I'm not sure if she realized she wasn't going home as that's kind of hard to overcome and say you didn't mean.  But likely, she doesn't give a rat's ass about if Frank or Bridgette like her.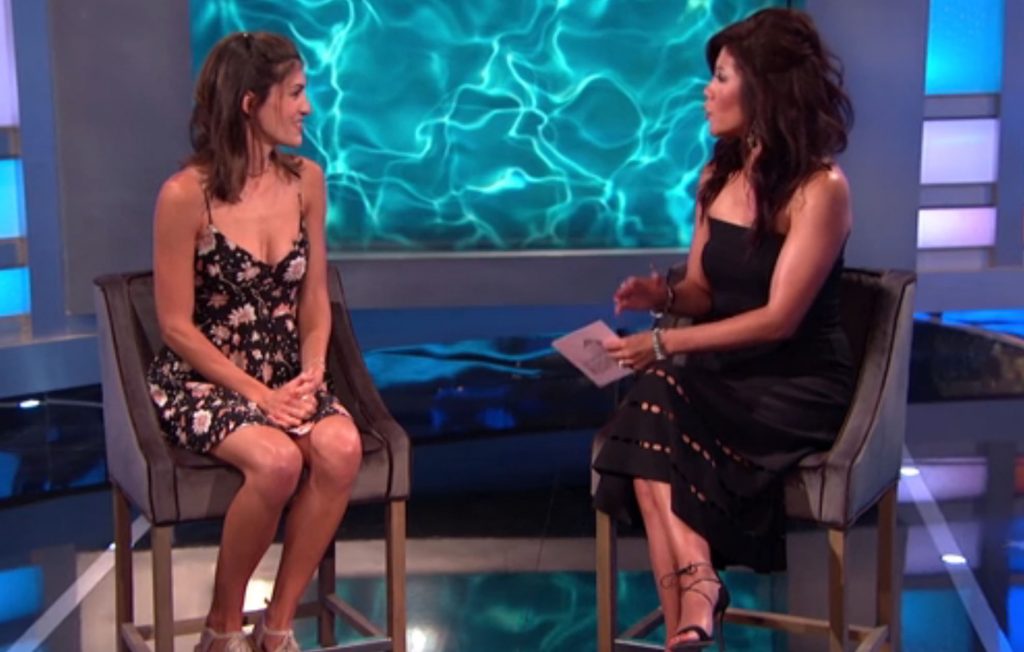 Bronte:  Sad face.  Nobody seemed to be thinking Paul was a good target (why is that, again?) so Bronte got the shaft.  She was one of the only newbies there who really was trying to play the game with a sense of numbers and strategy. Alas, the other newbies were for the most part, morons.  Bronte was so classy and upbeat with Julie and in her departure, which was utterly charming and boded well for her possible re-entry into the game, as she didn't blow up anybody's game.  I'd frankly love to see her come back in.
The New HoH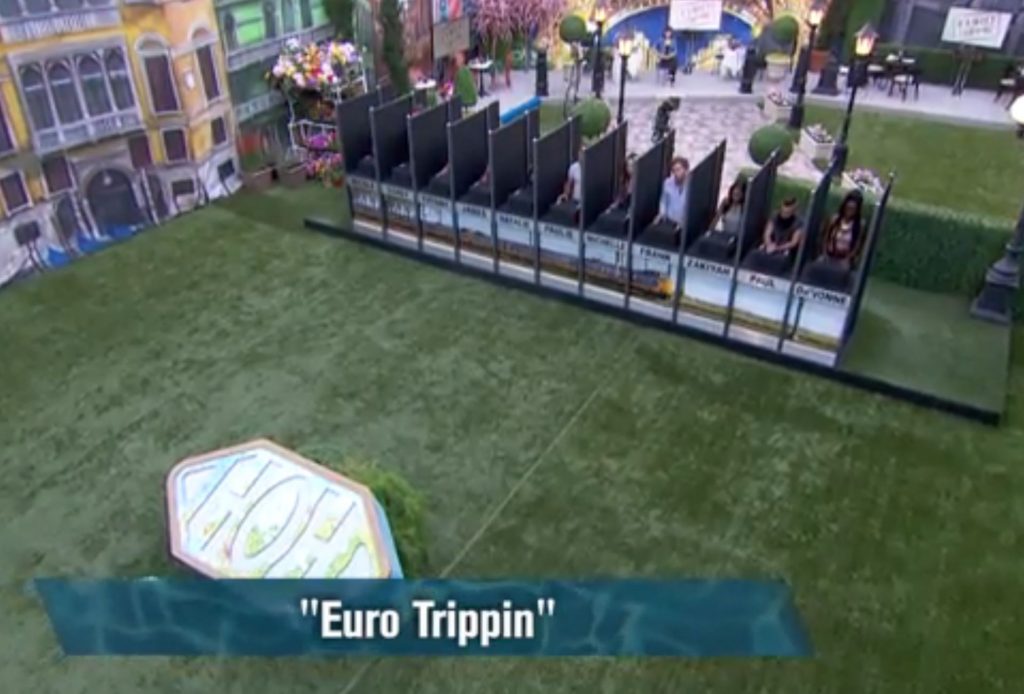 With Frank reeling from having been "flipped on," many of the houseguests were perhaps hoping he'd be off his game during the HoH Competition.  Alas, their hopes on that being a reason for his downfall were misplaced…as he ended up lasting the entire contest.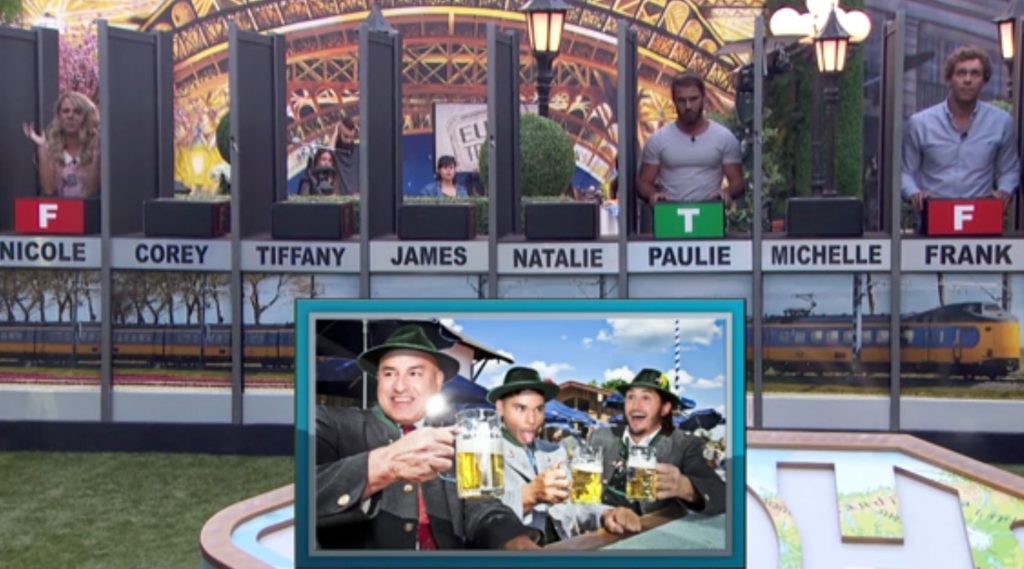 And in the end, the winner, oh-so-hot Paulie, is also a win for Frank, as the team concept means Frank (and Michelle & Bridgette) is safe this week, yet again.  I'm kind of tired of both the team concept and the Roadkill concept.  Anyway, Paulie guessed True to the question of whether there had been clouds in the picture below, and Paulie is our first 2-time HoH!  LOOK AT THAT T-SHIRT.  Man, it seems if you want, you can get buff as all fuck in that house.  Paulie is quite fantastic nowadays, and honestly kind of trumps his brother Cody in the attractiveness department.  So who is the winner here?  Us.  What the hell am I talking about?
Status & Standings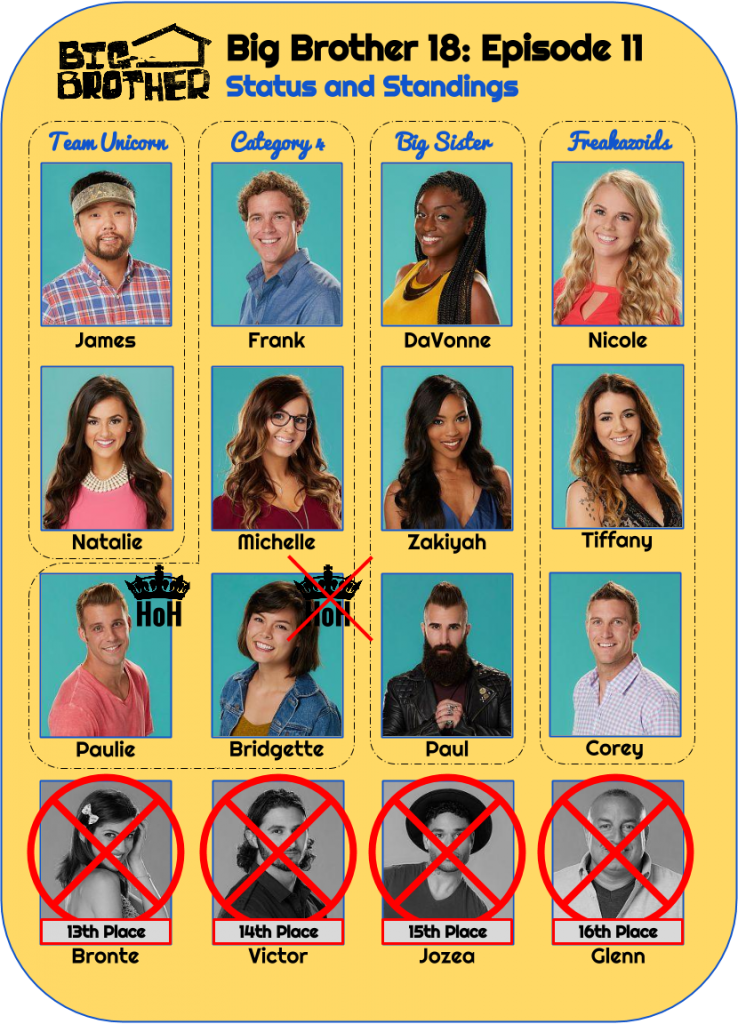 Outgoing Head of Household: Bridgette
Nominated for Eviction:  Paul, Tiffany, Bronte
Evicted:  Bronte (5-4 vote, with Corey, Zakiyah, Michelle, Nicole and DaVonne voting her out)
New Head of Household:  Paulie
Frank is safe yet again this week, so who's headed out this week?  Not really sure.  I think Paulie is more likely to be on DaVonne's side of things, but that doesn't really matter now.  Both Frank and Bridgette are safe, so the easy targets are gone.  Is Paul a real target?  Or will Frank get the edge in the war and get Paulie to target DaVonne?  Honestly, that's what I think is gonna happen.  I'll be sad if so, as DaVonne's commentary is fucking glorious.  I loved when she immediately knew that Nicole was full of shit when Nicole got called out by Michelle that she was part of Frank's plan to evict DaVonne.  Honestly, all this backstabbing is why I got rid of all the alliance blocks in my diagram above.  I'm not sure who is actually still trusting each other!
Next, the Houseguests Consider that Maybe Keeping Tiffany Wasn't a Good Idea? –>