BB17 Episode 33 – September 6, 2015
<–Previously, Meg & James Are Wiped Out
I don't know if I would classify Austin, Liz, and Julia's actions up till this point of the game as idiotic, but in the heat of the moment and knowing what might happen, Steve isn't totally off-base in his assessment of what Austwins are thinking. Â The Austwins have done a great job of getting this far into the game and not one person took an effective shot at them to break them up. Â Somewhat surprising then that Austwins would think that would continue on and on even at Final 6, which basically this episode is all about: Â their fantasy getting shattered.
Figuring Out The End Game
Vanessa is seemingly bulletproof. Â She's survived so many alliance betrayals, many caused by her own hand, and yet people still think she's on their side. Â At this point, I think Vanessa really is firmly on Steve & John's side as the numbers are objectively better for her there. Â Yet Austin is here asking for Vanessa's advice about if it makes sense to win the upcoming HoH or rather throw it and Vanessa subtly encourages that he throw it to avoid being a bigger target with blood on his hands. Â Oh, Austin.
Here's Vanessa when she & John are talking about if Steve will have it in him to turn on Austwins: Â this is her "that bitch BETTER!" Â face.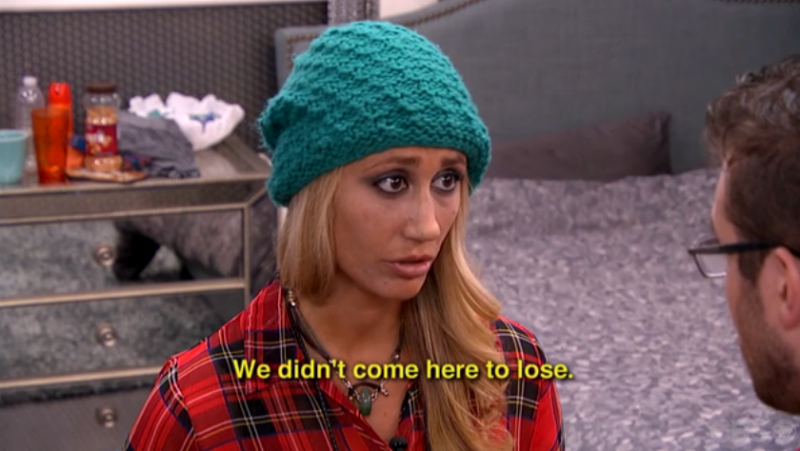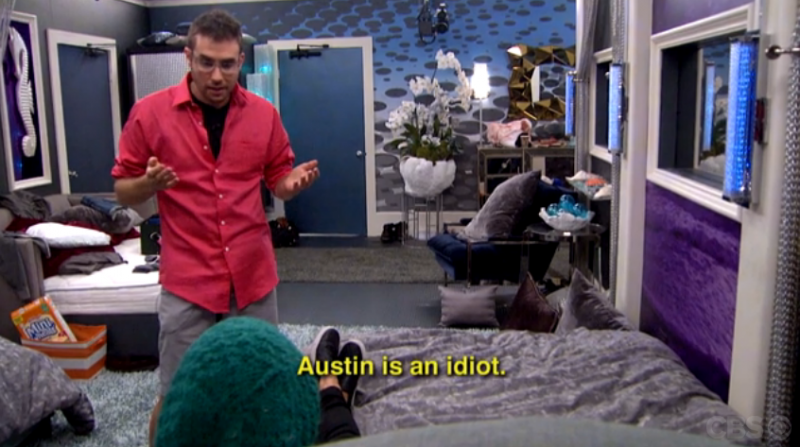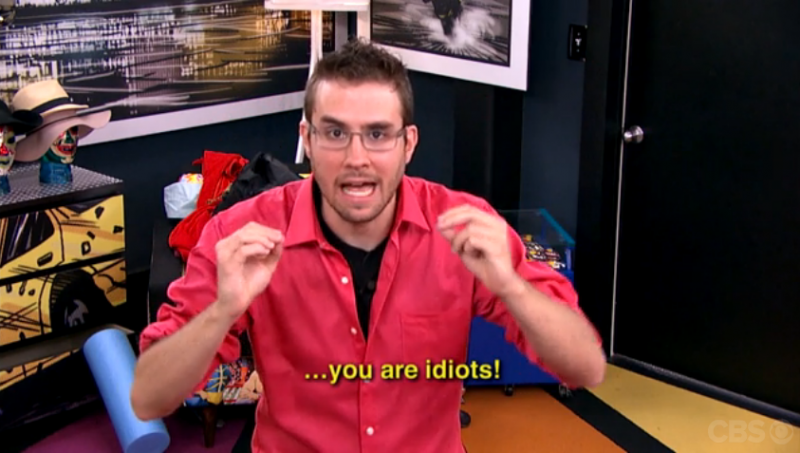 When Vanessa and Steve also discuss the upcoming HoH, Vanessa tells him that Austin is thinking of throwing the HoH. Â Steve can't believe Austin would do that and Vanessa urges Steve to STFU about it as it's imperative that Austin definitely throws it to improve their game. Â It's now the time for big moves and the Austwins are too powerful to leave alone now. Â For context of the images above, Steve's last image is in relation to the fact that the Austwins targeted James last week instead of John – keeping John around gave Vanessa & Steve numbers while James would've been more of a wildcard.
The BB Baseball HoH Comp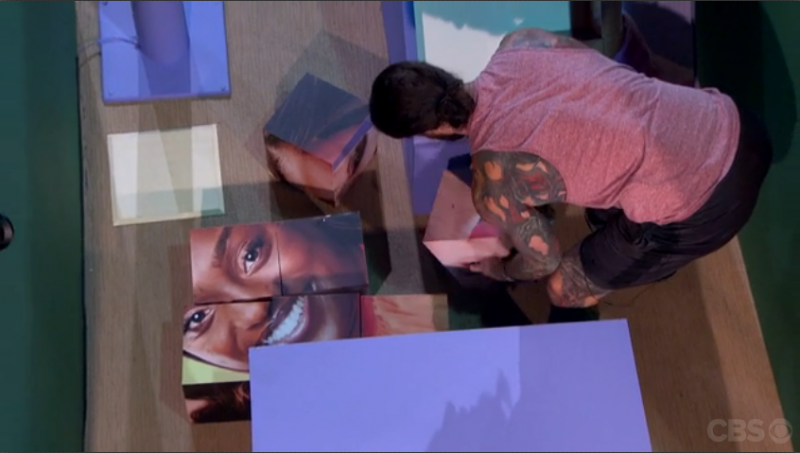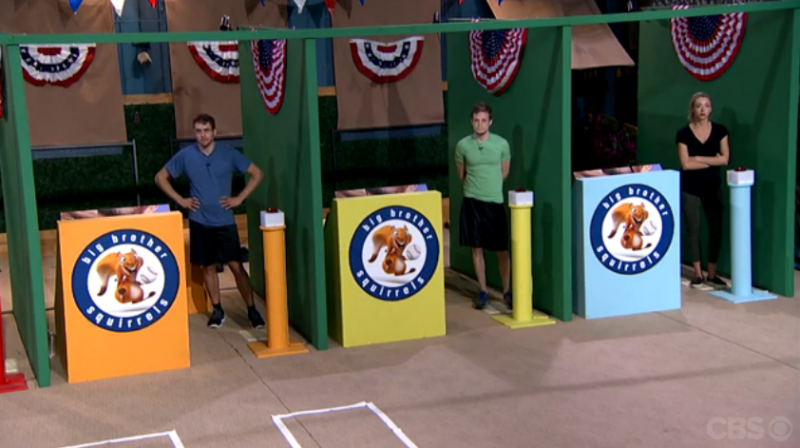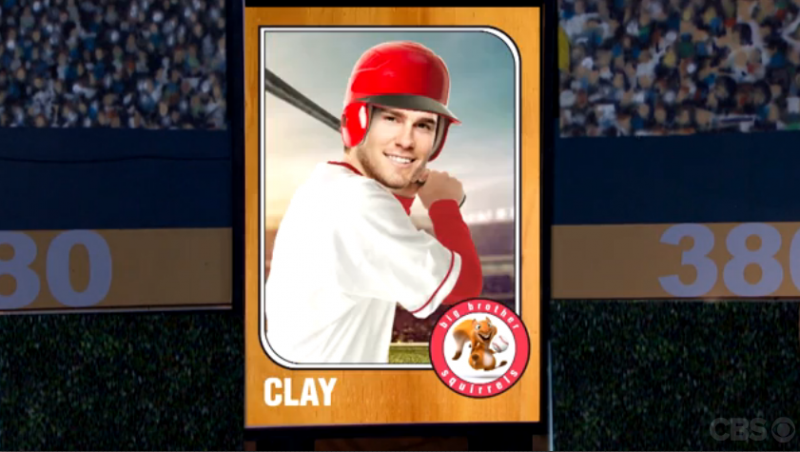 The gist of this competition was that a super fast scroll of BB17 players in baseball cards would go by – once you realized which BB17 houseguest wasn't represented in the images, you then had to build a 4×3 puzzle image of that houseguest from 12 cubes. Â Whoever puts the puzzle together last is eliminated.
Vanessa & Austin are eliminated in the first 2 rounds, with Vanessa not realizing it was a 4×3 grid and thinking it was 3×3. Â Austin just was too slow, and it doesn't seem he threw the comp as it looks like he was trying.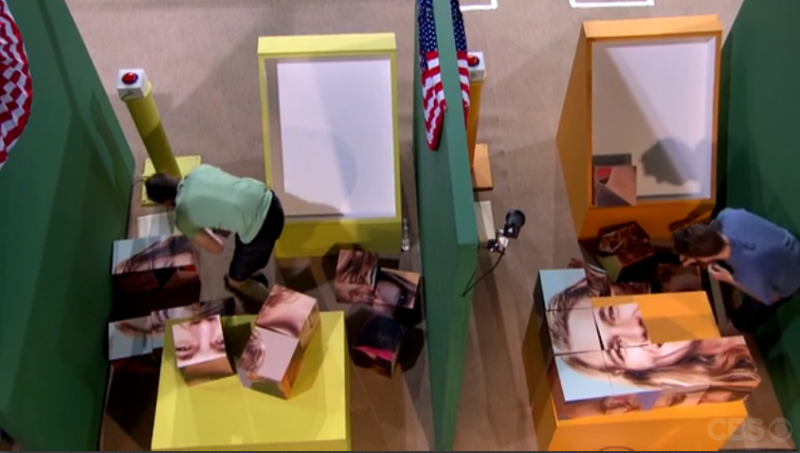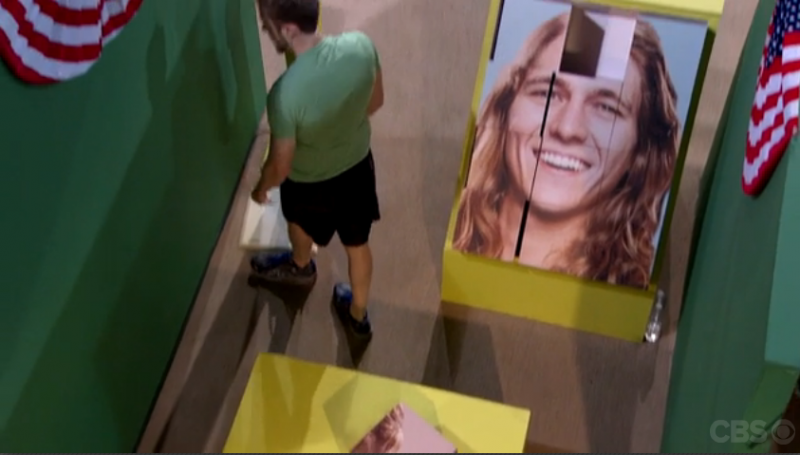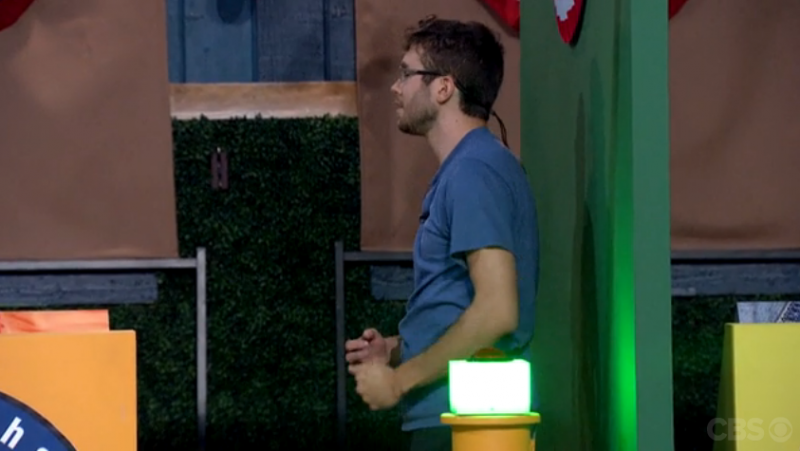 Julia, the Austwins' last hope at safety (unbeknownst to them), was eliminated next, leaving John and Steve to duke it out for this week's HoH. Â Austwins were dying at the fact that John could win, but comforted that at least Steve could win. Â D'oh! Â Since John is part of all the secret scheming, he knows that he's safe with Steve winning HoH and wants to have the chance to compete in next week's HoH, so while he could have won HoH (shown in the 2nd pic above), he intentionally throws it and lets Steve win.
Steve wins HoH and I immediately think that all that strategy talk was extreme foreshadowing of Steve relenting and not turning on the Austwins. Â I was wrong.
The Discussions & Dealmaking Begin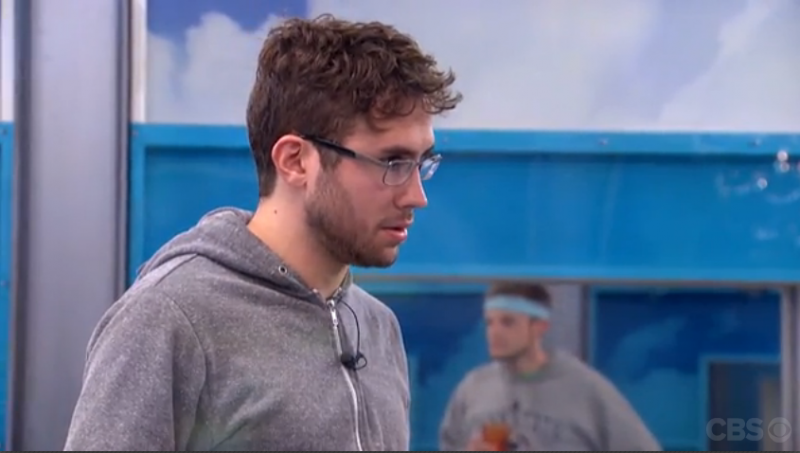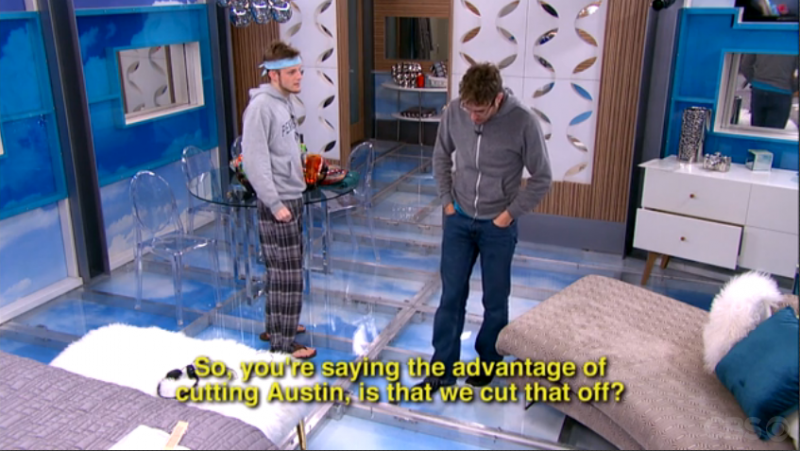 John, who is likely Steve's closest ally and friend here, even over Vanessa, points out a big reason why Austin should be targeted: Â if Austin remains and a Twin goes, there's a strong possibility that Austin & Vanessa could reunite. Â That thought hadn't dawned on Steve before and it definitely seems to inform the remainder of the conversations with other houseguests.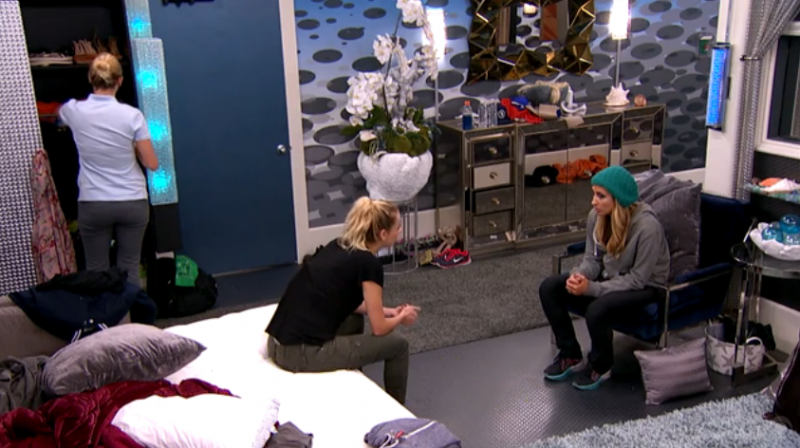 With Austwins, Vanessa is still sitting pretty. Â They don't know she has a deal with John & Steve and Vanessa ends up playing them like a fiddle. Â She tells Liz & Julia that she doesn't think Steve will put John up since they have a tight bond, even over the Scamper Squad (btw, that line isn't getting drawn on my diagram as it's not a real alliance). Â So now the Twins realize that in all likelihood, one of them is going up, if not both.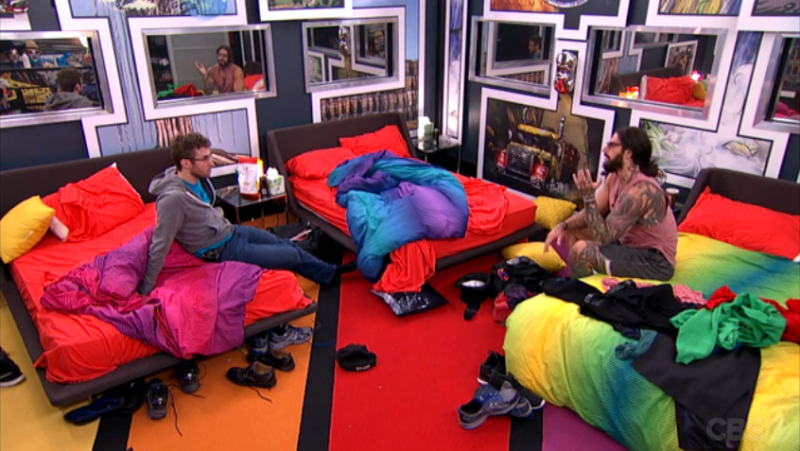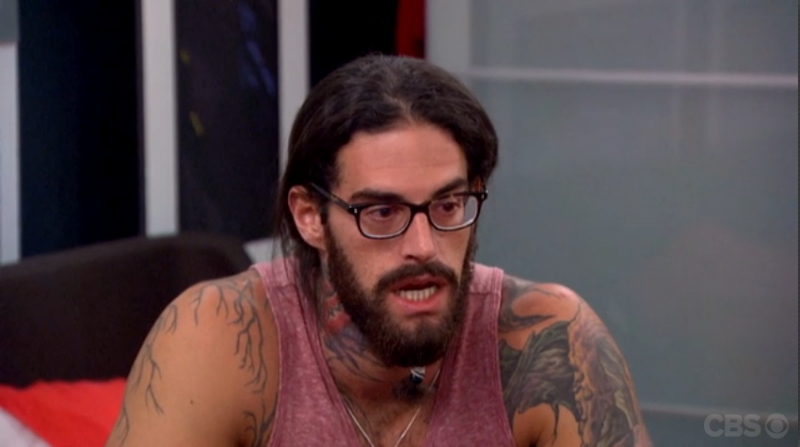 Austin wisely realizes he needs to make some deals if he wants to stay in the game. Â He hopes to be able to save the Twins while doing so, but if it comes down to it, Julia might have to go. Â Austin does his best to convince Steve that Steve will be safe and Austin will protect him from whatever remaining Twin is there next week if they can agree on a deal now where Austin isn't nominated/targeted. Â Steve isn't too keen on an Austin deal though remembering that Austin did put Steve & John up next to each other despite saying he wouldn't.
Later, Austin tells Liz that likely Austin is safe but John and a Twin may go up. Â Something doesn't jibe right with this after Liz & Julia discuss the fact that "Austin is safe" which makes no sense. Â Both wonder if Austin made a deal for himself.
Humorously, when Steve gets his HoH room, Liz & Julia are ALL OVER HIM. Â John can only sit back and laugh.
Sigmund & Freud (The Best Part of This Season)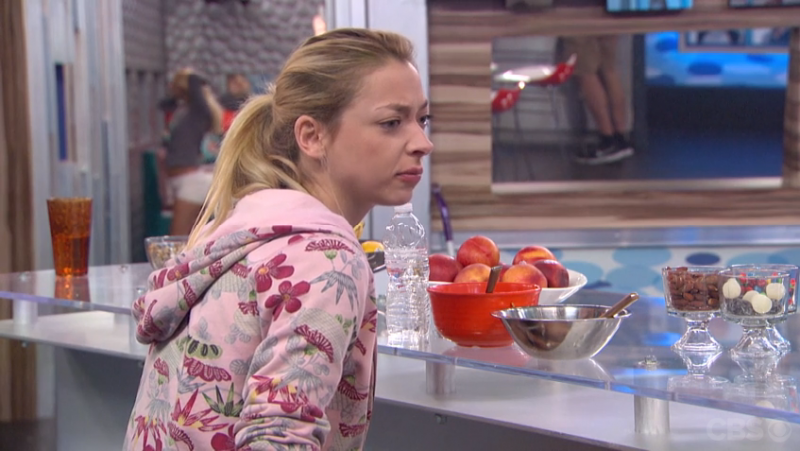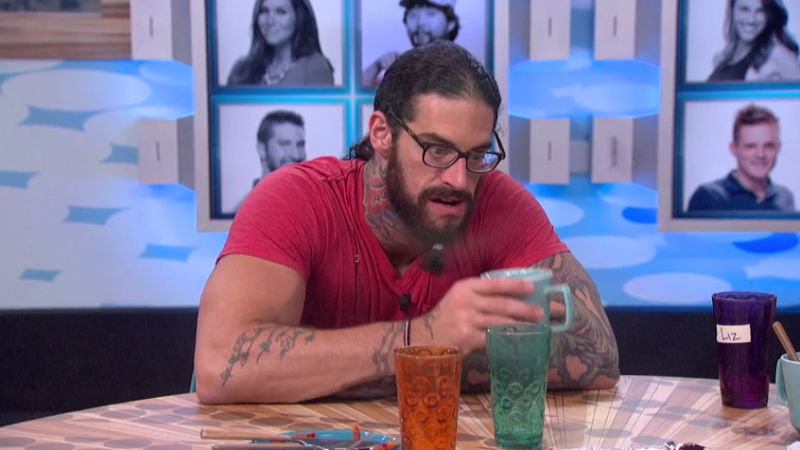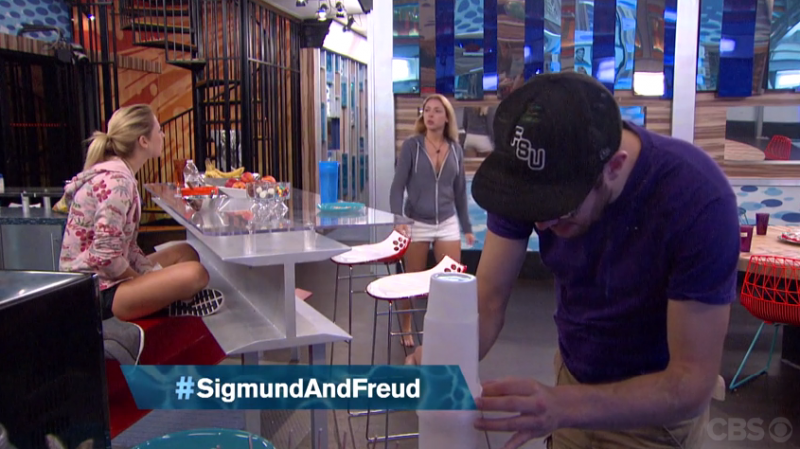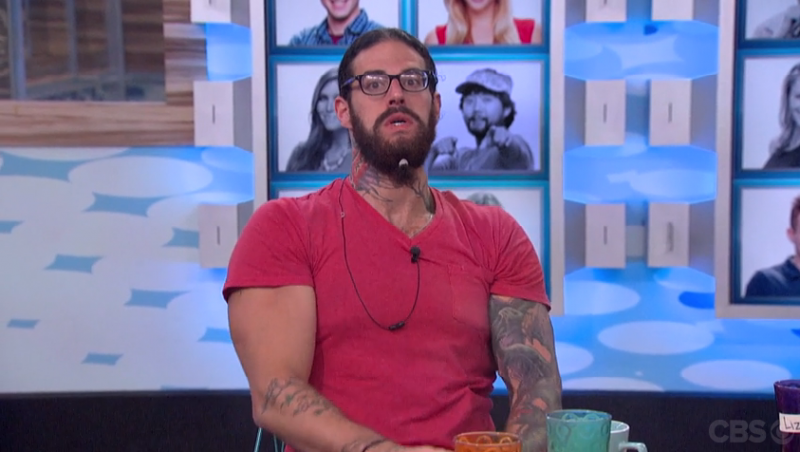 This whole moment really is punctuated by Austin's amazed reactions at what Julia is saying as she & Steve talk about Steve's love for his mother. Â Steve mentions he loves his mom in a mom way, not in a Sigmund Freud way. Â Julia is confused at first and Steve asks if she knows who Sigmund Freud is and she's like, yeah, of course, the lion trainer guys who have a show in Las Vegas. LOLOLOLOL! Â Suddenly my mind went blank because I knew that was NOT right, but couldn't remember. Â Then Liz comes back in and clarifies that it's Sigmund AND Freud and that's when I died. Â Also, when Austin was like, OMG – it's Sigfried & Roy! Â Best exchange of the season, by far. I would have titled this post that…and may still change it to that if I like that better than Steve's rant about Idiots. Â But the original headline does kind of capture every aspect of this episode, doesn't it?
Girl Talk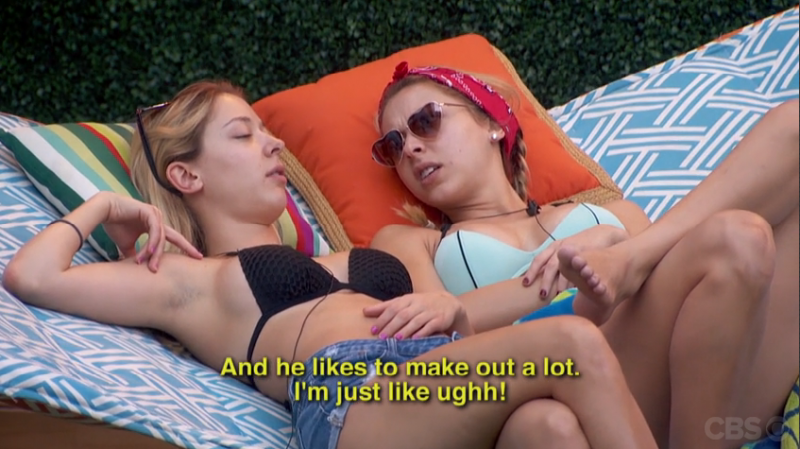 I'm really not sure Austin & Liz are going to be a thing much after Big Brother 17 ends.  It seems Liz is fine with a little action here for the moment, but it seems that Liz's tolerance of Austin's hair, body, and behavior is wearing thin.  Julia is of course over it as she always has been.  I almost feel bad for Austin.  Almost.
Anyway, Time to Shatter Illusions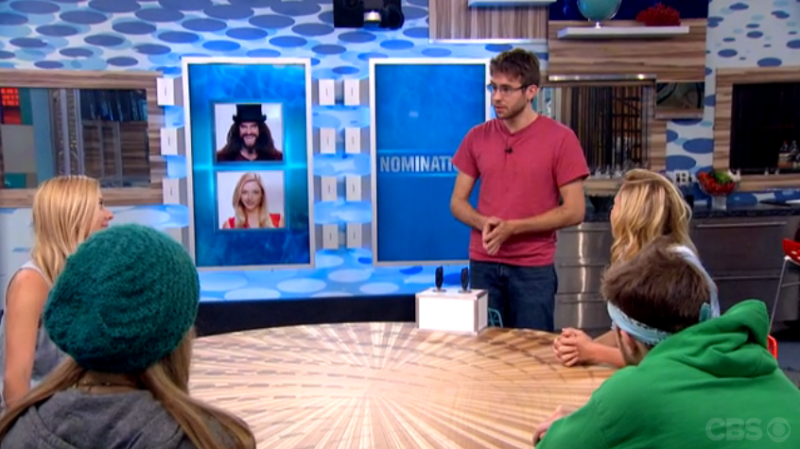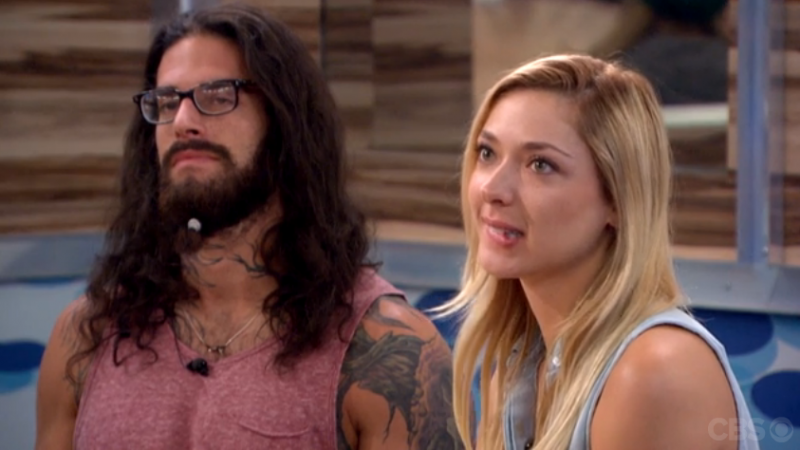 Vanessa and John needn't have worried this episode. Â Steve was fully up to the task of targeting the Austwins and does so just as planned, leaving Julia off the block. Â That was a focused decision as Julia is by far the weakest member of the Austwins and unlikely to win Veto compared to Liz or Austin. Â With these nominations, Liz & Austin, who have a higher likelihood of winning, can use Veto on themselves, but that means the replacement nominee still comes from Austwins: Julia. Â It's hard to see how John or Vanessa are in any danger this week, even if Veto is won and used by any combo of Austwins. Â But you never know with this group! Â Maybe someone thinks it's a good idea to backdoor Vanessa now, or John looked at me funny and needs to go. Â We'll see.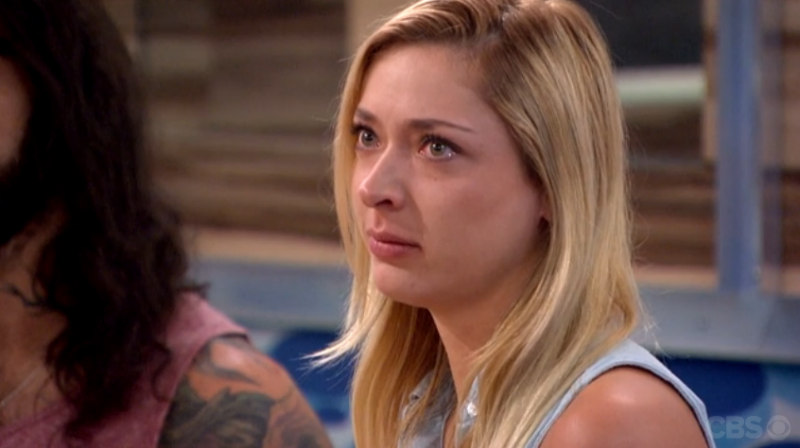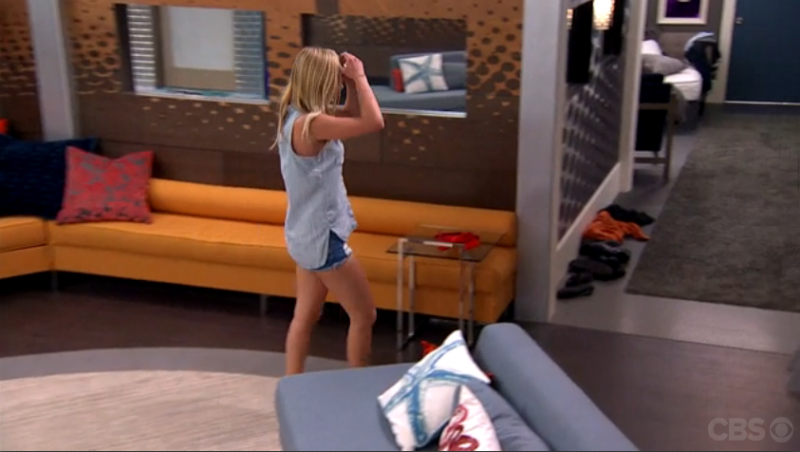 Steve is very charming in his nomination speech (props to Steve!) but it doesn't prevent Liz from crying anyway. Â I think she's thinking that Austin wasn't lying and that she is the target and it's been a LONG time since she was ever in danger of going home. Â It's all new feelings of powerlessness! Â I don't feel bad for her but I imagine after the fairly secure path the Austwins have had for so long, this is hard to deal with. Â Well, now you know how all the others have been feeling for so long!
Status & Standings: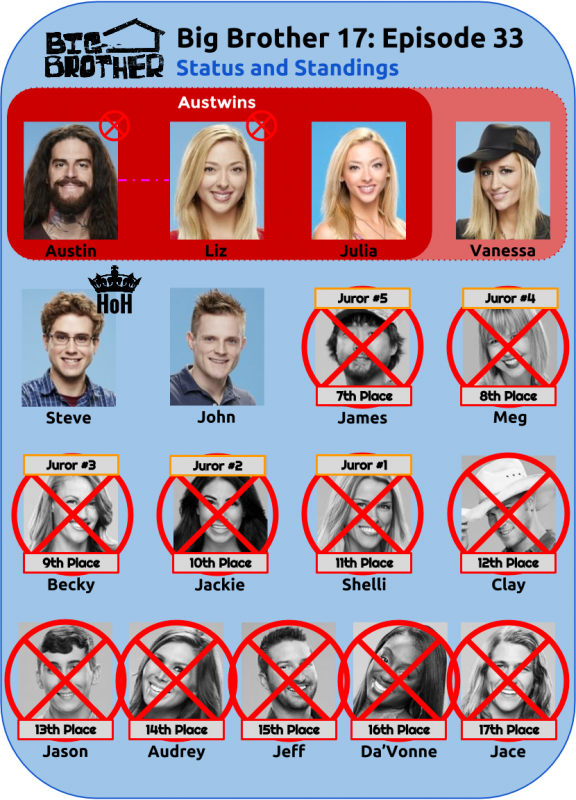 Outgoing Head of Household: Â Liz
New Head of Household: Â Steve
Nominated for Eviction: Â Austin & Liz
I love that the power has continued to bounce back and forth between the centers of power, keeping this season still fairly entertaining. Â If an Austwin had won HoH this episode, it would have made for a fairly standard week of Steve or John going home, with possibly Vanessa going up in a bad Veto turn. Â Now, finally, the Austwins look to be getting broken up – after that though, for me, it's fair game all around. Â Julia may not really "deserve" to win, but she's still done more than Victoria ever did last season, so I'll be happy with a win from any of these remaining 6.