Leg 2: October 3, 2014
Yeah, this is my site and if I choose to have my featured image be all about the hotness of Adam's arms AND the ridiculously handsome Englishman who handed him the Express Pass, well, that's my prerogative! Â You all saw that guy though, right? Â Not nearly enough time focused on that, but I saw it, yes I did. Â Oh yeah, other stuff happened, and more of the chaff was removed from the roster of teams. Â Let's get to it!
Trading One Island For Another
Not nearly enough time spent in the Caribbean, but The Amazing Race isn't supposed to be a vacation for the racers, is it?  Although we're still in fairly modern and sophisticated environments, so it's not all bad!  Sometimes a season immediately drops racers into India or China, and it can be an immediate test for teams to see if they can hack it.  Going to England is not a challenge though, as you're still speaking English.
Detour Time in Jolly ol' England
First off, we go to Tower Bridge in London to get a clue to the race's first Detour! Â The Detour options included: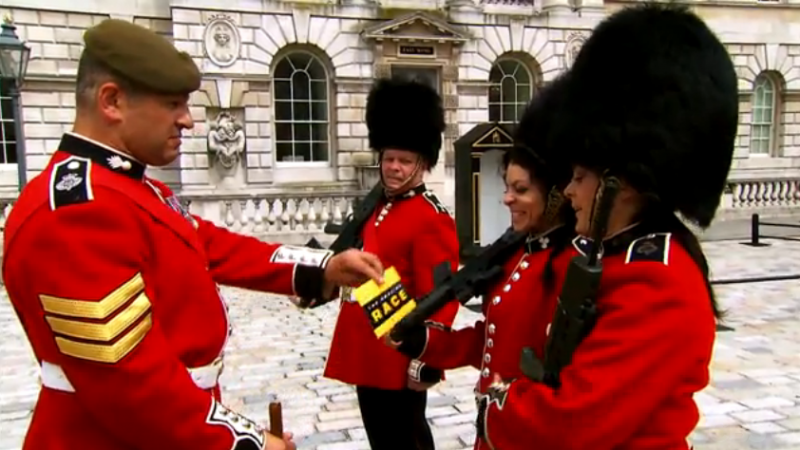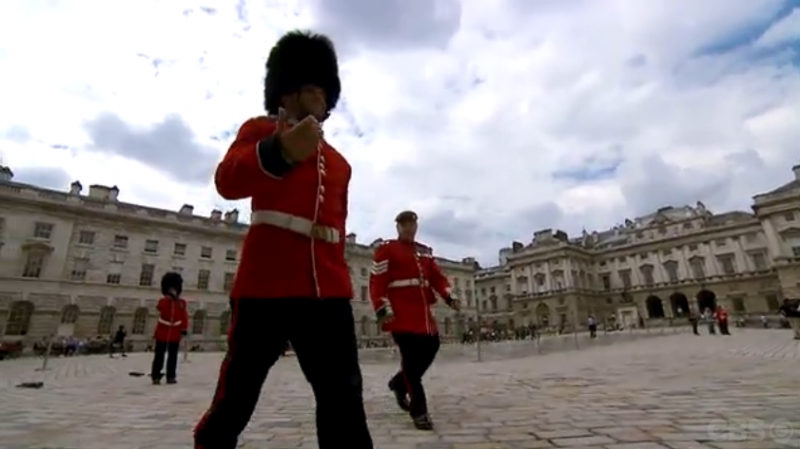 About Face: Â Put on a British military outfit and perform a military march and changing of the guard to the reviewer's standards. Â Don't fuck up.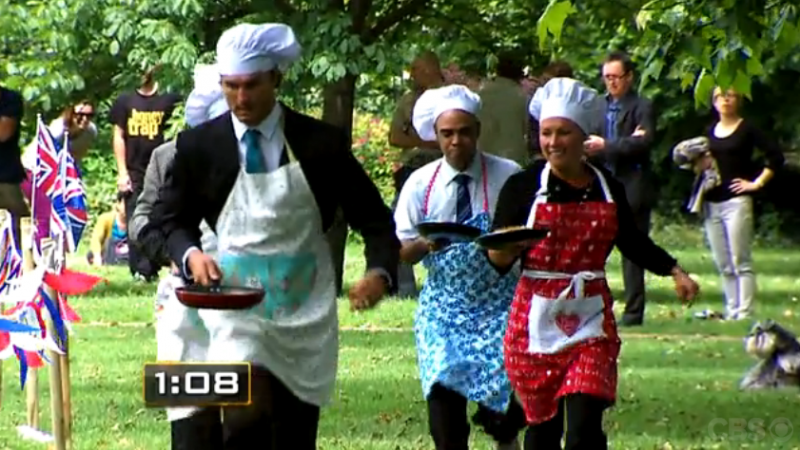 Pancake Race: Â Each racer must make a pancake in Victoria Square Park, then they must run around flipping that finished pancake in the griddle and finish their lap under 1:15. Â Hilarity ensues!
It was clear that Pancake Race was the better option to take on, as pretty much every team that went there made it out of there pretty quickly. Â Adam & Bethany were especially good at this challenge! Â Over at the About Face option, it was fun to watch the reviewer chew out those teams that kept fucking up; also seeing Brooke & Robbie drop the ball was a bit surprising especially since they got lapped by everyone who did that competition, even those teams that were on the second flight from St. Thomas. Â The real problems didn't come until the teams headed to Oxford though…
Punting Time in Oxford:
They all had to take a train from Paddington Station to Oxford, England. Â Once there, they had to make their way to Magdalen Bridge where the real fun began.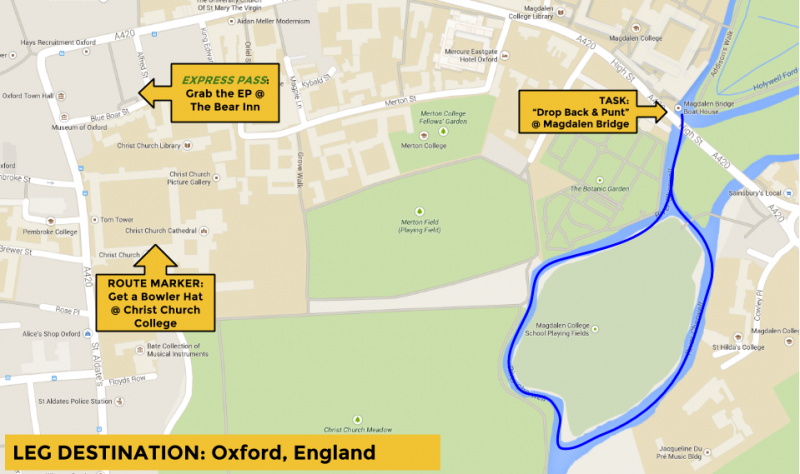 Here in Oxford, they had to take part in a task called "Drop Back & Punt", which required each team to get on a little boat gondola-style and navigate around this small island, making sure you had one person doing the pole-propulsion on the CORRECT end of the boat,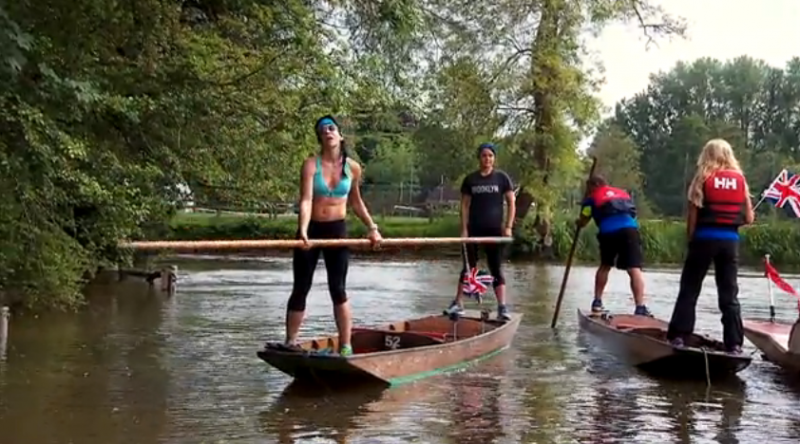 while the other was triumphantly waving the British flag on the other end. Â Easy enough, right? Â NOPE. Â Currents at the various river junctions proved to be problematic for those weaker teams, especially Shelley & Nici and Dennis & Isabelle.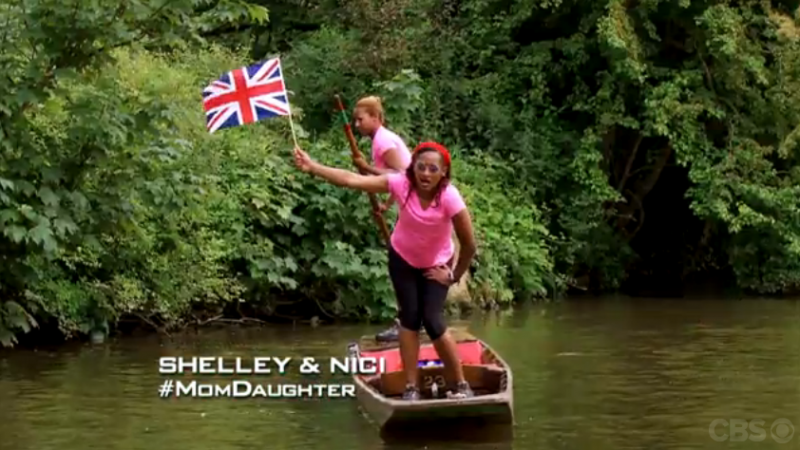 They both had problems fighting that current, but the hilarious anecdote that resulted in the episode's title was when Nici could NOT avoid going to the bathroom in the river. Â When you gotta go, you gotta go! Â I think we've all been there. Â Unfortunately for Nici, she was on a national television show and also in public, and at that exact time, another boat of random strangers happened to bump into them and observe, which cracked them up to no end.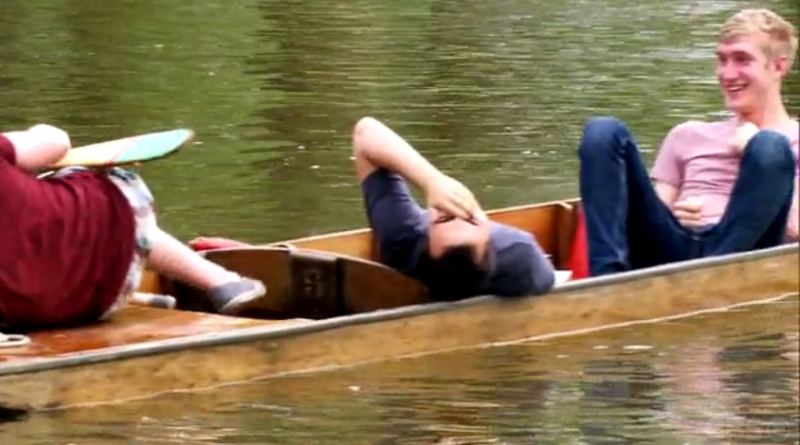 If Nici ends up winning, I'm sure she doesn't give a shit now. Hell, they didn't get eliminated so I'm sure she didn't care then either!
Hello to Our Old Friend, the Express Pass!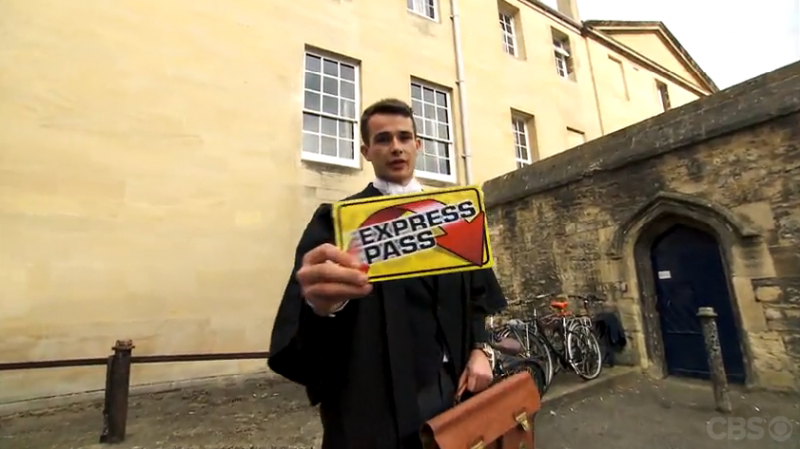 I had thought that "The Save" was going to replace the "Express Pass" this season, but ah ha (!), guess who's back? Â Instead of it being a reward for winning the first leg, it was an optional task to take on. Â Adam & Bethany were able to get the clue first from Mr. Bowler Man and knowing they were fairly ahead of the group, they went for it. Â Waiting for them? Â The ridiculously handsome English student at The Bear…. I wonder what kind of bar that is as The Bear certainly has other implications over on this side of the pond! Â 🙂
As for the Express Pass, I think this is a FAR more valuable prize to win over The Save. Â The Save only works if you have a disastrous race and it looks like in Misti & Jim's case, that likely won't happen. Â But with the Express Pass, you can use it pretty much any time you need to. Â That's a wonderful peace of mind to have.
Finding Winston at the Pit Stop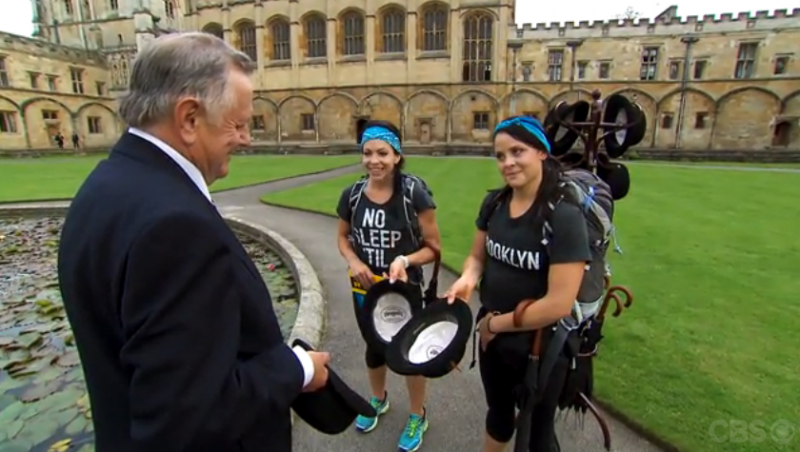 If you weren't out in front when you visited Mr. Bowler, then you really only cared about the clue found in the Bowler hat. Â Hilariously, Kym & Alli didn't quite get the hint and repeatedly bowed with their bowler to all of our amusement, waiting for a clue to be bestowed upon them. Â Finally it dawned on them that nothing was going to happen and glanced into the hat. Â Within, it was clear racers next had to find Winston Churchill's birthplace, which is Blenheim Palace in Woodstock, UK.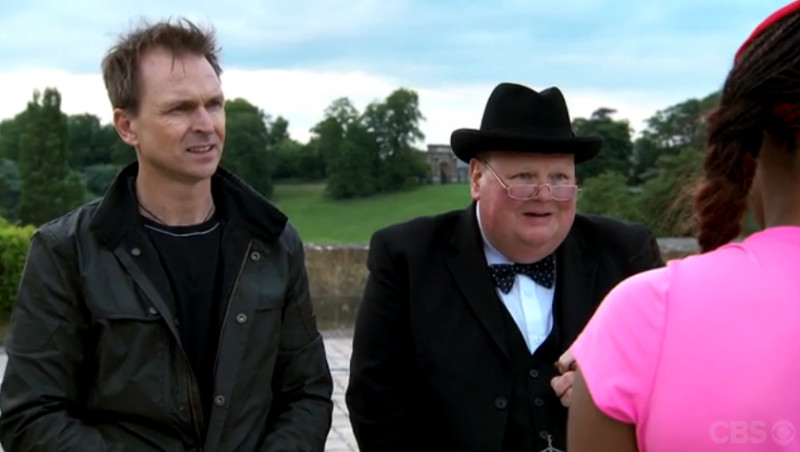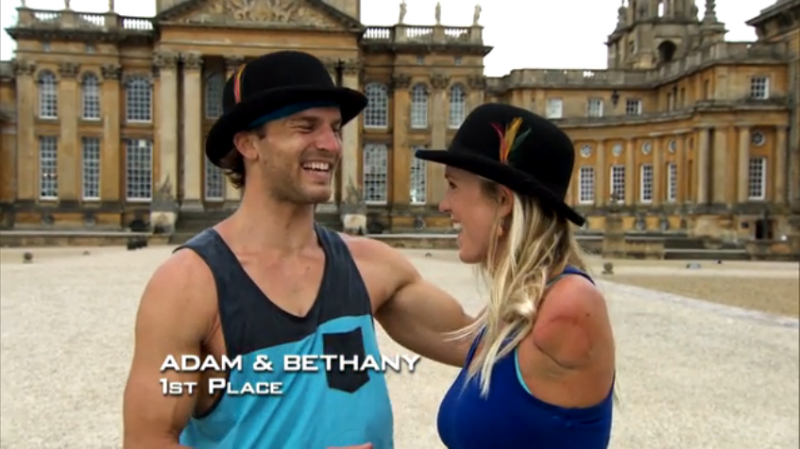 The race to get there wasn't very suspenseful until the very end, as Adam & Bethany managed to keep their healthy lead and won this second leg of Season 25. Â Of course power-couple Misti & Jim were disappointed their "perfect game" of all-wins has already been disrupted. Â I feel quite confident they aren't going to be anywhere close to matching or breaking Rachel & Dave's record from Season 20.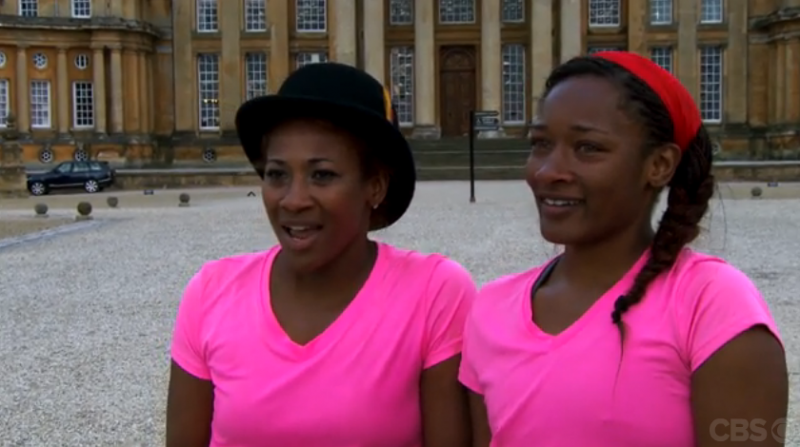 As for the "exciting" race to avoid elimination, the two weakest teams at the Punting were crying their way to the end, with Shelley literally dragging her exhausted mom Nici through the streets of Oxford to get the to clue at Christ Church College; similarly Dennis & Isabelle were sobbing their way through town but they were merely stumbling. Â Personally, after watching the bonus clips from last week, it was OBVIOUS that Dennis & Isabelle were never going to win this race. Â Sure, dysfunctional couples have made it far in the past, but those couples usually were able to race when they needed to. Â D&I were terrible at racing, and their interpersonal strife only made it worse. Â I was RELIEVED that Shelley & Nici remained in but I hope they can pull themselves out of the back of the pack as I actually like them a lot.
Leg 2's Finish:
Overall Standings for the Race:

Links for this Season: