BB16 Episode 30 – August 31, 2014
I couldn't help myself and had to feature good ol' Caleb looking kinda hot while also showing the HoH victor and the main gear being used in this episode to move the Detonators along. Â Poor Caleb still thinks he's got his own agency in determining what's happening, but let's be honest, yet again, about who is going to win this season: Â Derrick. Â At least Derrick let Caleb select the nominees?
The HoH Sloppy Slope is Resolved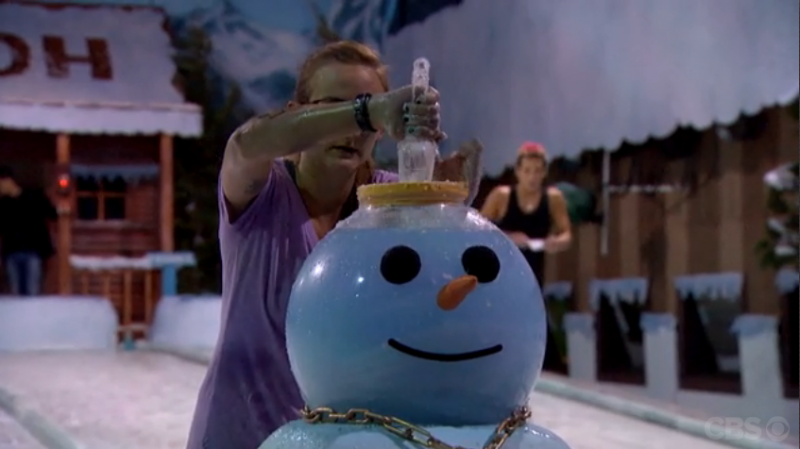 While Nicole really really needed to win this HoH to remain stress-free this week, we saw that she couldn't keep up with Christine or Caleb. Â  Derrick recognized he was nowhere near winning so he shifted over to filling up the $5K/5k Hollas snowglobe instead, handily winning that prize/punishment combo. Â Nicole and Frankie valiantly kept competing (was Victoria able to transport any of the fluid?) but it was clear this was going to be between Caleb and Christine. Â I'm sure the editing made it look closer than it was though, as it was fairly clear Caleb was ahead of her as his liquid was all the way up to the top.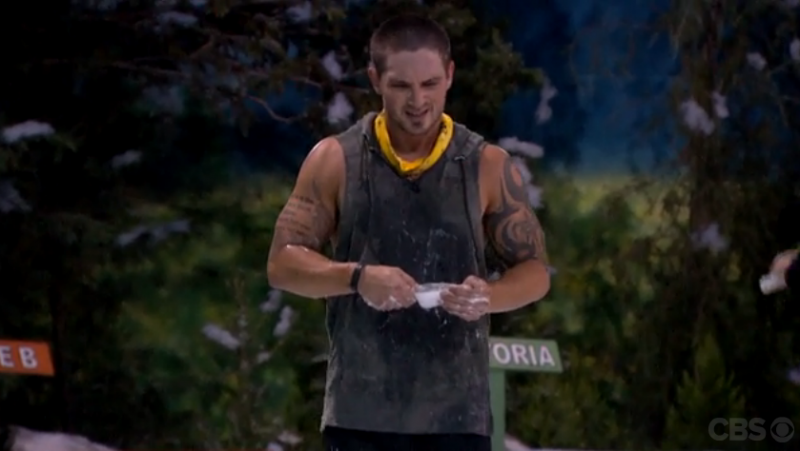 Caleb pulled out all the stops to get this victory, so it's well-deserved. Â Hell, he put his body through the wringer to win as after the competition, he had to get hauled into the DR to get some medical attention, emerging later with a leg brace for his knee. Â Poor guy.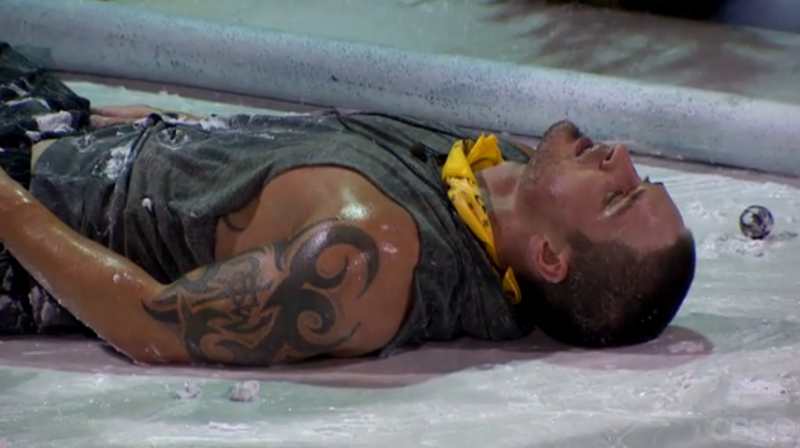 Tangent Time:  Even as this season of Big Brother winds down and enters the phase where it becomes pretty predictable, I'm glad to still have Caleb hanging around, as well as Cody.  These are the 2 objects of lust that I called out from the get-go and I'm thankful they've managed to eke out continued survival in the house.  These 2 still can show how hot they are and it IS appreciated.  I had to laugh at my early posts about this season and my unabashed attraction to them.  Who knew they'd still be here???  I really didn't expect that to be the case.  At least Zach is gone!
Frankie Is Over It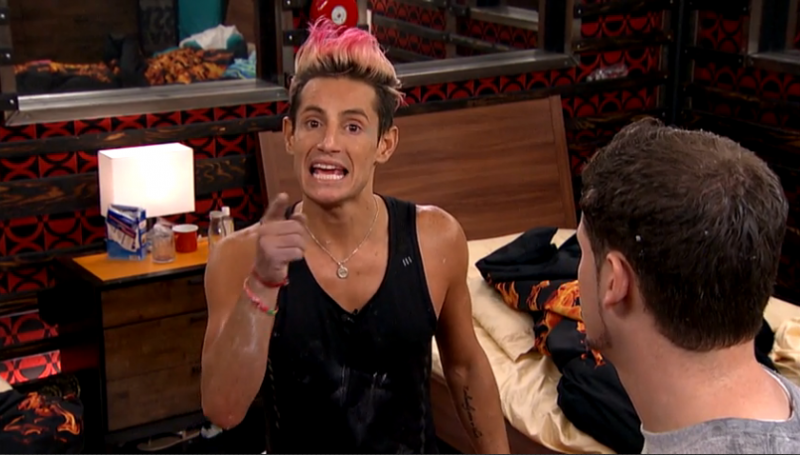 Seems like our boy Frankie is getting a bit tired of the shit inside the house? Â What is Frankie tired of? Â Let's discuss!
First, Frankie would like to tell America that he doesn't care if America rejected his Broadway idea. Â  You know what else, America? Â He's GLAD that Donny is gone – Donny was dead weight! Â So in your face, America! Â (Note: Â I totally agree with Frankie on these things; it was quite hilarious to see him address us head-on outside of the Diary Room though….even better was Derrick's PR Spin/Damage Control:)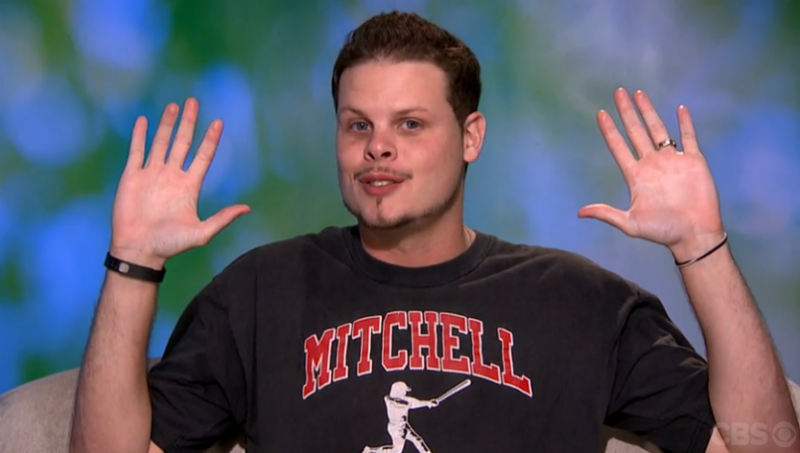 You know what else Frankie is OVER? Â Pretending to even like Nicole let alone tolerate her presence in the house. Â I was dying at how he was getting PISSED at Christine for daring to defend Nicole as a person. Â There is no room to be polite to the walking dead. Â Of course, Derrick had been planting ideas in Frankie's head about Christine and Nicole talking about him/plotting against him…. Â Man, Derrick is playing this game so well. Â  We see Christine getting tired of Frankie's shit too and she rants to Cody about it, helpfully drawing the lines for us where the Detonators will eventually splinter.
Making her case to Beast Mode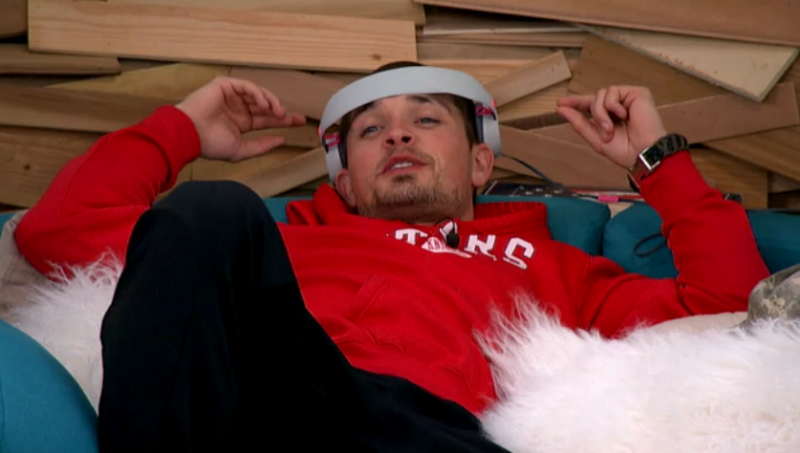 Far too many clothes are being worn here. Â Someone needs to turn that A/C down a few clicks, methinks. Â ANYWAY, Nicole knows with Caleb in charge that she has to get on his good side. Â She tries valiantly to illuminate to him that even if she is a challenge beast,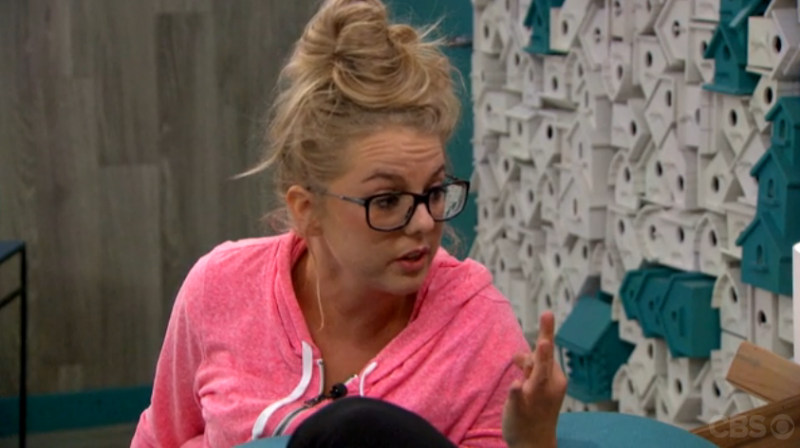 wouldn't it be better for him to have her on his side as a definite alliance? Â Even says she'll be as loyal to Caleb as she was to Hayden… HEY NOW! Â I don't think Hayden will want to hear that! Â Caleb is happy to hear her out but doesn't promise anything, and of course we see shortly afterward that Nicole's words fell on deaf ears.
Holla Holla!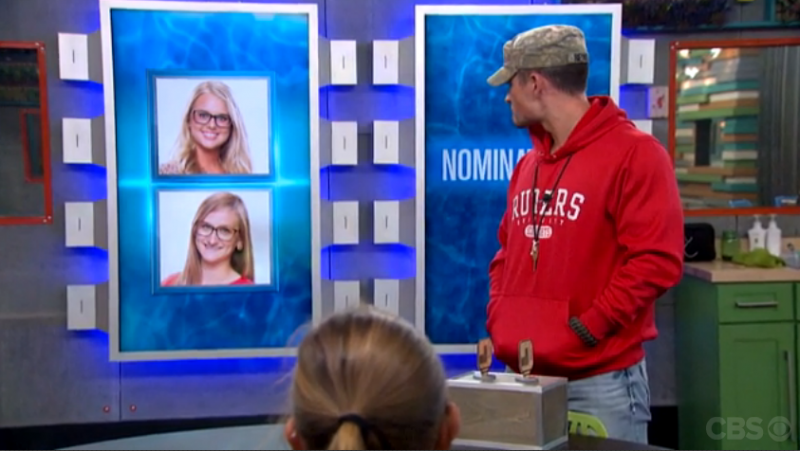 Caleb expectedly nominates Nicole, as duh. Â The question was who he'd stick up next to her on the block. Â Cody tried to fill Caleb's mind with Frankie's duplicitousness and talk up Christine as a total ally but none of that ends up working very well as Christine finds herself the second nominee. Â Caleb claims she knows why she's up there and she nods, but I'm not sure any of us know what that reason is. Â Is it because she's being friendly to Nicole? Â Payback for some other reason?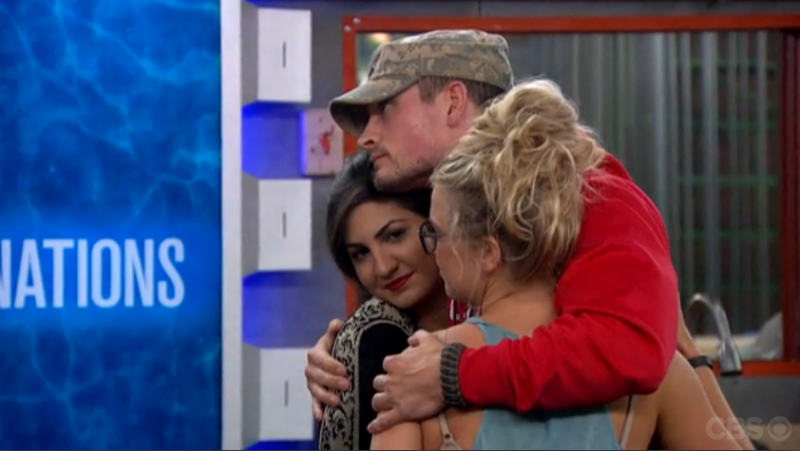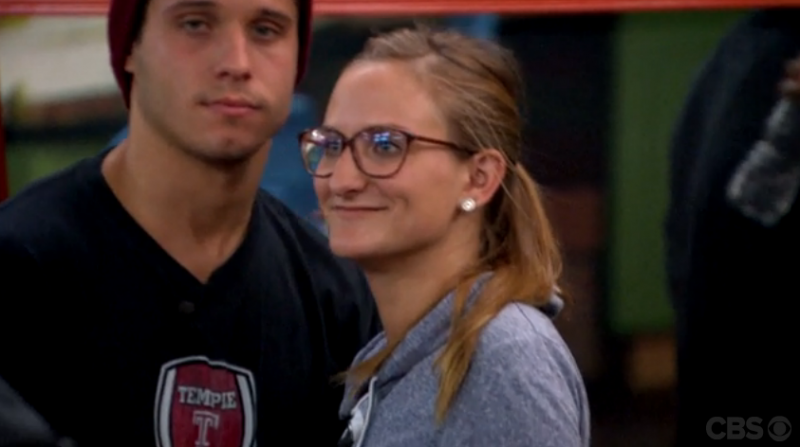 Regardless, the reactions seem pretty mild – Nicole expected it and decides that if the house perceives her as a huge threat, she's going to prove them right by winning the Veto. Â Christine is confident and is relieved that she's sitting next to Nicole, as that's the obvious target this week. Â Derrick? Â Well, let's just say he's playing the winner's game still and recommends Christine not get too comfortable in the house this week. Â With that cryptic threat, we at least get the promise of something interesting happening this week!!!
Status and Standings: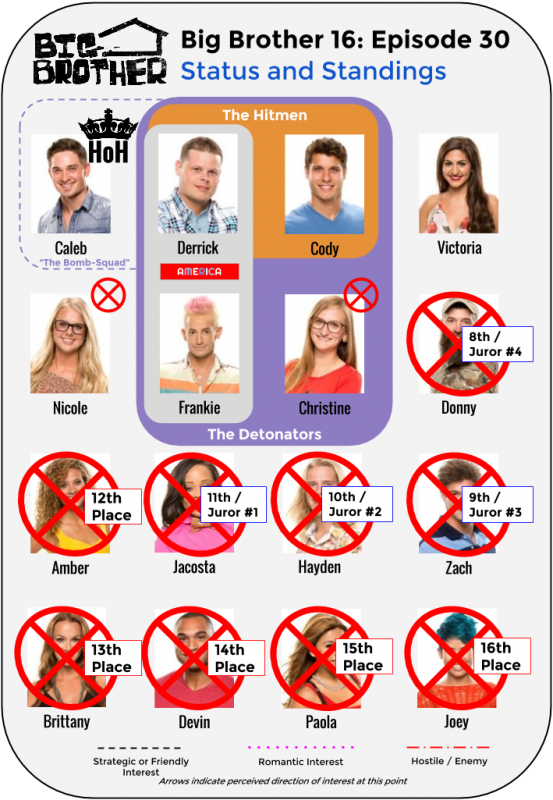 Head of Household: Â Caleb
Nominated for Eviction: Â Nicole & Christine
Will Derrick go through with an upset ousting of Christine? Â It's hard to say. Â If he does get that through, it's another notch in his belt and something to tout when his time in front of the jury arrives to prove his case for running the house. Â I still find it hard to believe the others in the house aren't recognizing Derrick as truly the one that has to go – no one can sit next to him and win. Â He's the anti-Victoria. Â But the opportunity to get rid of him keeps getting smaller and smaller, yet everyone focuses on Nicole. Â Could Nicole win? Â Sure, but only if she makes it to the end against anyone but Derrick. Â For lasting and being a huge target after returning into the house, I can see a jury being swayed. Â But her public speaking skills leave a LOT to be desired and I could see her doing an Amanda (from Survivor) and totally self-sabotaging herself. Â As for Caleb? Â Everyone considers him a valuable weapon to have at their disposal – he's an easy EASY final 3. Â But if he doesn't win the final HoH challenge, I think people would want to get rid of him. Â His Army story along with his Beast Mode reputation would be very hard to beat.
Why am I focusing on end game at this point already? Â Still quite a bit of season left, so I'll stop tangenting now. Â Here's to an entertaining Veto episode tonight!