On Wednesday, we arrived in New Jersey and got back to Fran and Joel's apartment, all of us exhausted.  We were hungry though and made it over to Cafe Italiano just up the road, where David, Donna, and Brad met up with us for dinner.  It was obviously hard to see people now in person but it was also good that Fran's family was all there for her.  I managed to invite myself to the Burger Bash in Miami though, as I know I just need to make myself get out of the house over this next year, and it's an event that Larry and I kept talking about doing and never did.  I'll hold him in my heart when this happens.  Didn't sleep well that night, as while the couch there is better than that weird daybed in Joel's office, it's still not my bed.  I made plans to spend the next few nights at various places as I couldn't bear to be at Fran's the entire time.
I took some pictures from the plane that I think Larry would have enjoyed:
So on Thursday, we had the morning together; spoke to the rabbi who was speaking at the funeral so she'd have some facts to talk about regarding Larry, and then Fran went to a hairdresser to get her hair back to what she expects it to be — Jon and Alyssa picked me up in the early afternoon as I was spending the night at their house that day.   Nicki and Sveta were flying in this day too.   It was nice to spend time with Jon & Alyssa – they swung by Wendy's to let me get some lunch, and then we headed back to their gorgeous house in Livingston for the evening.  It was obviously very hard to see Alyssa in person – she'd seen Larry shortly before his death, and it was hard.  We all have the relief he's not suffering anymore, but still, Larry was her brother and she's now lost him.  Their daughters Rachel and Stacey were picked up from school, Nicki and Sveta landed and headed over there, and we ordered dinner for all of us to have.  Did drink a few too many glasses of red wine, but that's what you do when you're paying tribute to your loved one; Looked through a ton of pictures that night too, and Jon ended up printing out a lot so that there were 3 poster boards of pictures commemorating various points of Larry's life.  Alyssa and Jon were going to host the shiva the next day after the funeral, and wanted to have some visuals for people to look at along with the printed out pictures and albums we collected.  Slept that night in their guest room in the lower level of the house, and while much more comfortable than a couch, it was still difficult to sleep.   It was mostly from knowing that the next day we were going to bury Larry.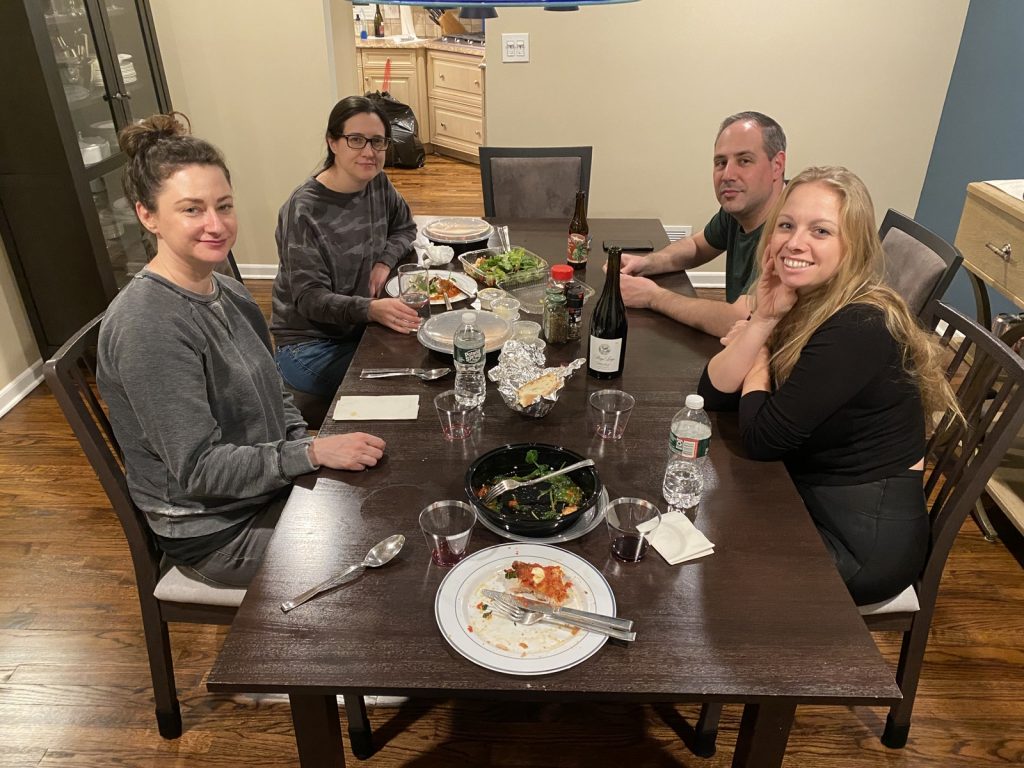 Friday was the day we all were bracing for and hoping to get through.  Woke up and had some breakfast, and then got ready.  I wore my suit from the wedding – I had given Larry's suit from the wedding for him to wear in the casket.  They covered up all the mirrors in the house for shiva.  I then rode with Jon, Alyssa, and Harlan to the cemetery, while Leslie stayed behind to watch Rachel and Stacey and also be there for the caterers.  Pulling into the cemetery was hard, and to then walk around the foyer and realize it was really happening was surreal.  We were there early, and Fran and Joel joined us shortly.  After that, the stream of people steadily continued and a lot of greetings and condolences were made.  My friends made it, as did some of the team from PwC (Gabriela, Gracie, and Aleshka), which helped me a lot as many of the people there were family and friends.  Finally, the service was to begin and the attendees all sat, afterward the immediate family walked in to the front pew.  Larry's casket was there up front, and that's when I kind of had to catch my breath.  Not an open casket, but still, that's where his body was.   After the rabbi had some opening prayers and remarks and songs, three of us spoke.  I went first.  I had written a eulogy so that I wouldn't ramble as I knew ahead of time if I hadn't it would have been a mess.   I like what I wrote, and I will post that somewhere if I do end up transferring this journal to my site.  I balanced my thoughts between sadness, anger, regret, and love.
I'm here to bury my love, my husband, my Larry.

I do this with sadness – thinking of all the things he won't be able to do because cancer cut his life so tragically short.  All the things we won't be able to celebrate or enjoy as a married couple, because of a disastrous aggressive disease.

I bury him with anger – I resent the fact that he wasn't one of the lucky ones to beat cancer.  It's not rational to feel this way and I understand that, but I am angry at what I've lost, what his family and friends have lost, and what the world has lost.

I lay him to rest with relief – Larry fought so hard over these past 18 months.  He was heroic, and he was brave beyond anything I could ever imagine – the pain and discomfort the chemotherapy brought on him didn't keep him from wanting to fight and persist against cancer.  But it wore him down, and as the neuropathy side effects ravaged his fingers and toes, they took away his passions like his ability to run and the confidence to work with his hands; he also lost the satisfaction of enjoying food, which hit him hard emotionally as cooking was something he truly loved.  Larry was worn down.  The last 3 months of his life were some of the toughest ever, and to just be a witness and help him through it broke me, yet Larry was the one who kept going. Even with close to no treatment option remaining, he still said let's go forward.  Larry was my hero, but he's now finally free from his suffering.

I say goodbye with love – Larry was the one I'd been hoping was out there for me.  I was the lucky one who found him – and I think it was almost immediate I knew he was my true love.  Larry expanded my life in many ways that have changed me for the better and I hope to continue living in a way that would make Larry proud.  But with his passing, my heart is completely broken today, and it's hard to consider a future without him.  But I know Larry wouldn't want me, or any of us, to give up.  So it'll be a day by day process – and each day, I'll continue to celebrate and remember the memories we made together, with friends and with family.

Thank you for being here, and please just embrace those in your life and appreciate what we have.  Nothing is guaranteed, and when there's love out there, celebrate it.  I love you Larry, and will miss you.
I made it through but it was difficult and I know I wasn't able to keep my emotions in check.  Joel spoke after I did, and it was a lovely speech about Larry's life and his relationships with his family.   Alyssa spoke last, lamenting the loss of her brother.  The rabbi concluded the service with more prayers and a small recap of some of the events in Larry's life.  It was nice but also just felt like an incomplete accounting of it, but what else can you do.  We then all went to the cars to drive to the graveside.  It was there that it actually ended up being the hardest part for me, as that's when Larry's coffin was lowered into the ground.  Prayers followed along with a ceremonial act of attendees shoveling dirt into the grave.  That part broke me.
Note that in the Jewish tradition, the gravestone reveal is done at a much later date, about 6-9 months after the burial.  At that time, possibly around September of 2020, we'll return and I will have a better picture of my love's final resting place.  I just couldn't bear to take a picture of the casket or the still-unfilled grave.  Today wasn't a day that I felt like taking pictures as most of the events will be seared into my brain.
After that, there was a slow trickle of people leaving to head towards Alyssa and Jon's.  I went back to the gravesite a little, but by then it was already that the funeral team were filling the grave completely.  It felt odd to stand there.  We then drove back to their house and began the shiva.  It was a much needed second half of the day.  It was just everyone eating, drinking, and comforting each other.   A lot of laughs and videos, and I was very appreciative of all the love that was in the air.    So relieved to have Nicki and Sveta there as well, as I needed my friends there too.  Not really easy to recap that except to say it was lovely, I cried a lot, and Larry hopefully felt all the love and care that so many family and friends had for him.  I didn't take any pictures of folks except for one video, which I kind of regret now (writing on Jan 31, 2020). Although Jon had created some photo collages which were hung on the walls and I took pictures of those as they're amazing:
Nicki and Sveta and I went to dinner ourselves at Sweet Basil, a nearby restaurant, as I wanted time alone with them and away from the main group.  That night I had also booked a room at the Hampton Inn and Suites in Teaneck that Nicki and Sveta were both staying at, again, as I just needed a break from the grieving of the family.   I know that both Fran and I are going to have a long process ahead of us – but I will honestly say that we are each going to need some space to grieve.  It was a nice hotel, and we spent some time hanging out but all realized it had been a long day and we needed to crash.  What we did come up with though was a plan to go into NYC in the morning and spend a few hours there as Sveta had never been!
A hotel bed was more comfortable, and I think I did sleep, but still, it's very hard to deal with the fact that Larry is truly gone.  It's been that way, truly, for at least a month considering how much he was suffering, but still, there's no more knowing he's downstairs or might crack a smile even while miserable.  It's over.