BB18 Episodes 26-29: August 17,18,19 & 21, 2016
<– Previously, Paulie Gets a Surprise
You'd be smokin some Whitney-level crack if you think I'm going to do much in the way of recapping FOUR episodes, one of which was just a reason to insert the season recap clip show much earlier in the season than usual. Â No, what you'll get here is a much abbreviated and to the point review as I've got so much Jeopardy! studying to still do. Â So much.
My headline above really doesn't work for what happened this past Sunday, so let's get into what it DOES pertain to, as I really wanted to use that headline.
Paulie, You Had It Comin'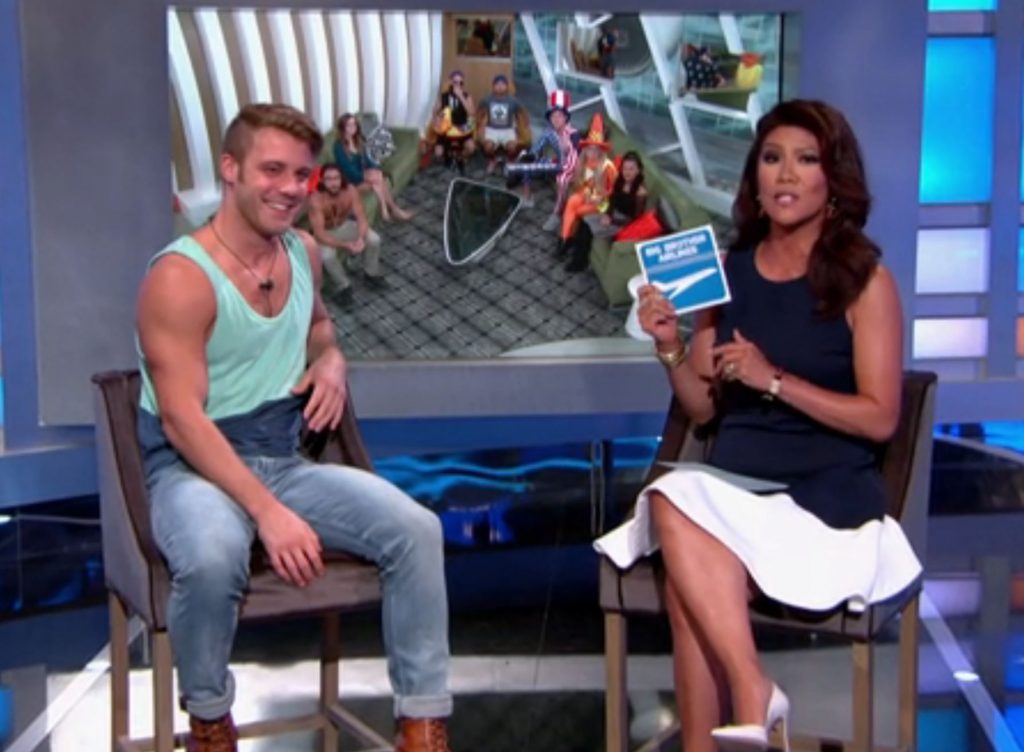 And I don't envy your first day in the jury house. Â But first, let's recap what unraveled your game:
Your scheming heart wrote some BB checks that ended up bouncing but you were the one who had to pay. Â Tortured metaphor much? Â Anyway, your bud Paul caught wind of and also noticed for himself that you and he had different goals. Â Thus, Paul happily convinced Victor to nominate you.
No one was unhappy at this turn of events. Â Your attacks on Natalie, and by the transitive property, James, removed part of your support. Â Bridgette and Michelle had done quite a bit of work to make sure everyone knew your dirty laundry.
Victor still harbored a grudge against you for blindsiding him back in Week 2, and once the tables had turned and Paul convinced him to target you, that ship was gonna sail. Â More tortured metaphors!
Your pity parties were just sad. Â Like, when a golden boy who has been genetically blessed and has had everything go his way in the house up until this point suddenly stops getting his way, throwing a tantrum is not a good look. Â In fact, it makes you look like a fucking spoiled brat. Â Your hotness factor will be deducted accordingly.
Okay, points restored. Â You're still pretty hot. Â But a hot douche nonetheless. Â Never forget.
Other Notes From the Eviction and Special Friday Episode:
5-0 eviction is pretty decisive. Â Corey wasn't ever in danger.
I do enjoy the occasional Rachel update….okay, no, I don't. Â I'll admit that I'm surprised as fuck she and Brendan are still together. Â And now there's a baby. Â But enough. Â Get a job.
The Jury House: Â Seeing DaVonne again was wonderful. Â I am still so sad she's not able to comment on the goings-on. Â LOVED her facial expressions when Zakiyah was explaining the Paulie situation….like, GIRL, YOU DEAF, DUMB, AND BLIND??? Â I also liked Bridgette arriving and loudly and forcefully announcing Paulie better be coming to the jury house right after her. Â She certainly ensured that outcome could happen, and well, we all know it did turn out that way. Â Fun times in the Jury House to come!
Stupid Games, a random concert from Ziggy Marley, and more of Victor being a dick. Â What's NOT to love??? Â Seriously, Victor is such a douche, it makes Paulie look absolutely normal in comparison. Â Please tell me he goes home soon.